Most Memorable Runway Moments Ever
We've rounded up a slew of our favorite dramatic ones from over the years.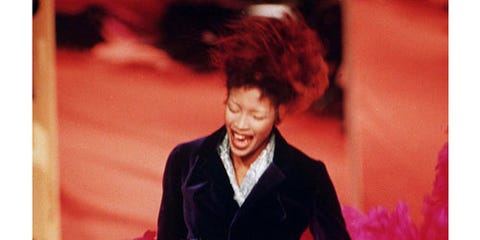 Each fashion season brings its fair share of dramatic moments on the catwalk. We've rounded up a slew of our most memorable ones from over the years.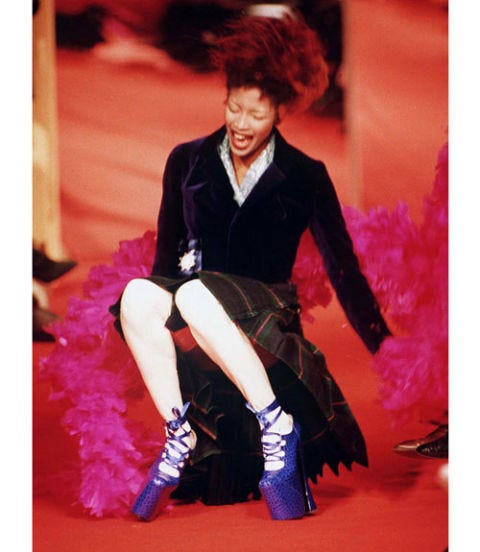 Naomi Campbell Falls at Vivienne Westwood
Nobody's perfect, and even iconic supermodels like Naomi Campbell take a stumble every once in a while. One of the most famous runway falls occurred during the Vivienne Westwood Fall 1993 show, when Campbell toppled over in her insanely high heels. This collection won't go down in history only for the fall, however—the tartan plaids and suits that were a part of this "Anglomania" would become Westwood's legendary signature.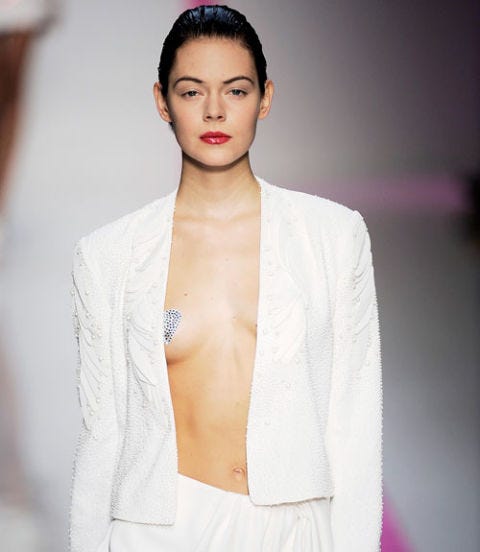 Karl Prouse/Catwalking/Getty Images
Emanuel Ungaro Spring 2010: The Lohan Season
When celebrities branch out into fashion design, the results tend to fall into one of two camps: resounding successes—as seen with Mary-Kate and Ashley Olsen's The Row and Victoria Beckham's eponymous label—or huge flops. Lindsay Lohan's brief stint as artistic advisor at Emanuel Ungaro certainly falls into the latter category. (There were sequined, heart-shaped pasties, people.) And the label's Spring 2010 collection designed by Estrella Archs was unanimously deemed a disaster. Even though the beloved Giles Deacon has since taken the helm at the fashion house, Ungaro still hasn't quite recovered.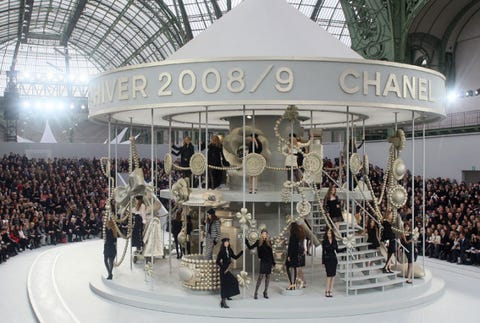 Chanel Carousel, Fall 2008
Remember when you were little and your perfect day involved a trip to the carnival with a spin on the merry-go-round? Well, as grown-ups, our dream day is similar—except instead of candy and toy prizes, we'd take quilted Chanel bags, tweed jackets and pearls. Leave it to Karl Lagerfeld to appeal the wildest fantasies of children and adults alike—he constructed this giant Chanel carousel for his Fall 2008 runway show in Paris.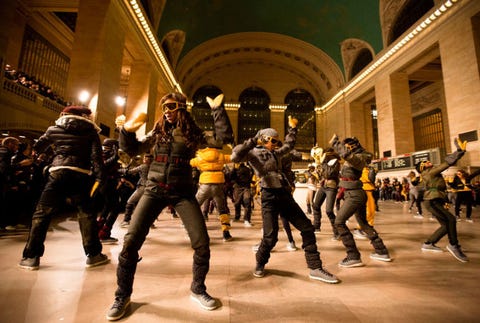 Moncler Flash Mob, Fall 2011
Who says you need an actual runway to show your clothes during Fashion Week? Outerwear label Moncler decided to go the guerrilla route and organized a flash mob—complete with 150 dancers decked out in ski gear and puffy coats—in the middle of Grand Central Station. How trendy!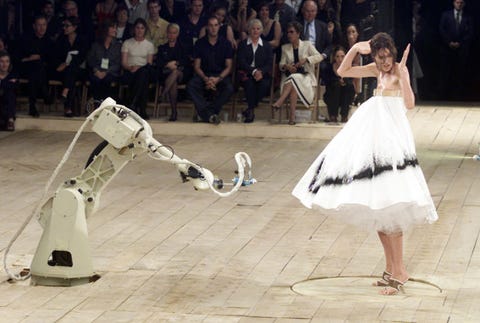 Spray Painting Robots at Alexander McQueen, Spring 1999
Runway shows often blur the line between straight fashion and performance art, and Alexander McQueen was a master at both. For his Spring 1999 show, a ravaged-looking Shalom Harlow entered the runway in a plain white dress, and stood frightened on a revolving platform while two robotic arms mimicked her movements and sprayed her dress with paint. This is one of the truly rare runway moments where we saw the collection come to life before our eyes.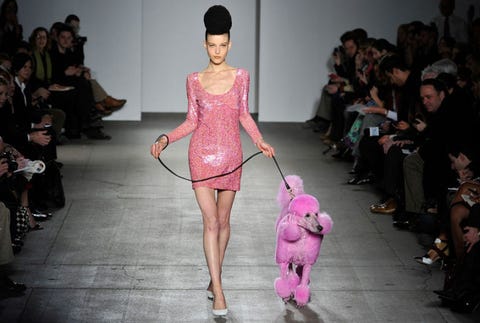 Stephan Gosatti/Getty Images
Dyed Poodles at Isaac Mizrahi, Fall 2011
The whole "model as muse" thing is nothing new, but when Isaac Mizrahi sent poodles dyed cotton-candy colors down the runway for his Fall 2011 show, it took on a whole new meaning. The human models wore gigantic pom-pom headbands and walked alongside pooches colored orange, blue and pink, while men in chef's coats carried intricately decorated cakes to match the collection.
Icebergs at Chanel, Fall 2010
You never quite know what kind of stunt Karl Lagerfeld is going to pull when it comes to his lavish Parisian runway shows for Chanel, but for his Fall 2010 spectacle, he shipped a 265-ton iceberg from Sweden to the Grand Palais. The show was meant to be a social statement about global warming, but you'd never know—the iceberg was a pitch perfect backdrop to a collection filled with faux fur Yeti suits and snow boots.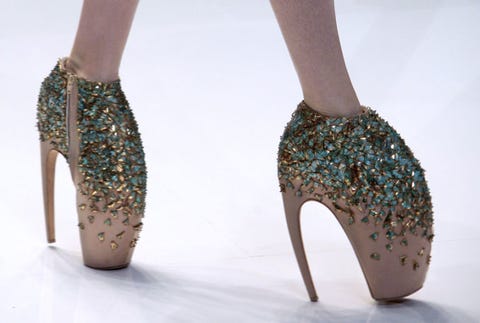 McQueen's Armadillo Shoes, Spring 2010
You may remember the Alexander McQueen Spring 2010 collection best for its appearance in Lady Gaga's "Bad Romance" video, but the Atlantis-themed show in its entirety was a work of art—all the way down to the insane footwear. The "armadillo shoes" (as they've come to be called) were so daunting that many models chose not to walk in the show, which is a shame—never before have sea creatures looked so gorgeous.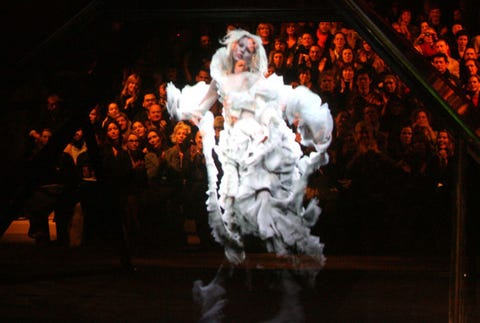 Kate Moss Hologram at Alexander McQueen, Spring 2006
In the winter of 2005, Kate Moss found herself in quite a bit of trouble with the law (does the nickname Co-Kate ring a bell?) and was getting some pretty bad press from running around with her on-and-off rocker boyfriend Pete Doherty. Alexander McQueen thought of the perfect way to honor his dear friend who had fallen on some hard times, and to close the Fall 2006 show, a hologram of Kate Moss appeared over the runway. The audience looked on in wonder as a cloud of smoke unfurled to reveal the model dancing in a tattered silk dress, and this dreamlike vision will undoubtedly go down in fashion history.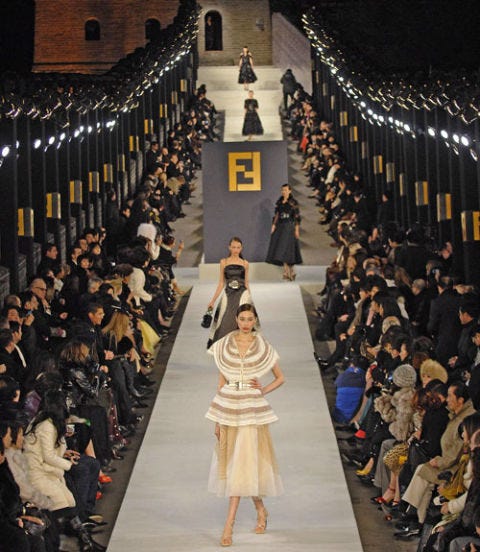 Fendi Show on the Great Wall of China, Spring 2008
Nobody does a fashion show better (and bigger!) than Karl Lagerfeld, and if you don't believe us, look back to October 2007 when The Kaiser staged a runway show for Fendi on the Great Wall of China. The $10 million production spanned two days in Bejing, showed 88 Fendi looks and drew in VIPs—like Kate Bosworth and Julia Restoin-Roitfeld—from all over the world.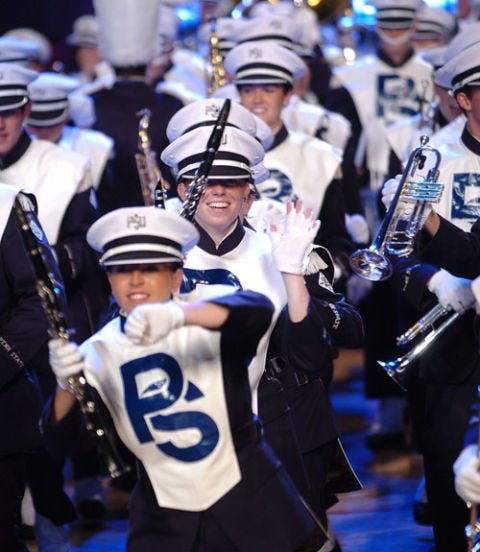 Fernanda Calfat/Getty Images Entertainment
Marching Band at Marc Jacobs, Spring 2006
Marc Jacobs' first career-defining moment was his grunge collection for Perry Ellis in 1992, but for his Spring 2006 runway show, Jacobs went from "Smells Like Teen Spirit" to school spirit when he enlisted the Penn State marching band to introduce the collection. It just so happens that the band—decked out in full uniform, mind you—performed a Nirvana tune before the models started to walk down the runway, once again proving that in fashion, things always come full circle.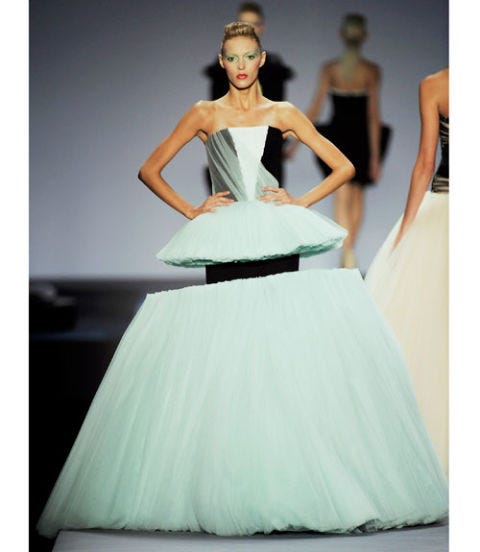 Dress Sculptures at Viktor & Rolf, Spring 2010
One can always expect an eyeful at a Viktor and Rolf show, but their Spring 2010 collection really took the cake. With a live soundtrack provided by a very pregnant Róisín Murphy, models walked the runway wearing tulle gowns artfully cut away. While some of the pieces looked like intricate sculpture, others resembled Swiss cheese and haphazardly trimmed shrubbery. Either way, the collection was quite memorable.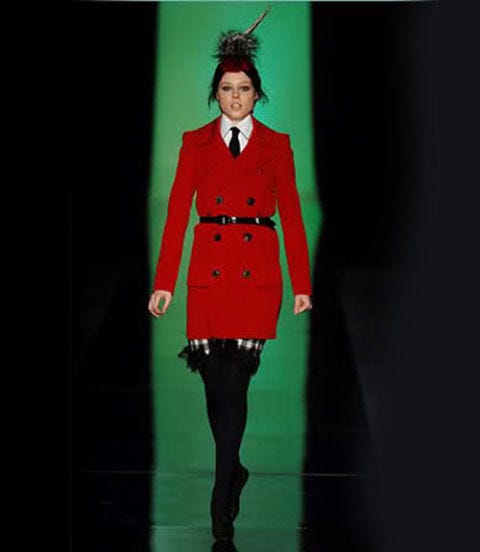 Coco Rocha's Irish Jig at Jean Paul Gaultier, Fall 2007
Here's a fun fact about Canadian model Coco Rocha: She was discovered at an Irish dancing competition when she was 15 years old. So, it's only fitting that Jean Paul Gaultier cast her in his Scottish Highlands-inspired Fall 2007 show, dressed her in a kilt and sent her step-dancing down the runway. Coco's jig got the crowd cheering before they even saw any of the clothes, but the collection filled with tartan plaids and perfect outerwear definitely lived up to the fanfare.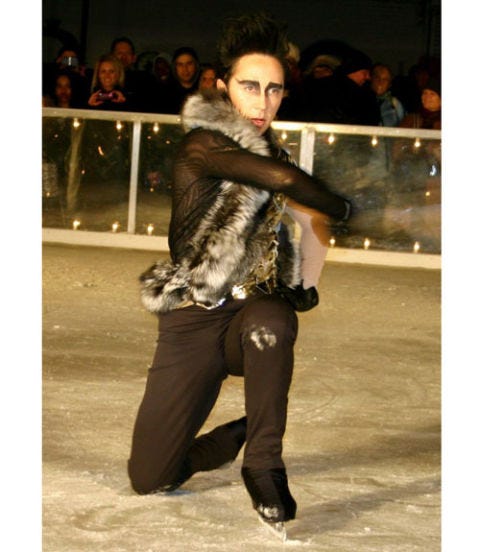 Lauren Valenti/TheVogueVibes.com
Johnny Weir Skates at Elise Overland
It's often snowing in New York when the Fall/Winter collections are presented during Fashion Week, but it's extremely rare that a designer shows his or her collection outside, let alone on an outdoor ice skating rink. Elise Øverland did just that for her Fall 2011 show, and not only did a number of the models have to strap on a pair of skates and glide across the ice in the designer's creations, Olympic figure skater Johnny Weir took to the ice wearing the collection's finale look.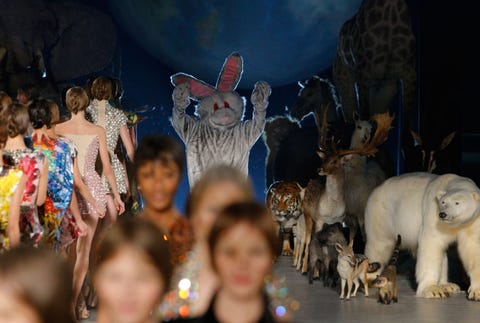 Alexander McQueen Dons a Bunny Suit, Spring 2009
In an effort to bring his audience's attention to the deteriorating state of our environment, the models in Alexander McQueen's Spring 2009 show shared the runway with a whole gang of taxidermied animals, including a lion, a tiger, an elephant, and a giraffe! In honor of these furry friends, the designer took his bow wearing a bunny suit, injecting a bit of his signature dark humor into his show's serious subject matter. Speaking of serious, this was the very runway show in which one of our favorite models, Abbey Lee Kershaw, collapsed from wearing a too-tight corset.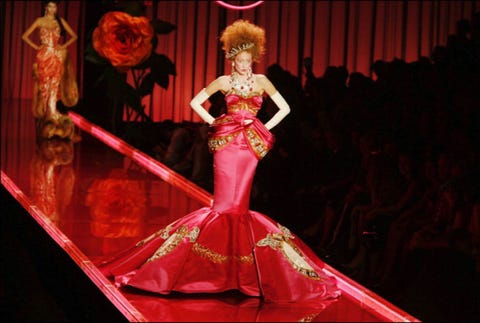 Christian Dior Haute Couture, Spring 2004
The name John Galliano has always been synonymous with flamboyance and drama (both good and bad), and his Egypt-inspired Spring 2004 haute couture collection for Christian Dior is one of the best examples of his showmanship. From gold lame gowns to King Tut and Queen Nefertiti-esque headpieces to full skirts shaped like pyramids, Galliano clearly demonstrated why he's a master of his craft.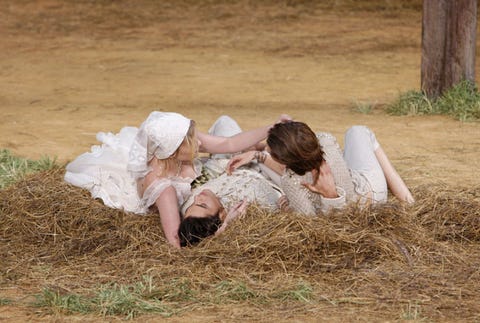 Threesome in the Hay, Chanel Spring 2010
The Chanel Spring 2010 show sticks out in our minds for quite a few reasons. First, it's the collection that helped to make clogs socially acceptable. Second, those amazing (and trendsetting) temporary tattoos! Next, Lily Allen gave a live performance with her band, and finally, there was a little ménage à trios action on the runway. The backdrop for the show was a custom-made Chanel barn, and models Lara Stone, Freja Beha Erichsen and Baptiste Giabiconi closed the show with a very literal roll in the hay.
Robots at Hussein Chalayan, Spring 2007
The fashion industry is embracing technology more and more every season, but before the days of interactive fashion films and blogs galore, Hussein Chalayan showed the high-tech collection of the future. His Spring 2007 collection featured "robot" pieces that unzipped, unfolded and lengthened/shortened themselves, and the production looked just as much like a science experiment as it did a fashion show.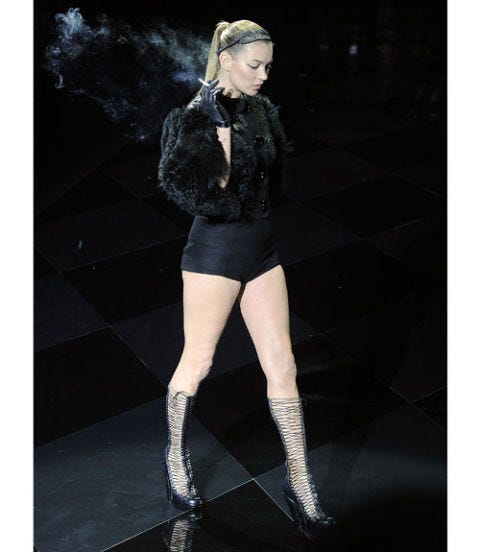 A Smokin' Kate Moss, Louis Vuitton Fall 2011
Marc Jacobs pulled out all of the stops for his Fall 2010 show for Louis Vuitton: The models entered the runway via fully functioning elevators manned by bellhops and were decked out in the high fashion equivalent of French maid costumes and fetishistic dominatrix gear. Just when we thought the show couldn't get any sexier, supermodels like Naomi Campbell and Carolyn Murphy started to walk the runway one after the other, closing with the inimitable Kate Moss. Smoking a cigarette and wearing some barely-there hot pants, Moss' iconic face and devil-may-care attitude helped to make this Louis Vuitton show legendary.
This content is created and maintained by a third party, and imported onto this page to help users provide their email addresses. You may be able to find more information about this and similar content at piano.io