Christian Louboutin's Most Iconic Moments
Christian Louboutin celebrates 20 years as one of the world's finest and well-known shoe designers. Here are some of the moments that defined him and the red-soled empire he created.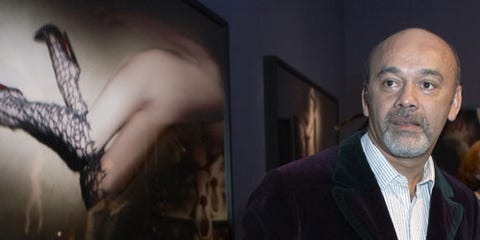 Christian Louboutin celebrates 20 years as one of the world's finest and well-known shoe designers. Here are some of the moments that defined him and the red-soled empire he created.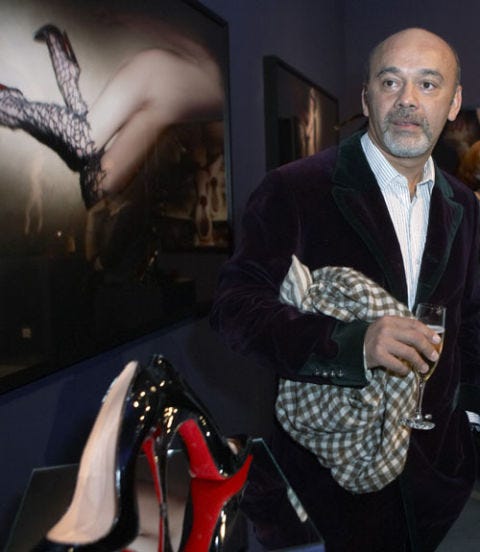 Christian Louboutin Collaborates with David Lynch on "Fetish" Exhibit
The fashion world is no stranger to the juxtaposition of the lavishness of high-end mastery and the taboo nature of sex. Marrying the dark and twisted mind of David Lynch with the sensual and sophisticated style of Louboutin, "Fetish" debuted in 2007, an exhibition that perfectly captured the hidden sexual aesthetic behind women in heels. The unwearable shoes with models feet pointed like a ballerina's were so well received at Paris Fashion Week that the duo created five sets of shoes and five prints to be sold.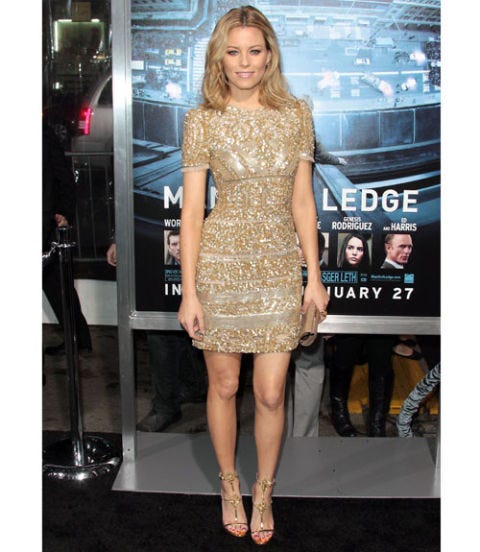 Elizabeth Banks
With the recent sartorial turn towards all things dangerous — or dangerously chic — Louboutin ran with the idea of "killer shoes". Pairing weapon-worthy shoe adornment with a girly frock was Elizabeth Banks' idea of a perfect pairing when she recently wore these golden spiked sandals to the premiere of her new movie Man On A Ledge.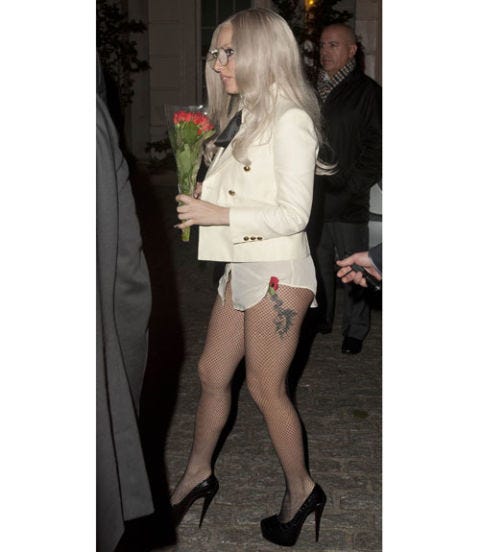 Lady Gaga
Christian Louboutin and Lady Gaga may not have many things in common, but risk taking is one of them. When paired with an attention-grabbing outfit, the traditionalist curve of Louboutin's classic pumps creates a great contrast between bold and understated. Gaga may have teetered on higher heels than these red-soled beauties, but these still look as fierce as Mother Monster herself.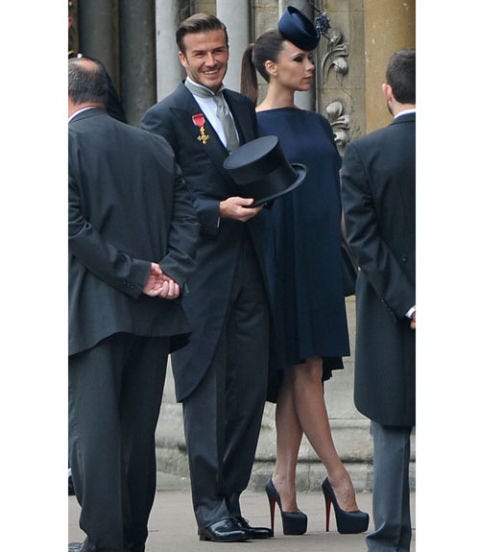 Victoria Beckham
Not even pregnancy can keep Victoria Beckham from donning sky-high Louboutin stilettos at the Royal Wedding. Standing next to her always-dapper husband David, the shoe is the second most drool-worthy accessory she wore that day. The Beckhams are known to never shy away from looking classic and well put together, as Victoria slips on Louboutin stilettos for many of her photo-ops.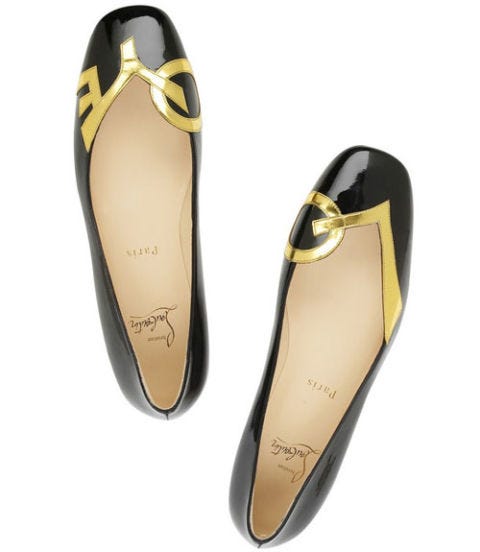 "Inseparable" Flats
While most associate the Christian Louboutin name with red-soled, perfectly made pumps, he did have success in the world of flats. In 1990, with only a few years under his belt, he debuted the "Inseparables" flats, named for the interlocking O's of "LO" "VE" on each toecap. People went crazy for these LBS's (little black shoes) and he credits these as his first success.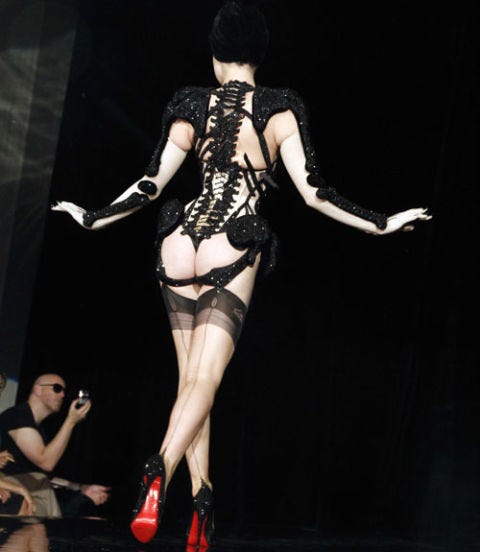 Dita von Teese
Dita Von Teese, known for her impeccable vintage pin-up style and burlesque shows, took part in the Jean Paul Gaultier Haute Couture show in Paris in July of 2010. Strutting out in crisp black Louboutin pumps, she dazzled the crowd when underneath her 1940's inspired evening down, was a sequined, handmade, skeleton corset showpiece.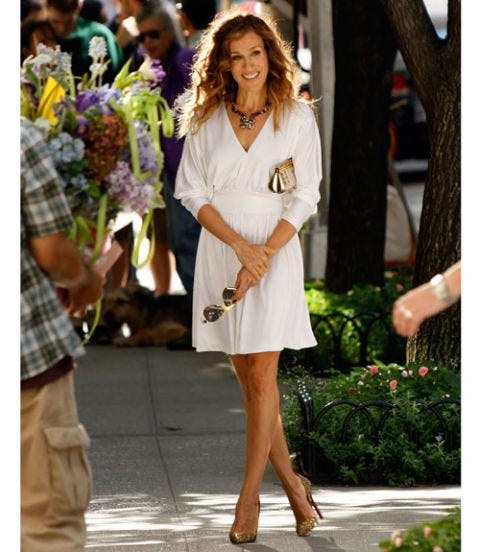 Carrie Bradshaw (Sarah Jessica Parker)
When it comes to fashion's influence on the media, no television series blossomed into a worldwide fashion phenomenon quite like Sex and The City. Carrie Bradshaw, the "It Girl" of the 90's and early 2000's and the original fashion blogger extraordinaire, propelled the names of designers into America's vocabulary and helped us learn the language of personal style. Christian Louboutin's brand became synonymous with the fashionable foursome and soon became a household name, used to describe a woman's perfect shoe.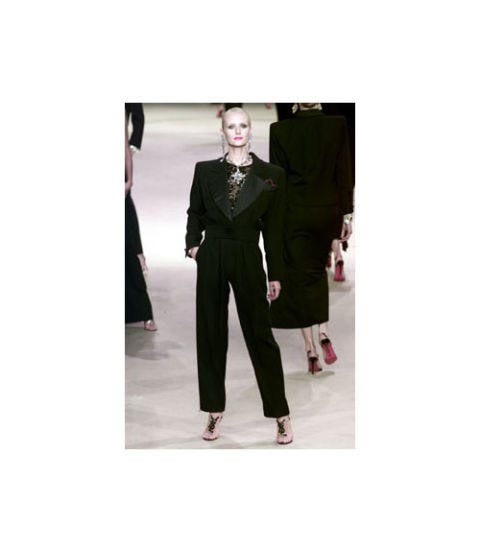 Yves Saint Laurent Farewell Show
Collaborations in the fashion world seldom go unnoticed, but when two of the greatest names in sartorial history collide, it becomes something of a legend. The year 2002 marked the end of a dynasty, when Yves Saint Laurent showed his last runway collection as the house's legendary designer. Marking the first ever collaboration done in YSL history, Christian Louboutin created a custom piece specifically for the finale of the show, merging the two celebrated designers' styles into one gorgeous shoe.
This content is created and maintained by a third party, and imported onto this page to help users provide their email addresses. You may be able to find more information about this and similar content at piano.io