35 Designers You Need to Know Now
From up-and-comers to household names, these fashion designers from around the globe are making major waves this year.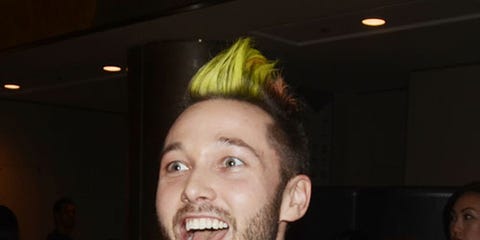 Jeff Gentner/Getty Images
From up-and-comers to household names, these fashion designers from around the globe are making major waves (and turning major heads on the runway) this season. Brush up on their signature styles, their major milestones, and their famous fans — just in time for you to become one.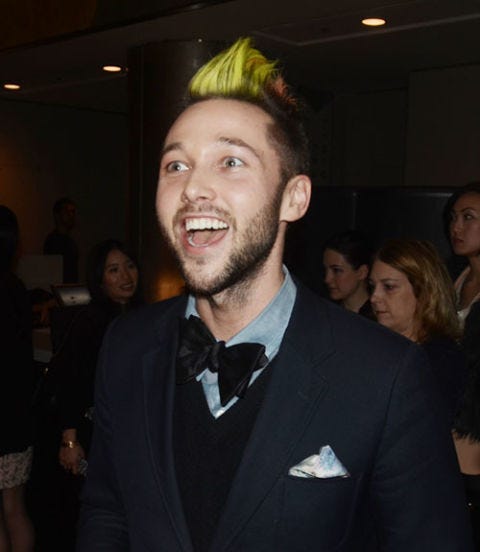 Jeff Gentner/Getty Images
Chris Benz
Designer: Chris Benz
Launch: 2007
City: New York City
Famous Fans: Jessica Szohr, Greta Gerwig, Susan Sarandon
Signature Style: Preppy tomboy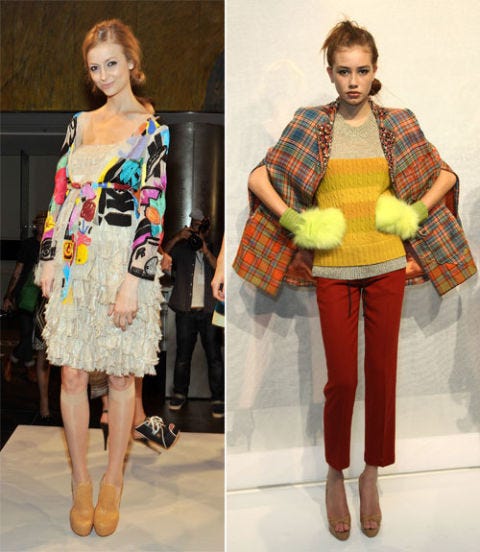 Joe Corrigan/Getty Images (left); Neilson Barnard/Getty Images (right)
Chris Benz
Fascinated by the progressive palette of his native Seattle, Chris Benz's lines are a blend of muted and neutral tones with sudden pops of color, which work beautifully with his slouchy-yet-sophisticated take on sportswear. Always growing, however, his recent lines have taken inspiration from locales both old and new. Whether it's 1960s Paris to modern-day Southern gentility in Georgia, he finds new ways to present timeless looks.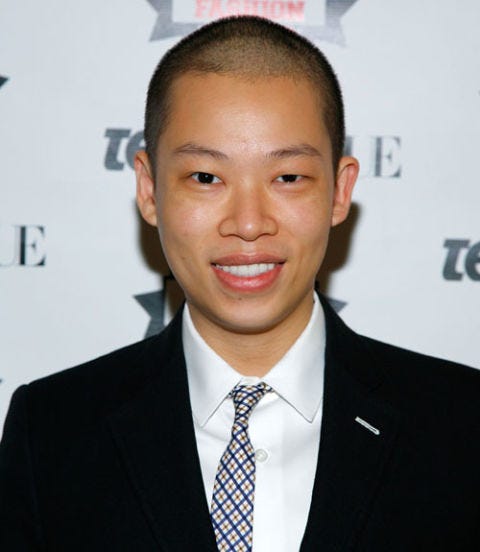 Jason Wu
Designer: Jason Wu
Launch: 2006
City: New York City
Famous Fans: Michelle Obama, Diane Kruger, Rachel Weisz
Signature Style: Effortlessly elegant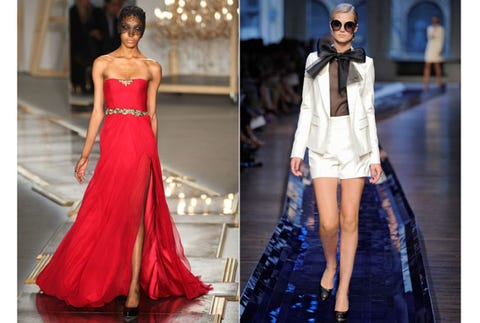 Thomas Concordia/WireImage (left); Chris Moore/Catwalking (right)
Jason Wu
Moments before he catapulted to household-name status, he was ordering a Domino's pizza before sitting down to watch the inaugural ball coverage on TV. When First Lady Michelle Obama wore his one-shouldered white chiffon-and-Swarovski-crystal dress, Wu's knack for timeless formalwear really began to shine. Not just a full-length gown designer, Wu's more recent collections have played with bright colors and feminine accents, including oversized bows and silk headscarves.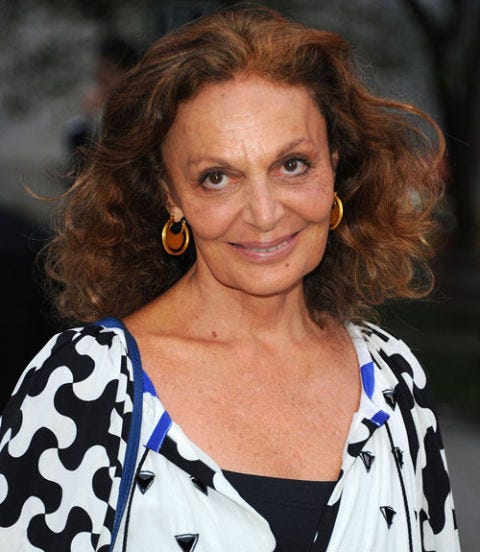 Andrew H. Walker/Getty Images
Diane von Furstenberg
Designer: Diane von Furstenberg
Launch: 1972
City: New York City
Famous Fans: Uma Thurman, Jessica Biel, Julia Roberts
Signature Style: Liberating wrap dresses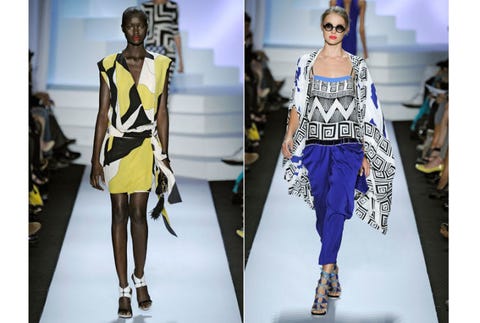 Diane von Furstenberg
Perhaps best known for introducing the world to her knitted jersey wrap dress in the '70s, she's been lauded as an icon of female liberation whose styles have greatly influenced women's fashion over the decades. From Gloria Steinem to Mary Tyler Moore, some of society's biggest names in the feminist movement gravitated to her garments. Now, she continues to fuse that era's hippie sensibilities with more modern graphic prints and feminine silhouettes.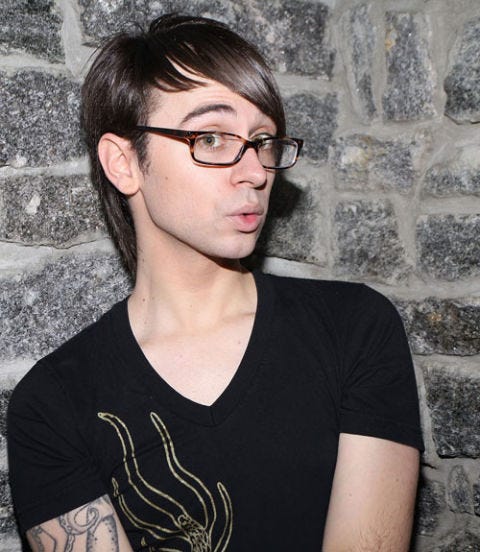 Christian Siriano
Designer: Christian Siriano
Launch: 2008
City: New York City
Famous Fans: Christina Hendricks, Alexa Chung, Heidi Klum
Signature Style: Show-stopping gowns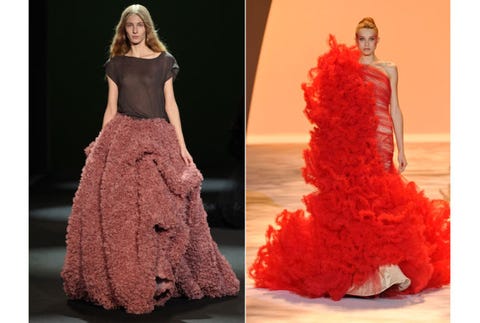 Thomas Concordia/WireImage (left); Karl Prouse/Catwalking (right)
Christian Siriano
The Project Runway alum happens to be the youngest winner to come out of the hit reality competition show. Since his 2008 victory, he has also become the most successful. Although some of his runway looks aren't quite wearable, his love of high-drama, fantasy-driven collections — which always seem to include lots of tulle, ruffles, and eclectic fabrics — have kept people interested. Plus, he works overtime, designing everything from Payless shoes to Victoria's Secret makeup to household sponges to create a "fierce" brand.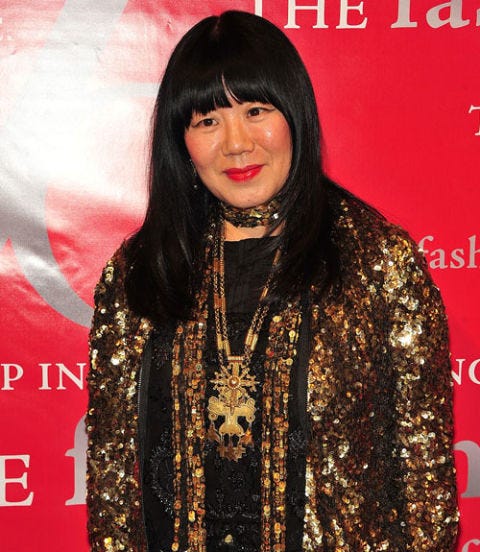 Anna Sui
Designer: Anna Sui
Launch: 1980
City: New York City
Famous Fans: Sofia Coppola, Drew Barrymore, Stevie Nicks
Signature Style: Underground toughness meets boho glam
Karl Prouse/Catwalking (left); Frazer Harrison/Getty Images (right)
Anna Sui
Although she didn't make her runway debut until 1991, the designer — who comes from a generation of subversive, underground style-setters — has created a following that's more than 30 years in the making. The flea-market junkie, known for her bold prints and patchwork aesthetic, has taken inspiration from rock-and-roll (think: the New York Dolls), the wild west, and 17th-century English paintings to create some of the industry's most energetic shows.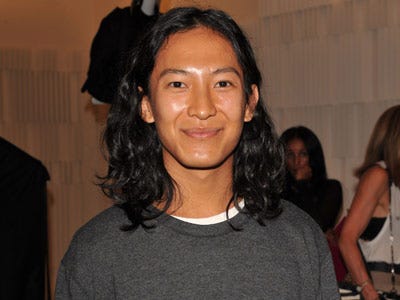 George Pimentel/WireImage
Alexander Wang
Designer: Alexander Wang
Launch: 2007
City: New York City
Famous Fans: Mary-Kate Olsen, Gwyneth Paltrow, Megan Fox
Signature Style: Urban chic mixed with '80s flair and '90s grunge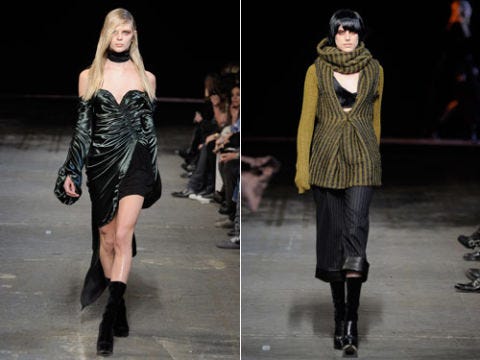 Alexander Wang
Sure, he was a Parsons dropout. Big whoop. Now, he's one of the coolest new designers and a bona fide critical darling. His label is the embodiment of several generations rolled into one — the good, edgy stuff from the '80s and '90s without all the ultra-neon nonsense — and exudes a casual, nonchalant attitude.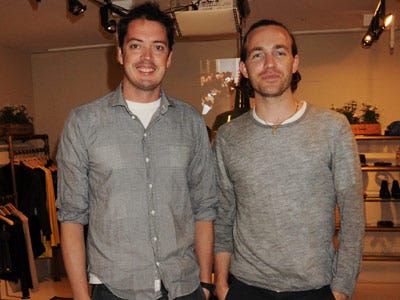 Dave M Bennet/Getty Images
Rag & Bone
Designers: Marcus Wainwright and David Neville
Launch: 2002
City: New York City
Famous Fans: Angelina Jolie, Victoria Beckham, Jude Law
Signature Style: British-inspired work wear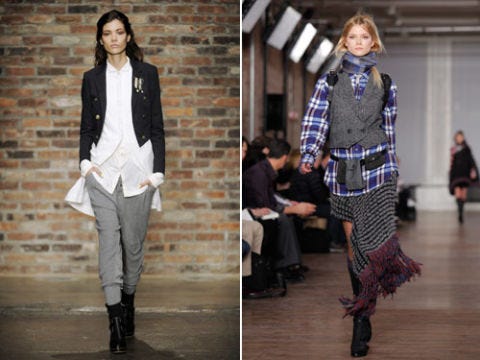 Karl Prouse/Catwalking (left); Thomas Concordia/WireImage (right)
Rag & Bone
Named after the English "rag and bone" man who traveled the streets and acquired discarded scraps, rags, and bones (get it?), the label was created by British transplants who brought their tailoring influences — and skinny ties! — stateside. Now, their brand has grown to include handbags, denim, and children's clothing for those fashionistas-in-training.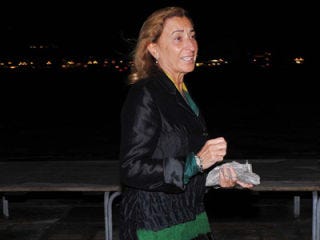 Miu Miu
Designer: Miuccia Prada
Launch: 1993
City: Milan
Famous Fans: Mischa Barton, Lindsay Lohan, Camilla Belle
Signature Style: Skin-baring, edgy takes on grown-up styles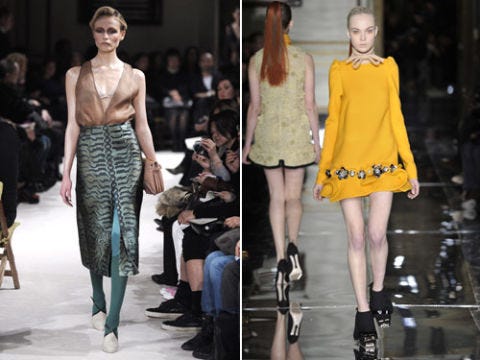 Miu Miu
Miu Miu, the nickname of founder Miuccia Prada, launched as a sister label to the highly refined Prada signature line and quickly became known for being the more affordable, much wilder version. The designer bravely pulls together contrasting looks, from high-waisted Lolita dresses to sheer nude mesh insets. No wonder Lohan is a fan.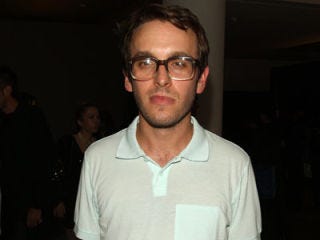 Bryan Bedder/Getty Images
Band of Outsiders
Designer: Scott Sternberg
Launch: 2004
City: Los Angeles
Famous Fans: Kirsten Dunst, Jason Schwartzman, Kanye West
Signature Style: Quirky twists on classic staples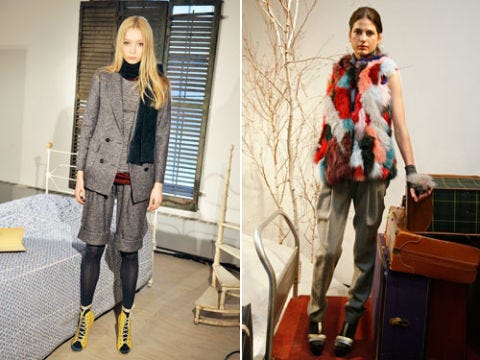 Chris Moore/Catwalking (left); Amy Sussman/Getty Images (right)
Band of Outsiders
The brand, which has collaborated with the likes of über-preppy Sperry Top-Sider and Manolo Blahnik (swoon!), is perhaps best known for its menswear — tailored suits and sharply cut shirts with a sporty undertone. Since 2007, however, the designer has been shaking things up with his new vintage-inspired women's line, Boy.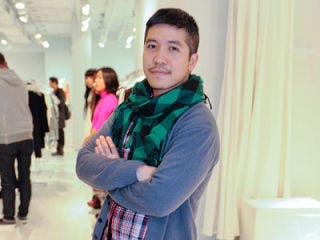 Mimi Ritzen Crawford/Getty Images
Thakoon
Designer: Thakoon Panichgul
Launch: 2004
City: New York City
Famous Fans: America Ferrera, Sarah Jessica Parker, Michelle Obama
Signature Style: Light, ethereal silhouettes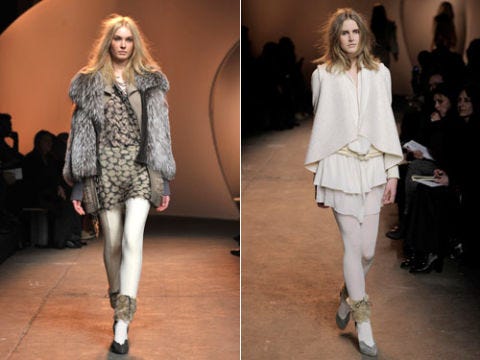 Slaven Vlasic/Getty Images (left); Chris Moore/Catwalking (right)
Thakoon
The Thai-born, Nebraska-raised designer has quickly become known for blending distinctly different influences into his whimsical yet sporty lines. From billowy organza to silk-linen gowns, his eye for styling and detail have made him an insanely popular brand. So popular, in fact, that he designed a line for the Gap and later created a sold-out, limited-edition line at Target.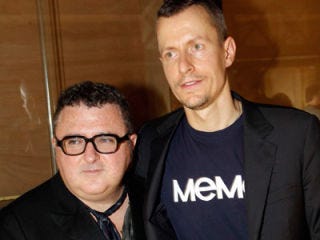 Lanvin
Designers: Alber Elbaz and Lucas Ossendrijver
Launch: 1889
City: Paris
Famous Fans: Kate Moss, Jennifer Aniston, Sophia Coppola
Signature Style: Ultra-voluminous couture mixed with luxurious textiles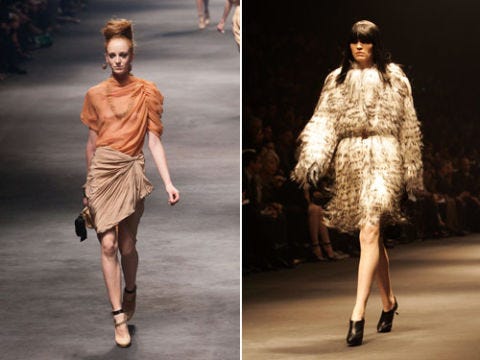 Victor Boyko/WireImage; Tony Barson/WireImage
Lanvin
The oldest French fashion house in operation, the label was founded by Jeanne Lanvin, who started out as a milliner before fitting Parisian elite. She's perhaps most famous for creating the unfitted flapper dress — which she first designed for her young daughter, lucky girl — in the 1920s. Now, helmed by Elbaz since 2001 (Ossendrijver debuted the menswear line in 2006), House of Lanvin is a favorite among high-fashion magazine editors and celebrities looking for consistently exquisite pieces.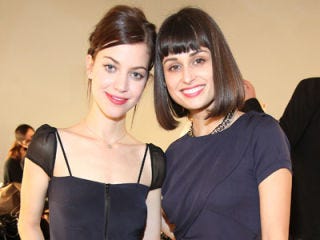 Vena Cava
Designers: Sophie Buhai and Lisa Mayock
Launch: 2003
City: Brooklyn, New York
Famous Fans: Rachel Bilson, Maggie Gyllenhaal, Rita Wilson
Signature Style: Sophisticated spin on vintage style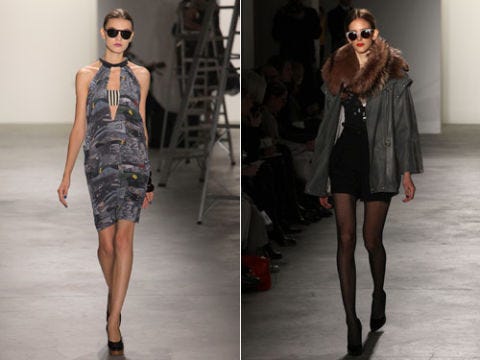 JP Yim/WireImage (left); Ben Hider/Getty Images (right)
Vena Cava
These up-and-comers first met at the ripe old age of 17, and as legend (or Google) has it, created their first line of 12 looks on the living room floor of their apartment. Now, they've set up shop in the industrial Gowanus neighborhood, home to a host of indie brands. Each season, their collection — sometimes inspired by japonismo and sometimes Egyptian history — evolves while staying consistent to their arty vision.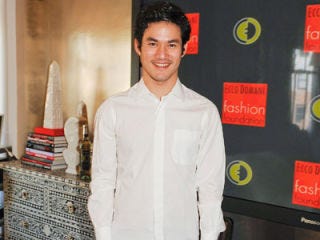 Mimi Ritzen Crawford/Getty Images
Altuzarra
Designer: Joseph Altuzarra
Launch: 2009
City: New York City
Famous Fans: Rachel McAdams, Kim Kardashian, Leighton Meester
Signature Style: Dreamlike design meets functional tailoring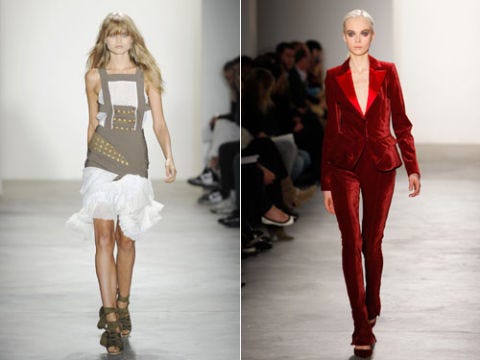 Heathcliff O'Malley/Catwalking (left); JP Yim/WireImage (right)
Altuzarra
This Paris-born newcomer studied ballet for eight years before finding his love of fashion. His debut last year showcased a romantic look at the professional woman, with body-conscious lines and contrasting panels. Although he's still very green on the Fashion Week turf, he is already looking at his next big project: a potential furniture line.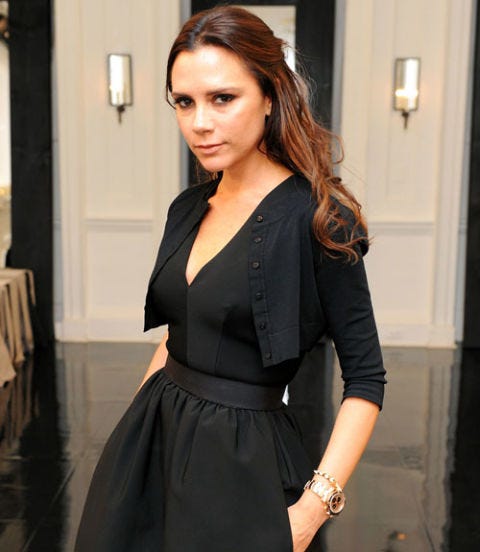 Frazer Harrison/Getty Images
Victoria Beckham
Designer: Victoria Beckham
Launch: 2009
City: London
Famous Fans: Leighton Meester, Katherine Heigl, Elle Macpherson
Signature Style: Sophisticated, figure-flattering silhouettes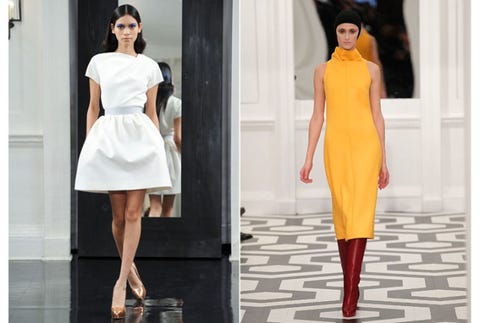 Frazer Harrison/Getty Images (left); Peter Michael Dills/Getty Images (right)
Victoria Beckham
The former Spice Girl has worn enough designer clothes in her lifetime that it only seemed natural for her to start designing them herself. But despite her celebrity status, she has paid close attention to the real-life, day-to-day needs of her customers, and she's honed in on this more and more with each season. She's now offering up fewer of the body-hugging hourglass dresses and more of the well-draped investment pieces that mix femininity and masculinity to provide a classically edgy look.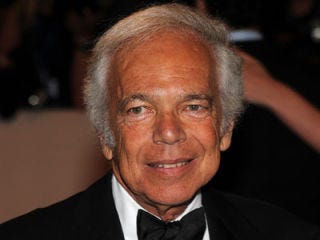 Ralph Lauren
Designer: Ralph Lauren
Launch: 1968
City: New York City
Famous Fans: Sarah Jessica Parker, Blake Lively, Rebecca Romijn
Signature Style: Preppy polo shirts in a rainbow of vibrant colors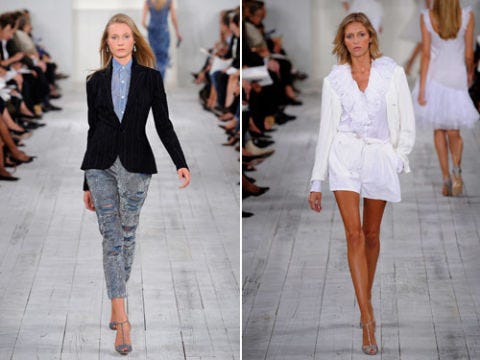 Fernando Calfat/Getty Images
Ralph Lauren
For decades, this household name has provided the unofficial uniform for the nation's preppy elite. Perhaps known most for his Polo label, the designer has created a collared shirt empire. But more than just tweed blazers, tennis skirts, and rugby shirts, he has found success in formalwear (we love a good Ralph Lauren tux), home furnishings, and — no doubt due to his vibrant color spectrum — even paint.
This content is created and maintained by a third party, and imported onto this page to help users provide their email addresses. You may be able to find more information about this and similar content at piano.io