The 32 Best Smocked Dresses To Wear All Summer Long
The style is one of summer's biggest trends.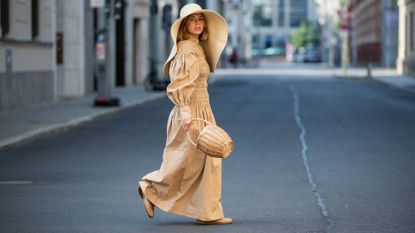 (Image credit: Christian Vierig/Getty Images)
I don't know about you, but comfort is at the top of my list when it comes to finding the best summer dress. Sure, I could deal with zippers, ties, and buttons, but why would I want to do that when the temperature is downright scorching and I'm nearly always in a rush? Enter my need to find the best smocked dress on the market. The trend has been taking over my social media feeds for summer 2022, so I rounded up a list of the very best ones to pick up and wear for the rest of the season.
The smocked dress trend has been around for quite some time, spurred on by the popularity of brands like Hill House and their range of best-selling Nap Dresses, most of which feature stretchy smocked detailing at the bodice. The most popular of the Nap Dresses is by far The Ellie, known for its midi hem and zipperless design. The brand has since expanded into mini versions of the Nap Dresses, including the puff-sleeved Athena style, which is perfect if you prefer your summer dresses on the shorter side. The brand even dubbed their most-recent launch—their largest ever— the "Nap Dress Summer" collection.
"The smocked dress is popular because it's such a versatile, flattering, and comfortable style," says Nell Diamond (opens in new tab), Hill House Home's Founder and CEO. "These are all major components that I look for in a dress. I love being able to dress it up or down, feel feminine and stylish, while also being comfortable," she says.
A smocked dress' versatility is one of the main reasons why I personally love them, too. They look just as good worn to the office in the summer or on a date night. Keep reading to shop the best smocked dresses at every length and style.
Shop Hill House Home's Nap Dresses
The Best Smocked Mini Dresses
The Best Smocked Midi Dresses
The Best Smocked Maxi Dresses