Dogs in Fashion: 11 Stylish Pups in The Workplace
Get ready for cute overload, we've got pictures of dogs! At work!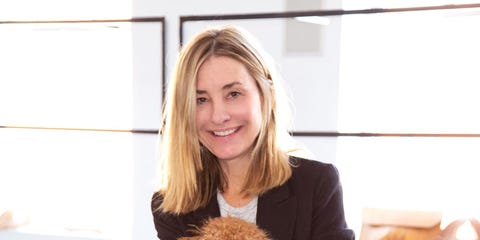 Courtesy of Kathryn Wirsing
If every office had a 'bring your dog to work' day, the world would surely be a happier place. We persuaded some of our fashion friends to share snaps—and some funny stories!—of their furry friends in the workplace!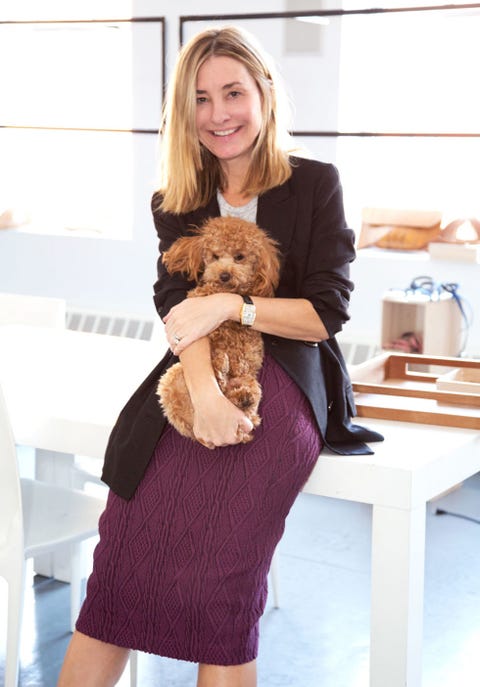 Courtesy of Kathryn Wirsing
Amy & Jack
Tibi Founder & Creative Director Amy Smilovic and her toy poodle, Jack
"Jack loves all of the attention he gets from everyone in the office and we all take turns playing with him—he has so much energy! He loves to sit on Liz's desk with her while she works and greet any visitors we have."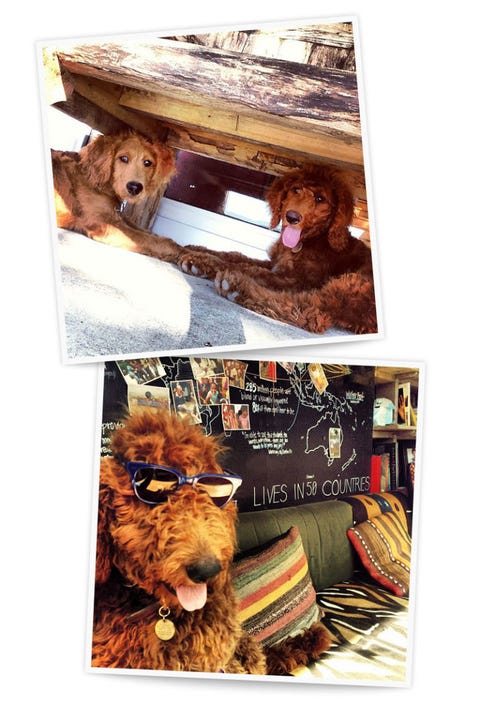 Buddha and Gypsy the Golden Doodles
Buddha and Gypsy from Toms
"Buddha has figured out that my office is a bit of a safe zone and he knows where all the other dogs sit through the office. So, when he's in the office, he'll sneak out, steal bones and toys from the other dogs and stash them in my office in a giant pile! We definitely owe some of the staff new toys for their dogs. Gypsy, on the other hand, will do anything her brother does and is constantly following him around."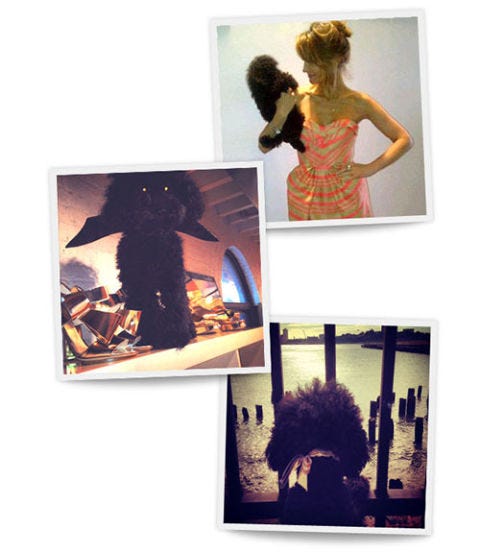 Marcello the Toy Poodle
Marcello from Jim Villa Showroom
"Marcello's favorite designers are Plein Sud and Delpozo. His nickname is "Muppet" and "Mr. Muppet" when he's in trouble. He's super friendly, especially with the ladies, and slightly OCD with the ball—we all have to hide it sometimes, because he will go from office cubical to cubical waiting for someone to throw it! Or, he will sit there and make funny little noises that actually sound a little a kitten meowing which is weird and cute. I've found him on counter tops, in women's hand bags, on my desk, in my drawer, all in search of this BALL! All over he is the quintessential Italian gigolo as he woes women all over the world... even clients that are NOT dog people have ended up in love with him and they have pictures of him on their screensavers!"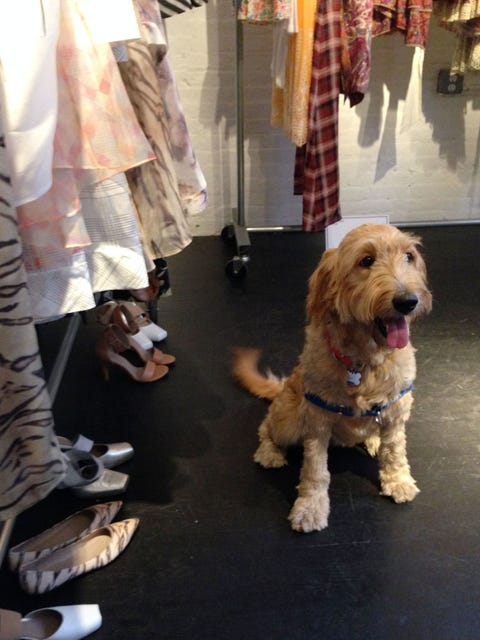 Lolli the Goldendoodle
Lolli from Starworks PR
"Lolli was adopted from Animal Haven—a shelter on Centre street—this summer. Even though she's a large dog she thinks she is little and tries to sit on everyone's lap. Lolli likes to run around and greet everyone by jumping on them and giving kisses."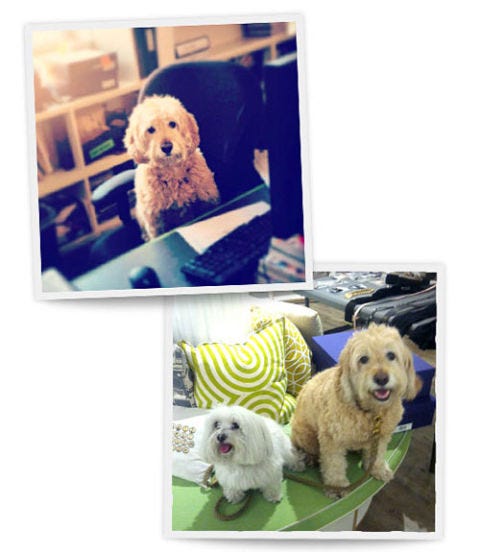 Duncan the Cocker Spaniel Poodle
Duncan from Tibi
"When I bring Duncan to the office it's like having a shadow all day, he follows me everywhere! He loves to nap under my desk, unless he hears a messenger—then he goes running for the door!—and he harasses everyone for food during lunch time."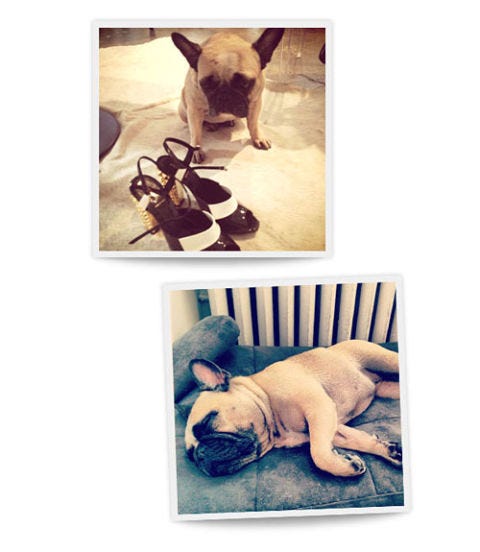 Lola the French Bulldog
Lola from Kaelen
"Lola likes to come with me to work mostly because she has an incredibly comfortable dog chaise that sits right next to the radiator. So she gets to be around people without having to interact, and she's warm on a bed. Her dream. She doesn't love activity, so this is the best for her because she can take in all the activity without needing to participate."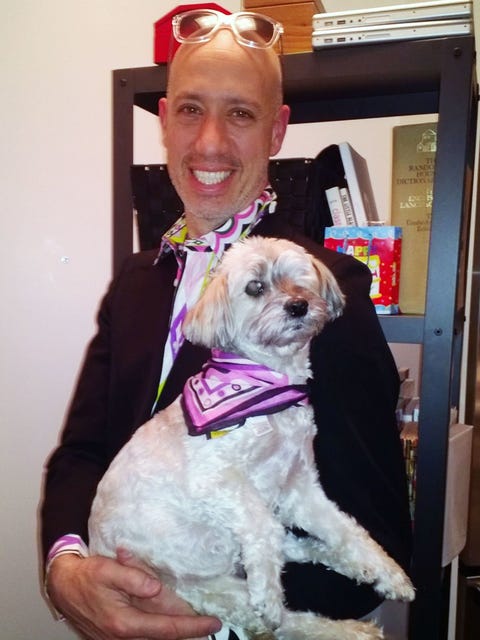 Courtesy of Robert Lee Morris
Winky the Havanese
Robert Verdi and Winky
"When I'm out at meetings, Winky stays busy picking out accessories for my clients."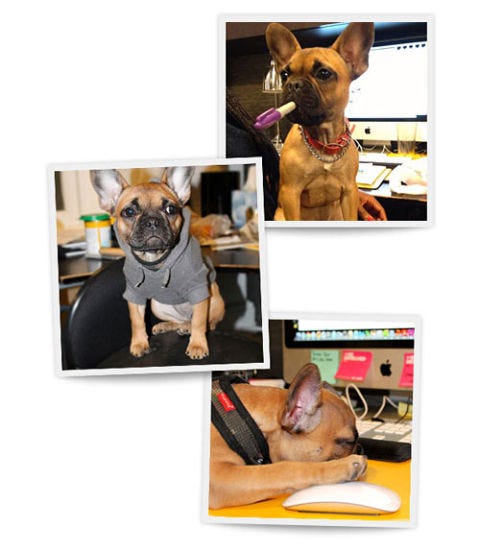 Mayonnaise from Factory PR
Mayonnaise from Factory PR, @mayolebulldog
The best way to describe Mayo is with an inter-office email:
"Mayo is on a tear this AM. Please make her terrorization of the office harder by picking up pens and other random supplies off the floor. So far she has been caught with 4 pens, a tape dispenser, a pair of hue tights, a Kipling monkey key chain, highlighter caps and the best… a piece of chewing gum. Oh and a bottle cap. Thanks guys!"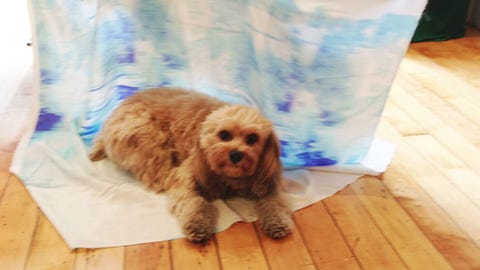 Thatcher the Cavapoo
Thatcher at Misha Nonoo
"Thatcher loves being surrounded by all the ladies in the office as she is truly a girly girl at heart and loves all the attention that she gets from the team members. She often lies on her back, legs akimbo, in the middle of the studio waiting for someone to give her a tummy rub, subtlety isn't her strong suit!"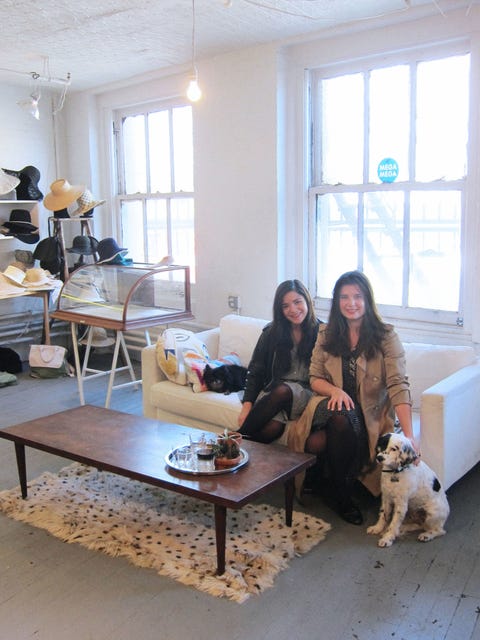 Lauren, Meghan, Joey and Georgie
Mega Mega Co-founders Meghan Folsom and Lauren Abend with their dogs Georgie and Joey
"Georgie comes to work with me everyday and thinks she is one of the girls. She has separation anxiety so I try to bring her with me wherever I go! I've created a monster. She has her own monogrammed L.L. Bean tote bag and rides the subway with me everyday. She weighs 26 pounds so it's no easy feat to carry her -- but it's worth it, everyone expects to see her when they come to Mega Mega!"
"Joey loves coming to work - there are plenty of delivery people to protect me from, and lots of visitors to give him attention. He has many quirks—almost too many to chose from—but one of the funniest is that he will only walk on the left hand side of whoever is walking him. Always. It's weird and remains unexplained. He also shakes his bum when you scratch his lower back. He's good at stretching - especially downward dog - and likes to show that off for new people. And he may just pee on you if you try to pick him up if he doesn't want you to. This happens to
Meghan
a lot."
This content is created and maintained by a third party, and imported onto this page to help users provide their email addresses. You may be able to find more information about this and similar content at piano.io