All About Elle Strauss, Shopbop's NYC Fashion Director
Elle Stauss, NYC fashion director of the mecca of online shopping destination Shopbop gave us the scoop on her all favorite things.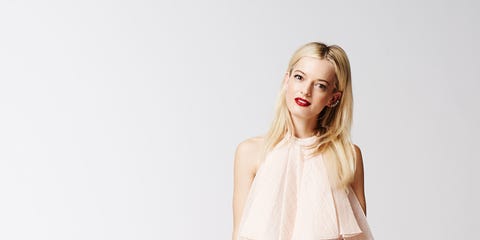 Elle Strauss, Fashion Director of the mecca of online shopping, Shopbop.com, gave us the scoop on her all favorite things. Keep up with Shopbop.com this entire week as they showcase spring's most covetable accessory trends and designers. And we all know that every show stopping outfit starts first with a fabulous pair of shoes, so don't miss the Marie Claire SHOES FIRST day on Shopbop.com this Friday!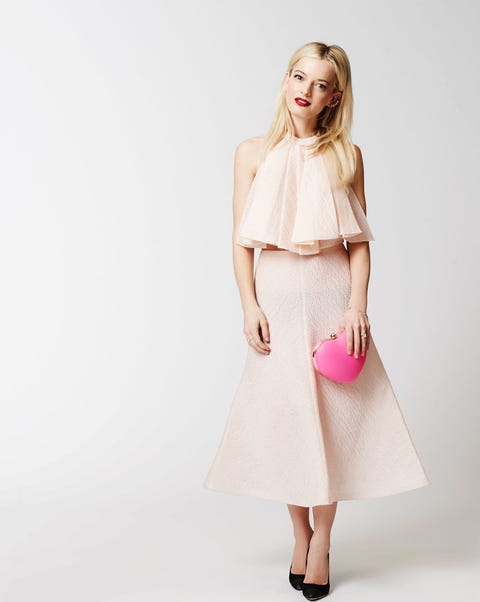 Elle Strauss
At Marie Claire, we believe in the philosophy SHOES FIRST. Shoe choice can dictate a lot about your day and your wardrobe. A sky-high pump for bossing the board room to a bad-ass moto boot for exuding coolness after hours—What is your power shoe?
Definitely the black pointy pump—what I love about this shoe is that it can elevate a very basic outfit—such as skinny jeans and a button down in seconds with very little effort involved.
What is a "normal" day at the office like for you?
There really isn't a "normal" day but every day is definitely fast and busy. You look up at the clock and it's 6pm! I guess my most normal day is a Monday – it begins with our fashion dept meeting – discussing the weeks shoots, concepts for styling and any ideas we have brewing. Then I'm with the buying dept. in and out of market appts. around NYC. The day ends with a big 'site content' meeting where we look at the week ahead.
Vika Gazinskaya Top & Skirt; Whiting & Davis Clutch Ca & Lou Ear Cuff; Jacquie Aiche Bracelet; Sergio Rossi Lady Jane Pumps, $620 shopbop.com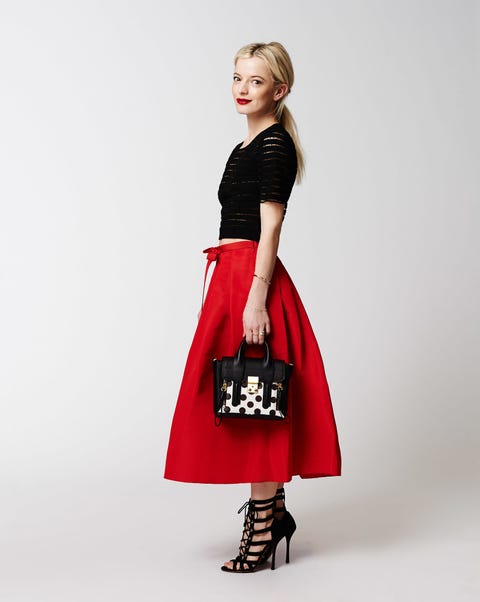 Elle Strauss
Is there a particular pair of shoes that you find yourself reaching for over and over again when the weekend rolls around?
My black converse. I'm a mum so there's no room for heels on a weekend.
One of my first accessory memories is of slap bracelets in the early nineties. Do you have a particular accessory trend that stands out in your mind from your childhood?
Oh gosh—for me it was my slouchy leather ankle booties in purple – no idea where my mum found those beauties. Gotta love the '80s!

What was your most recent shoe splurge?
Alexander Wang kitten heels – never thought I'd do a kitten heel again (especially being 5'1" I need all the help I can get, but I'm obsessed.
Tibi Skirt; Edmundo Castillo Shoes, $995; shopbop.com; 3.1 Phillip Lim Bag; $1,295, shopbop.com; Cynthia Rowley Short Sleeve Crop Top, $250; shopbop.com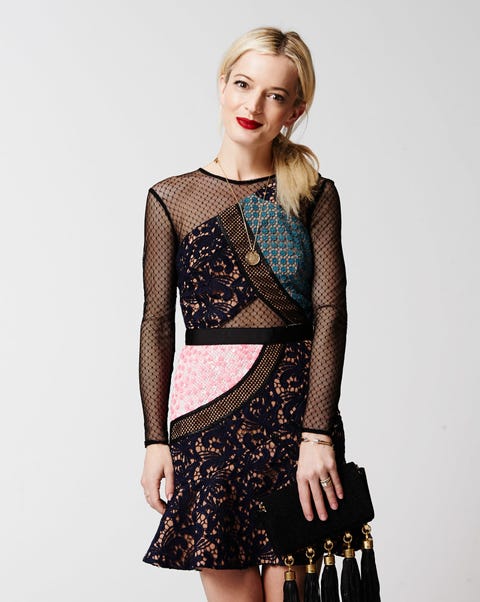 Elle Strauss
What is your favorite travel destination?
Firstly home to London and then Tulum—it's such a short flight but you feel a world away.

What does your morning beauty routine look like?
With a 4-year-old daughter its very fast and generally involves lots of dry shampoo. If I have a little more time I like to use dermatlogica cleanser followed by caudalie grape water—it feels amazing. I finish off with the miraculous Revive moisturizer, well worth the splurge. For makeup, it's Laura Mercier tinted moisturizer or Chanel foundation—it's super light. I couldn't live without Laura Mercier camouflage concealer. I finish off with Benefit eyeliner and then a lot of mascara – any brand will do it just has to deliver big lashes!
Self Portrait Dress, $312.50; shopbop.com; ZAC Zac Posen Clutch, $425; shopbop.com; Alisa Michelle Designs Necklace, $55; shopbop.com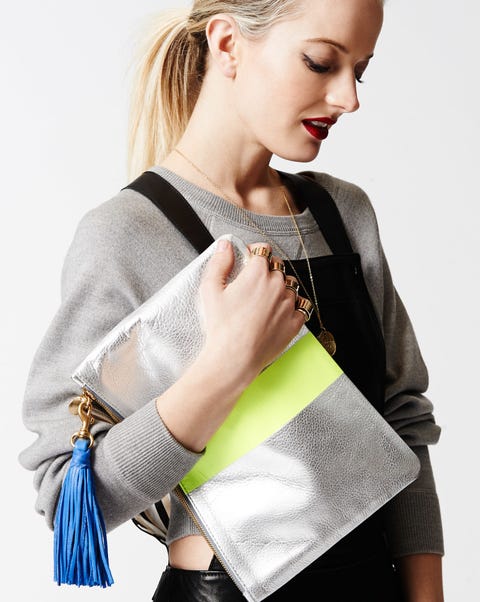 Elle Strauss
What are your go-to sites or blogs that you use to stay in the know?
I love Eyeswoon, Le Catch and Keep It Chic but Pinterest is also a habit.
What are your favorite Instagram accounts to follow?
Obviously Shopbop!
EACH x OTHER Leather Overalls, $1,918; shopbop.com; Rodarte Sweatshirt; Clare V Striped Clutch, $226; shopbop.com; Alisa Michelle Designs Necklace, $55; shopbop.com; Maison Martin Margiela Rings, $440, shopbop.com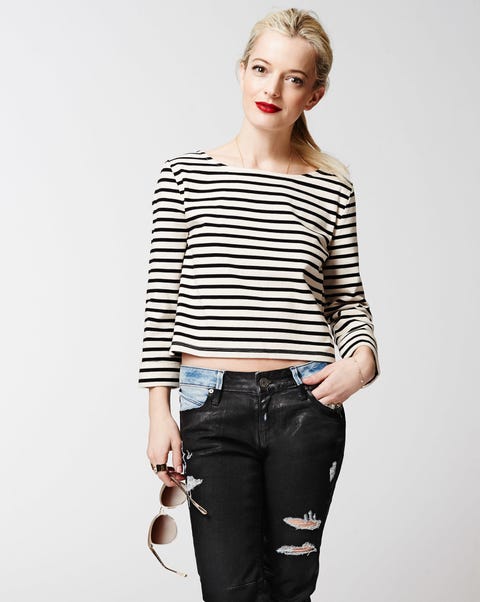 Elle Strauss
Heels or flats?
Heels

Iced tea or iced coffee?
Iced coffee—being British I've never actually had cold tea!

Kittens or puppies?
Both
Spikes or pearls?
Pearls
Alice + Olivia Top, $154; shopbop.com; RtA Jeans, $242; shopbop.com; Oliver Peoples Sunglasses, $335; shopbop.com; Maison Martin Margiela Rings, $440; shopbop.com; Alisa Michelle Designs Necklace, $55; shopbop.com
Elle Strauss
Nude or red lip?
Red
Central Park or Prospect Park?
Prospect
PC or Mac?
Mac
East Coast or West Coast?
East
Jason Wu Fringe Motorcycle Jacket, $5,200; shopbop.com; ALICE by Temperley Dress, $580; shopbop.com; Ca & Lou Ear Cuff Jewelry: Pamela Love, Ariel Gordon, Lauren Wolf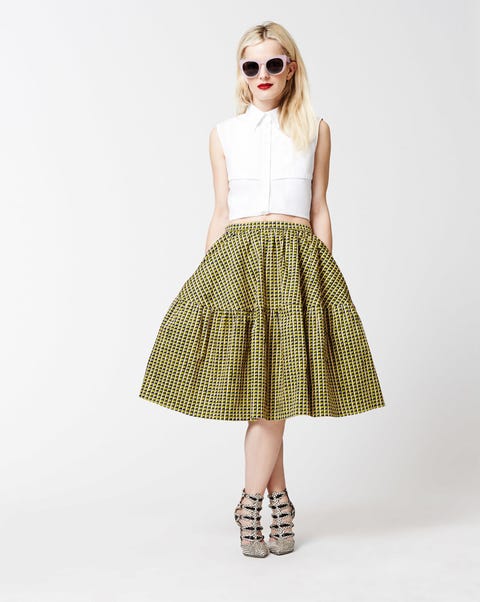 Elle Strauss
Beyoncé or Jay-Z?
Beyoncé
Stripes or polka dots?
Stripes
Spring or Fall?
Spring
Carven Skirt, $490; shopbop.com; KIMEM Shirt, $147; shopbop.com; Jason Wu Shoes, $1,395; shopbop.com; 3.1 Phillip Lim Sunglasses
This content is created and maintained by a third party, and imported onto this page to help users provide their email addresses. You may be able to find more information about this and similar content at piano.io