The New Dandy: 16 Tomboy Style Icons That Inspire Us
The chic alpha females we're copying.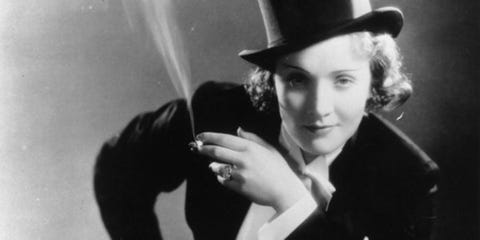 We enjoy getting dolled up as much as the next girl, but there's something empowering and cool about channeling our inner tomboy. Whether it's Marlene Dietrich, who broke the gender-bending mold in the '30s one tuxedo at a time, or latter-day's Cara Delevingne with her borrowed-from-the-boys streetwear, these alpha females are at the height of chic.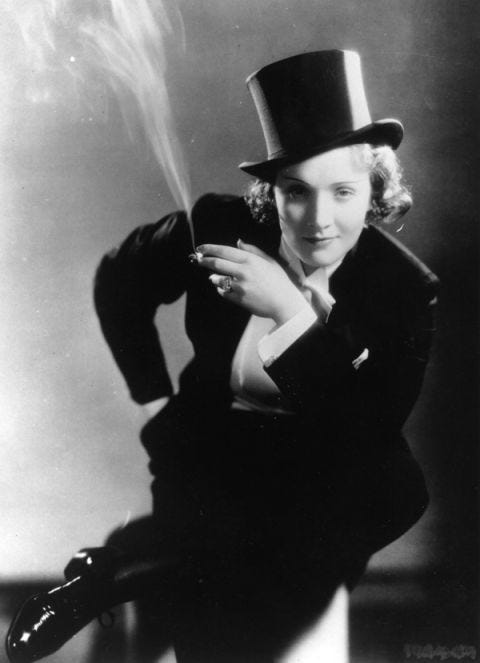 Marlene Dietrich
It was Marlene Detrich who flipped the sartorial script and began borrowing from the boys in the '30s. The German actress and singer took a shine to tuxedos and began performing in the bespoke style, topping the look off with a top hat. Suffice it say, it was controversial for the time.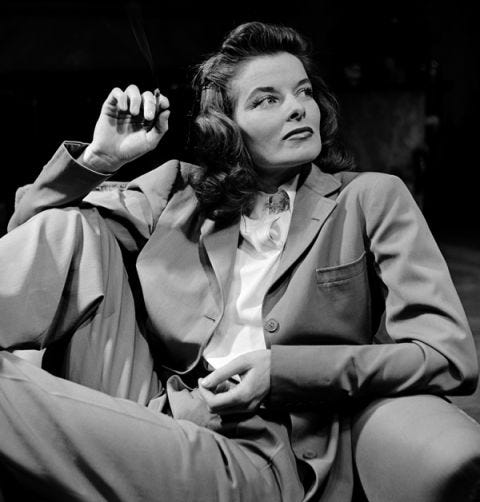 Katharine Hepburn
Katharine Hepburn always had a sweet spot for menswear. At a time where androgynous dressing was widely unorthodox, she boldly refused to wear dresses in favor of trousers, which many thought to be morally wrong. Her menswear-inspired looks also happened to be as effortless as they were intrepid.
Jean Seberg
Jean Seberg defied convention, chopping off her hair and styling it into a boyish crop. Her gender-bending look was immortalized in Jean-Luc Godard's film Breathless (1960), in which she proved that a sailor shirt and baggy denim were unwontedly sexy.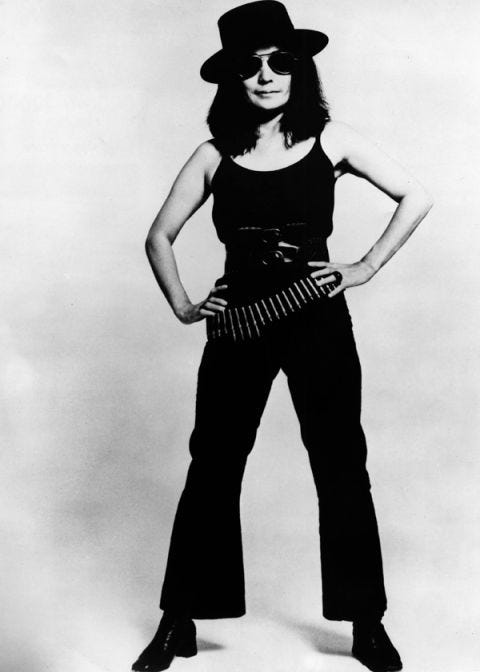 Yoko Ono
It's no surprise that Yoko Ono's free-form spirit translated into her personal style. She laughed in the face of materialism while defying femininity in capacious, mannish silhouettes — usually in her namesake color, black. Her look was always idiosyncratic, but never too put together.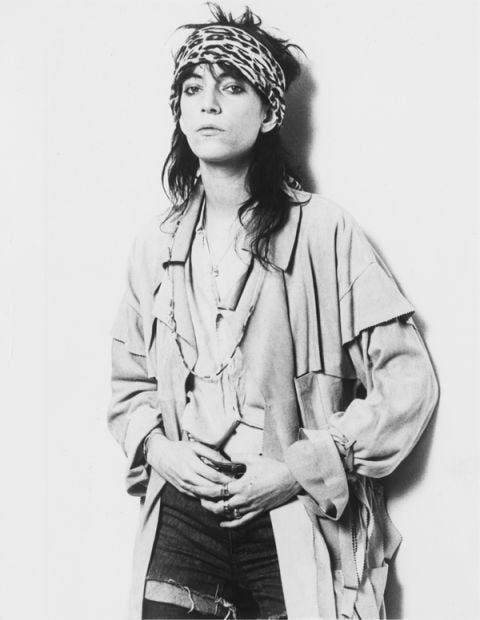 Patti Smith
Patti Smith's wardrobe was a never-ending parade of cool. Whether she was borrowing from her old flame Robert Mapplethorpe or thrifting for her own men's jacket's and scarves, the Godmother of Punk used style to please herself and only herself.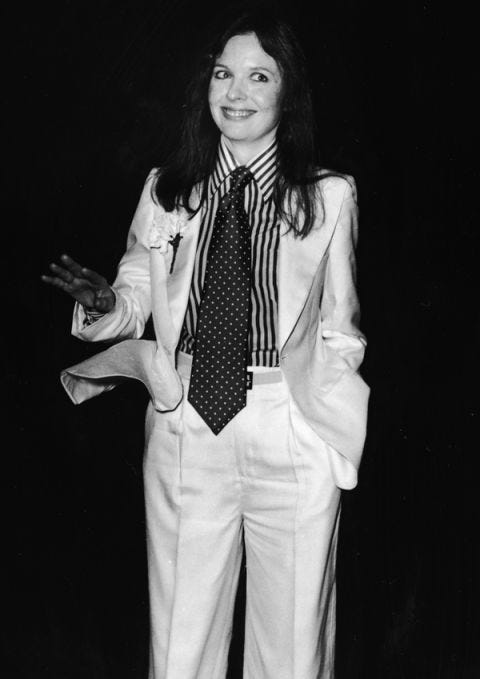 Diane Keaton
It's not up for debate, menswear suits Diane Keaton. It first became apparent when she starred in Woody Allen's Annie Hall (1977), wearing Ralph Lauren-designed jackets, oversized shirts, and ties, and she since hasn't veered away from dressing her willowy figure in the masculine staples.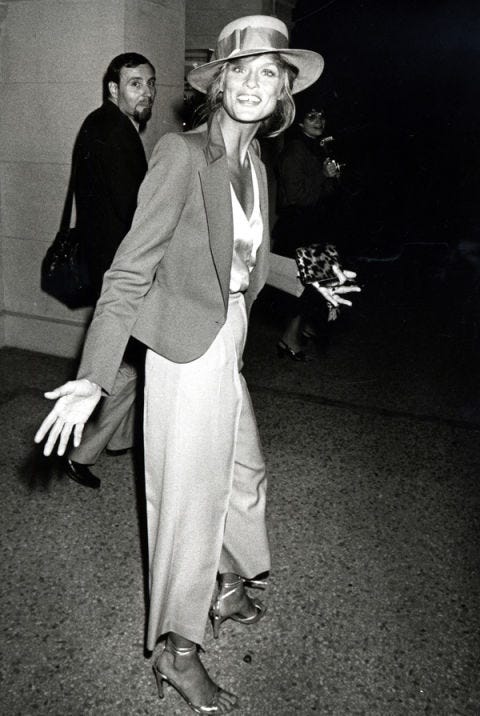 Lauren Hutton
With her free spirited attitude and equally laid-back style, Lauren Hutton re-defined what it means to be a glamorous supermodel. The cover girl stole from the boys with ease, wearing oversized blazers, shirts, and all-American jeans like a second skin. Not to mention, she had serious millenary know-how.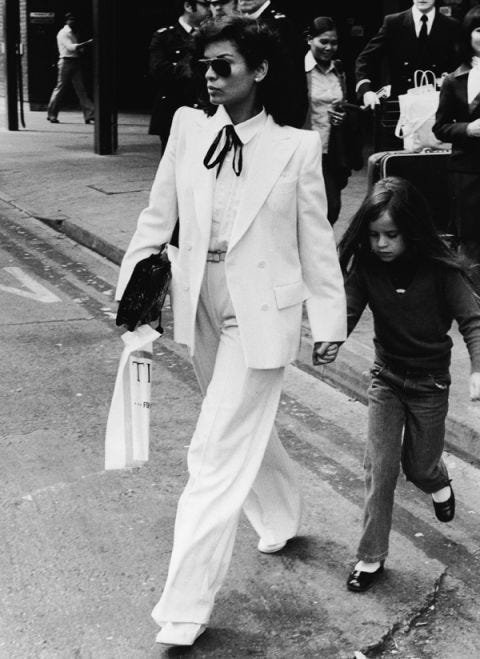 Bianca Jagger
Bianca Jagger secured her tomboy status with her trademark outfit: the white suit. She wore one on her wedding day in favor of a dress, hit Studio 54 in one, and continues to don them to this day. A menswear-inspired style it may be, but it's eternally feminine thanks to the exquisite tailoring.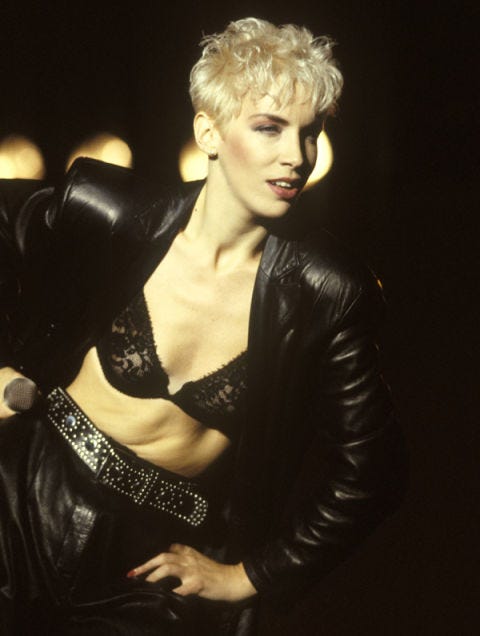 Annie Lennox
What would the '80s have been without Annie Lennox's madcap style? The Eurythmics frontwoman epitomized androgynous style for the more-is-more decade, whether she was decked out in oversized leather or a big-shouldered suit and tie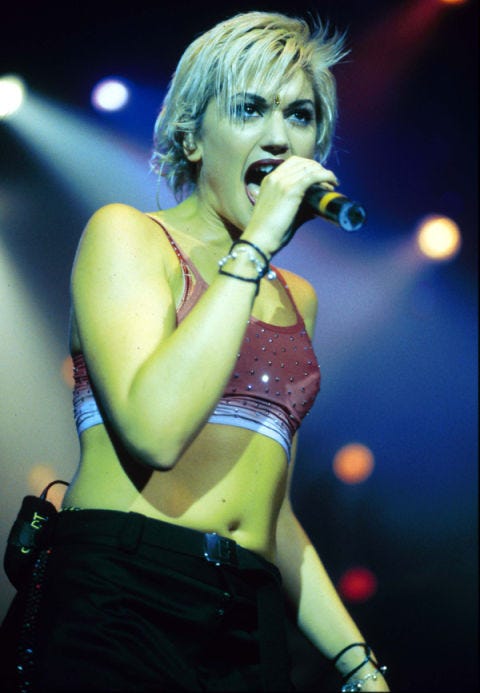 Gwen Stefani
As the only female member of No Doubt, Gwen Stefani comes from a good vantage point for androgynous style. From her early '90s beginnings to today, she flawlessly pairs retro feminine styles with decidedly masculine pieces, like baggy pants and grungy plaid button-ups.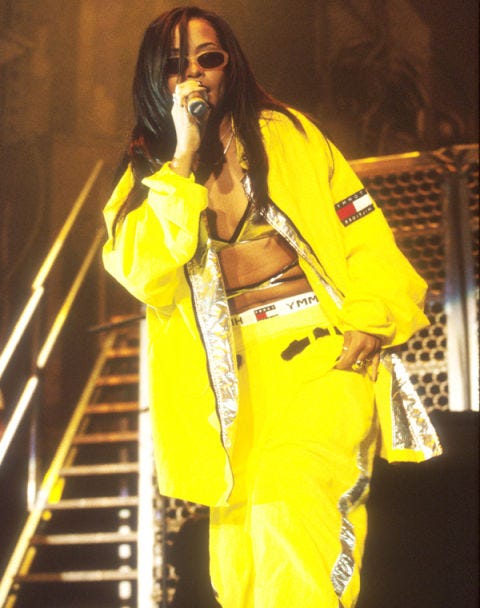 Aaliyah
In the '90s, Aaliyah was at the forefront of the underwear as outwear trend. Always one for a midriff-baring look, the singer was known for her tentlike pants with Tommy Hilfiger boxers peeking out in not-so-subtle fashion. A man's underwear drawer was never so enticing.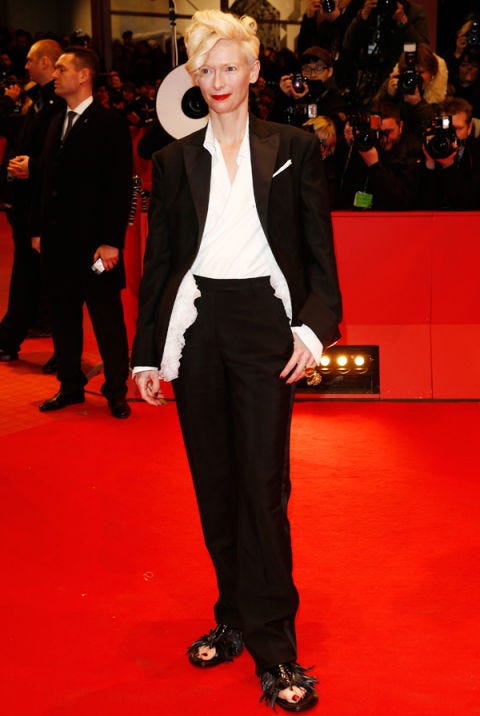 Tilda Swinton
Tilda Swinton is a fashion muse to men and women alike. She takes a futuristic, avant garde approach to her masculine dress, with sharp, no-frills suits and streamlined sheaths that never look anything but regal.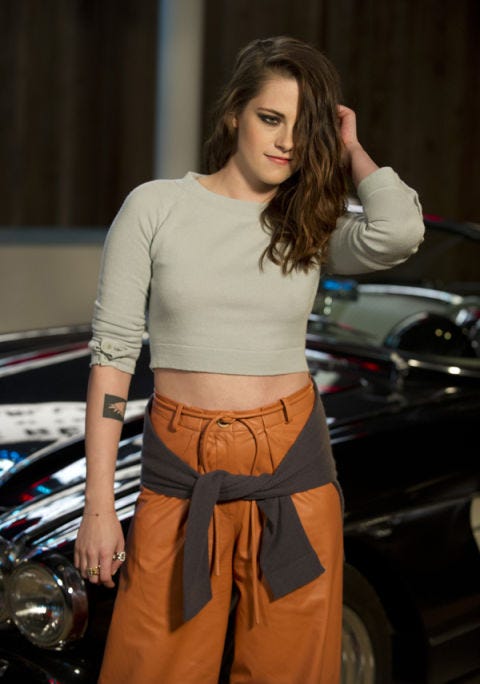 Kristen Stewart
Kristen Stewart proves that when it comes to fashion, it's not always what you wear, but how you wear it. From her artfully-disheveled hair to off-duty T-shirt and jeans uniform, her style reflects her blithe attitude. She's never put-on and her wardrobe is proof of that.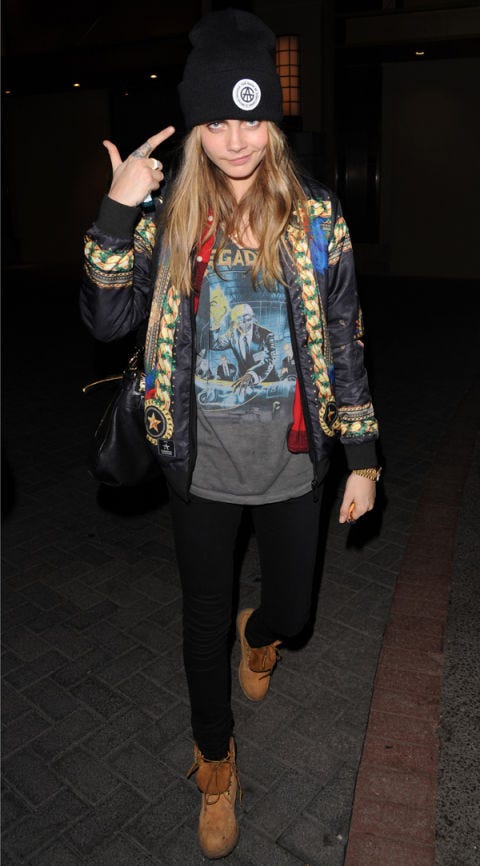 Cara Delevingne
Cara Delevingne may storm catwalks and red carpets alike, but she's all about streetwear. In fact, her style is as tongue-in-cheek as her Instagram. She dresses her gamine frame in leather jackets, cozy sweatpants, graphic tees, and oft tops things off with a snapback or beanie hat. She's the quintessential modern tomboy.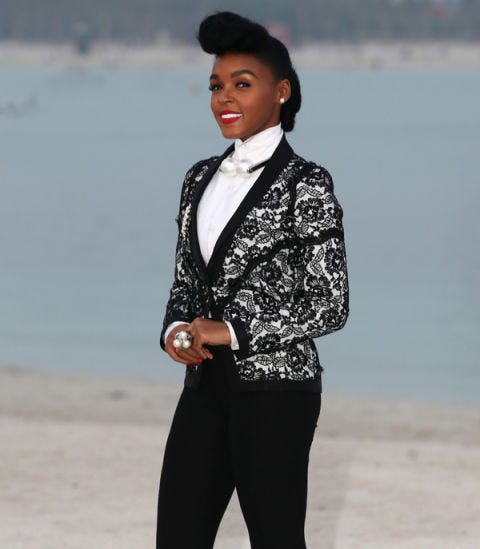 Janelle Monáe
You'd be hard-pressed to find a woman who's better versed in the art of borrowed-from-the-boys black (and white) tie dressing than Janelle Monae. The performer's tailored suit and tuxedo game is virtually unrivaled.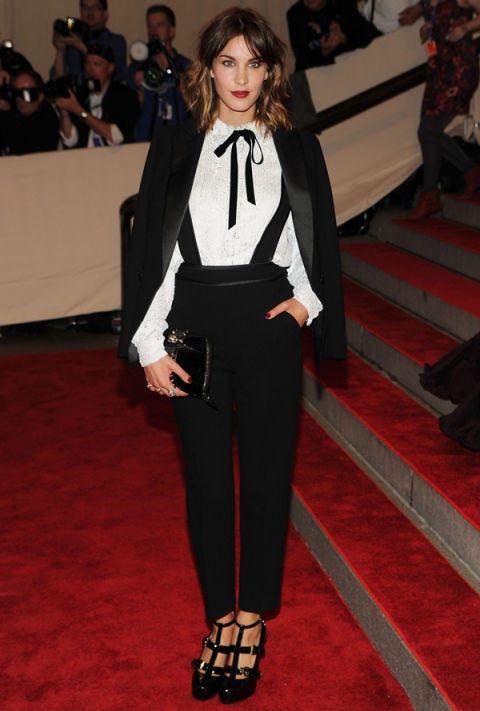 Alexa Chung
Yes, Alexa Chung can wear the hell out of a mini-dress, but she can just as easily slip on a suit and look right at home. The British beauty gravitates toward masculine tailoring and detailing, whether it's chic suspenders or a blazer that looks like it was plucked from Savile Rowe.
This content is created and maintained by a third party, and imported onto this page to help users provide their email addresses. You may be able to find more information about this and similar content at piano.io