11 Beyoncé Style Hacks for a #Flawless Look
Bey is at the top of our blogroll.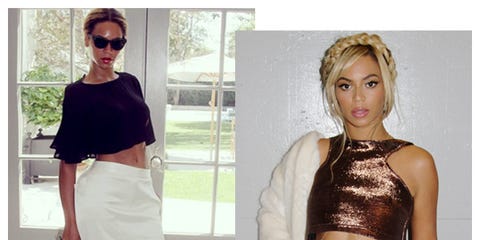 Sharing her outfits and musings on the regular, Beyoncé is a style blogger in her own right — and you know she's at the top of our blogroll. From ab fab crop tops to hipster toppers, #Beygood to your wardrobe and take notes on the queen's most notorious styling tricks of 2014.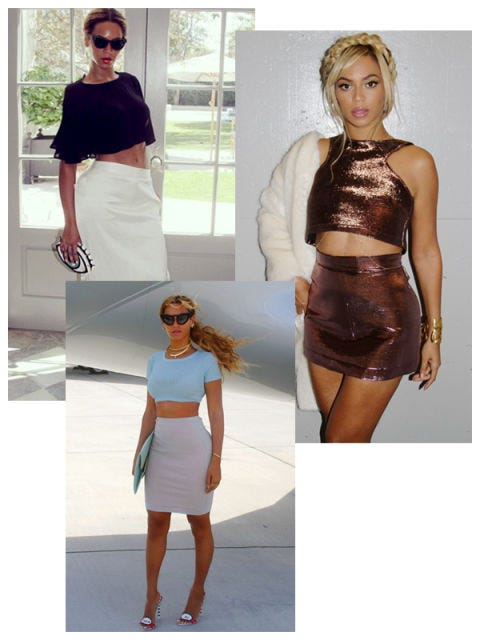 The Love on "Crop" Top
When you're as ab fabulous as Mrs. Carter, your midriff will always be one of your best assets. The crop top is the perfect way to show it off in tasteful fashion. Bey oft pairs the topper with a high-rise pencil skirt that hits just above the belly button.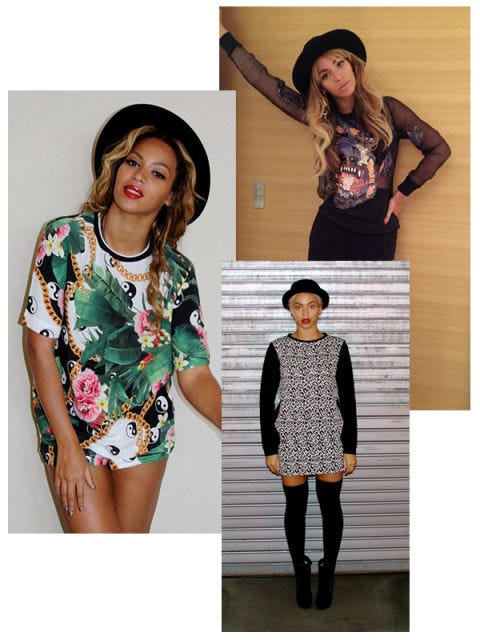 Put a "Hat" On It
Over the past year, Bey has taken a liking to one downtown staple above all: the black felt hat. She punctuates many of her envy-inducing looks — and earns hipster cred in the process — with boater, fedora, and bowler styles.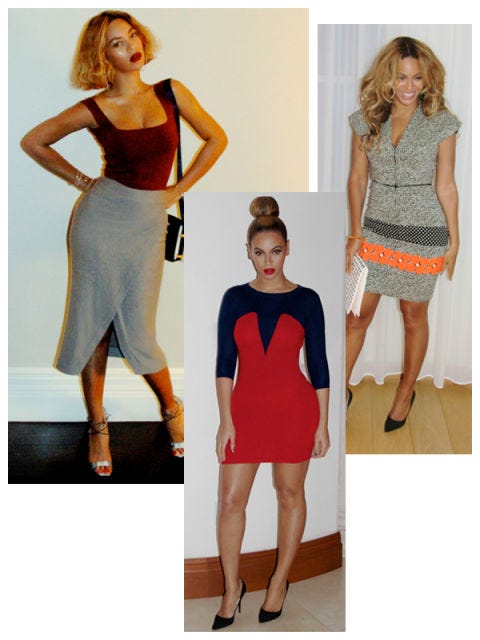 The "Lose My Breath" Bodycon
Beyoncé is always five alarm fire hot, but when she slips into one of her signature, body-hugging looks, all the boys bow down. Cinching the waist with clingy fabrics is the first step to a freakum-worthy moment.
The Me, My Matching Set, and I
Queen Bey helped catapult the matchy-matchy look to become a top tier trend of 2014. Whether it's a tailored suit or midriff-baring top and skirt set, she's all about the mono-print look.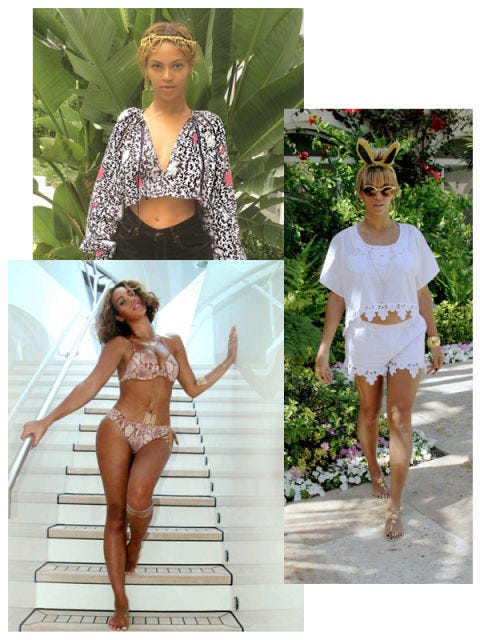 The "All Gold Everything" Accessories
All that glitters is not gold, unless you're Beyoncé. No matter what look she's going for that day, she adorns her glowing physique with chunky aureate baubles and metallic tattoos.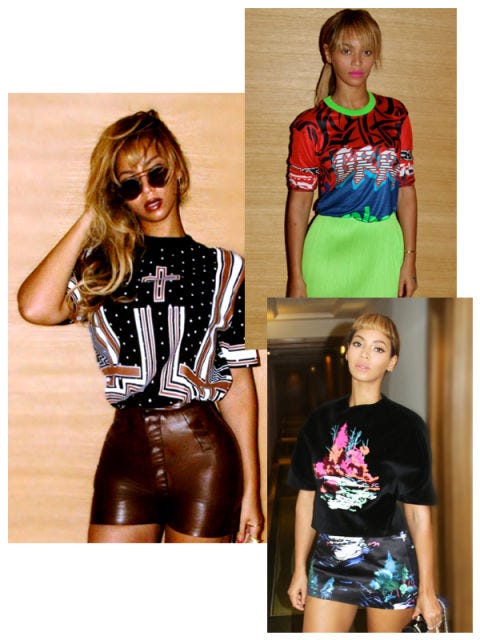 The "Upgrade U" T-Shirt
Token logo T-shirts just don't measure up to Bey's high-octane, graphic toppers. They're easy to throw on and a game-changer for your outfit. Not to mention, so inspired you might just find one hanging in the Louvre.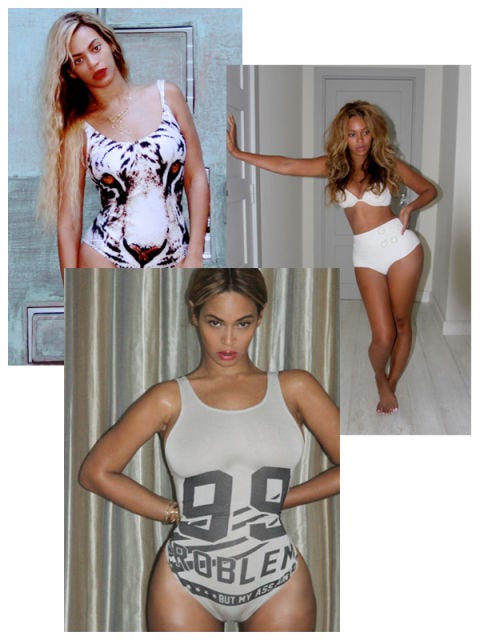 The BeyDay Suit
Only slightly less sensational than the birthday suit, the BeyDay suit is decidedly sexy, but also cheeky. Be it a play on words: 99 problems but my a** ain't one, or vintage-inspired two-piece playsuit, they make us want summer 365 days a year.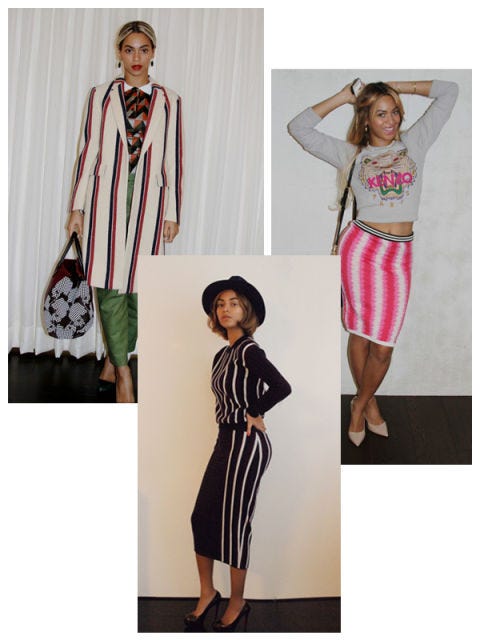 The "Say My Name" Stripes
Classic stripes are never sexier than at the hands of Bey. She typically opts for vertical lines to elongate her 5' 7" frame.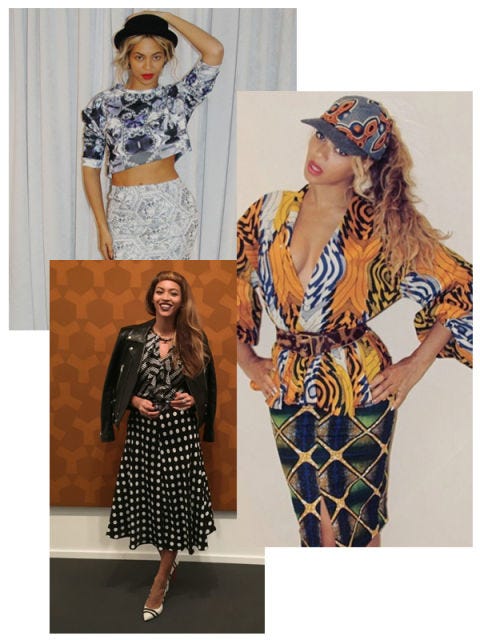 The "1+1" = 2 x the Print Fun
When you're Beyoncé, breaking rules is just another day on the job. Sartorially speaking, her favorite way to push boundaries is with clashing prints. Whether it's polka dots and stripes, or tribal and plaid patterns, her outfits are a fashion critic's beautiful nightmare.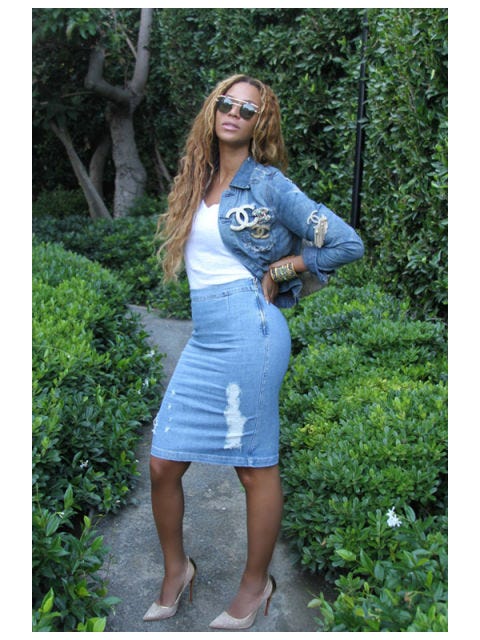 The "Booylicious" Denim-on-Denim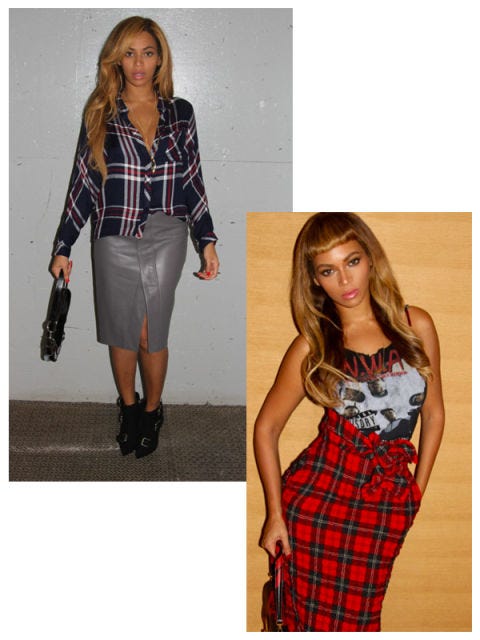 The If-I-Were-a-Boy Plaid Shirt
Beyoncé is the picture of feminine, but she adds edge to her look with a borrowed-from-the-boys flannel. She notoriously styles it by tying it around the waist, but also pares down a sexy look by wearing it as a top.
This content is created and maintained by a third party, and imported onto this page to help users provide their email addresses. You may be able to find more information about this and similar content at piano.io