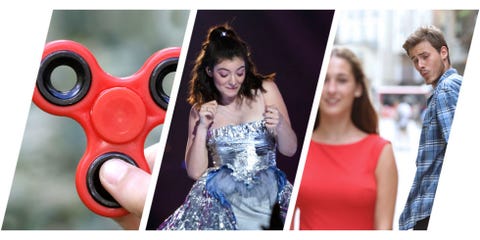 In school, the kids in advanced classes are sometimes told that it's natural for them to procrastinate because they like testing their superior intellects against the clock. Now, even though most of the Gifted and Talented are grown enough to realize that telling children they're special is setting them up for future disappointment, at least the putting-everything-off-until-the-last-minute part hasn't changed. Here, 10 Halloween costumes you don't even need to pull an all-nighter to put together.
1
The "Guy Checking Out a Girl" Meme
So internet! So millennial! And so easy, if you've got two friends who are equally late to the proverbial costume party. Red shirt, blue shirt, plaid shirt, the relevant facial expressions, done—unless you want to add signs to make some cutting political commentary about Capitol Hill ignoring the tenets on which America was built to deport children.
Gap, $30
BUY IT: gap.com.
2
Archie from 'Riverdale'
I've never seen this show and even I know what he looks like, so others should too. Call up a friend who's held onto his letterman jacket far longer than he should have, add a white T-shirt and jeans, and an eyeshadow bruiser.
Opening Ceremony, $395
BUY IT: ssense.com.
4
Emma Stone as Billie Jean King
I mean, most people will think you're going as a nondescript tennis player if you don't have the hair, but beggars can't be choosers. The more vintage your whites and racket, the better, but your bedtime glasses will do. (Bonus: No contacts to take out at the end of the night.)
Warby Parker, $145
BUY IT: warbyparker.com.
You're going to dance anyway, aren't you? So pay homage to Lorde with sweats, Superstars, and maybe an aluminum foil dress, if you're crafty. (If you're not, you could buy the one below.) To really sell it, remember to express yourself with unadulterated joy. That really terrifies people.
ASOS, $103
BUY IT: asos.com.
Organize a really big sheet of cardboard. Cut two torso-size fidget spinner shapes and wear them sandwich-board style. The finest members of the procrastinating class will find some way to make the front piece spin.
Walmart, $20
BUY IT: walmart.com.
7
Melania Trump Going to Texas
8
Kendall Jenner Delivering World Peace
You just need a jacket, a can of Pepsi, and the belief that sugary beverages can solve protester-police relations. (It's fine, you're in character.)
Smoke x Mirrors, $245
BUY IT: smokexmirrors.com.
10
Kellyanne and Her Flashcards
The hardest part would be finding a printer. And enough eyeliner.
Stila, $22
BUY IT: sephora.com.