Michael Kors on How Your City Defines Your Style
The fashion design powerhouse on wanderlust, local flavor, and his brand-new fragrance.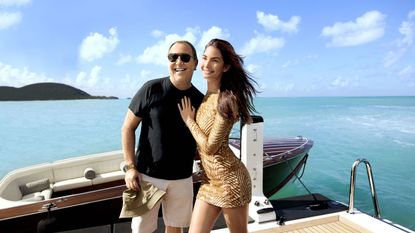 (Image credit: Getty Images)
You discover so much when you travel. My first trip out of the country was to both London and Paris, as a teenager, and of course I had these very cinematic ideas of what the women would look like. In Paris, I was expecting Belle de Jour on every corner, and I had this fantasy that everyone in London was going to be walking around wearing a cardigan and a pair of wellies, like English royalty in the countryside.
When I got there, I remember thinking, I don't see a lot of corgis and herringbone tweeds! The women in London were very dressed up, wearing lots of color and makeup. In Paris, it was the reverse: They had a relaxed and laid-back approach to beauty. You know what I learned? Not everything in the movies rings true!
Now, because of social media, I think you have this great melting pot of global style around the world. But certain cities still do have their personalities. Like in New York and Tokyo, people wear lots of black and gray, but they might add an accessory or bright-red lipstick or liquid eyeliner—a little bit of quirk. And I've learned over the years that the English do love eccentricity and color. For example, the lavender tweed look from my fall collection makes me think of London; it's like an eccentric Queen Elizabeth outfit. But the white minidress (left) we did makes me think of L.A.—I know girls there who would wear it with flip-flops!
When a lot of people talk about American fashion, they bring up New York, but I think we've learned a lot about glamour and ease from California. That's the type of woman I had in mind when I was creating this new fragrance, Wonderlust. She's super-glamorous, but at the same time, she's having fun and she's relaxed. She's the kind of girl who would be able to put on extravagant fringed, beaded trousers with a cashmere sweatshirt and a white snowball of a jacket (right), like the look we closed the fall collection with.
It's the unexpected pairing, being ready for anything—that's what the fragrance is all about.
1. "Once, I was walking down a tiny, narrow street in Capri, and this scent just hit me. I thought it was from the lemon trees, but it was actually coming out of the Carthusia shop. It was fabulous!" Carthusia Meditteraneo Body wash, $45
2. "I discovered this candle in 1985 on boulevard Saint-Germain in Paris, which was the only place you could buy it at the time. I brought it back and thought, 'I made this discovery no one knows about!' Of course, 30 years later, Diptyque has become popular globally." Diptyque Jasmin Candle, $62
3. "This fragrance evokes Capri. It has the freshness of Italian bergamot and mandarin, as well as jasmine—I'm a huge jasmine addict." Michael Kors Wonderlust Eau de Parfum, $108. (Don't forget to grab one of our Michael Kors promo codes before you hit checkout.)
4. "Big Sur, California, is one of the most magical places, and there's a company there, Bonny Doon Farm, that makes fabulous lavender soap. There are no chemicals, so it's not an intense scent—it's just very fresh and great on your skin. I love the idea that it's local. You're not going to walk into your drugstore and find Bonny Doon anytime soon!" Bonny Doon Farm Lavender Soap, $10.
This article appears in the August issue of Marie Claire, on newsstands now.
Marie Claire email subscribers get intel on fashion and beauty trends, hot-off-the-press celebrity news, and more. Sign up here.
Jennifer Goldstein is the former beauty & health director of Marie Claire and co-host of the award-winning beauty podcast Fat Mascara. In her quest to uncover the world's beauty secrets, she's gotten tattooed in New Zealand, dug up turmeric in India, harvested shea nuts in Ghana, and squeezed enzyme-rich eggs from salmon in Norway. She can pluck eyebrows like a pro and has read the FDA monograph on sunscreen labeling and effectiveness—but she still can't get liquid eyeliner to look the same on both eyes.