Hervé Léger's New Take on Bandage Dresses
The Spring 2011 fashion show put a new lace-and-corset twist on the classic body-con dress.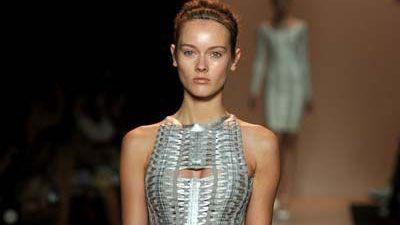 (Image credit: Frazer Harrison/Getty Images)
Lots of trends are seen on the runway every season, many of them duplicated in multiple shows, but today I saw a new one at Hervé Léger.
According to Max Azria, who has helmed the brand for more than a decade, this collection was inspired by Marie Antoinette and used delicately woven bandages to symbolize the lace and corsets of the 18th century. These dresses were skintight and definitely had a modern — and even slightly futuristic — spin on a classic style. Each dress had intricately woven sections and cut-outs to show just the right amount of skin.
I loved the look of them, but they actually seemed a bit uncomfortable. They appeared stiff and likely would be difficult to sit in … but fashion does not always equal comfort.
Tell Marie Claire: Do you think style is more important than comfort and ease? Would you rock one of these dresses?