The Magical Style Mashup of Cara Delevingne and St. Vincent's Relationship
They're on the opposite sides of the cool-girl spectrum.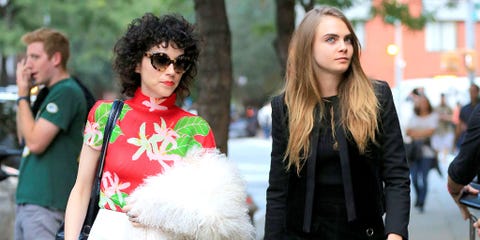 Cara Delevingne and St Vincent are hot and heavy and we're swooning over how masterfully their respective styles intertwine. There's Delevingne's androgynous, tongue-in-cheek take on streetwear, and then there's Vincent's sleek and avant-garde wardrobe—which always makes her look like she was plucked from an art gallery opening. Here, we look back at the best of their dueling fashion personalities on the cool-girl spectrum.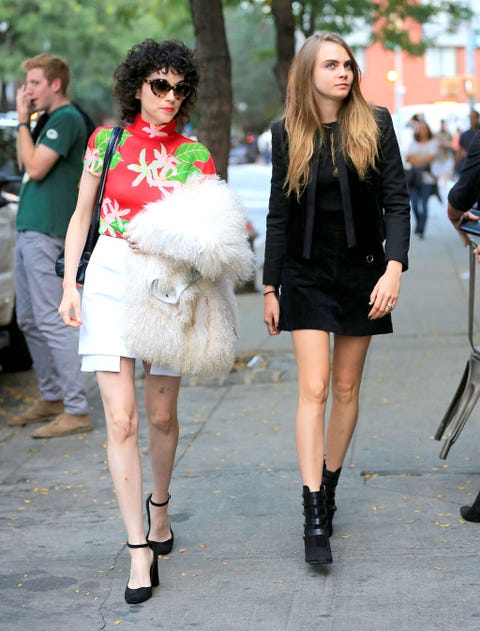 September 28, 2015
After donning more casual looks earlier in the day, the pair slips into something a bit more dressy for their dinner date. We love St. Vincent's tropical-themed top and white mini-skirt contrasted against Delevingne's all-black jacket, top, and skirt combination.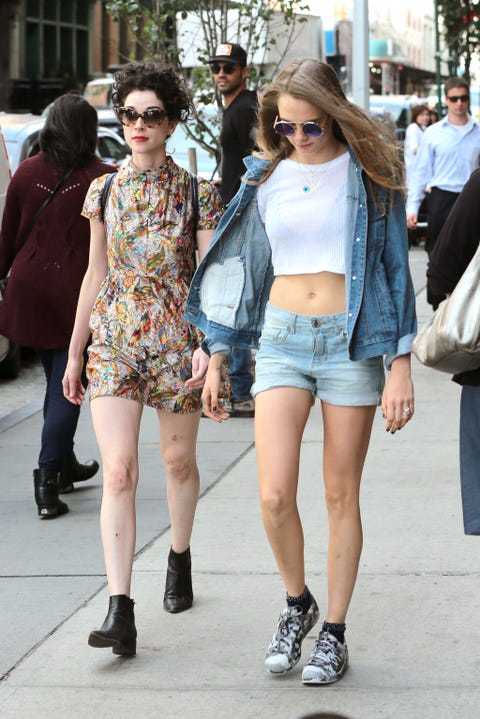 September 28, 2015
While traipsing around NYC, Vincent sports a floral onesie and Delevingne keeps things ultra-chill in a denim jacket, white cropped T-shirt, and cut-off jorts.
Delevingne dons a borrowed-from-the-boys blue velvet tuxedo suit and puffy white high-top sneakers.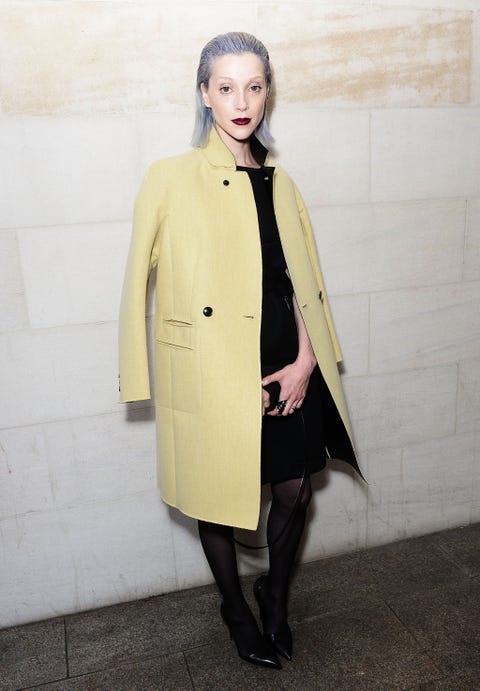 Clark plays with color here, wearing a pale yellow coat in cool contrast to her lavender-hued, slicked-back coif.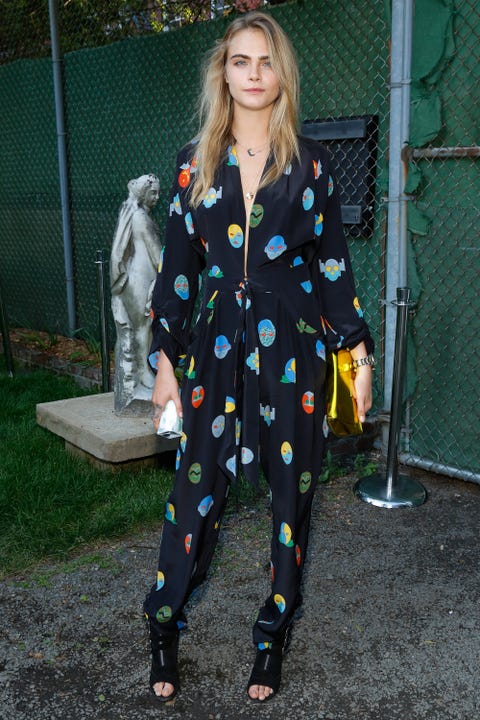 Channeling a playful look in a Stella McCartney Resort 2015 printed silk jumpsuit.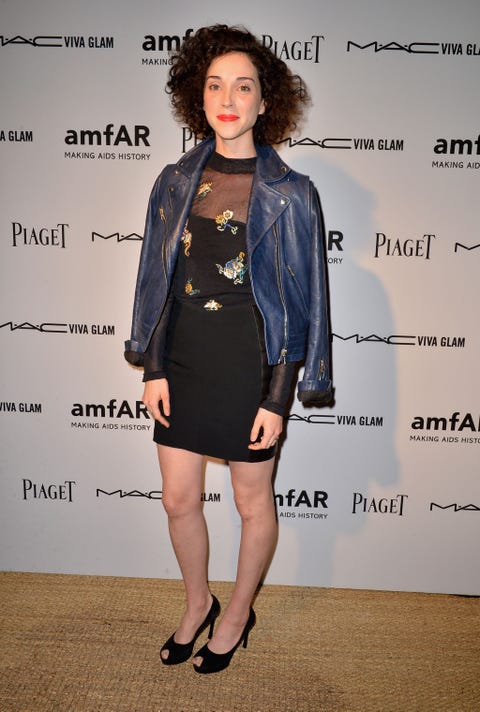 The singer pulls off a street style uniform with ease in this navy blue leather jacket (on the shoulders, of course) and sheer black cocktail dress.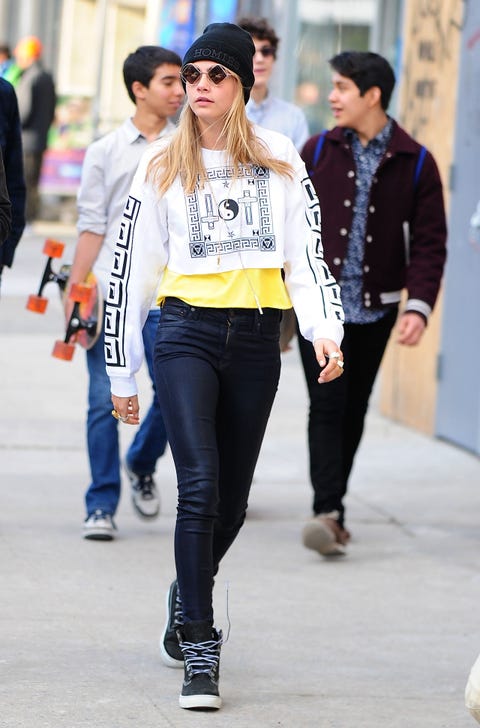 Graphic yin-yang sweatshirt, high-waisted skinny jeans, and lace-up high-top sneakers—just a casual outfit for Delevingne. Topping off the look as only she can, she also sports round sunglasses and a beanie.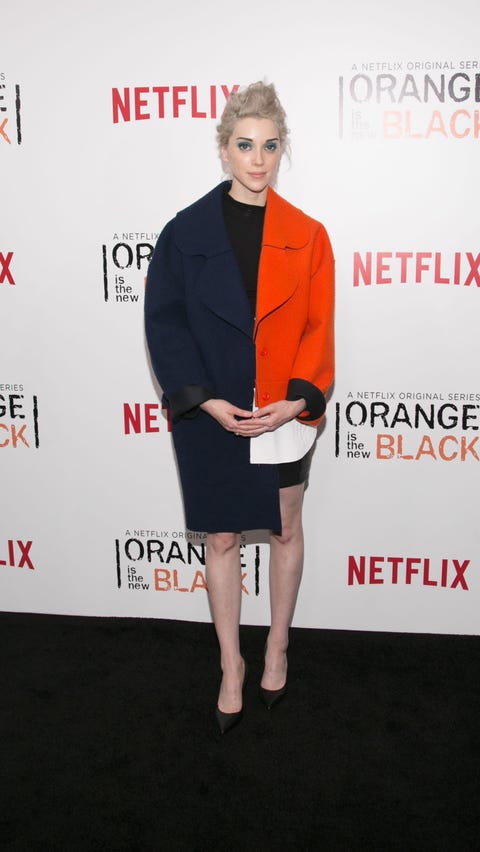 Proving that less can be more, St. Vincent wears a color-blocked statement coat in unexpected dark purple and tangerine hues.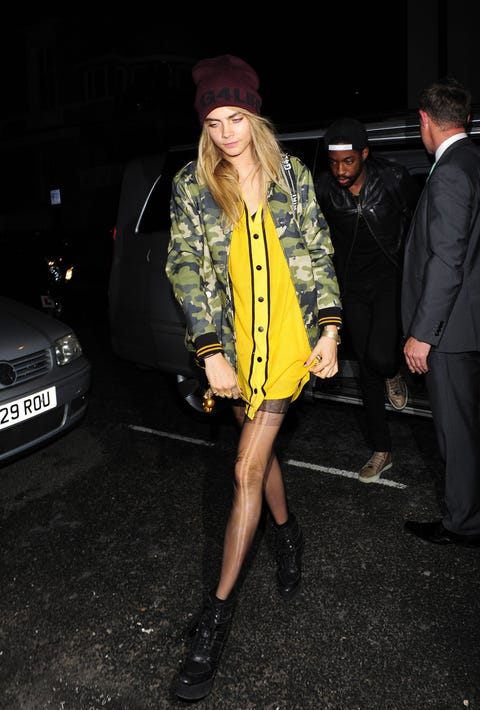 Delevingne taps into the military trend—a streetwear staple—wearing an army print jacket, oversized yellow button-up blouse, and chunky platforms.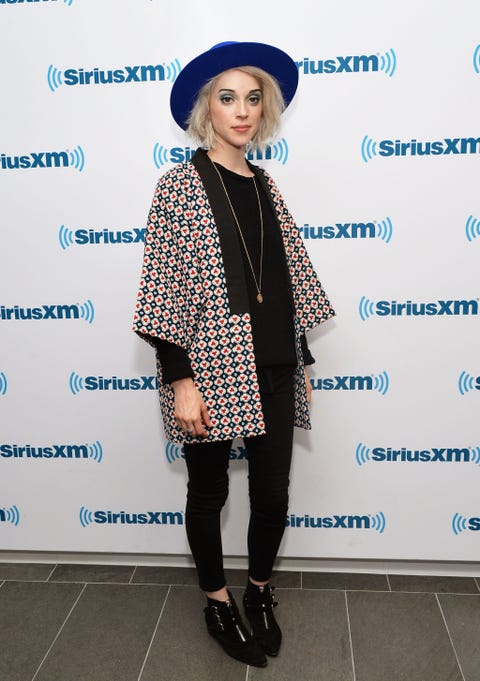 Wearing all-black, St. Vincent pairs an origami-like geometric coat with a wide-brimmed royal blue boater hat for an unexpected pop of color.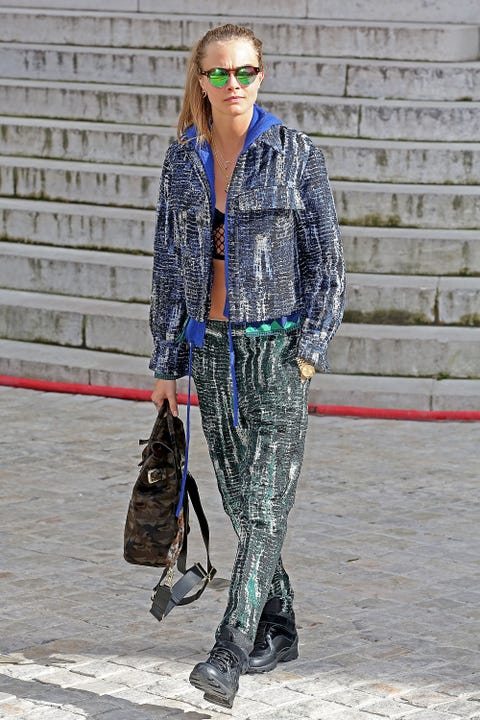 Delevingne sports a '90s crop top underneath a hooded jacket and sweatpants—both in electrifying reptilian prints .
A rock 'n' roll motorcycle jacket with a silk print scarf, white shirtdress, fishnet tights, and combat boots is everything on St. Vincent.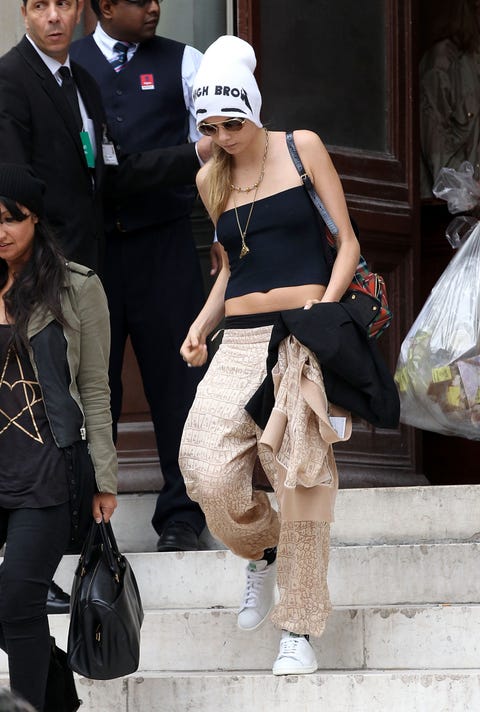 Delevingne steps out in a midriff-baring top, baggy pants slung on her hips, and a beanie for another decidedly '90s look.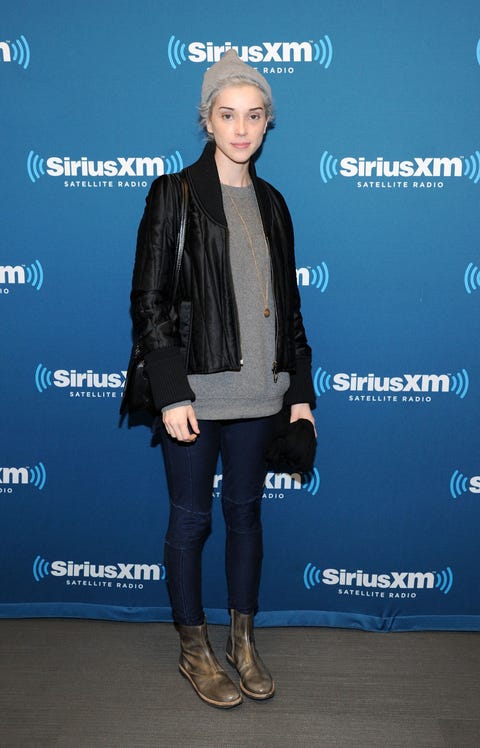 Even when she dresses down, St. Vincent is sophisticated-cool wearing a nylon jacket, grey sweater, skinny denim jeans, and gold-brushed patent boots.
This content is created and maintained by a third party, and imported onto this page to help users provide their email addresses. You may be able to find more information about this and similar content at piano.io