Inside Nicolette Mason's Wedding-Dress Hunt: "It's the Most Important Fashion Choice of My Life"
Behind the scenes at the Marie Claire editor's Kleinfeld appointment.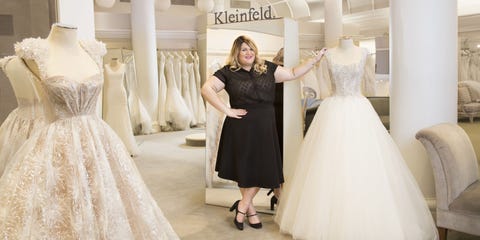 Behind the scenes at the Marie Claire editor's Kleinfeld appointment.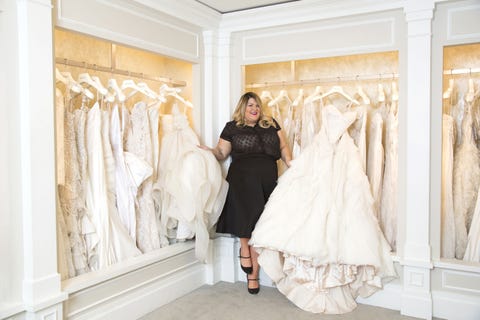 I had a lot of anxiety about the idea of going into a more traditional wedding dress boutique. While some stores specializing in full-figured bridal gowns have started popping up (Della Curva in Los Angeles and Haute & Co in Chicago come to mind), most bridal boutiques— especially the ones that carry highly sought-after designers—rarely stock anything beyond sample sizes.
I was pleasantly surprised to find some absolutely stunning gowns at Kleinfeld (of Say Yes to the Dress fame, obviously), including dresses from high-end designers Badgley Mischka and Dennis Basso, no less. Their gowns were gorgeous, and the Kleinfeld team made me feel so comfortable when I tried them all on.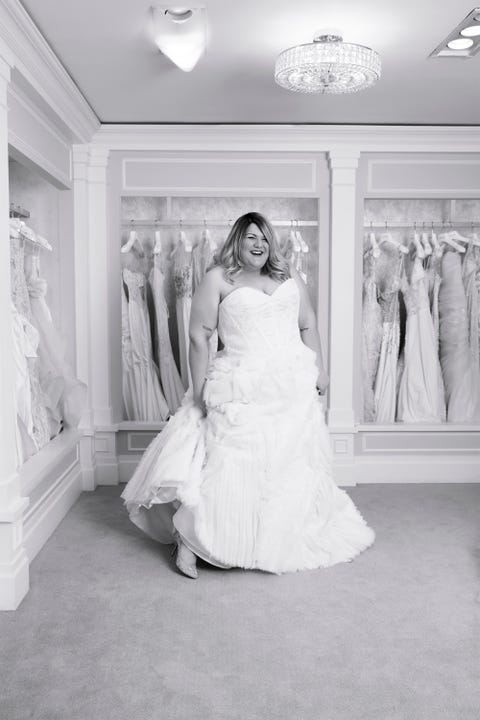 But then...the self-doubt hit. How would I know when I had found The One? It's the most important fashion choice of my life! I was overwhelmed by the thought that I might pick the wrong dress.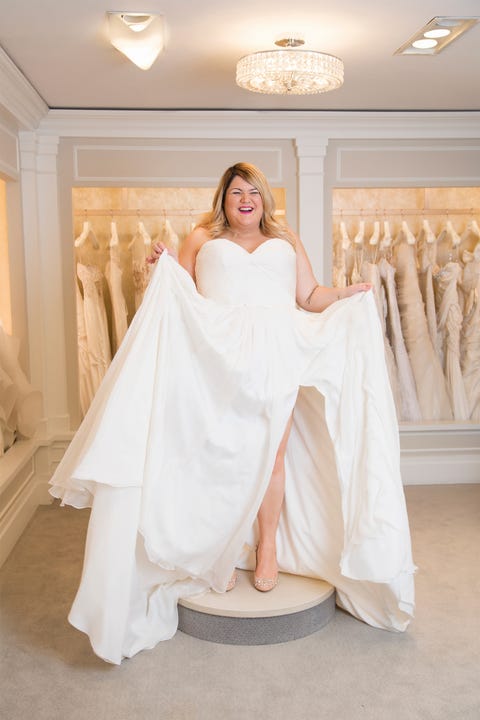 I knew I didn't want to wear a "traditional" gown, but what exactly was the alternative? It took a lot of guess work and intuition to know which shape would look best on me —after all, it's not like I have a habit of wearing formal gowns.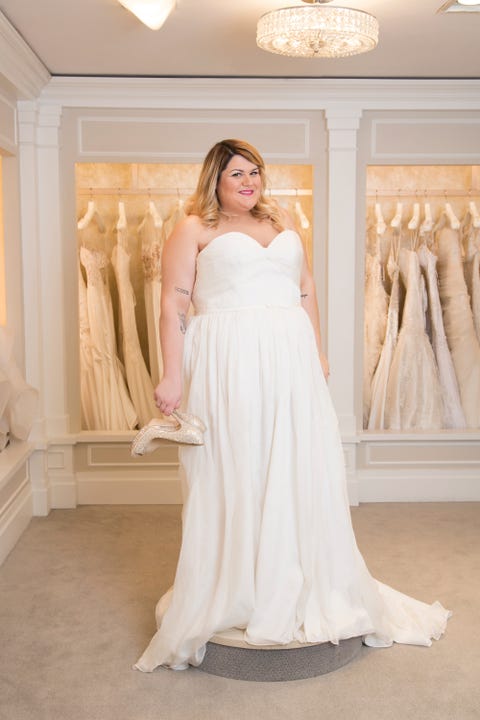 The trickiest thing was figuring out which silhouettes would flatter me most. I have a sort of irregular shape, especially for most plus-size fits; I'm super busty and broad-shouldered but do not have much in the way of hips. It's sort of an inverted-triangle situation. I didn't want to look like I might topple over.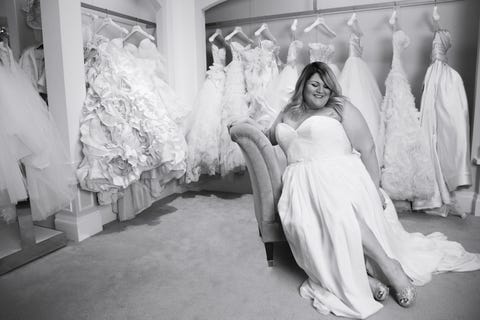 Though our gender roles are definitely not dictated by the way we dress, my style is feminine and my partner Ali's is masculine. It never even crossed my mind that she might entertain the idea of a dress—so when she went straight for sleek suits, I wasn't remotely surprised.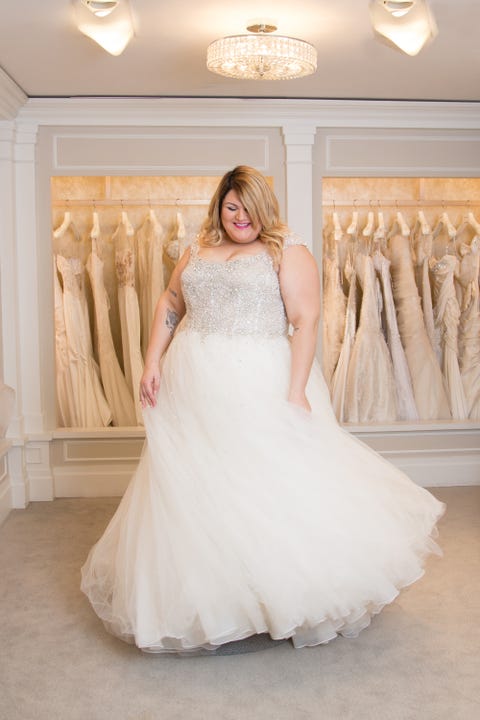 I helped Ali design her custom suit with
Bindle & Keep
, a New York-based bespoke suit brand, but I planned to keep my dress a secret from her. It was less about maintaining tradition and more about wanting to get her reaction on camera. Sorry not sorry!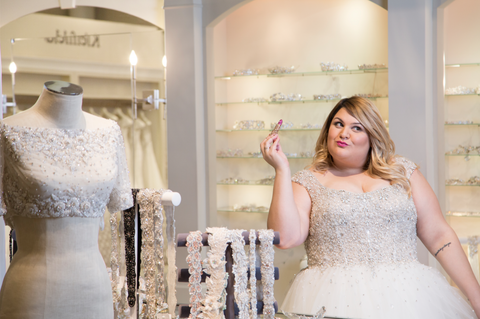 My mom was a little disappointed when I told her that I didn't want to wear a pure white dress. But it's 2015, I'm almost 30, I have been in multiple long-term relationships, and I'm queer. The whole concept of the properly traditional white dress was kind of moot from my perspective.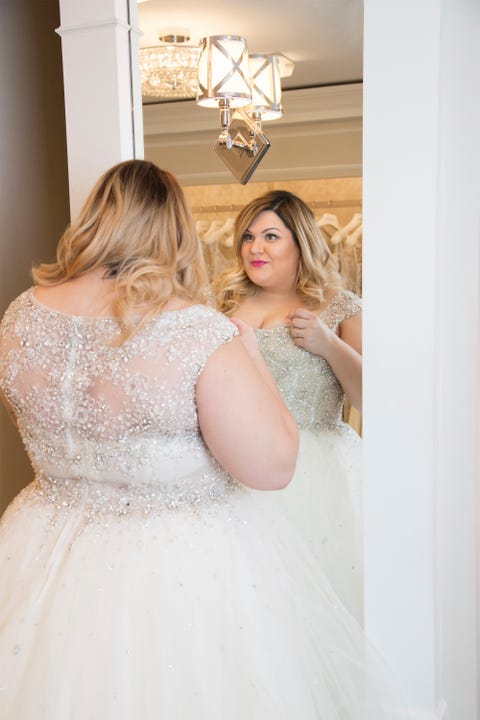 I love a classic white gown on a bride, but it just wasn't right for me at the end of the day. It's wonderful that there are so many more options for your stroll down the aisle these days, from crisp suits to capes to patterns, textures, and colors. Did I go with one of the gowns you see here? Check back later this week to find out!
This content is created and maintained by a third party, and imported onto this page to help users provide their email addresses. You may be able to find more information about this and similar content at piano.io