The 9 Most Mind-Boggling Wedding Gowns at Bridal Fashion Week
From the beautiful to the bizarre.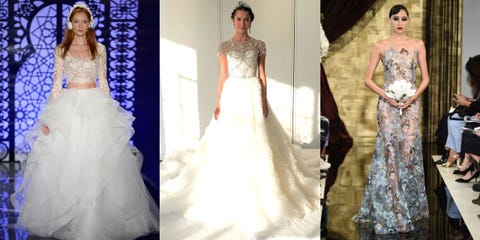 Weddings may be steeped in tradition, but more and more, women are getting experimental with their gowns. Thus, all eyes were on Bridal Fashion Week to deliver a slew of out-of-the-box designs and accessories—and that it did. From sweeping cape dresses to bedazzled #selfie sticks, see the wildest bridal designs from this season.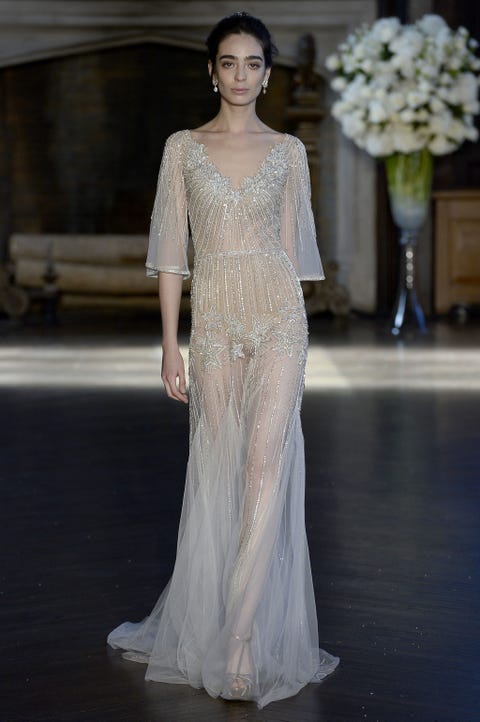 Livne's embellished, star-spangled gown is helping to coin a whole new term: the naked wedding dress. If it weren't for the skin-tone-hued underpinnings, there'd be whole lot more than meets the eye.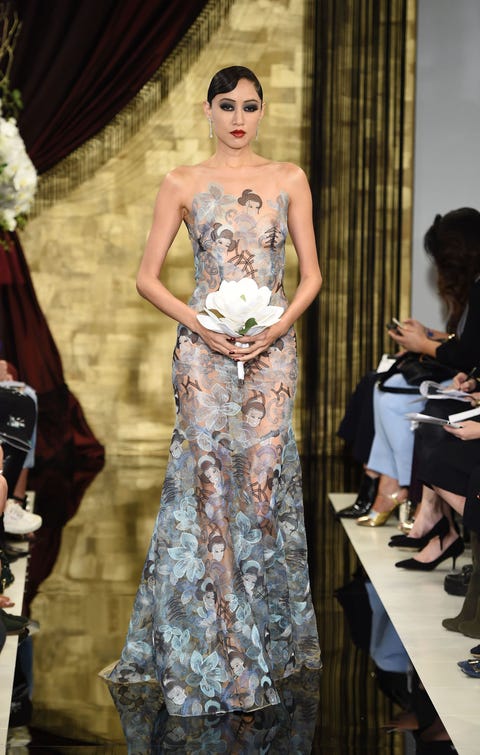 The Irish label got playful with its blue, black, and white, geisha-emblazoned embroidery over a completely see-through fabric that leaves virtually nothing to the imagination.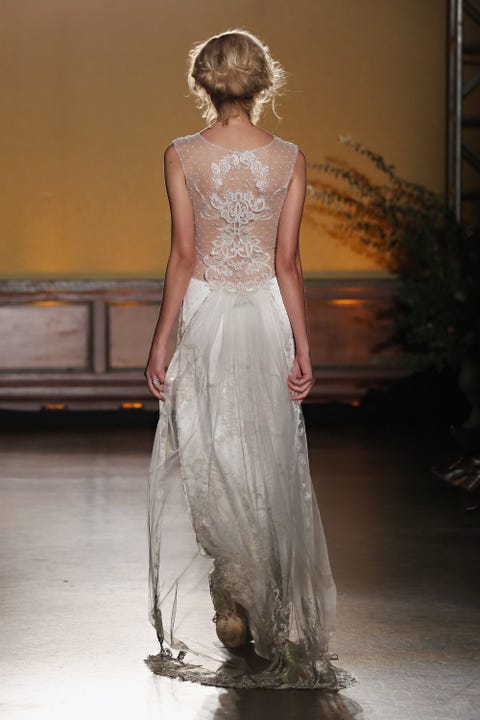 Designer Claire Pettibone decided to take the classic head veil south, attaching it right about the derrière. It may have earned itself the nickname "butt veil," but there's something decidedly elegant and unexpected about the off-kilter detail.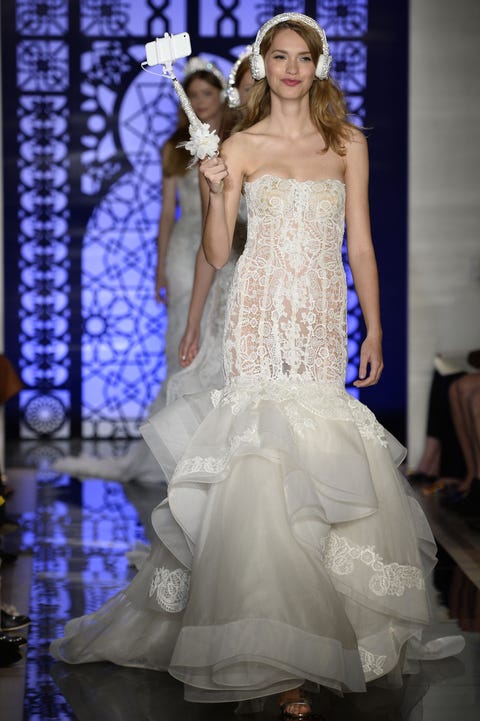 It's not a gown per se, but Reem Acra has introduced a whole new bridal accessory—the bedazzled #selfie stick, because why pay a wedding photographer when pixelated fish-gaped snaps do just fine?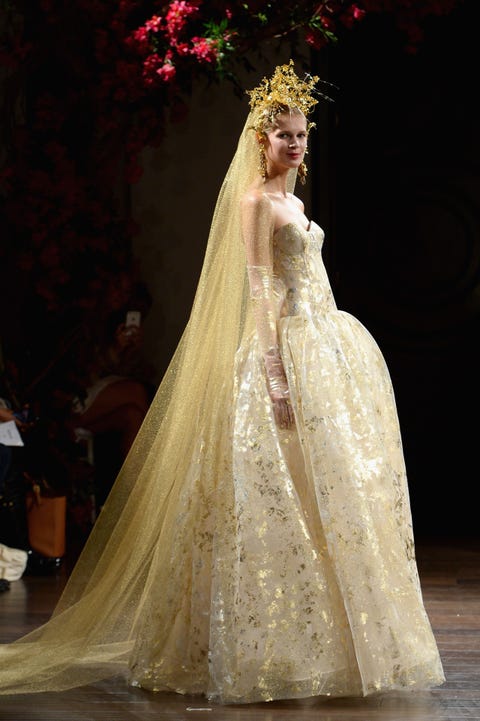 This was Naeem Khan's first bridal show ever and the designer did not disappoint with his Spanish-inspired collection complete with Frida Kahlo-esque floral headpieces. This voluminous, gold embroidered finale look was head-to-toe-jaw-dropping.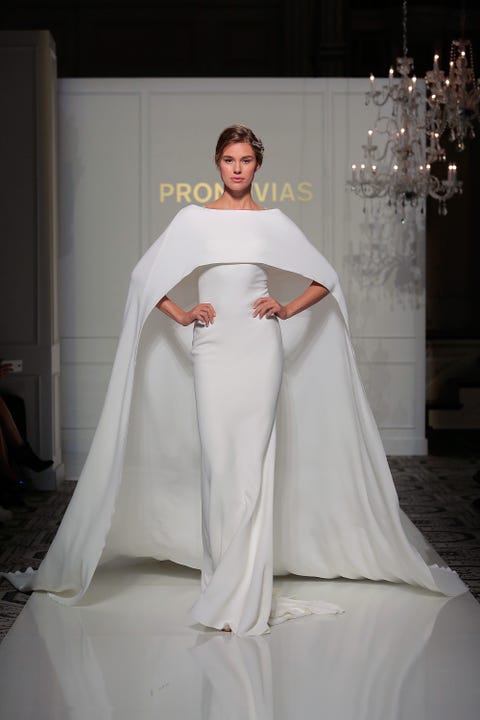 The Gwyneth Paltrow of wedding dresses, this streamlined, yet show-stopping white caped number was a standout from the Spanish fashion house. If you dream about Paris RTW all day, everyday—this is the wedding dress for you.
7
Disney Fairy Tale Weddings by Alfred Angelo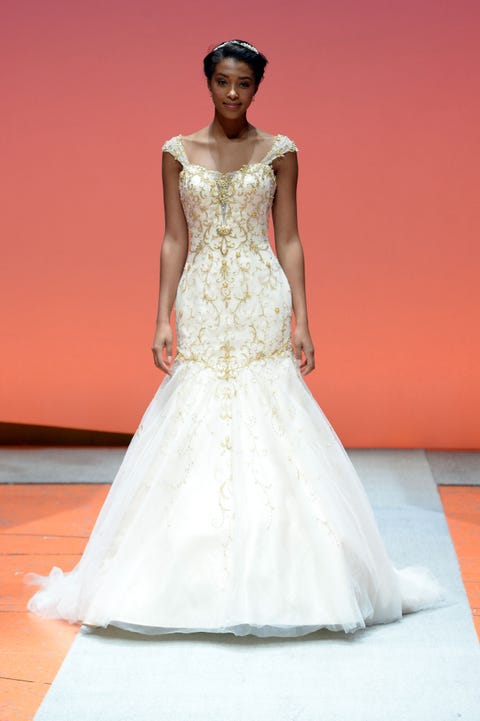 Designer Alfred Angelo dreamed up another flurry of dreamlike gowns for the Disney Fairy Tale Weddings collection inspired by their imaginary princesses. No shame in our game, this gold embroidered mermaid gown for Frozen's Elsa was among our favorites.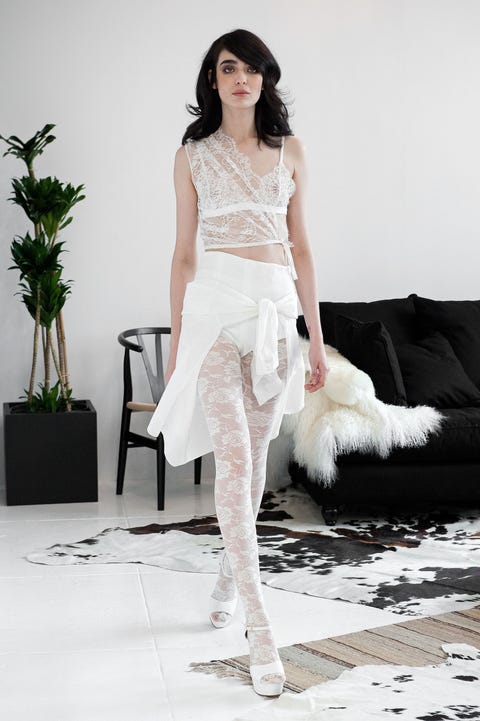 From the lace sash over the bralette to the button-up tied around the high-waisted panties, we're dying to meet the high-fashion-anti-bride that wears this down the aisle.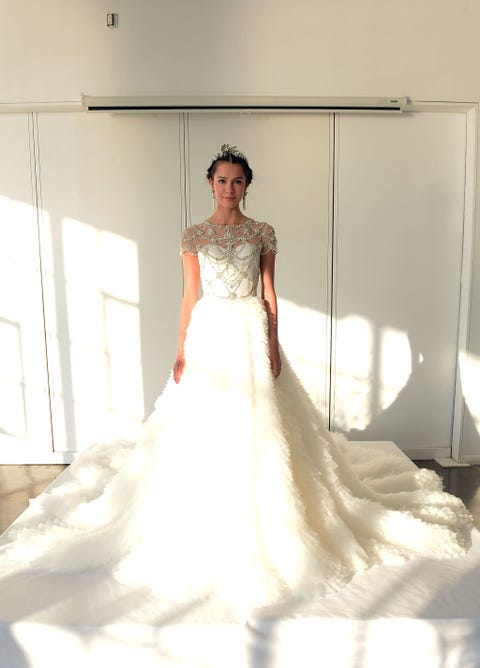 Georgina Chapman and Keren Craig know that an unapologetically frivolous wedding gown isn't such unless it requires a stage to stand upon, as well as a chandelier-like top overlay and a tiara.
This content is created and maintained by a third party, and imported onto this page to help users provide their email addresses. You may be able to find more information about this and similar content at piano.io