The Luxe List: 2015's Most Over-the-Top Amazing Ways to Spend Your Bonus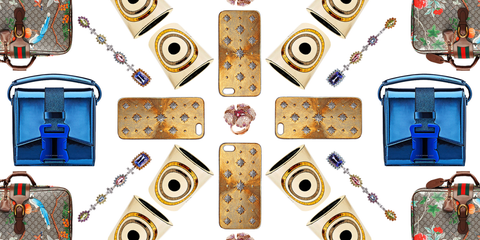 As holidays approach and you feel the gravitational pull of gift-giving season, allow us to remind you: You worked hard this year. You deserve to reward *yourself* as much as your loved ones. And with nearly 67% of American companies reporting that they'll give bonuses in 2015, you're likely to nab some extra cash for kicking all the ass you kick on a regular basis.
In the spirit of splurging, we have a few ideas for what you could spend it on. Okay, okay—many of these are probably a bit out of reach. (#Dreams.) But as Donna and Tom would say: It's time to treat yo self.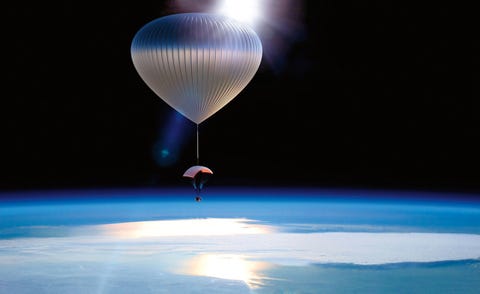 Spend an afternoon 100,000 feet above Earth in a bar-appointed space capsule carried by a high-altitude balloon. The only training required? A pre-excursion test flight (and luxury resort stay) in Tucson, Arizona. A small price to pay for astronaut-worthy views.
Price upon request, World View; neimanmarcus.com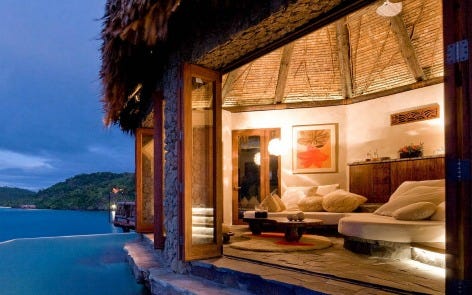 Red Bul co-founder Dietrich Mateschitz has opened his private oasis, Fiji's Laucala Island, to guests, who can now stay in one of 25 exclusive villas and relax at a world-class spa, where treatments incorporate native flowers and fruits.
Price upon request; laucala.com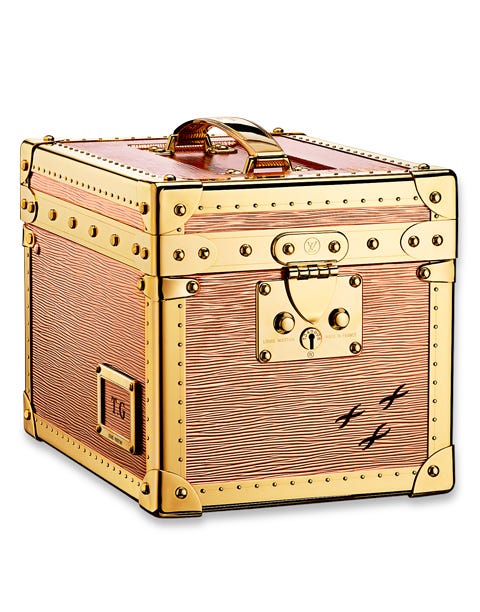 Fans of LV's iconic trunks will love the handbag-size versions, which, with built-in pockets for electronics, are still made in the spirit of girls on the go.
Prices upon request, Louis Vuitton; 866-VUITTON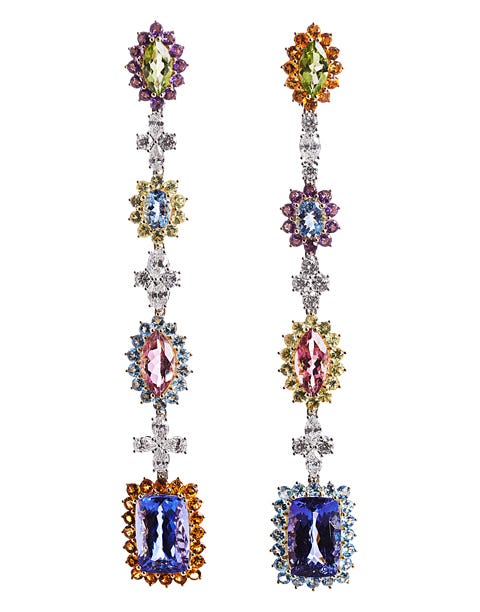 Sidney Garber's dangling earrings are a rainbow of gems that include aquamarine, amethyst, citrine, and pink tourmaline. Price upon request; 212-274-1111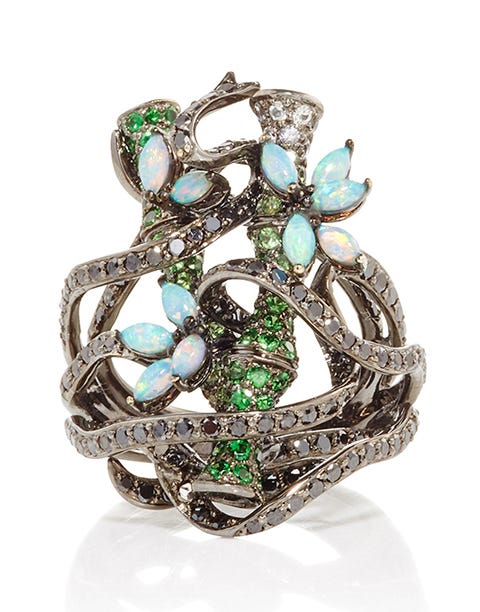 Pastel-colored stones counter-balance this statement ring's gold metalwork frame.
$12,811, Wendy Yue; modaoperandi.com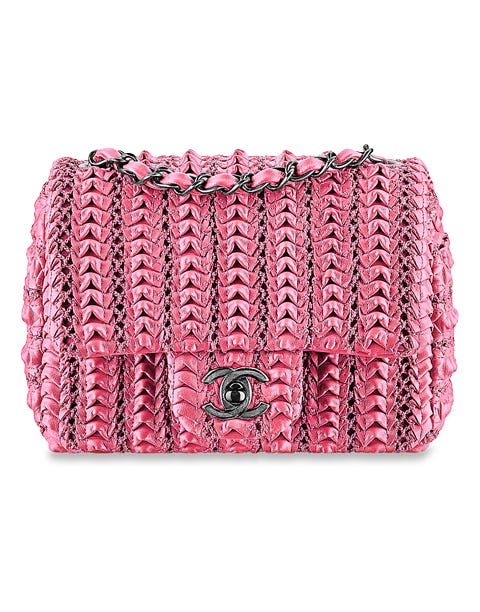 Crocheted pink leather puts a crafty spin on a Chanel bag.
$3,200; 800-550-0005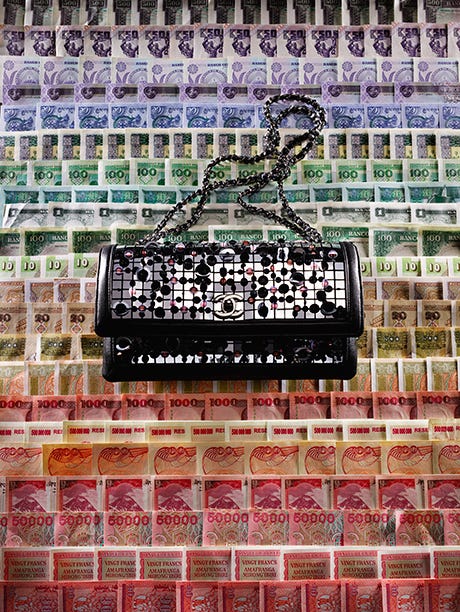 A mirrored chain bag dotted with sequins dresses up boyfriend jeans or adds extra sparkle to nights on the town.
$9,300, Chanel; (800) 550-0005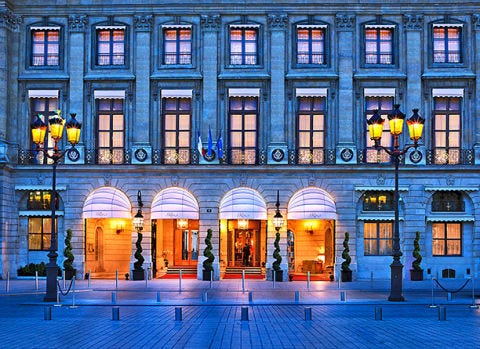 Escape to the legendary (and newly restored) Ritz Paris starting this January with Marie Claire's exclusive package for two that includes a two-night stay in the Hemingway Suite, treatments in the Chanel Spa, a pastry-making class at the École Ritz Escoffier, and an elegant dinner at the Ritz Bar Restaurant. Bon voyage!
$4,500; reservations@ritzparis.com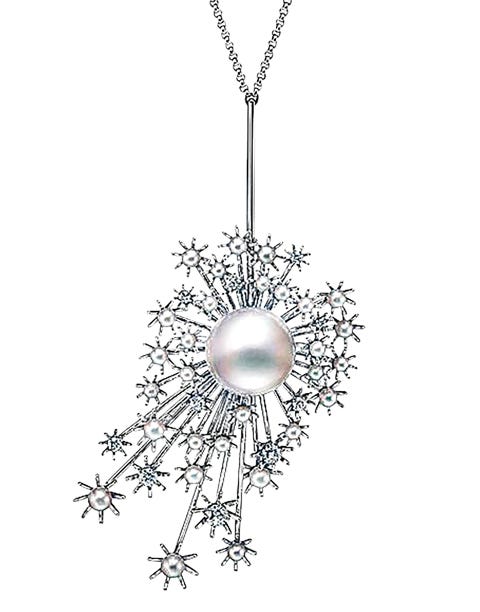 This pendant necklace's design is meant to evoke the wonder of daydreams.
Price upon request, Tasaki; tasaki.co.jp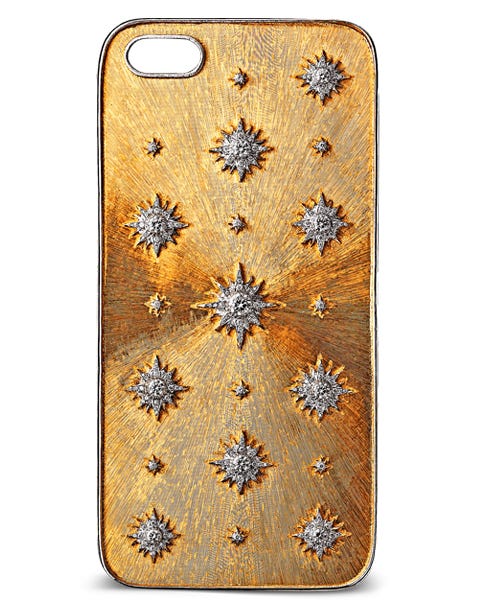 Power players need a phone case that stacks up—a diamond-and-gold iPhone option does the trick.
Price upon request, Buccellati; buccellati.com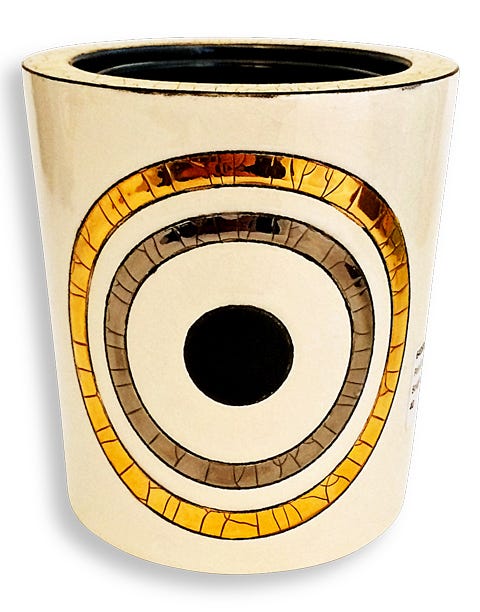 The only thing better than the tuberose fragrance? The cloisonné ceramic vessel, usable long after the blaze burns out.
Émaux de Longwy Tubéreuse Géo Candle, $135; barneys.com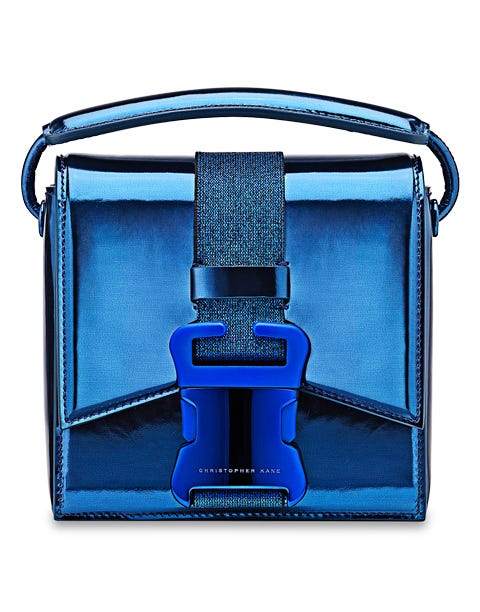 Buck(le) tradition with a bag in metallic midnight blue: a bold color that's also surprisingly wearable.
$953, Christopher Kane; matchesfashion.com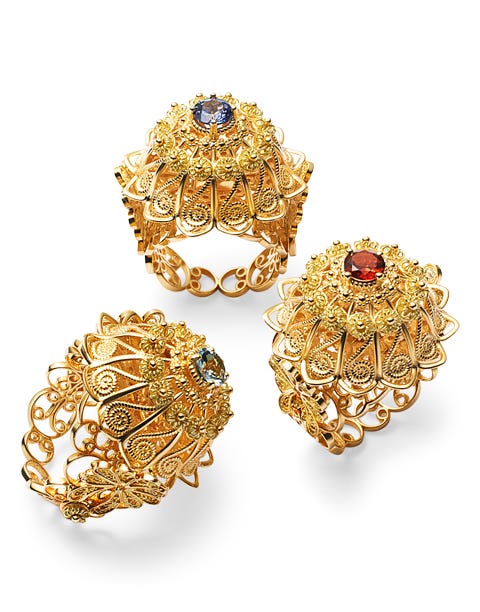 Dolce & Gabbana's signature Italian exuberance, captured in a ring.
$3,850 each; 877-70-DG-USA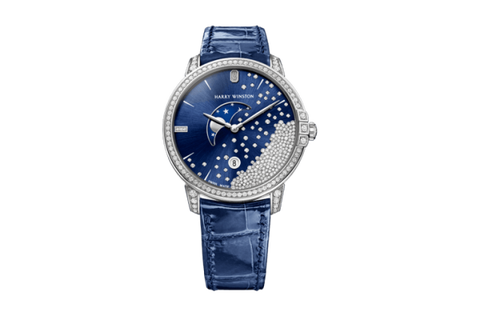 A crescent moon cutout and a cascade of diamonds make this Harry Winston's dreamiest watch yet.
Price upon request; harrywinston.com for stores.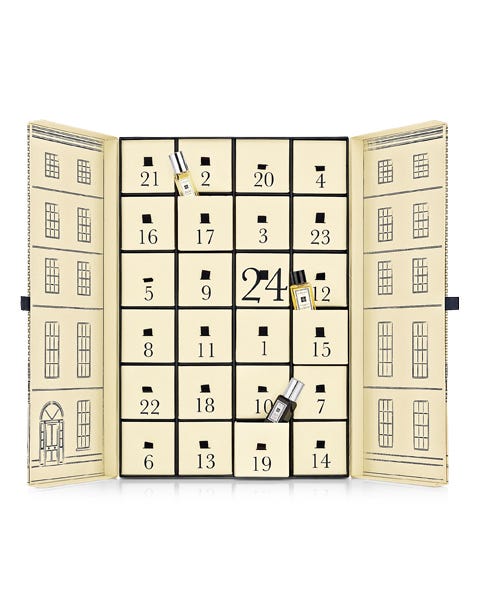 Jo Malone's advent calendar features miniature colognes and body crèmes hidden in a replica of the company's famed London townhouse.
The Luxury Advent Calendar, $430; joemalone.com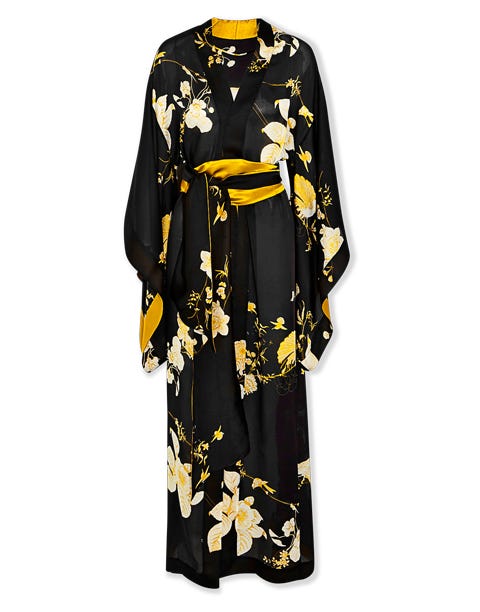 Swan about in a kimono-esque silk-satin robe by French designer Carine Gilson.
$2,080; net-a-porter.com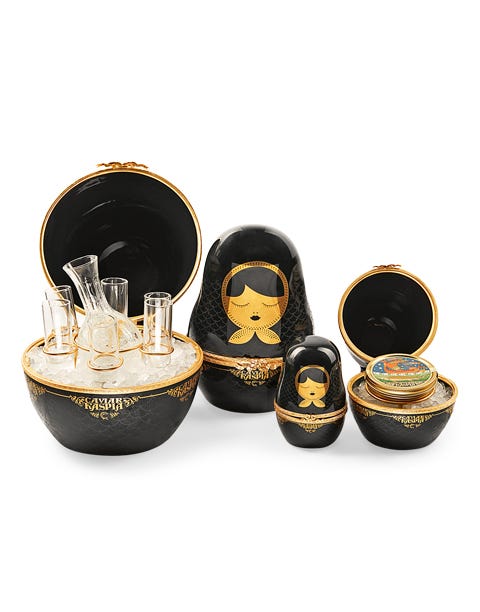 Paris hot spot Caviar Kaspia celebrates its Russian roots with Limoges porcelain serving bowls shaped like traditional matryoshkadolls. Olga, Tatiana, and Anastasia contain room for ice and caviar tins, while Alexandra, the largest, comes with a vodka set.
From $312 each; gourmandisedeluxe.com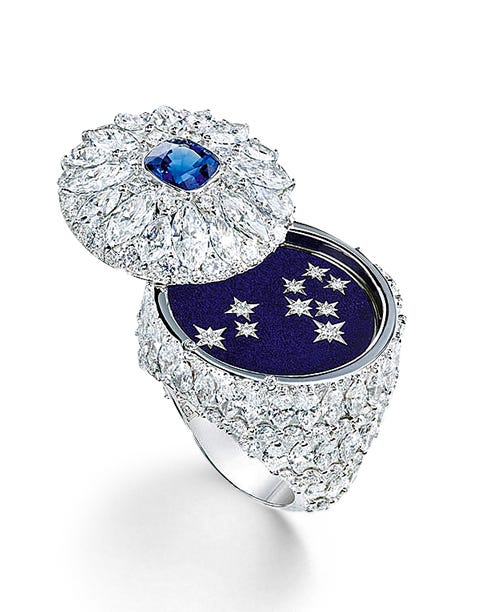 Piaget reimagines the locket with a ring whose top slides to reveal a secret chamber beneath.
Price upon request; piaget.com for information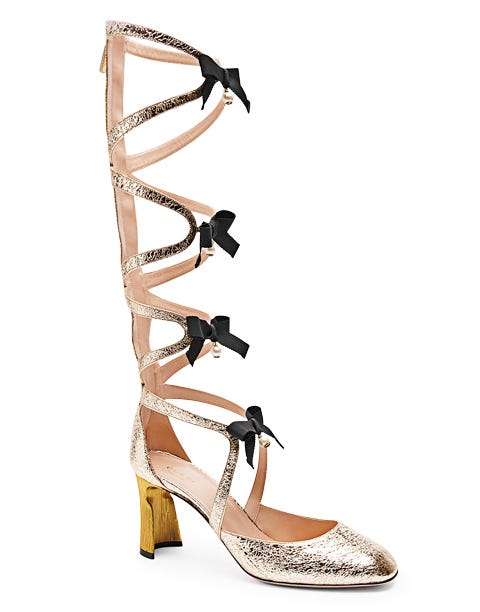 Gladiator-style Mary Janes are so feminine, they're edgy.
$2,300, Gucci; gucci.com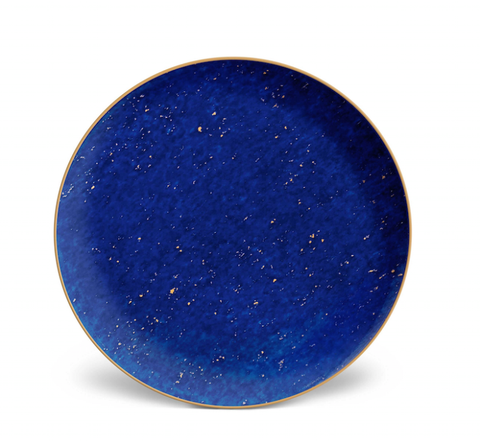 L'Objet's dishes recreate the Mediterranean's azure skies with 24 karat gold accents.
From $175 for set of four plates; l-objet.com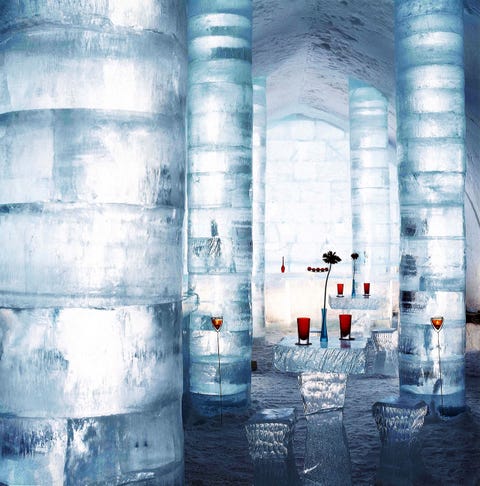 Sweden's 55-room Icehotel is made entirely of snow and ice– it takes 100 people two months to construct it from scratch (this year, they started in October; it opens December 11). Artists from all over the world carve sculptures on the grounds, and couples can even get married in an adjacent ice church.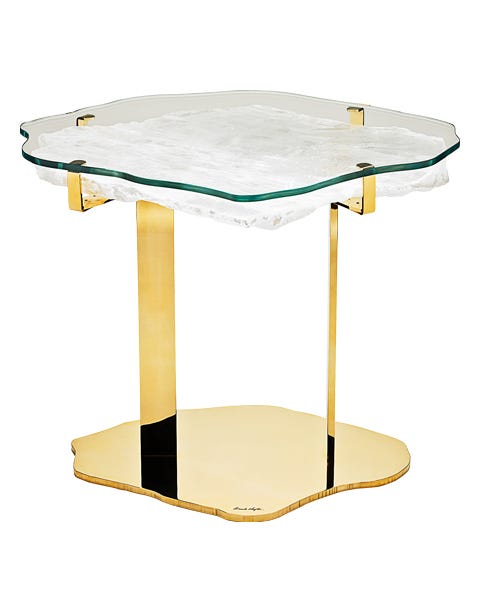 Designer Brenda Houston built this side table around a slab of selenite crystal.
Price upon request; brendahouston.com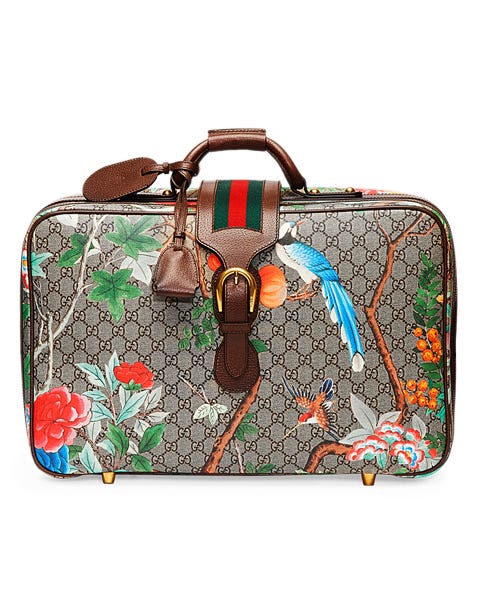 A girl boss like you can easily revive the briefcase trend, especially when yours is fresh-off-the-runway Gucci.
Price upon request; gucci.com
Reframe your outlook with these bookish golden specs.
$430, Tom Ford; tomford.com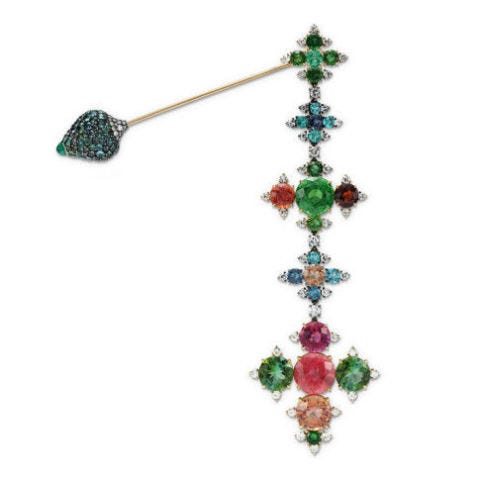 Parisian jeweler JAR's creations–like this circa 1993 brooch–quickly become cult collectibles.
Price upon request at Simon Teakle.
Amedeo's Memento Mori ring is a symbolic reminder to look beyond earthly possessions for meaning.
$2,950; amedeonyc.com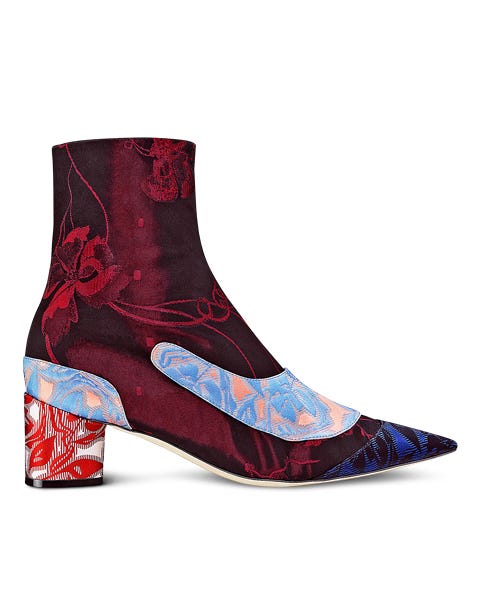 An artistically offbeat ankle boot you can walk for miles in? We found it.
$1,070, Dior; 800-929-DIOR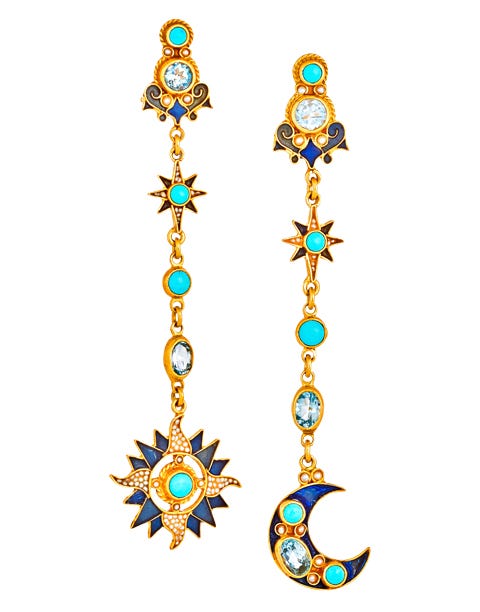 These delicate sun and moon earrings work day or night.
$1,095, Percossi Papi; net-a-porter.com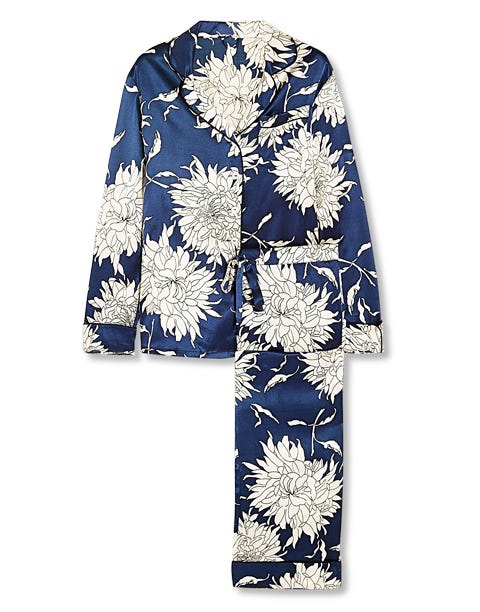 Chrysanthemum-print pajamas feel like what Margot Tenenbaum would wear to bed.
$550, Olivia von Halle; oliviavonhalle.com
This Vhernier ring's dramatic oval shape was inspired by a lace-maker's bobbin. $4,400; 310-273-2444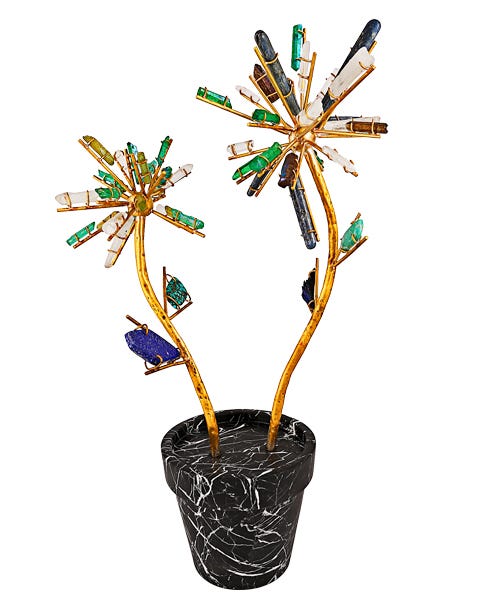 No green thumb? No worries. A one-of-a-kind botanical sculpture blooms all year long.
Price upon request, Kelly Wearstler at Bergdorf Goodman; 212-753-7300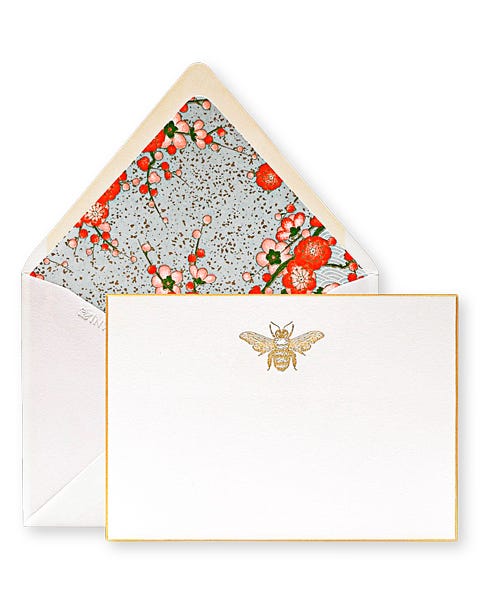 Keep in touch the old-fashioned way with cherry-blossom-lined stationery.
Prices vary, Bell'invito; bellinvito.com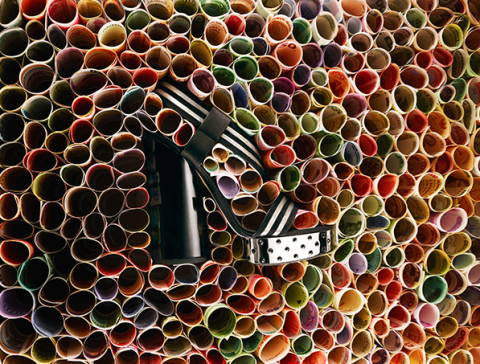 When you want to be the life of the party, these suede-and-lacquered-metallic platforms fit the bill.
$1,395, Marc Jacobs; marcjacobs.com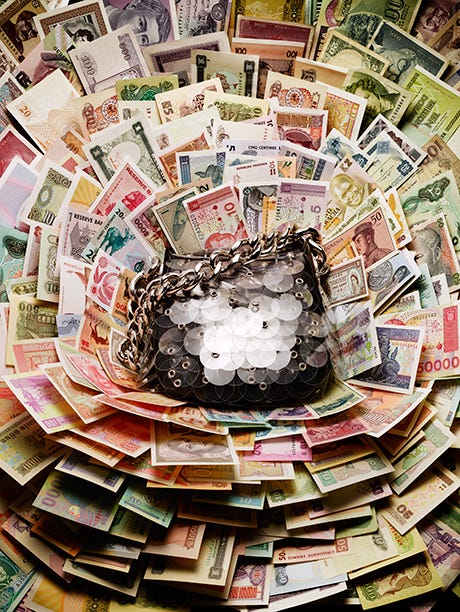 For movers and shakers, the clear plastic paillettes on this purse swing on hinges to create a gradient color effect.
$2,120, Prada; prada.com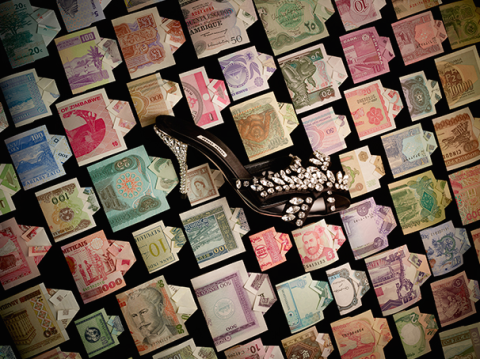 The mule movement is far from over– rock a crystal-studded silk pair with everything from culottes to cocktail dresses.
Price upon request, Miu Miu; miumiu.com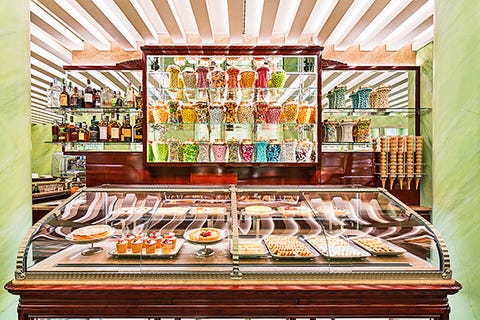 Confections go couture at the historic Prada-owned pastry shop Pasticceria Marchesi, which just opened a second location in Milan. Decadent cakes and candies, chartreuse velvet chairs– a feast for all the senses.
pasticceriamerchesi.it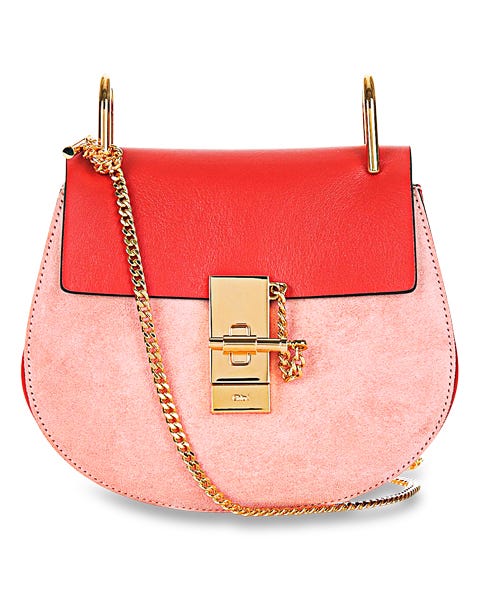 A cheerful mix of cherry-red leather and pale-pink suede makes this Chloé bag an instant pick-me-up.
$1,445; matchesfashion.com
Raphaëlla Riboud's loungewear is flirty enough for bedroom cuddle sessions, but also passable for morning coffee runs.
Pajama Shirt, $530, Shorts, $320; net-a-porter.com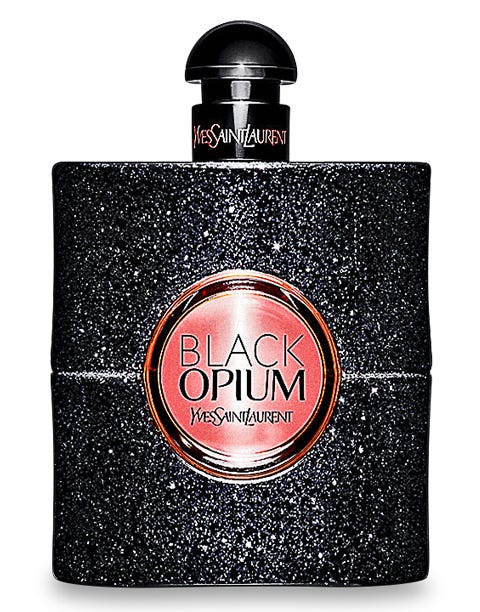 Not only does YSL's Black Opium fragrance come in a glittery bottle, it wakes you up with coffee-bean undertones.
Yves Saint Laurent Black Opium Eau de Parfum Spray, $115; bloomingdales.com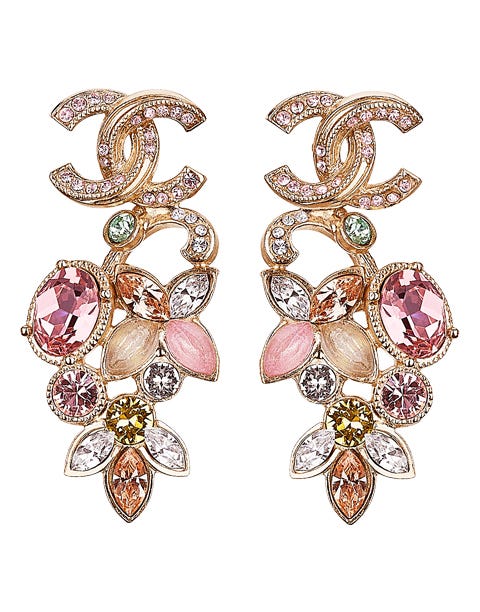 These resin earrings give any outfit a dash of ladylike flair.
$600, Chanel; 800-550-0005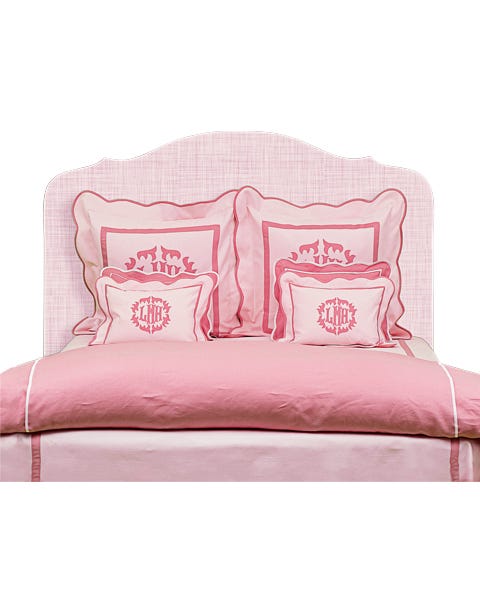 With sheets this sweet, you'll use an excuse to stay curled up under them.
From $125 per piece, Leontine Linens; leontinelinens.com
A paneled sheepskin throw looks just as good on your couch as it feels wrapped around you.
$1,695, Barney's New York; barneys.com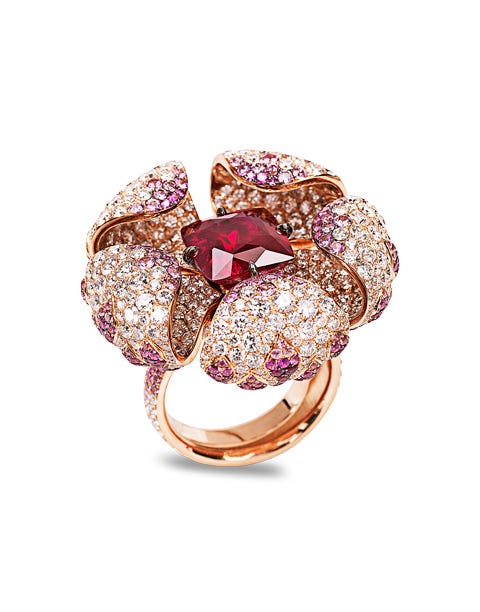 Eighteen jewelers have created limited-edition pieces using Gemfields stones in celebration of Bergdorf Goodman's redesigned jewelry salon, opening at the New York flagship this month. We love the hinged petals on this ruby ring (by G).
Price upon request; 212-872-2578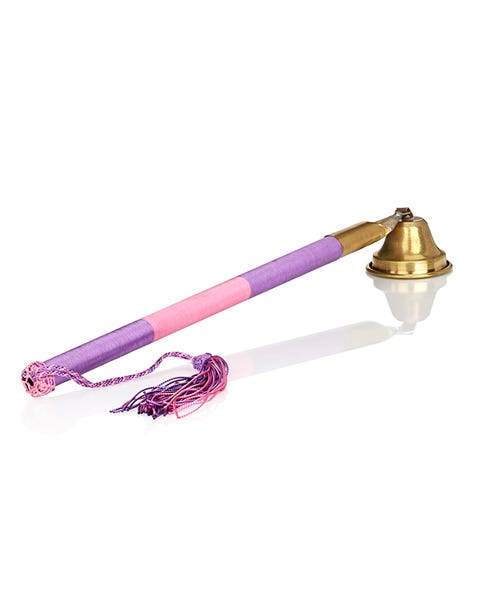 Crush flames like a 19th-century domestic goddess with a tasseled silk candle snuffer.
$75, Madeline Weinrib; barneys.com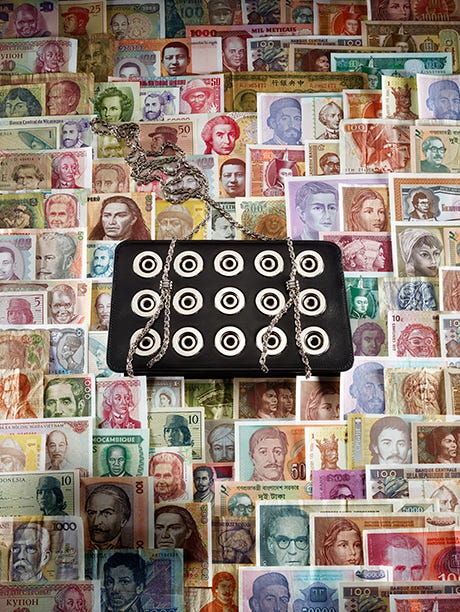 Round out your wardrobe with a sleek chain bag that does double duty as a clutch.
$2,890, Lanvin, lanvin.com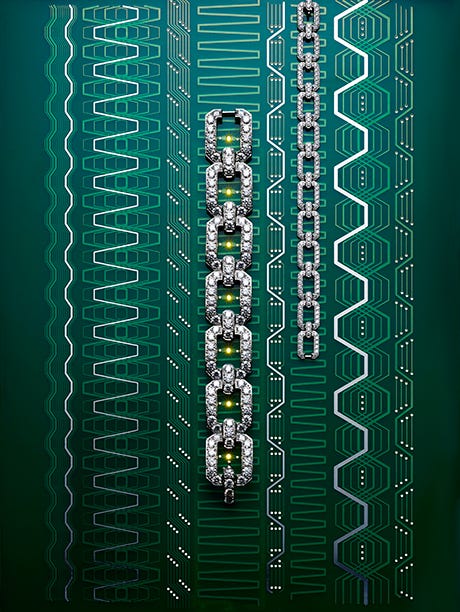 Bracelets, prices upon request, Harry Winston: HarryWinston.com for stores.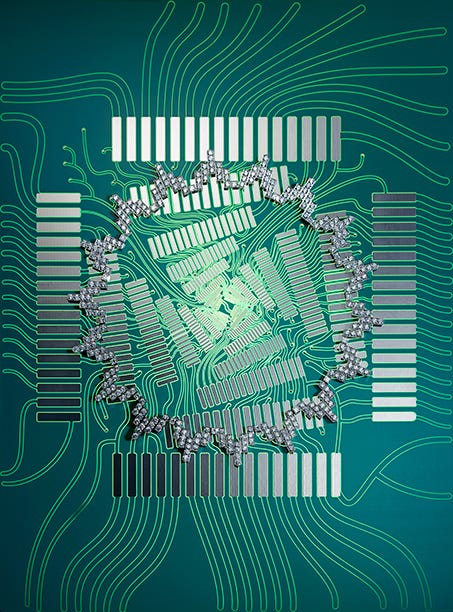 Necklace, price upon request, Tiffany & Co.; Tiffany.com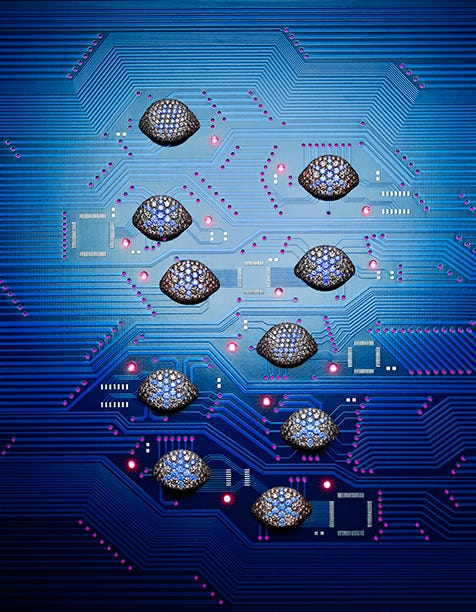 Rings, $12,500 each, David Yurman; (212) 752-4255.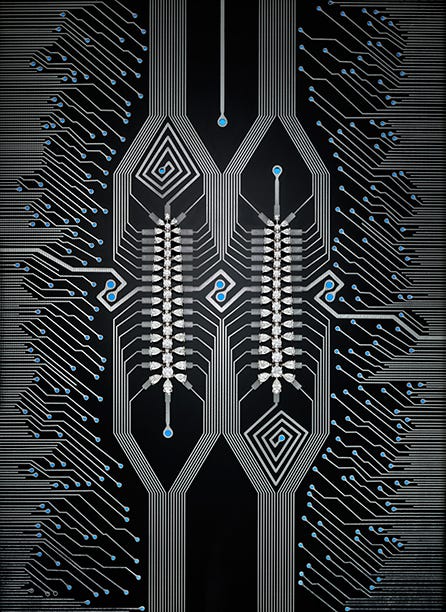 Earrings, price upon request, Chopard; (800) Chopard.
Bracelet, price upon request, Cartier; (800) Cartier.
Creative Director: Nina Garcia
Fashion Editor: Kyle Anderson
This content is created and maintained by a third party, and imported onto this page to help users provide their email addresses. You may be able to find more information about this and similar content at piano.io