Let Kendall Jenner's Street Style Inspire Your Post-Quarantine Looks
She has that West Coast vibe down.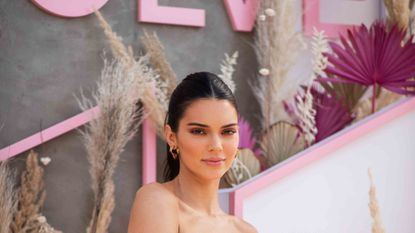 (Image credit: Christian Vierig)
When she's not walking the catwalk or shooting a campaign, Kendall Jenner is busy taking the clothes she wears on designer runways and transitioning them into real life. She does runway to reality at its finest: From black leather to strategic silhouettes, girl's got her style on lock. After all, she does have access to every designer in her Rolodex and isn't afraid to experiment with both new and old trends. (Have you seen her lizard skin-effect trousers?) Plus, she has Beyonce's stylist, Marni Senofonte, behind most of her highly publicized red carpet and street style looks. Although she's known for being the most "lax" KarJenner, her street style always has a bit of an edge while still remaining casual. Ahead, take a look at how a tomboy from Calabasas became a street style star.
•••

For more stories like this, including celebrity news, beauty and fashion advice, savvy political commentary, and fascinating features, sign up for the Marie Claire newsletter (subscribe here).
1/226
February 21, 2020
The model stepped out during Milan Fashion Week in a Bottega Veneta top and pants from Wardrobe NYC. Jenner finished the look with a mink bag.
2/226
February 21, 2020
Milan meets The Matrix. Well, if Keanu Reeves wore Versace. Jenner donned a leather trench from the label and rectangular Velvet Canyon sunglasses while completing the look with a hot-pink Versace bag.
3/226
February 18, 2020
Lean and green: The reality TV star attended the 2020 Britt Awards after-party. She wore a two-piece lime green suit by Saks Potts.
4/226
Feburary 17, 2020
Jenner attended the Love magazine party at The Standard during London Fashion Week in vintage Jean Paul Gaultier.
5/226
December 10, 2019
The model made an appearance on the Late Late Show With James Corden in a vintage Ferragamo jumpsuit. The catsuit was originally worn by Linda Evangelista on the runway in 1991.
6/226
September 22, 2019
Although an evening look, the latex bodysuit worn underneath this Richard Quinn gown can easily transition over to street style. Looking to recreate this for the daytime? Pair the latex suit with black pants or even jeans.
7/226
September 16, 2019
Blondes do have more fun. Jenner attended the Love & YouTube party during London Fashion Week in this color-block top and later that evening, she watched Tyler the Creator perform.
8/226
September 10, 2019
The weather during New York Fashion Week spring/summer 2020 was damn near glorious. Jenner enjoyed the weather by sporting a Staud bag and rectangular Alain Mikli sunglasses.
9/226
September 7, 2019
This black and white linear number by Paris Georgia is super flattering for any shape. The model paired it with a Staud bag and rectangular tortoise shades.
10/226
June 17, 2019
Jenner channeled Cindy Crawford's old-school Pepsi ad vibes while stopping at a New York City bodega to pick up, ironically, a can of Coke. The model wore this figure-flattering yellow Bec & Bridge dress with her Velvet Canyon sunglasses.
11/226
April 14, 2019
The star took part in Coachella Weekend One activities by stopping in at Revolve's own festival event. She wore an off-the-shoulder dress by House of Harlow 1960 and white spotted gloves to match the color of her ankle boots.
12/226
February 22, 2019
Kendall made her entrance at the Versace dinner during Milan Fashion Week in a black-and-white printed one-shoulder dress and white heels.
13/226
February 12, 2019
I will only wear blazer dresses from now on because of Kendall Jenner. She looked smart, sophisticated, and daring in this structured orange Blazé Milano number.
14/226
February 11, 2019
No print is too crazy for Kendall. She rocked this zebra design with a cropped black puffer jacket and dad sneakers while out in NYC.
15/226
February 9, 2019
The model arrived to Longchamp's fall 2019 runway show in NYC. She chose a leather minidress from the fashion house and paired it with sock boots.
16/226
December 10, 2018
Kendall arrived for the The Fashion Awards 2018 in NYC. She, not surprisingly, chose a gold naked dress by Welsh designer Julien Macdonald. It's her favorite style of dress for fancy events.
17/226
November 8, 2018
Kendall bundled up in a toffee-brown and green jacket for fall in NYC. The star's outerwear collection is one of the best in Hollywood, as you'll see in the next photo.
18/226
November 3, 2018
It would be hard to miss Kendall on a Citi Bike in NYC thanks to her furry green coat from Saks Potts. The star had decided to go for a quick ride on her 23rd birthday.
19/226
October 10, 2018
The graphic print on Kendall's t-shirt will remind you that the Kardashians probably definitely have several of those cars sitting in their garages.
20/226
September 26, 2018
Kendall and Bella attended the YouTube cocktail party in Paris hand in hand while wearing dresses in similar red hues. Bella opted for long sleeves and a mini length while Kendall chose a one-shoulder sparkly number.
21/226
September 10, 2018
September 10, 2018
22/226
September 8, 2018
Kendall stepped out in Soho in New York City wearing a fitted, yellow turtleneck and high-waisted jeans.
23/226
June 6, 2018
Kendall wore a rainbow sequin mini dress from Ralph Lauren while in New York City. She made it daytime appropriate with a pair of white sneakers.
24/226
June 5, 2018
Kendall left the Broken Coconut in New York City in a plaid button-down shirt and teal-colored jeans.
25/226
May 22, 2018
Ahead of Memorial Day, Kendall showed off her American pride with a Jean Paul Gaultier sweater, jeans, and black boots.
26/226
27/226
May 8, 2018
She wore a sexy plunging neckline blazer and trouser combination for an event in NYC. The model carried a tiny Jacquemus bag.
28/226
May 5, 2018
In jeans and a Dolce & Gabbana lingerie-inspired camisole from NYC boutique What Goes Around Comes Around.
29/226
January 14, 2018
Launching the Autumn Winter 2018/19 collection on behalf of Tod's in Milan, where it was announced that Jenner is the face of Tod's SS18 campaign. Wearing high-waisted, cropped white pants, and a see-through polo neck top.
30/226
October 19, 2017
In a jacket, crop top and ripped jeans at a basketball game.
31/226
October 11, 2017
In a Western-inspired shirt at What Goes Around Comes Around in Beverly Hills.
32/226
July 30, 2017
In a sheer tie-front blouse and high-waisted jeans while strolling around NYC.
33/226
July 29, 2017
In high-waisted jeans and a graphic t-shirt while out in NYC.
34/226
July 28, 2017
In a vertical stripe ensemble while out in New York City.
35/226
June 30, 2017
In athleisure and a crop-top at LAX.
36/226
June 26, 2017
In a fringed crop top, high-waisted jeans, and pink booties in West Hollywood.
37/226
June 3, 2017
In a very sheer white dress while out in New York City.
38/226
June 1, 2017
Sporting another fanny pack, this one vintage Louis Vuitton, she steps out in New York wearing a ruffly Self-Portrait romper.
39/226
May 26, 2017
At LAX in white sweatpants and incredible floral shoes.
40/226
April 30, 2017
Kendall was spotted leaving Travis Scott's birthday party at Cipriani in a cropped white tee with cartoonish boobs printed on the front. She outfitted the tongue-in-cheek shirt with a sheer black ruffled top, black leather pants, and layered necklaces.
41/226
April 18, 2017
The model was spotted with Hailey Baldwin in Beverly Hills, looking casual yet chic in a lace black cropped cami and a distressed denim midi skirt. She completed the look with pointed-toe slides and a pair of very Audrey-esque shades.
42/226
April 15, 2017
At Coachella, Kendall posed for a picture for friend Hailey Baldwin's Instagram story wearing this *very* sheer, body-hugging dress.
43/226
February 24, 2017
Ahead of the Versace show on Friday, Kendall enjoyed a rare moment away from the runway, dressed in a vintage Ice Cube t-shirt, baggy black mom jeans and white ankle boots.
44/226
February 20, 2017
Later the same evening, she changed into a bronze velvet ALC dress and thigh-high Tom Ford boots.
45/226
February 20, 2017
The same night Burberry sent a handful of couture armor-inspired capes and headdresses down the runway, Jenner wore one to a Love Magazine party, paired with a miniskirt and boots.
46/226
47/226
February 12, 2017
For lunch between shows with pal Hailey Baldwin, she topped lace-up leather leggings and a sweatshirt with a silver quilted jacket and coordinating bag.
48/226
February 11, 2017
Kendall hit NYFW wearing a Louis Vuitton graphic tee with cropped jeans, a brown shearling jacket and snakeskin booties.
49/226
January 24, 2017
Kendall is the *epitome* of off-duty chic. After walking in the Chanel Haute Couture show, Kendall wore her favorite gold puffer jacket with a pair of wide-legged pants. The model also donned a white knit sweater and a gray tee with a pair of black sunglasses.
50/226
January 22, 2017
Kendall was spotted leaving the Chanel office building in Paris wearing a long-sleeved black crop top and ripped jeans with mesh tights peeking out. She also wore a pair of round sunnies and the off-duty model essential: a top knot.
51/226
January 3, 2017
Kendall wore blue jeans with a "Dior Addict" tee and fishnet tights under clear booties while sitting courtside at the Lakers game in Los Angeles.
52/226
December 28, 2016
Kendall's off-duty look is still runway-worthy! While shopping in Los Angeles, the model wore a beige turtleneck and blue jeans with black booties and a cross-body bag with a furry pom pom.
53/226
December 7, 2016
Kendall was spotted doing some holiday shopping with her bestie Hailey Baldwin in Beverly Hills wearing a *major* floor-length leopard print coat. Underneath, the model wore black leather leggings and a gray sweater with a pair of Gucci ankle boots.
54/226
November 1, 2016
Kendall wore a studded leather jacket, ripped jeans, oversized sunnies, and—gasp—nail salon flip flops while leaving a pedicure in Los Angeles.
55/226
October 28, 2016
Kendall hung out before little sister Kylie's Dead Dinner Halloween party and channeled major goth vibes in her all-black ensemble.
56/226
October 26, 2016
While cheering on the Los Angeles Lakers with supermodel pal Karlie Kloss, Kendall wore a vintage '80s Lakers tee with complementary mom jeans. Always one for a dash of polish, she punctuated the look with a bright red lip.
57/226
October 13, 2016
Kendall Jenner arrived at the opening event for What Comes Around Goes Around's new Beverly Hills store dressed in a Slayer tee and black velvet pants with a gold chain belt and burgundy patent leather booties. Some might say he choice in shirt, which read 'RIP Slayer' was a subtle clapback at the band, whose guitarist Gary Holt wore a 'Kill the Kardashians' t-shirt on-stage during a concert last year.
58/226
October 12, 2016
While hanging out in Beverly Hills, Jenner donned a leopard print jacket, Gucci belt, black trousers, and polished dress shoes. She topped things off with '90s-inspired shades and a plastic choker.
59/226
September 29, 2016
Jenner Instagrammed herself in this badass tee emblazoned with "I'm not a rapper" and it's available now for only $45. Do it.
60/226
September 29, 2016
While doing the whole PFW thing, she was polished and cozy in equal parts thanks to a black T-shirt, tailored trousers, and white trainers. She topped things of with shiny plastic shades.
61/226
September 26, 2016
En route to Paris Fashion Week, Jenner kept it cozy (and still looked better than all of us at the airport) in a black sweatshirt, trackpants, and white trainers. She topped things off with a sleek pair of aviators.
62/226
September 13, 2016
Despite the fact that it's pushing 90 degrees in NYC, Kendall still paired her silky black crop top with lace-up LEATHER pants. Damn, K.
63/226
September 9, 2016
Kendall oozed bohemian romance in this dramatic floral Marchesa gown at this year's BAZAAR Icons party.
64/226
September 7, 2016
It was a busy first day of Fashion Week for Kendall, ending with her Kendall + Kylie pop-up. The model opted for a tried-and-true standard when you're in a rush: all black everything.
65/226
September 7, 2016
Sporty styles in neutral hues reigned supreme at Kanye's Yeezy Season 4 show—and Kendall Jenner was fully onboard in this Yeezy x adidas tracksuit. We all know how much the girl loves her athleisure.
66/226
August 24, 2016
During an appearance on Jimmy Kimmel Live!, Jenner showed off her statuesque physique (and looked a million feet tall) in a yellow silk top, black mini-skirt, and leather boots.
67/226
July 24, 2016
NYC may be in the midst of a heat wave, but you'd never know it by the looks of Kendall and Gigi. The BFF's wore matching black looks, with Jenner donning a crop top and embroidered blazer paired with leather shorts, and Hadid opting for a studded jacket layered over a silk dress with sheer panel detail.
68/226
July 10, 2016
While grabbing dinner with her friend Justine Skye, Jenner whipped out a winter-ready cashmere sweater, layering it over a lace bra top and pairing it with matching cream, high-waisted trousers.
69/226
June 29, 2016
Wearing a cobra-graphic jacket, jeans, a white T-shirt, and latex boots, Jenner went for a stroll around New York City. A stamped-on red lip provided the requisite "pop of color."
70/226
June 23, 2016
Jenner was head-to-toe monochrome in a blush-toned dress with long, flowing sleeves and matching suede ankle boots. She topped off the look with round-frame sunglasses.
71/226
June 20, 2016
For lunch at Nobu in NYC, Jenner, Gigi Hadid, and Hailey Baldwin each showed off their respective styles. Though we have to admit, we're all about Kendall's denim jacket, army-print T-shirt, and white trainers.
72/226
May 14, 2016
On her way to the Vanity Fair and Chopard After-Party in Cannes Jenner wore a midnight blue and black robe-dress with a fringe skirt perfect for a night of dancing in the French Riviera.
73/226
May 12, 2016
Arriving to the Magnum Double party during the Cannes Film Festival, the model was not afraid to show off her sun-kissed skin in a plunging red dress with an equally dramatic slit.
74/226
May 1, 2016
Following her appearance at the White House Correspondents' Dinner, Jenner traveled to NYC where she braved the rain sans bra in a white T-shirt, high-waisted distressed jeans, striped duster coat, and white trainers.
75/226
April 19, 2016
It's official: Kendall Jenner has convinced us we *need* a transeasonal duster coat this spring in this distressed, gold-yellow number paired with cropped, frayed-hem jeans and Stan Smiths.
76/226
March 15, 2016
A lesson in BFF dressing, Kendall and Kylie each rocked thigh-high boots courtside at the Lakers game, with the former donning a Sophia Webster printed gladiator style, while the latter was all about the patent leather.
77/226
March 10, 2016
At a Fendi event, Jenner showed off her gams in a high-necked red playsuit, color-blocked fur scarf slung over one shoulder, and strappy heels.
78/226
March 3, 2016
The style stars hit up the Balmain after-party channeling the pink ladies (in the best way).
79/226
February 14, 2016
Kendall Jenner embraces the New York City chill outside the Diane von Furstenberg show.
80/226
February 8, 2016
Kendall and Kylie Jenner at the launch of the Kendall + Kylie collection in New York. The duo was appropriately dressed head-to-toe in their own designs, which will be available this season so you can copy them for yourself. (Unfortunately, their model/mogul lifestyle is not included.)
81/226
January 28, 2016
The model strolled along the streets of Barcelona wearing a breezy off-the-shoulder dress and lace-up heels that had us longing to a.) shop her closet and b.) catch the next flight to Spain. While a trans-Atlantic trip may not be in our immediate future, the outfit is—and on a budget at that. Jenner's marigold frock and strappy pumps are just $70 each at Mango.
82/226
January 23, 2016
Kendall Jenner has her jet-set outfit formula down pat: a longline jacket, elevated basics, plus neutral accessories. The model arrived at Charles de Gaulle airport in Paris this morning wearing a pale pink duster with a tucked-in tee and Re/Done denim, completing the look with neutral suede accessories and a oh-so-Parisian knotted neck scarf.
83/226
January 22, 2016
Take it from the New Yorker typing this, we really do *love* wearing all black. It's a habit we'll never/never want to break, which is why we're always looking for sneaky ways to break up the monotony. Fellow all-black enthusiast Jenner did so by throwing on a long, white silk coat over her everyday dark top and bottoms.
84/226
January 21, 2016
Modern day airport style leaves much be desired, which is why Jenner's striped duster and trouser ensemble is a total breathe of fresh air. It not only looks sleek AF, but looks cozy enough to watch an in-flight movie in.
85/226
December 22, 2015
Best friends that match together, stick together, and both Kendall and Gigi are slaying the cloudy weather in their Alpa Industries bomber jackets paired with black leggings, trainers, aviator sunglasses, and Saint Laurent bags.
86/226
December 20, 2015
We never thought we'd draw a comparison between Kendall Jenner and Albus Dumbledore, and yet here we are. The supermodel is giving us distinct Headmaster-of-Hogwarts vibes in her midnight blue velvet embroidered robe coat, pairing it with a plunging black satin top, leather leggings, and black pumps.
87/226
December 12, 2015
While hitting up a Barnes & Noble in L.A.—with a mystery man!—Jenner employed her tried and true fashion formula: all-black everything. Wearing flat boots, skinnies and a long-sleeved tee, the supermodel exuded casual-chicness. Also, let's not fail to acknowledge her nod to the '90s in form of a thick black choker. So #stylegoals.
88/226
December 9, 2015
While shopping in Beverly Hills, Jenner looked as if she was plucked from The Matrix wearing a long black coat, turtleneck dress, white slip-on sneakers, and aviator shades. Her slicked-back bun just added to the sci-fi feel.
89/226
November 18, 2015
While hosting another event with her sis, Jenner proves that a sporty high ponytail and halter-style silhouette are always a winning combination—especially when you want to showcase your arms à la Sporty Spice.
90/226
November 17, 2015
During an appearance with her sister Kylie, she shows off her statuesque frame in a blush-hued leopard playsuit with neckerchief detail. She elongates her mile-long stems with a pair of kicky, shin-length nude boots.
91/226
November 14, 2015
Touching down at LAX, Jenner keeps it simple and chic in all black everything. While she's employed this fashion formula for many trips to the airport before, this look stands out in particular thanks to her gold-toed leather boots.
92/226
November 7, 2015
Arriving at LAX, Jenner keeps it simple in her tried and true go-to look: all black everything. From the skinnies to the chic carryall, the newly-minted Victoria's Secret Angel proves yet again that less can most definitely be more.
93/226
November 4, 2015
Hitting Menchies Frozen Yogurt in L.A. for a froyo date with her sister Kylie, Jenner delivers chic '90s vibes in a beige cropped turtleneck, white side-split maxi skirt with suspender detail, and matching trainers. The styling is decidedly non-Urkel and proves, yet again, she knows how to keep things cool in more ways than one.
94/226