A U.S. Woman Won the New York Marathon for the First Time Since 1977
Congratulations to Shalane Flanagan!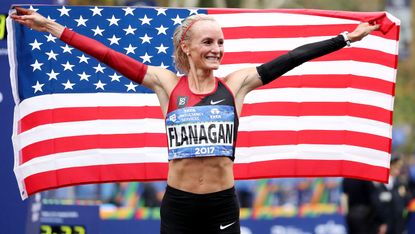 (Image credit: Elsa)
For the first time since 1977, a U.S. runner was the fastest woman to complete the New York Marathon. Shalane Flanagan, who'd placed second at the same race in 2010, took the top women's time (opens in new tab) at around two hours, 26 minutes, and 53 seconds, and this photo of her right as she crossed the finish line is absolutely priceless.
"It's indescribable. It's a moment I'm trying to soak up and savor," the 36-year-old runner exclaimed (opens in new tab) in the afterglow of her win. Flanagan had finished sixth in the marathon at the Rio Olympic games, but due to injuries, she hadn't run a race since. The Massachusetts native even had to skip this year's Boston Marathon, but she kept her eye on the ball: New York, and Kenyan rival Mary Keitany. (Who'd won the race in 2014, 2015, and 2016.) But there are no hard feelings between the two, who embraced on the podium, as Keitany placed second.
The last U.S. woman to win the New York Marathon was Miki Gorman, who won back-to-back races in 1976 and then 1977. Flanagan had hinted at retiring before running this race, but if another run at the New York Marathon isn't in her cards, she's still plenty happy with this win: "This is the moment I've dreamed off since I was a little girl."
I'm the night shift at Cosmopolitan.com and a writer and reporter around the web. I spend my daylight hours playing music, crafting, cooking, scheming, and rearing my pet chameleon.