These New Tampons Are a Total Gamechanger
And they're CHIC. Seriously.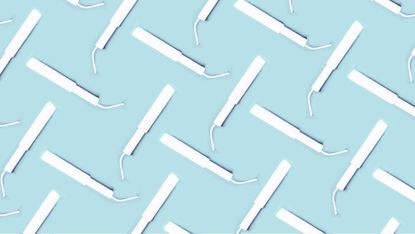 (Image credit: Archive)
Marie Claire newsletter
Celebrity news, beauty, fashion advice, and fascinating features, delivered straight to your inbox!
Thank you for signing up to . You will receive a verification email shortly.
There was a problem. Please refresh the page and try again.
While there's just no glamorizing menstruation (the word itself and what it stands for), there's also no reason why it should still be something that we just don't really talk about—especially when there are things worth thinking about and talking about. Case in point: Do you actually know what's in your run-of-the-mill tampon? Aside from "fabric-y absorbent-type stuff?"
The vast majority of people don't. In fact, tampon composition is something the FDA doesn't even regulate, which seems pretty outrageous for an item that is both such a toiletry staple and such an invasive one. We shove these things up our hoo-hahs on the regular—they can even cause death on rare occasion if left unattended (opens in new tab). Good sex ed teaches us to always know what's going up there and where it's been, and yet we don't extend the same thinking to other foreign objects?
This alone was something that entrepreneurs Jordana Kier and Alex Friedman set out to correct when developing their new brand of tampons, LOLA. Born as an idea for an affordable tampon subscription service that comes straight to your door, LOLA tampons are also 100 percent cotton with no additional additives, guaranteed—which Kier and Friedman became adamant about after realizing that they still couldn't quite figure out what was in the average tampon, even after lab testing.
"The more we started doing research around the ingredients and what was actually in the products, and the more we realized we couldn't figure it out," Kier says. They ultimately estimate that the typical blend is polyester, rayon, and some cotton—but that isn't to mention the presence of synthetic preservatives, fragrances, or dyes. "It's hard to know what the composition is because cotton supply changes every single year, and nobody has to say what the breakdown is," Kier says. "I think Alex and I were shocked to realize we had never thought about this product that we've been using for many years."
To get the most gnawing question right off the table, yes, these tampons work just as well as the ones you're used to. And if OBs aren't your thang, you'll be happy to know that there is an applicator, and it's made of BPA-free, recyclable plastic. "It's about making women more conscious about everything that they are consuming," Kier says.
Aside from the relief of knowing exactly what you're dealing with, by signing up for LOLA you also evade frantic 5 a.m. drugstore runs, as well as that annoying thing that happens when you only have "super" tampons left in the box and really just need a "light." The subscription service, which runs at $10 a box or two for $18, is mix-and-match, so you can pick the number of different absorbencies according to your typical cycle.
And finally, the minimalist, chic (seriously!) packaging is definitely worth mentioning, as the box only says "LOLA" on the outside without any indication as to its contents. Because, while again, getting your period is nothing to be embarrassed about, it is nice to have something out on the bathroom counter that doesn't scream "IT'S THAT TIME!" to friends and guests.
Victoria Hoff is the associate editor at ELLE.com, covering everything from fashion to beauty to wellness. She first joined the team as the editorial assistant in 2013. When she isn't working, she spends her days in Brooklyn eating (vegan) tacos, yoga-ing, and curating her collections of healing crystals and mom jeans.