12 Period-Tracking Apps That Will Change Your Life
A necessary reminder that menstruation doesn't have to suck.
"Wait, didn't I just have my period? When did you have yours?" You and your roommate may share everything, but unless it's her turn to buy tampons, she's probably not keeping tabs on your flow. Neither is your doctor, who will inevitably ask, "When was your last menstrual cycle?" while you stare at them with a blank face. Uh, two weeks ago? Last week? Make your life easier with these 12 amazing period-tracking apps—featuring everything from ovulation predictors to birth control reminders—that will, quite literally, change how you think about your period.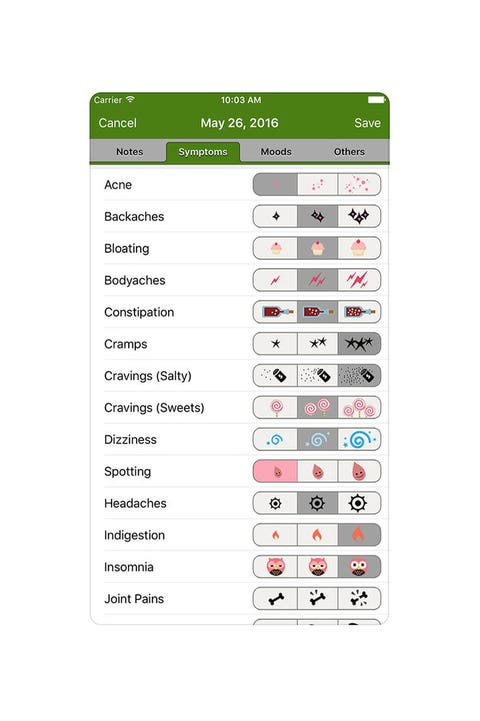 "My life would be lost without my period tracker," says a MarieClaire.com editor who uses Period Tracker Lite. Not only does it feature a customizable calendar with labels for period symptoms, including cramps, cravings, and insomnia, but there's also a space for notes to track intimacy (to see if you're feelin' it or not during your time of month). You can also switch it to pregnancy mode if you're expecting a baby, which then keeps track of how far along you are.
2
Flo Period and Ovulation Tracker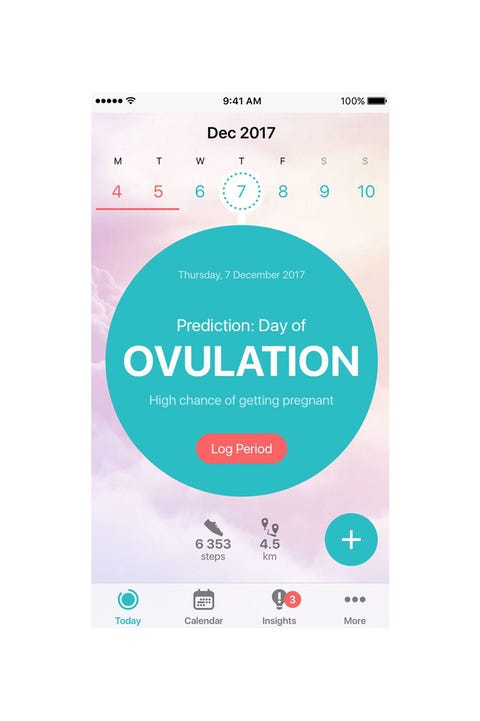 Research nerds will love this app. Flo uses artificial intelligence to predict your menstrual cycle while providing personalized health tips, interactive surveys, and analytical reports to help you understand your period patterns. Yep, it does all that and it's a lifestyle tracker that helps manage your sleep duration, water consumption, and exercise routine.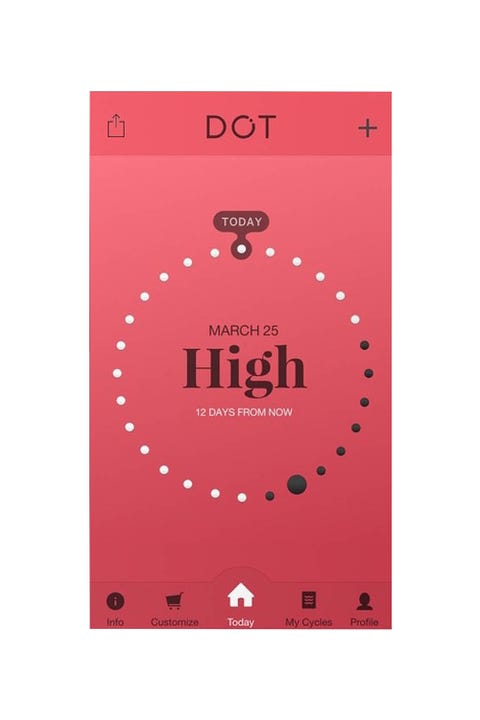 The makers of Dot consider it a contraceptive app. It calculates your risk of pregnancy by using an advanced algorithm based on the data from your cycles. All you have to do is enter the start and end date of your period and...voilà. It also pings you with health alerts if it notices an your cycle is off-pattern and predicts your period for the next six months, which is basically magic.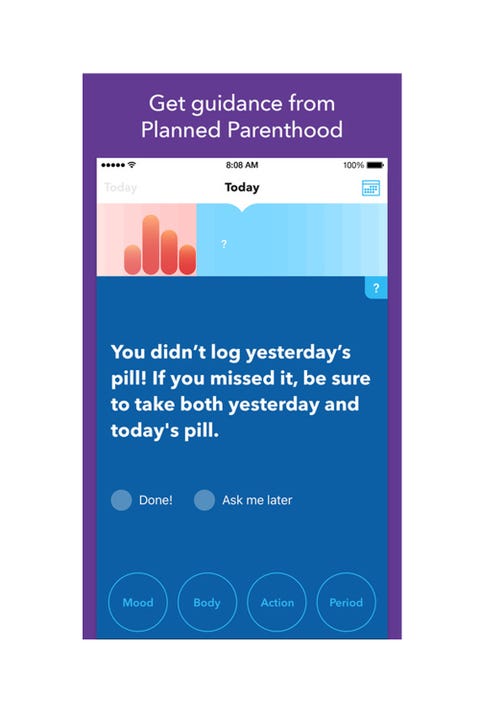 The Planned Parenthood app prides itself on being gender-neutral (no pink flowers or butterflies!), and provides guidance on birth control methods, like the pill, the IUD, the implant, the patch, the shot, and the ring, while also tracking your period. It even sends you reminders if you didn't log your information. Genius.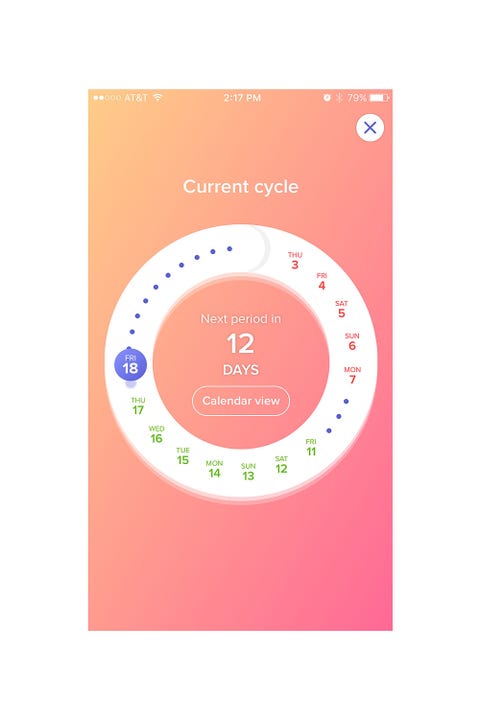 Introducing the period tracker that also doubles as a sex app. Eve not only gives you daily sex tips and quizzes (don't mind if we do...), but it also provides you with access to a community for discussing health, sex, and anything period-related. The website is super-useful with blogs on topics like understanding IVF and egg-freezing.
From the same brand as Eve, Glow is dubbed as an ovulation and fertility tracker (whereas Eve is a period tracker featuring sex tips). Glow provides you with a fertility calendar, daily health log, and health insights. But unlike other apps, this one isn't a solo project—you can also get your partner involved. The app provides tips and tricks for both of you to improve fertility while providing separate insights.
7
myPill Birth Control Reminder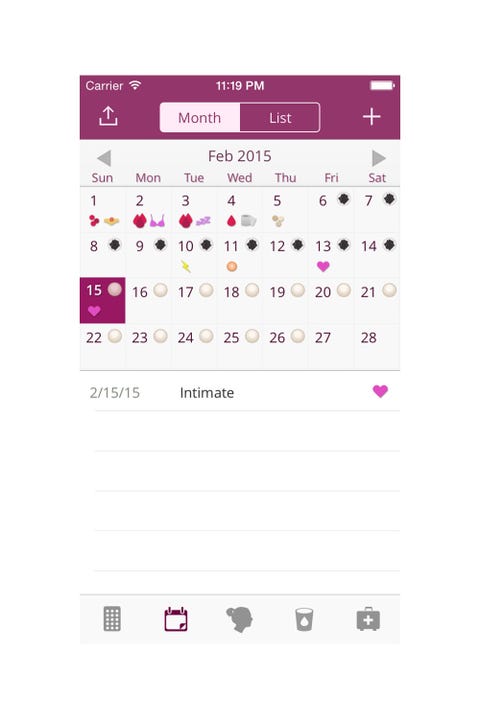 Birth control users, unite. This app helps you make sure you don't skip a day of your birth control pill (which would inevitably have an effect on your period). It also helps you plan yearly checkups and calls with your doctor—the often-dreaded (but necessary) reminder of what we have to do to take of our bodies.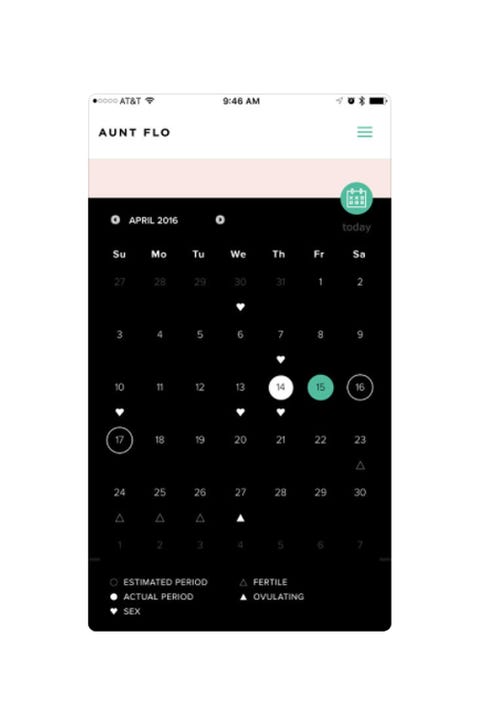 This period tracker calendar is basically your best friend in app-form. The clean, minimal design is noteworthy in itself, but perhaps the best part is that a portion of the proceeds go towards providing girls and women with feminine hygiene products and education. (Can I get an amen?!)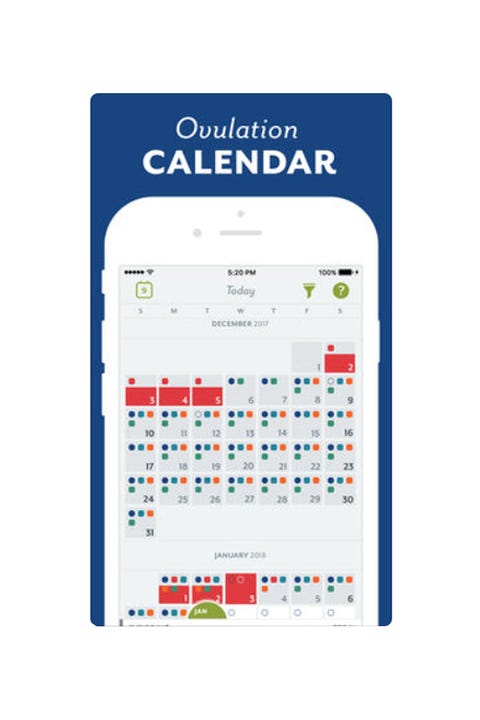 Clue partners with Oxford, Stanford, and Columbia University to give you scientificly-backed data on what your body may be experiencing and why. You can easily use its calendar to track your period, log your birth control, and import data from other apps, like the Apple Health app, to get a full picture of what's going on in your body. There are 31 different categories, including digestion, hair, skin, and emotions.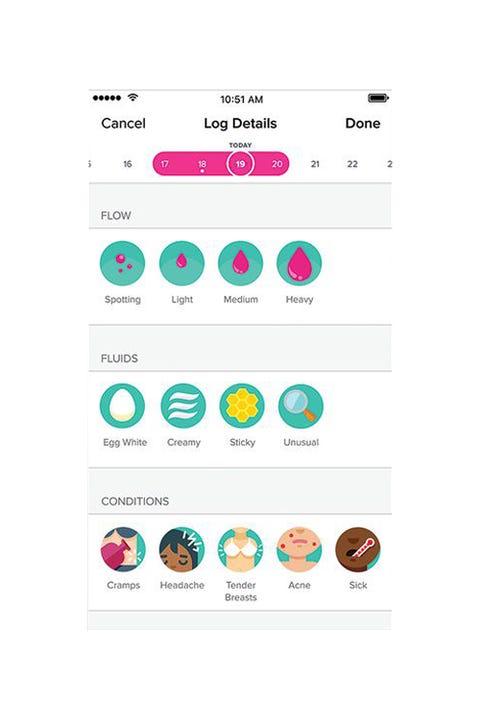 Fitbit recently introduced a new period tracker addition to its watch and app, available this spring. The Fitbit will prompt you if you want to track your menstrual cycle, and if you say yes all you have to do is note when your last period started and ended. Since it also has access to your heart rate, it could be a better indicator than most apps about what's really going on with your health. You can't manually write anything in the app, but there will be multiple icons for you to choose from.
11
Life Period Tracker, Health, Calendar, Ovulation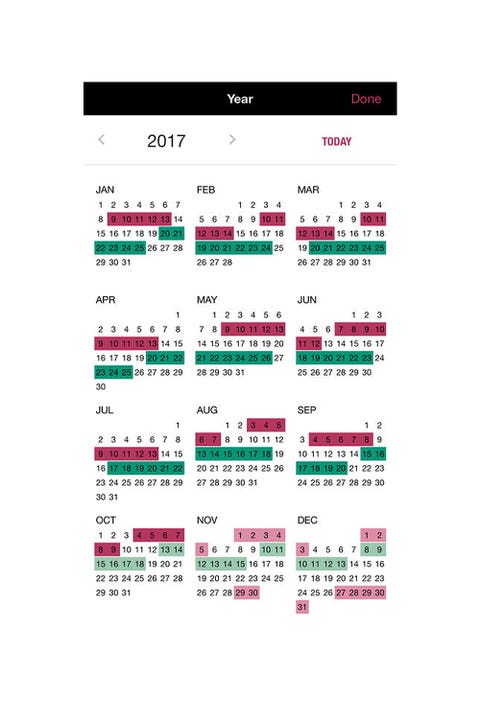 Life Period Tracker, Health, Calendar, Ovulation predicts which days your ovaries will drop an egg and schedules cycle reminders—especially useful if you're in a relationship, wanting to get pregnant, or planning a vacation. (Raise your hand if you pray you don't get your period on vacation. 🙋) You can even track fertility, weight, and medication. Plus, the design is beautiful and simple.
12
Period Tracker Period Calendar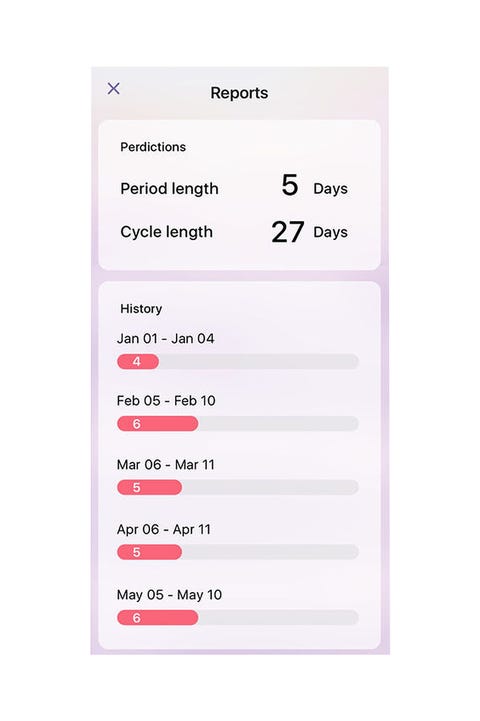 If you're looking to get organized, Period Tracker Period Calendar is incredibly simple and easy-to-use, specifically for monitoring your period's time and length. It also has a reminder feature for your birth control, no matter the method.
This content is created and maintained by a third party, and imported onto this page to help users provide their email addresses. You may be able to find more information about this and similar content at piano.io