Q&A with Founder of Susan G. Komen For the Cure
As we kick off breast cancer awareness month, MC talked to Nancy Goodman Brinker, founder of Susan G. Komen for the Cure foundation named in honor of her sister. Brinker was appointed as the World Health Organization Ambassador for Cancer Control in May 2009. Here, she speaks about her appointment and her plans for addressing cancer worldwide.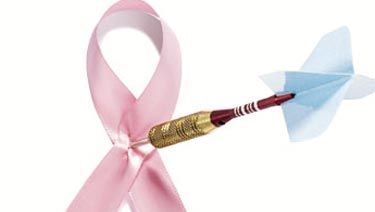 (Image credit: Ben Goldstein)
Marie Claire: How are you planning to tackle cancer rates around the world?
Nancy Brinker:
I was given this opportunity to impact rates of death by cancer and to intercept the disease before it gets too late. I'm focusing on the 21 lowest-resource countries in the world because they have very high incidence of late-stage detection and it's growing at a startling rate. Now that people are living longer and there are strategies in place to deal with communicable diseases, like AIDS, malaria and TB, we have to apply these same structures to cancer screenings. There are very few physicians, trained nurses, or trained community workers to diagnose and treat people with cancer. We've got to fix that. The only way we're going to do that is if we know where it's happening, how much of it is happening, and where we need to focus our resources and time.
MC: What will be the first steps you are going to take to achieve your goals?
NB:
The first step I am going to take is to listen. My father used to say, "You have two ears and a mouth. Use them in that proportion." I will be listening and learning and also advocating. The word cancer is not mentioned anywhere in the UN's millennium development goals and until that happens we won't have the awareness we need. We are working very hard to create a program that is doable. I don't believe in doing things that have such long-range goals that you can't complete them or that you can't get your hands around them. We want to create a set of long-term goals, but we want short-term and mid-term goals. I see no reason why we can't make a serious impact in the early detection of many cancers.
MC: How do you plan to make such an impact on early detection?
NB:
The best avenue is to rely on what already exists in these countries and improve upon it. For example, we could have a PEPFAR (President's Emergency Plan for AIDS Relief) clinic extend its services beyond AIDS screenings to include early cancer screenings. This could lead to early detection of cervical cancer, early detection of breast cancer, early detection of skin cancer, and so on. This is the kind of aid that creates sustainability.
MC: Why is this issue so important to you?
NB:
Many people have said to me, "Why are you doing this? You should be retiring." I started this thirty years ago and it is my joy to do it. When my sister was diagnosed with breast cancer, she was thirty-three years old in 1978, and she was one of the most popular, well-liked, lovely young women in Peoria, Illinois. When people discovered she had breast cancer, they would cross the street because they thought it was contagious. It has taken us thirty years to change that impression. When I was in Mumbai, India last November, a woman with end-stage breast cancer, almost exactly my sister's age, asked, "Ambassador, is my disease contagious?" Look where we are. This is, if not shameful, alarming. Terribly alarming. Before there is change there must be awareness. My job has just begun here; I thought I was pretty far along the way but that's not the case. I'm going to devote the rest of my life to this cause—I promised my sister I would.
MC: What will the Komen Foundation be doing this month to raise awareness about breast cancer?
NB:
This October will mark our first Egypt Race for the Cure at the Giza Pyramids. It will be followed by a day of dialogue about breast cancer survivor advocacy in the Middle East and Northern Africa. It's an opportunity to have a meeting with our global delegates, who will be leading our Susan G. Komen effort in Egypt. It's going to be a very interesting and exciting opportunity for us to be in a country like that—listening, learning, and understanding the needs of the women there.

To get involved, go to komen.org.
Shop for Charity: 150+ Products That Benefit Breast Cancer Awareness
Celebrity news, beauty, fashion advice, and fascinating features, delivered straight to your inbox!