10 Best Gym-Bag Goodies
Even post-workout beauty routines are looking buff with cool products in lean sizes.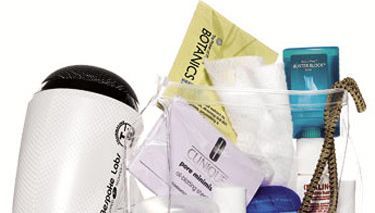 (Image credit: Todd Huffman)
1. SPEED DRY: Collapsible and capable of superswift styling. T3 Bespoke Labs Overnight Dryer, $130.
2. MULTI-MASK: Take your post-gym steam to the max. Boots Botanics Refining Sauna Mask, $8.99 for five.
3. WITHOUT A TRACE: Remove makeup pre-workout with one wipe. Garnier Nutri-Pure Detoxifying Wet Cleansing Towelettes, $5.99.
4. SMOOTH MOVE: A balm that prevents blisters and chafing. Band-Aid Blister Block, $5.99.
5. WRAP ARTIST: Hair stays healthy and hip-looking with these rubber-lined bands. Goody Stayput Collection Metallic No Slide Headwraps, $5.99.
6. CLEAN SHEETS: Soak up post-cardio sweat and shine. Clinique Pore Minimizer Oil-Blotting Sheets, $13.50.
7. NO WORRIES: Small enough to tote everywhere. Secret Platinum Mini Deodorant, $1.69.
8. BARE MINIMUM: Gentle hair, skin, and body treats in 1-ounce bottles. Malin + Goetz Essential Kit, $30.
9. FOAM SWEET FOAM: Just add water and lather up for a quick shave. Flight 001 Paper Shaving Cream, $6.
10. BLADES OF GLORY: This disposable razor has a built-in, soothing shea-butter strip. BIC Soleil Citron Shaver, $5.69 for four.