Look Inside the Most Expensive House on Earth
Come! Take a tour!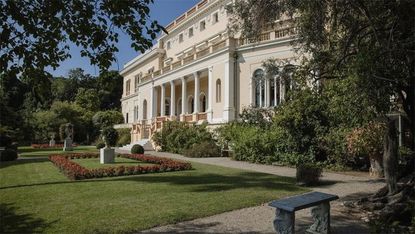 (Image credit: MARLENE AWAAD/BLOOMBERG VIA GETTY IMAGES)
I hope you've been saving your pennies, because your dream house (opens in new tab) just went on the market and you need to own it.
The Villa Les Cèdres, a 187-year-old mansion now for sale along the coast of Saint-Jean-Cap-Ferrat in the South of France (opens in new tab) and it's fancy, to say the least.
Bloomberg (opens in new tab) reports that house is a 18,000-square-foot, 14-bedroom mansion on 35 acres and is gilded and gorgeous.
It was built in 1830 and originally purchased in 1850 and was a working olive tree farm owned by the mayor of Villefranche-sur-Mer. From there, it was sold by the mayor's family to the Belgian King Leopold II in 1904, who, as Bloomberg explains, was "made stupendously rich by his exploitation of mineral resources and rubber trees in the Congo Free State (now the Democratic Republic of Congo)."
After Leopold's death, Villa Les Cèdres was acquired by the Marnier-Lapostolle in 1924. They're best known for making the delicious Grand Marnier liqueur, a blend of cognac and triple sec (opens in new tab), and loved to cultivate exotic plants on the ground. Ooh la la.
It was in the family until 2016, when Davide Campari-Milano SpA acquired Société des Produits Marnier Lapostolle (SPML), Grand Marnier's parent company.
It is listed at €350 million ($410 million), and is being handled by a steering committee of five family members from Marnier and Di Fede.
See the rest of the photos (opens in new tab) at Bloomberg.
I write on Fox's THE GREAT NORTH. Before that, I wrote and edited for Cosmopolitan (opens in new tab) magazine and the Jezebel (opens in new tab) blog. My writing has also appeared in the New York Times, The New Yorker, Esquire, VICE, Marie Claire, McSweeney's, California Sunday, BUST, Elle, Village Voice, Harper's Bazaar, LA Weekly, Eater, Fast Company, Mic, Atlas Obscura, and more. I co-host/co-produce a comedy/storytelling (opens in new tab) show on the first Friday of every month at Stories in LA. I have a degree in Film and TV from NYU's Tisch School of the Arts.