Your Weekly Tarot Reading
Here's what's in the cards for you the week of April 11.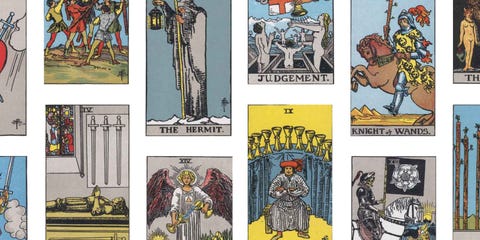 In this horoscope-filled world, we decided to do something a little different: Tarot card readings for the masses. Here you'll find a card drawn and interpreted just for you, based on your zodiac sign—and fair warning: This stuff is creepy-accurate.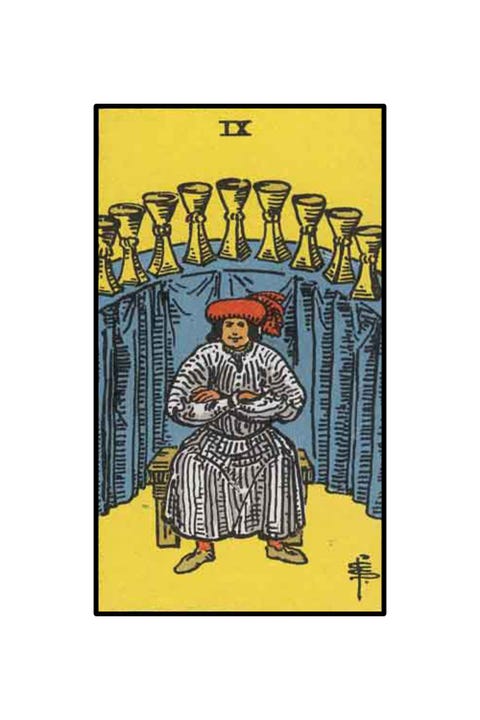 Confidant Aries, can nothing stand in your way? The Nine of Cups, the card of wish fulfillment, is your card of the week. As no stranger to success, it should not feel shocking as blockages are removed; "no" quickly transform into "yes" in the coming days. You know the old catch phrase "Be careful what you wish for because you just might get it?" Reword this sentiment for yourself as, "Wish for what you want for because you will absolutely claim it." Focus on ideals bringing you the maximum amount of joy. Continue to finesse others into seeing things from your unique point of view. Your powerful thoughts manifest at a rapid pace. Keep your end goals firmly in mind. Take this opportunity to tweak exactly what you want down to the smallest detail. Consider emotions you want to embrace. Offer gratitude generously. Take extra steps to thank and acknowledge people who have gone out of their way for you. Remember, every achieved goal carries unforeseen circumstances and consequences. Reach toward goals aligning with your soul's purpose. Unexpected outcomes transform into delightful surprises.
Aries Tarot Tip of the Week: The answer is yes.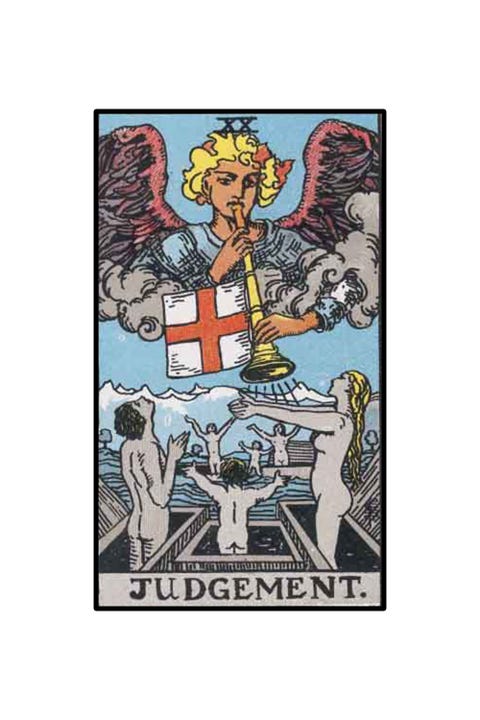 Oh dear, dependable Taurus, you are experiencing a wake up call in every sense of the phrase. Feeling antsy and squirmy? Wish you could change your entire wardrobe or redecorate your living space? This is because your emotional interior has changed and your exterior, physical world hasn't caught up yet. Your outside no longer reflects your inside. This is why you feel off kilter. As an earth sign who craves stability, evolution can often feel uncomfortable. Rest assured, you are not off center. You have cultivated a new longitude and latitude. You stand exactly where you should. You are morphing, changing, and evolving. Embrace it. Move through and welcome uncanny and uncomfortable feelings rather reacting to them. Discomfort will dissolve and become restored with a new sense of order. It will be apparent in all aspects of your life as you grace yourself with patience, acceptance, and love.
Taurus Tarot Tip of the Week: This is your wake up call.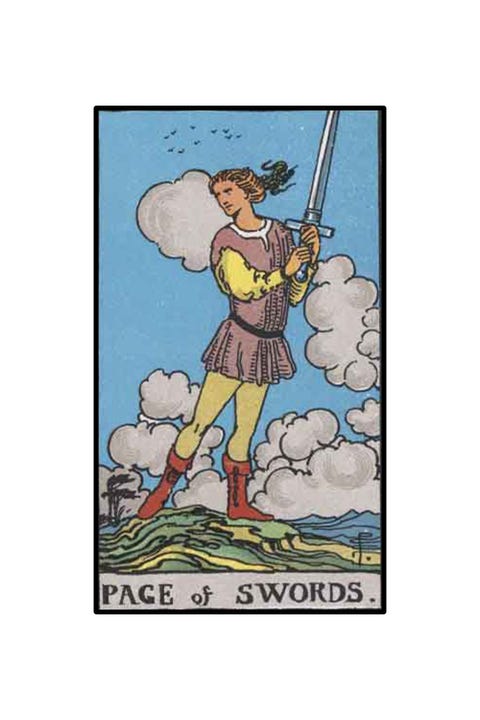 Delightful Gemini, the Page of Swords is drawn. She is the Nancy Drew of the deck, more La Femme Nikita than Agatha Christie. You know a little something about duality and shape shifting. No disguise is beneath you. Nothing escapes your clever detection this week. If ever there was a time to read between the lines, it is now. Self-reliance is essential as this week's events change as quickly as wild spring weather. Knowing this and expecting the unexpected, you will handle all shifts with ease and grace. You have a natural talent for communication, so mince your words, and become economical in your articulation. Spend less time socializing and more time investigating and surveying the territory ahead of you in order to get what you want. What do you desire more than anything? Is it love? Career? Finance? It is within your grasp. Name it. Declare it. Speak the words aloud. No one will approach it like you. Be quick. Be stealth. Be frugal. Watch and listen. The truth and your path will be revealed and you'll skip away unscathed.
Gemini Tarot Tip of the Week: Prepare for intrigue.
Cancer: Three of Swords (reversed)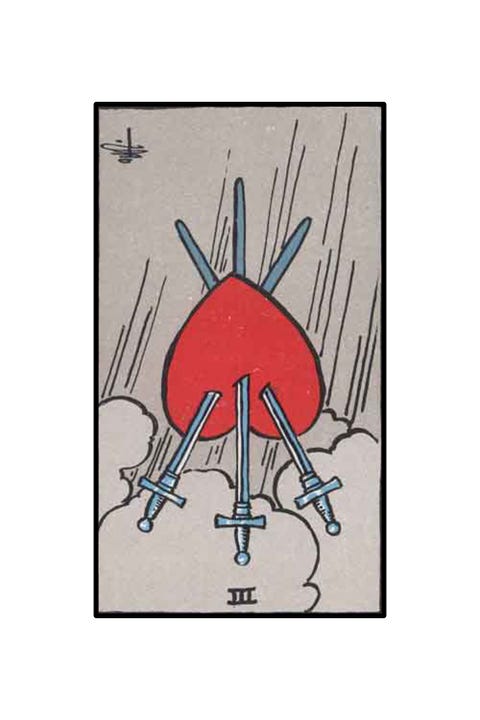 Beautiful, emotional Cancer, the storm has passed. The Three of Swords (reversed) indicates that a situation causing you emotional pain is (thankfully) winding down. You've made tremendous and poignant progress. It hurts to be the third wheel. No one ever wants to feel like an outsider. Rejection and social exclusion can hit us just as sharply as physical pain. This reaction hardwires us to stay connected to others. It was once essential for human survival. But it hurts. We focus on how others "wrong" us because it makes us feel more "right." Through your experience, you have learned that the most important person you have to depend on is yourself. You no longer fear missing out. By letting go of harbored anger, you have created the space for an emotional opening. Continue to release the need to justify. Innate value was inside you all along. But it only counts when you finally see and feel it—and you finally do.
Cancer Tarot Tip of the Week: You are free.
Leo: Hermit card (reversed)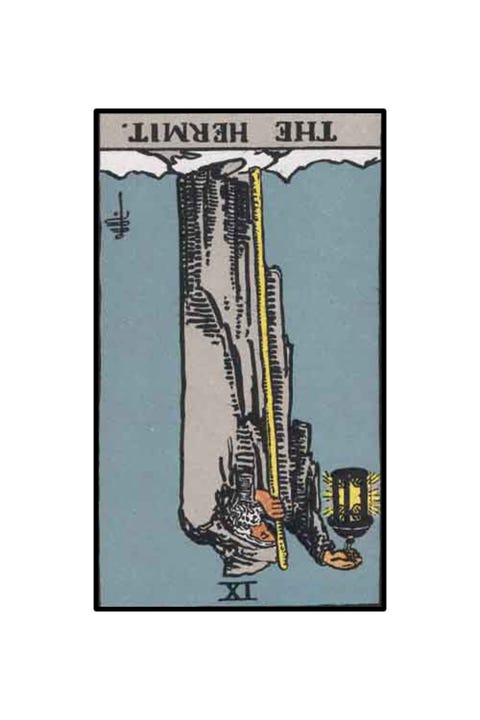 Gregarious Leo, it is time for to indulge your every social whim. The Hermit (reversed) is drawn for you. This week, get out and make the most of every extra inch of daylight. Balance is key in life but for now, it is worth pushing yourself out the door even for those tiresome events you may feel like skipping. Winter was a time of reflection and reinvention for you. Now, let the world, your peers, and friends see what you are made of. You are stronger, bolder, more daring, and enigmatic than ever before. The Hermit emerges from his cave and when he does, his light serves as a beacon for others. Shine your dazzling light to all who behold you. And watch as the marvelous manifests. Step. Pose. Repeat.
Leo Tarot Tip of the Week: Do not hold back.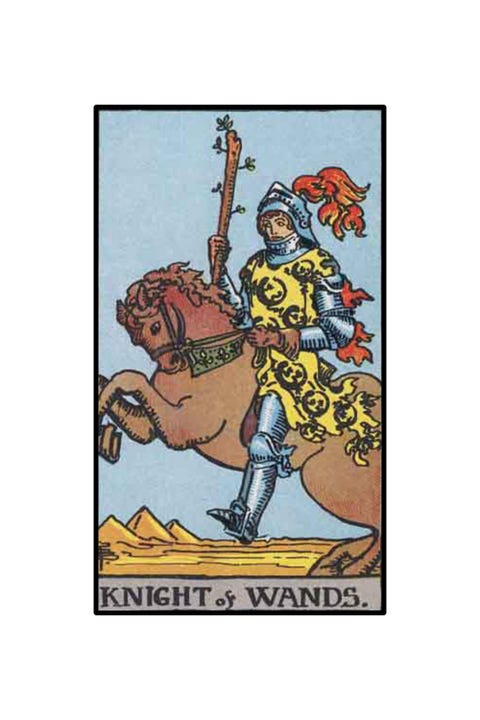 Analytical Virgo, give your calculations a rest and leap forward with ease this week. The alluring and enigmatic Knight of Wands has been drawn for you. Summer's heat arrives early in the form of romantic energy and sexual awakening. Allow the passion of wands to run through you by not censoring yourself. You don't always have to pick up everyone else's pieces. Put other's needs on the back burner. Let erotic desire be your guiding flame. Allow yourself to be carried away. Permanence is an illusion often standing as a wall between what you need in the moment and what you desire in the future. Stay present by reaching for your desire. Be selfish. Be indulgent. Be bad. Don't judge. Tarot knights imply speedy messages. Be extra keen and aware about the way in which you communicate with others. Your words and actions manifest rapidly and pack an extra power punch this week.
Virgo Tarot Tip of the Week: Embrace obsession.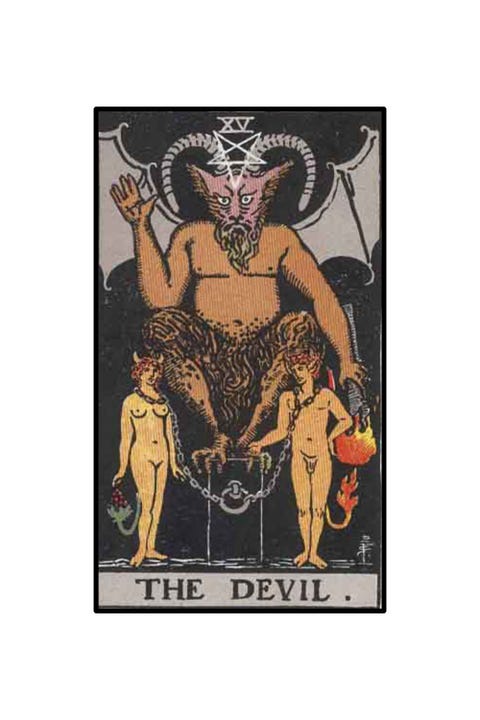 Luscious Libra, partnerships mean the world to you. But who and what are you partnered with? How do your collaborations and alliances support or disable you? The Devil card is drawn as your card of the week, representing addiction, power, and control. The Devil wants to deliver your greedy heart every single thing it desires: gluttony, fame, fortune, admiration, instant gratification, salacious sex, a raucously good time. It is important to be mindful and explore where your personal excesses are. Too much of anything, even the good stuff, become toxic in excess. And the Devil revels in overkill. Consider any dominant behaviors or thought patterns resulting in negative behavior. Where do you experience a loss of control? Eating, spending, working, stressing, emotionally giving yourself away? Control is handed to others but you always have the power to take back what is yours. Reclaim power for yourself this week and stand a little taller. And indulge in a little (not a lot of) sinful delight.
Libra Tarot Tip of the Week: You control what controls you.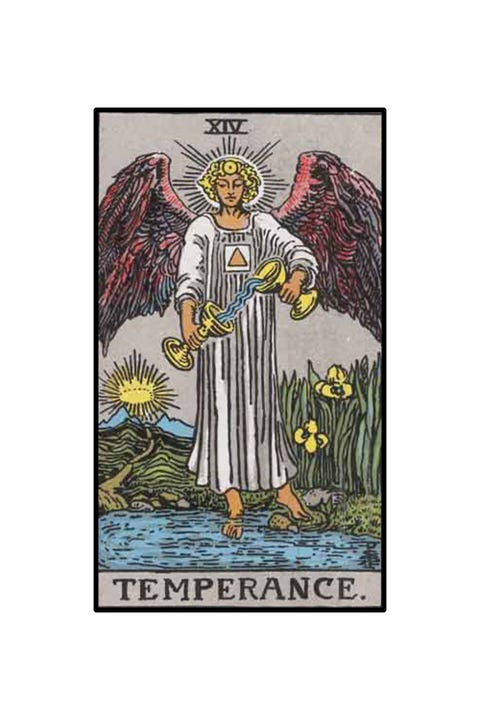 Sensual Scorpio, the Temperance card is drawn for you this week. The angel of Temperance serves as a reminder of refinement. Blade smiths forge razor sharp blades by tempering them. You are wise to do the same. What is your greatest passion? Practice it, challenge it, become better. Make an effort to surround yourself with visionaries who excel in your chosen field or passion. Think of people as doorways to other possibilities. Brush off feelings of intimidation; you don't always have to be the center of attention. Allow their light to inspire your own work. React to them within your own projects. Then temper your extra effort with a fabulous indulgence: a spa visit, a gourmet dinner, or a weekend trip. Those who work hard must also play hard. If a quality in your life is not serving you, send it packing. Throw yourself into what you love and challenge yourself to become the best at what you do. It is time to get real.
Scorpio Tarot Tip of the Week: Surround yourself with who and what you want to be.
Sagittarius: Death (reversed)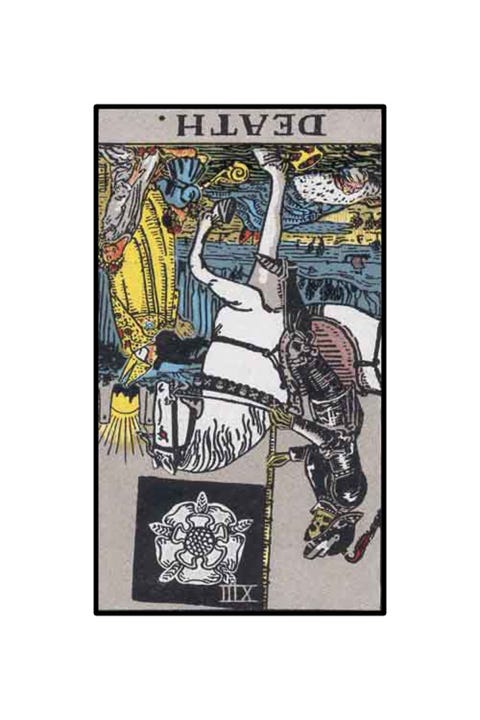 Swift Sag, it is okay to slow down. The Death card (reversed) is drawn as your card of the week. Fear not. Tarot speaks a symbolic language and is never literal. The Death card does not predict an actual death. It is the metaphorical regeneration of all life and possibility. Without fall's crisp and chilly demise, spring's birth and exuberance (the energy matching your effervescent personality) would not be possible. What do you need to let go of? What no longer serves you? What once helpful behavior has outlived its usefulness? Say goodbye to this quality. Transform the remaining energy into something you can direct in a positive way.
Spring cleaning is an excellent metaphor to release and rid us of the collected dust of the past. Nothing reflects as brightly as spring light. Purge yourself of objects, behaviors, and relationships that hold you back from embracing the entirely of who you are. Doing so will take you further than you imagined. Doors, once seemly sealed tight, will hinge wide open. Make new space inside your closets and inside yourself.
Sagittarius Tarot Tip of the Week: Letting go lets new things in.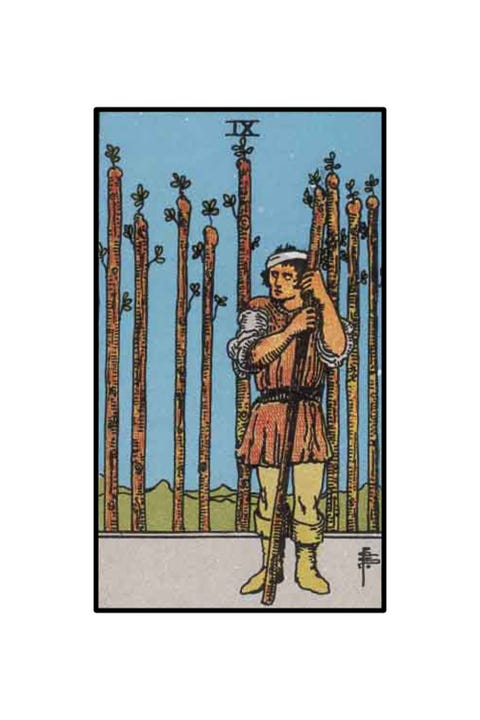 Fastidious Capricorn, you've done it yet again. You are treading on new ground. The Nine of Wands is your card of the week urging you to "boldly going where no man (or woman) has gone before." Your hard work consistently pays off. Do you stop to enjoy the expansive views you continually create or do you race off to the next challenge? This week, it's supremely important to stop. Take a breath. Explore the place and people surrounding you. A darkness is closing in around you, begging you to shed your valuable light. The dim interior may contain the surprise of your life. Joy is in the journey, not the destination. Stop. Observe. Listen. Taste. Smell. Feel. Allow your defensive walls to lower and your senses to unfold. Further. Yes, further still. Passion has carried you this far, however, don't let the fervor of riled emotions cloud you from seeing what is in plain sight. What you seek is within your reach.
Capricorn Tarot Tip of the Week: A breakdown is a breakthrough.
Aquarius: Four of Swords (reversed)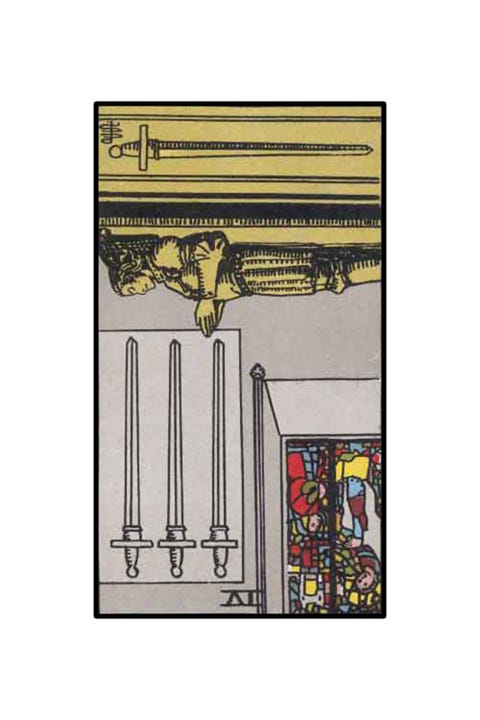 Philosophical Aquarius, you are the master of deep thinking. But what happens when you throw away everything you think you know? The Four of Swords (reversed) is your card of the week. Swords represent the mind. This card is begging you to toss aside any and all mental structure, calculation, and intellectual certainty. Amidst chaos, new possibilities will arise. What if you didn't have to be right? What if others didn't have to bend to your will in order to please you? What if you didn't criticize yourself? What if you didn't decide upon an outcome ahead of time? What if you allowed a situation to unfold?
Visual artists understand the innate value of playing, exploring, sketching, and dreaming before settling on the final piece of work. This week, the Four of Swords challenges you to do the same thing. No matter what confrontation you face, allow a solution to be presented rather than rushing in to fix it. Stay out of quarrels that don't concern you. Be gentle to yourself. If you find yourself falling into a judgment spiral, find a healthier outlet for your energy—and take a long gaze in the mirror.
Aquarius Tarot Tip of the Week: Throw away everything you think you know.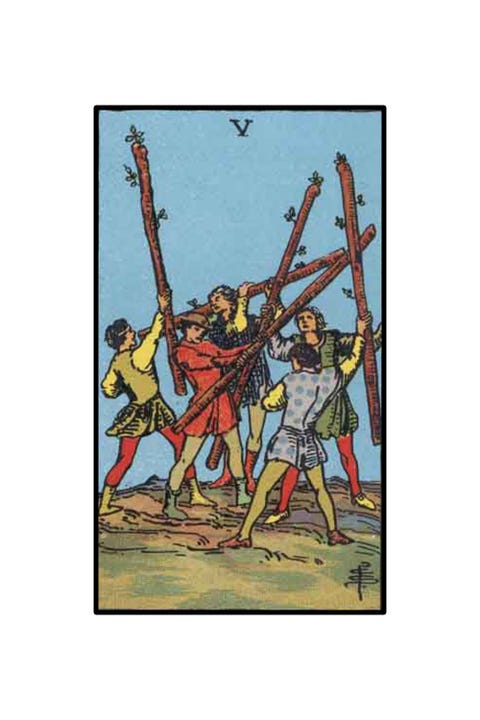 Intuitive Pisces, the Five of Wands is your card of the week. Challenges of the most delightful sort are appearing all around you like cherry blossoms. No one is better fit to rise to the occasion than you are. Take all confrontation as opportunity. Bring your A-game to the theater of your life. Strive harder, love better, and be smarter. It won't be hard. Your wise, innate nature helps you to sync to the rhythm of the seasonal shift in your life. Trials and tribulations are the notes you play so well. Challenges appear, but rather than exhaust you, they energize you. In turn you level up. Others are surprised and dazzled by your finesse, compassion, and creativity. They become more inspired just from being around you. Never forget that every action causes a reaction—to each gesture there is an effect. You inspire more people than you realize. Throw personal passion into your challenges this week and passersby will be enchanted with you.
Pisces Tarot Tip of the Week: Time to level up.
This content is created and maintained by a third party, and imported onto this page to help users provide their email addresses. You may be able to find more information about this and similar content at piano.io