New York Fashion Week Meets Vintage Voting Booths
It's Primary Day in New York City.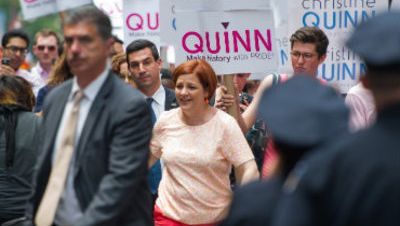 (Image credit: Courtesy of Getty)
Polls opened at 6:00 a.m. on Tuesday for New York City's party primaries. New York City voters will select party nominees for local offices including mayor and comptroller — two races that have garnered national attention.
Will the city make history today? With races that include the city's first openly gay, female mayoral candidate, as well as embattled former politicians attempting to write their next chapters, Tuesday's primary elections are sure to produce some fascinating results.
Primary day will also mark the presence of another important player. Due to complications surrounding electronic voting, New York City's Board of Elections decided to dust off the manual voting booths of days gone by (opens in new tab). Yes—we're talking about those clunky grey booths with the big red levers. The vintage machines weigh more than 800 pounds!
For more information on where to vote, visit nyc.pollsitelocator.com (opens in new tab), or call 866-VOTE-NYC. Polls will remain open till 9 p.m.