The 5 Things Every Woman Should Keep in *That* Drawer
Tools of the trade right here.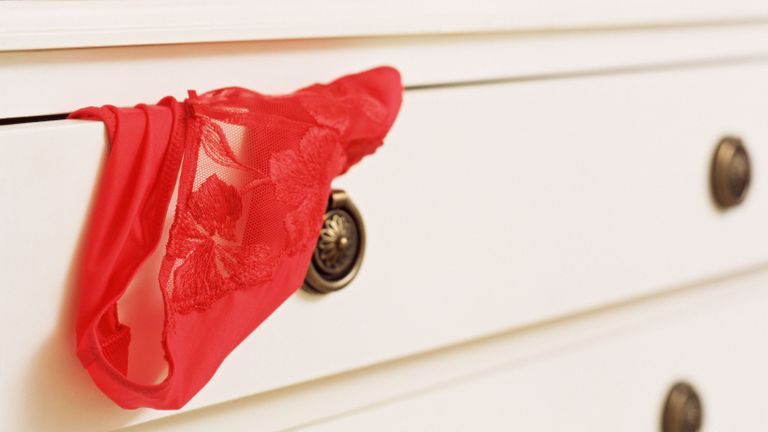 (Image credit: Getty Images)
We're all adults here. And you're an adult woman who knows what she wants in bed—and how to get it. You're probably used to stashing your vibrator in the back of your sock drawer, but there are lots of other must-haves you should keep within arm's reach whether you're flying solo or with a co-pilot.
To help you build the perfect sex drawer/box/bag—wherever you keep life's necessities—we spoke to sexologist Emily Morse, host of Sex with Emily, Joan Price, author of The Ultimate Guide to Sex After 50: How to Maintain–or Regain!–a Spicy, Satisfying Sex Life, and Sarah Tomchesson, head of business operations at ThePleasureChest.com about everything you need to keep by your bed (or wherever you normally get it on). Think of it like a grocery list—except without food and more silicone.
There is no such thing as a vibrator designed to delay your orgasm. Instead, sex toys are invented to enhance and speed up your enjoyment so that you can finish—because let's be real, usually it's much harder for a woman to climax before her guy.
You want something that's "strong"—meaning it has powerful vibrations—or has different attachments with which to experiment. Price raves about the Magic Wand—or, "the king of vibrators"—and the Palm Power, which is smaller and convenient for limited drawer space, and works specifically for clitoral stimulation. If you prefer to vary your vibrations depending on your mood, both Morse and Tomchesson suggest the Mimi by Je Joue—it's compact, soft, and has settings to adjust vibration power.
Another staple: a sleeping mask. Seems odd, but um, hello, Fifty Shades of Grey fantasy, y'all! And when you're done Anastasia Steele-ing, you can use that mask to block out 6 a.m. sunlight and score extra snooze time. Who's winning? You.
Plain and simple: the wetter the better. The more lube you use, the easier (and more pleasurable) penetration feels—plus, it relieves any vaginal dryness you've got going on down there. What type of lube you want to use is solely your choice, but we thought we'd do you the courtesy of outlining some basic knowledge for you. You're welcome.
Water. This is one of the most common bases for lube. Some of its best assets: It's simple to wipe away after sex and won't ruin vibrators. (Yep, some do—keep reading.) The con? It doesn't stick around for a long time, so you're stuck constantly reapplying it should you need it. But let's be real, it's more of a "want" than a "need."
Silicone. If water-based lube is "wet," think of silicone-based lubricant as "sloppy wet"—ideal for masturbation. Its properties provide a silky, smooth texture and don't require as much reapplication as water-based lubricants. They vibe well with latex but avoid using them with silicone sex toys, since the lube can wear away at the rubber over time. And clean freak PSA: Silicone-based lubes are harder to remove from skin and sheets, so heed our warning.
Oil. If we had to describe it, oil lubricants are, like, the Plan B of lubes—you only use it when absolutely necessary. For one they erode condoms (WTF), but they're also difficult to clean out of your vagina. Plus, the kinds most people resort to in their kitchen aren't meant for sex—they're meant for, well, cooking. If you just love the feeling of oil down there, look for products specifically made for sex. Although not really recommended, coconut oil is usually a safe choice.
Nothing transforms your bedroom into boudoir more than the warm atmosphere produced by candlelight fire. Even though you're obsessed with your rose-scented waxes, you should avoid anything with an aroma—you don't know what's going to irritate your partner's sense of smell. Stick to neutral, fragrance free waxes before venturing into perfume-aisle territory.
For a two-for-one deal, Morse recommends aromatherapy massage candles for another intimate element. After the candles melt down a bit, blow out the fire and use that warm liquid as a luxurious oil. (Just make sure you don't use HOT wax. We've all seen that "Livin' La Vida Loca" video right?)
YOU CAN SNEEZE AT ANY MOMENT. We kid (though sorta true...), but we all know there's a liiiittle cleanup before the real post-coitus fun—cuddling and eating/refueling. Unlike paper towels, tissues will feel softer, and unlike grabbing the shirt you found in your bed as a rag, you can just toss the tissue away instead of adding more to your laundry pile. Swoosh.
You should also check out:
The Hottest Porn for Women on the Internet
8 Things to Know About Your Sex Drive
When I'm not stalking future-but-never-going-to-happen husbands on Facebook, you can catch me eating at one of NYC's B-rated or below dining establishments—A-rated restaurants are for basics. Fun fact: Bloody Marys got me into eating celery on the regular. And for your safety, please do not disturb before 10 a.m. or coffee, whichever comes first.