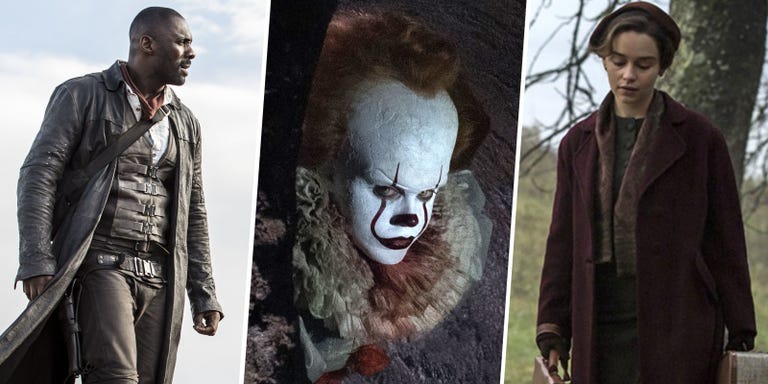 2017 has already brought us many unexpected horrors (no further comment necessary), but prepare to 😱 because Hollywood is serving up a slew of terrifying movies. Get acquainted with this year's scariest films, and please try not to openly scream in your office while watching these trailers.
In theaters: September 8.
It's a movie about a clown who terrorizes children. What more do you want out of a horror film, guys? Nothing, that's what.
In theaters: August 11.
If your horror interests include possessed dolls, orphanages, and nuns, the prequel to 2014's Annabelle is sure to be your personal fave.
Release date: May 19.
The world can never have enough Alien movies, right? The latest in Ridley Scott's classic horror franchise finds Michael Fassbender as an android on a ship bound for what the passengers *think* is paradise but is actually closer to, ya know, hell.
Release date: August 4.
If your life has been desperately missing a fantasy western horror starring Idris Elba and Matthew McConaughey, please direct your attention to the movie adaptation of Stephen King's The Dark Tower. Tragically, there's no trailer yet, so you'll have to satiate your thirst with this photo.
Release date: September 29.
Things to know: 1) It's a sequel to the 1990 movie of the same name. 2) It stars Ellen Page, Diego Luna, and Nina Dobrev. 3) There isn't a trailer yet, but LOL we found the original starring Julia Roberts.
Release date: June 9.
Like, it's Tom Cruise fighting deranged mummies. There's nothing more you need in life.
Release date: April 28.
If you can get through this trailer (about a possessed boy, FYI) without hiding your face in fear, you are a hero.
Release date: June 9.
First of all, this movie stars Riley Keough, which is thrilling. Second of all, it looks scary AF so prepare to scream.
Release date: July 14.
Are you ever like, "Ugh, I wish Ryan Phillippe was in more horror movies?" Cool, today is your lucky day! The '90s heartthrob is set to star in Wish Upon, about a girl who finds a music box that grants her seven wishes. The problem? Her loved ones begin to die.
Follow Marie Claire on Facebook for the latest celeb news, beauty tips, fascinating reads, livestream video, and more.