Cactus Oil Is the New Beauty Fix That Will Completely Transform Your Skin
Yes, it's even better than Argan oil.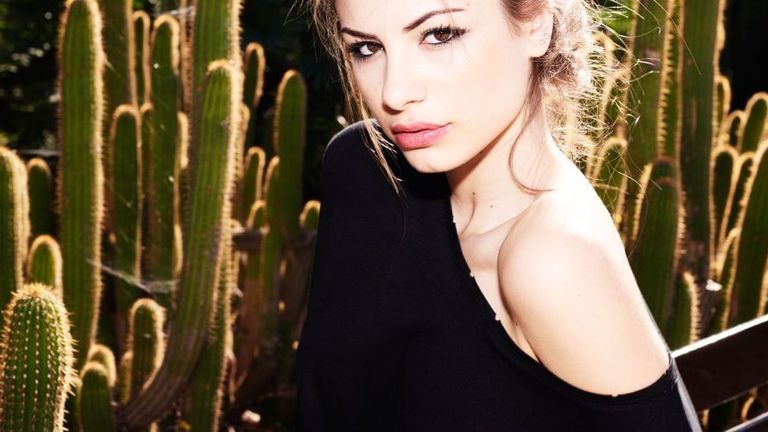 (Image credit: Getty Images)
Argan oil has enjoyed a lofty status as THE beauty oil to beat over the past couple of years, thanks to its hefty vitamin content and its ability to combat everything from dry skin to straw-like hair. And yet, there's another natural ingredient on the rise that does everything Argan oil does, but better—and, what would you know? It's also from the desert.
Cactus seed oil—which also goes by prickly pear seed oil and barbary fig seed oil—contains larger doses of the very same vitamins and antioxidants that make Argan oil so great. This includes linoleic acid (a fatty acid that is essential in stimulating healthy cell production and turnover), as well as vitamin E (which provides protection and helps skin retain moisture), and flavonoids, which are anti-inflammatory. Cactus oil is light and absorbs like something out of a dream, while providing a huge kick of moisture to skin cells. And all of this, of course, bodes well for keeping our complexions looking young, smooth, and, well, gorgeous.
"It soothes, hydrates, and reduces inflammation that damages collagen, explaining why it's used to prevent skin aging," confirms Joshua Zeichner, dermatologist at Mt. Sinai Hospital in New York City.
It all sounds great, but take it from us firsthand: Though these last few weeks of bitter winter had left our skin dry, damaged, and flaky, just a few days of swapping this ingredient into our skincare regime has proven completely transformative AKA *magical*. It's so amazing that we're fairly confident it'll become a mainstay in our bag, even through the sticky summer months.
Products to try:
The secret to this ultra-soothing formula isn't just the prickly pear seed oil, but the fact that it's paired with blue agave—as in, the plant responsible for tequila. When used for your face (and not for your fave drink), it's similar to aloe vera with its anti-inflammatory properties. In other words? Bottoms up.
This serum of prickly pear, agave, and aloe extracts is the stuff of sorcery: Rub just a small amount onto your skin and watch your face practically airbrush itself before your eyes. Uneven skin tone? Gone. Natural glow? All yours.
The incredible fragrance blend of Argan and cactus seed oils will have you at first sniff—but the amazing moisture it provides your face is what will keep you running back for more. A tip: Throw this on just before running out the door in the morning to protect your face from the frigid elements and to provide another layer of warmth. (Yes, really.)
The beauty of washing your face with oils is that you evade the tightness and dryness that often comes with using traditional cleansers. This face wash offers those sorts of benefits but is also formulated like a traditional cleanser—perfect for those who feel iffy about rubbing straight oil on their faces.
Dark eye circles are often a result of dehydrated skin—which is why cactus oil—with such a high vitamin E content (which helps skin retain water)—can provide the moisture you need. This fatigue-blasting formula also contains an array of other anti-aging and skin-plumping ingredients, including linoleic acid, vitamin A, and coffee bean extract.
All of these products prove that cactus oil is great when expertly paired with other ingredients. But it certainly does the job on its own, too: Just let a layer of this oil soak into your visage overnight and be amazed at your morning glow.
Complexion might be the focus here, but just like Argan oil, cactus oil can do wonders for dry locks. We let this sit in our hair for 30 minutes before shampooing thoroughly and letting it air dry—only to find that our hopelessly unruly waves were suddenly silky and frizz-free. YAS.
You should also check out:
Help Me I'm Pore: How to Unclog, Shrink, and Banish Pores for Good (opens in new tab)
Polar Vortex Be Damned: I Have Moisturized Lips Anyway Thanks to This Awesome Product (opens in new tab)
Glossier's New Masks Are Like a Juice Cleanse for Your Face (opens in new tab)
Victoria Hoff is the associate editor at ELLE.com, covering everything from fashion to beauty to wellness. She first joined the team as the editorial assistant in 2013. When she isn't working, she spends her days in Brooklyn eating (vegan) tacos, yoga-ing, and curating her collections of healing crystals and mom jeans.