Apparently, There's a Secret Message Hidden in Betty Cooper's 'Riverdale' Ponytail
HOW DID I NOT NOTICE THIS EASTER EGG.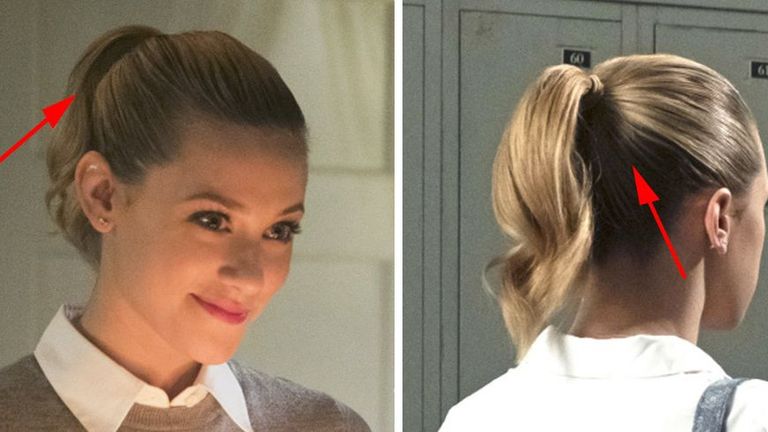 (Image credit: The CW)
I love Riverdale. I love Riverdale so hardcore that I yell at my boyfriend to vacate the living room and relinquish all television rights to me every Wednesday night for an hour, and then I gleefully watch as my favorite dramatic faux-teens navigate their way through their Twin Peaks-esque world, with all of the awkward strip teases, Jingle Jangle references, and phenomenally NSFHighschool outfits.
RELATED STORY
Um, Kylie Jenner and Kourtney Kardashian Might Be Releasing a Makeup Collab
And now, my favorite show just got better, because apparently there are some Easter eggs we've been missing, and they're hidden in Betty Cooper's hair. According to Lili Reinhart, the one thing we should be keeping an eye on—other than the Black Hood, of course—is Betty's ponytail.
"When it comes to having her hair down or lower, like a lower pony, it's usually reflective of her mental state," said Reinhart in an interview with Glamour. "As Betty evolves, and whatever she's going through in her personal life, it's seen on her hair." So basically, Betty's hair is a modern-day mood ring, and it's the ultimate foreshadowing trick we never even noticed.
Take, for example, episode five, when Betty was facing down a serial killer: "It was important to me that by the end of the episode, Betty's hair was completely down, just because that perky girl next door façade was gone and faded and hollowed out," said Reinhart. "That's why I had a low pony and a low bun in that episode, because she wasn't putting in any effort into her appearance. She obviously had bigger fish to fry in the moment."
And, she adds, the entire second season shows Betty with a different look: a looser ponytail that's not as slicked back and tight, which is symbolic of Betty's darker, messier, existential crisis-level character arc in the show. "Not too many people pick up on it, but it's something that we're doing behind the scenes intentionally."
So next time you're watching, and re-watching, and re-re-watching your favorite episodes, maybe pay some extra special attention to Betty Cooper's hair. Because if it's a snarled mess, you know shit's about to get CRAY up in Riverdale. At which point we will be back here again, dissecting every second of it.
RELATED STORY
Cole Sprouse Pretty Much Admitted He Loves Kissing Lili Reinhart on 'Riverdale'