The 14 Best Tinted Lip Balms, According to a Beauty Editor
Where nourishing ingredients meet gorgeous color.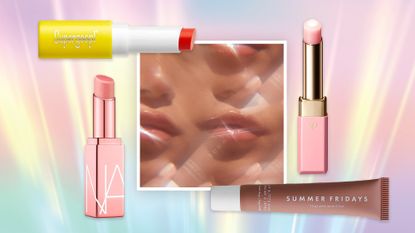 (Image credit: Future)
Marie Claire Newsletter
Celebrity news, beauty, fashion advice, and fascinating features, delivered straight to your inbox!
Thank you for signing up to Marie Claire. You will receive a verification email shortly.
There was a problem. Please refresh the page and try again.
Historically, my lips were perpetually chapped—peeling, sometimes bleeding, rarely smooth. So, I became a beauty editor on a mission. Never would there ever be a time when I would let my lips fend for themselves. They would be covered, at all times, by one of the best tinted lip balms out there. 24/7 and seven days a week, with an extra heavy layer before bed. This little hydration experiment proved successful (my lips are now silky smooth) and provided me the opportunity to try an exorbitant number of tinted lip balms.
I've figured out which balms are ideal for nights out when I want a bit more pigment, discovered ones I simply can't function without (cough cough: Dior), and found the best affordable options to store in every handbag. Want to know my thoroughly-tested must-haves? Keep reading to shop for the best tinted lip balms of all time, according to yours truly.
What to Look For in Tinted Lip Balm
A lip balm that's genuinely hydrating is going to contain two types of ingredients: Film formers, like petrolatum or a wax, and hydrators, like ceramides, waxes, butters, oils, or sea asparagus. "If there are no hydrators in the product, it's like putting saran wrap over a dry lip—which does not do anything," explains cosmetic chemist Ginger King. If your lip balm does contain petrolatum, make sure it's USP-grade, meaning the purity is par.
"A good tinted lip balm should be able to build coverage," says King. "If people want full coverage, they should opt for lipstick." A sheer tint is by and large what you'll find on this list, but there are a handful that pack in more pigment.
The Best Tinted Lip Balms
The Best Tinted Lip Balm With SPF
Supergoop Lipshade 100% Mineral SPF 30 Hydrating Lipstick
If you've ever had a sunburn on your lips, you're well aware that it's a wildly unpleasant experience. Rather than layer a thick white glob of SPF on your lips before heading out in the sun, reach for one of these gorgeous (and very pigmented) shades. Each one provides mineral protection thanks to the inclusion of zinc oxide, and delivers a handful of deeply hydrating ingredients ranging from plant-derived oils and peptides to shea butter.
Pros: Contains SPF; Intense color payoff
Cons: Requires frequent reapplication
The Best Sheer Tinted Lip Balm
This is my go-to, everyday lip balm for good reason. It features a special hydrating complex made up of squalane, coconut oil, and a moisturizing flower extract. I've found that it not only provides an immediate soothing effect, but the hydration actually gets locked into my lips and lasts for hours post-application. The pigment payoff is very subtle, but because of the silky texture, I"m left with a shine that's almost reminiscent of a gloss.
Pros: Extremely hydrating; Has a hint of shine; Can be layered over lipstick
Cons: Pigment is not very buildable
The Best Multi-Purpose Lip Balm
Cle de Peau Beaute Lip Glorifier
I'm really not a lipstick girl. However, there are a handful of occasions where a matte lipstick is a necessity—and during those times, this lip glorifier is a must. It's more lightweight and less sticky than most, which allows it to work almost like a lipstick primer. One swipe smooths out any crêpiness, blurs over chapped areas, and locks in hydration, so that my lipstick applies smoother and doesn't develop a peeling, dried-out aesthetic throughout the day. Occasionally I'll even wear it alone to reap the hydrating benefits of shea butter and argan tree oil.
Pros: Multi-purpose; Great scent
Cons: Expensive
The Best Glossy Lip Balm
Summer Fridays Lip Butter Balm
There are lip balms that are denser and come in stick form. Then, there are those that come in a tube—they're glossier, they're thicker, they're shinier, and they're my personal favorites. One of the best of the bunch is this Summer Fridays option—and fair warning: It sells out constantly. Every shade gives an unreal shine (and smells delicious), plus you'll experience a small plumping effect. You can't go wrong with any of the colors, but my personal favorites have to be Pink Sugar and Vanilla Beige.
Pros: Very glossy; Smells amazing
Cons: Always sold out
The Best Tinted Lip Balm for Shine
Naturium Phyto-Glow Lip Balm Jam
For the times when I want my lips to be so incredibly shiny they double as a mirror, it's Naturium to the rescue. I'm a big fan of all the brand's products, and these tinted lip balms are no exception. They include a mix of shea butter, cupuaçu butter, and plant squalane to create a hydrating mask on the lips and come in a range of pink, berry, and red hues. The color payoff is pretty strong and true to the color on the packaging, so I recommend using that as your guide. Each one also tastes (and smells) like vanilla, so you're in for a treat.
Pros: Good pigment; Very shiny
Cons: Packaging can be a little messy
The Best Tinted Lip Balm for Pigment
Tinted lip balms are inherently on the sheerer side. It's all well and good, but thanks to Tata Harper's latest innovation you don't have to sacrifice pigment. The brand's lip cremes come in four tinted shades—and rest assured you'll have a bright pout once you swipe. A soft dab of color will be more subtle, but if you really want to pack on color you can build up the pigment to be completely opaque and very bold. Blasé has been my go-to (it's the tamest of the quad), but you really can't go wrong with any of the gorgeous shades.
Pros: Great pigment; Buildable; Contains 23 hydrating botanical ingredients
Cons: Not as hydrating as some others
The Best pH-Balancing Tinted Lip Balm
If you struggle to find the perfect lip shade for you, allow me to direct your attention to the cult-favorite Dior Addict Lip Glow. It comes in over a dozen shades, each of which is infused with a special color-reviver technology, which allows the lip tint to adjust to your lips specific pH and create custom shine that'll last for up to six hours. The perfect sheer tint is what got me hooked, but it's the hydration that caused me to stock up on every single shade. A blend of cherry oil, shea butter, and sunflower wax truly keep my lips chap-free.
Pros: Perfect shade match; Gorgeous packaging
Cons: Not as hydrating as others
The Best Luxe Tinted Lip Balm
U Beauty The Plasma Lip Compound
U Beauty's OG Plasma Lip Compound has raked up thousands of five-star reviews since launch—and the hydrating, plumping, uber-glossy formula truly deserves all the praise. It improves volume and hydration, reduces the look of fine lines, and revives the lip's natural color. I truly didn't think I could love the product more, until the brand dropped three tinted shades. The pigment is strong and each hue looks great on all skin tones. I frequently switch between Fawn and Rose, but I'll grab Cassis if I want something a bit bolder.
Pros: Intense pigment; High shine; Deeply hydrating
Cons: Expensive
The Best Plumping Lip Balm
Charlotte Tilbury Hyaluronic Happikiss Lipstick Balm
Just like the name indicates, this product is going to be eons more hydrating than a traditional lipstick and pack in way more pigment than a stereotypical lip balm. Each shade is infused with hyaluronic acid (hydration!), peptides (plumping!), and emollients (glossy!) to create one of the prettiest, shiniest finishes you'll find across the lip category. Thanks to such a powerhouse ingredient profile, the tint actually provides a blurring and smoothing effect that disguises fine lines.
Pros: Great pigment; Blurring effect; High shine
Cons: Packaging is a bit messy
The Best Matte-Finish Tinted Lip Balm
Kjaer Weis Tinted Lip Balm
On a no-makeup day, I don't want something with *too* much gloss or pigment. Those are the day when this Kjaer Weis tinted balm can't be beat. It gives the subtlest wash of barely-there color, provides a buttery, silky feel without an abundance of shine, and comes in a range of shades that ever-so-slightly enhance every natural lip tone. Gracious is my go-to—and I love that every time I run out I can just scoop up a refill for a fraction of the full price.
Pros: Sustainable; Non-sticky
Cons: No buildable color
The Best Drugstore Tinted Lip Balm
Burt's Bees Tinted Lip Balm
I describe my approach to makeup as follows: as little effort as possible. But not in a no-makeup-but-actually-a-lot-of-makeup, Hailey Bieber type of way; it's more that I'm unbelievably lazy. Over the years, I've curated a roster of products that keep my getting-ready routine as low lift as possible, and Burts Bees Tinted Lip Balm in the shade Magnolia takes the top slot. With one simple swipe, my lips look rosy and blushed, achieving the look of lipstick but without any of the painstaking precision and effort." — Emma Childs, Style Editor
Pros: Affordable; Multiple shades
Cons: Can be a bit chalky
The Best Line-Smoothing Lip Balm
Lawless Beauty Forget the Filler Lip-Plumping Line-Smoothing Lip Balm
Anytime Lawless expands their Forget the Filler line, I get excited. The entire collection is designed to mimic the plumpness and fullness you can typically only achieve from an injectable. Enter the Forget the Filler tinted lip balms, which have an other-worldly plumping effect that smooths out little lines and leaves behind a high-shine, extremely hydrating sheen powered by jojoba seed oil and shea butter. Even the darker shades in the collection are pretty soft, so don't be afraid to choose a shade more intense than your usual.
Pros: Plumping; High-shine
Cons: Not a lot of pigment payoff
The Best Affordable Tinted Lip Balm
L'Oreal Paris Glow Paradise Balm-in-Lipstick
The best part about this lip balm is its long-term effects. Sure, you'll feel instant hydration off the bat, but I can confidently say that after using this little guy religiously I noticed that my natural lips—without anything on them—were softer, smoother, and more supple. The secret ingredient? Pomegranate extract, which is loved in the beauty industry for its moisturizing properties. I started off my Balm-in-Lipstick journey with the Peach Charm shade, but the price point is so good, that I've gradually added every sku to my collection.
Pros: Affordable; Provides long-term hydration
Cons: No intense pigment
The Best Tinted Lip Balm Tin
"I've loved this tinted lip balm from C.O Bigelow for years. The tint is so sheer, so it leaves my lips looking juicy and ever-so-slightly rosy—perfect for everyday wear! The tin also lasts ages. I keep it next to my bed so I can apply in the morning and at night. The finish is pretty slippy, so make sure to pat off any excess if you're going to be building another color on top of it. However, I find it incredibly nourishing and easy to wear." — Julia Marzovilla, E-Commerce Editor
Pros: Subtle hue for everyday wear; Good for layering
Cons: Strong fragrance
Meet the Expert
Ginger King has been passionately creating beauty products from concept to finish since 1995. She is well versed in innovative concepts, creative product formulation, advanced technology applications, ergonomic package development and impactful competitive analysis. Ginger has developed over hundreds of products from hair care to skin care, and sun care to color cosmetics. Her claim to fame products include the revolutionary first to market Joico ICE SPIKER, water resistant hair glue, Freeze 24.7 Ice Shield, SPF 15 face wash and Avon Advance Techniques Color Protection series. Her Avon True Color Eye shadow and Daring Definition Mousse Mascara have also been selected as the finalists for CEW (Cosmetic Executive Women) for 2005 and 2006 respectively.
Celebrity news, beauty, fashion advice, and fascinating features, delivered straight to your inbox!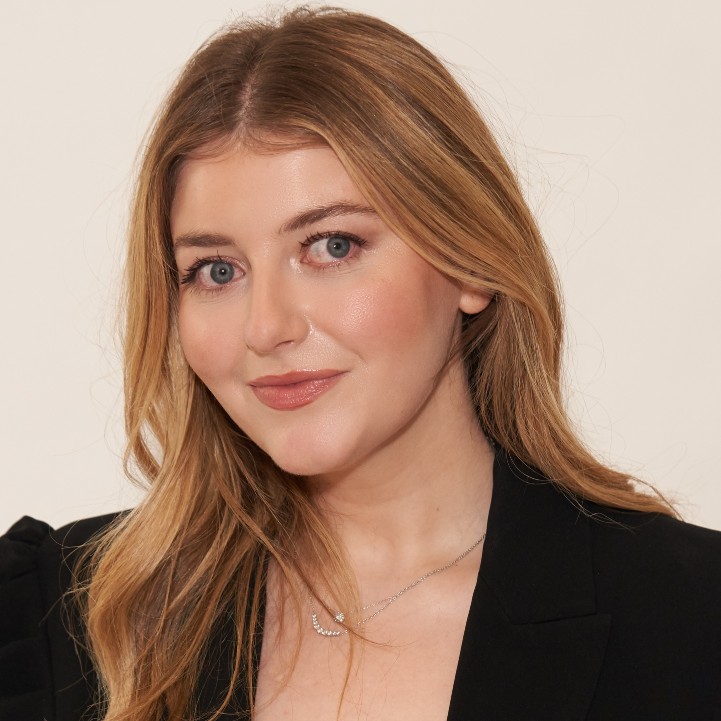 Samantha Holender is the Beauty Editor at Marie Claire, where she reports on the best new launches, dives into the science behind skincare, and keeps up with the latest trends in the beauty space. She has previously written for Us Weekly, Popsugar, Makeup.com, Skincare.com, and Philadelphia Wedding. Follow her on Instagram @samholender.