Gold Medal Glam
These international Olympians are famous for going all out. Here, they take a rare time-out to talk beauty obsessions, diet secrets, and intense workouts.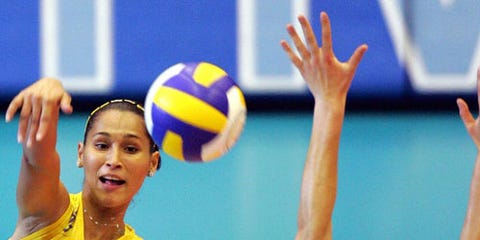 These international Olympians are famous for going all out. Here, they take a rare time-out to talk beauty obsessions, diet secrets, and intense workouts.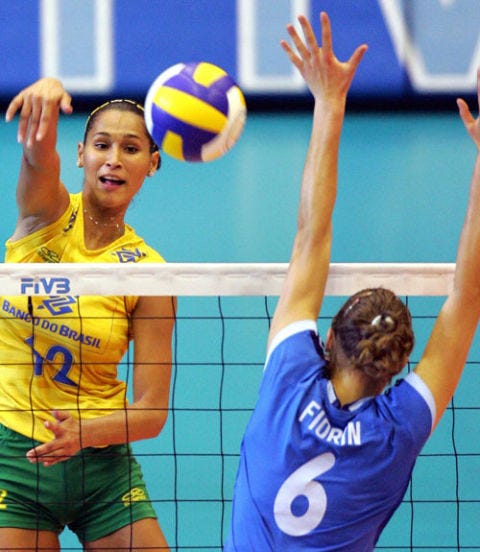 Jaqueline Carvalho, Volleyball (Brazil)
The Gisele Bündchen of volleyball, Rio resident Carvalho, 28, is model-gorgeous, was a gold medalist at the 2008 Olympics, and is married to sexy Brazilian volleyball star Murilo Endres, who is also competing in London.
TRAINING SCHEDULE: I train seven days a week, usually for four to six hours per day. It tends to average out to three hours of volleyball practice with the team and three hours at the gym doing strength training with weights.
ACTIVE R&R: When I'm at home in Rio de Janeiro and not actively training, I still go to the gym daily. For fun, I like to walk in parks and play dance games on Xbox—I'm constantly moving.
MORNING JUMP START: Cereal with milk and a lot of fruit in it.
GUILTY PLEASURE: A steak filet, Swiss potatoes, and cheese bread.
RECEIVING THE MEDAL: Although how I look is the last thing on my mind when I'm competing, I do put on a little bit of waterproof mascara, MAC Tinted Moisturizer with SPF, and a transparent nude or pink lip gloss. I wear my hair in a ponytail when I train and compete, and use Pantene Extra Straight Combing Cream to keep it smooth. A regular manicure and pedicure is very important to Brazilian women. I usually wear a pink polish or do a French manicure, which is popular in Brazil.
SKIN SAVIORS: I wash my face with La Roche-Posay Effaclar cleanser and hydrate with La Prairie moisturizer. After a shower, I put on Victoria's Secret Pure Seduction Body Cream—I love the scent.
PERFUME PICK-ME-UP: Ralph Lauren Romance—it's soft and slightly sweet.
BODY-HAIR HELP: Brazilian women bleach the fine hair on their arms and upper legs. Blonde hair on the skin is sexy and a real trend here. I only wax from the knees down and use Wella Blondor Lightening Bleaching Cream on my thighs and arms.
HAIR RX: I spend hours each day training in the sun, so my long hair can get very dry and damaged. I like the Pantene 3-Minute Rescue Treatment because it's so quick but totally reconditions my hair.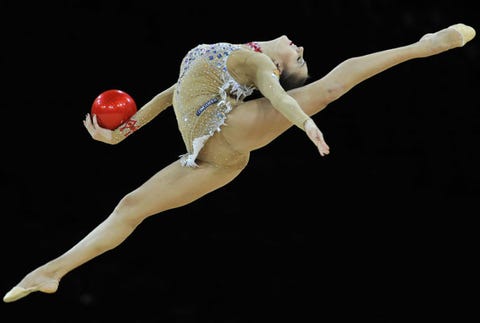 Evgeniya Kanaeva, Rhythmic Gymnast (Russia)
A 2008 Olympic gold medalist, Kanaeva, 22, also placed first in every rhythmic gymnastics event at the 2008 European Championships.
TRAINING SCHEDULE: I train six days a week, for four to eight hours a day. From 8:30 to 10 a.m., I work with a choreographer to learn new routines. From 10 a.m. to 1 p.m., I practice routines, then spend half an hour stretching and strength training, especially for my back and legs. After a two-hour lunch break, I return to the gym for a second training session with a one-hour stretching warm-up and two or three hours of practicing routines.
SECOND CALLING: If I wasn't a gymnast, I'd take up dance professionally. I love to dance, and it's an essential part of training for all gymnasts. I love learning new dance moves for routines.
DILIGENT DIET: Gymnasts have to look the part, and I weigh myself every morning. I limit what I eat, make sure to have a balanced diet, and don't have any baked goods or snacks. (They're too tempting!)
GUILTY PLEASURES: I love sweets, and sometimes I let myself have some chocolate or ice cream, but then I try not to eat anything else that day that's high in calories. When I'm home, I love my grandmother's pot cheese pancakes and roasted cauliflower. Delicious!
GAME DAY ROUTINE: Vivid makeup is an integral part of a gymnastics performance, and I like to use MAC Pro makeup in competition. It lasts beautifully right to the end of every routine! I wear foundation and blush, and I always try to choose shades of eyeshadow and lipstick that match my costume and create one harmonious look. I always wear my hair up in a bun or a ponytail so it doesn't get in my way.
OFF-DUTY ESSENTIALS: Since I wear a lot of makeup during competitions, in my off time I prefer a fresh look. I use a tinted moisturizer, Armani Eyes to Kill Mascara to give my lashes volume, and a Clarins lip gloss in a light, natural shade.
PERFUME PICK-ME-UP: I like floral perfumes with sweet, fresh notes. My favorite is Lanvin éclat d'Arpège.
HAIR RX: Because I have to wear my hair tightly pulled back and up to train and compete, it takes a beating. I use both Pantene Split End Serum and Pantene Repair and Protect Intensive Treatment Mask to keep it in shape.
SKIN SAVIORS: When I wake up, I rinse and cool my face with lemon-juice ice cubes. It helps my skin wake up and stay toned for the entire day. It instantly gets rid of bags under my eyes and gives my face a healthy glow. Aveda cleansing gel and moisturizer are perfect for my face. And for my body, I adore The Body Shop's chocolate- and vanilla-scented lotions.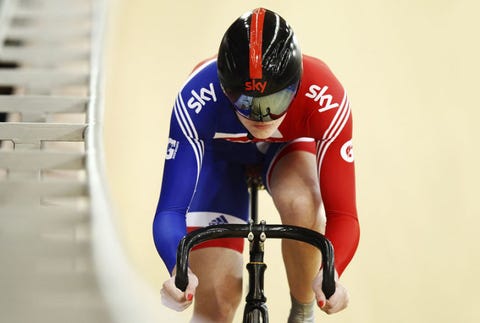 Victoria Pendleton, Track Cyclist (U.K.)
English beauty Pendleton, 31, is a nine-time world champion and was an Olympic gold medalist in individual sprint at the Beijing Olympics in 2008.
TRAINING SCHEDULE: I train twice a day, five days a week, and once on the weekend. I have two-and-a-half-hour strength sessions at the gym three times a week, working with a range of weights, resistance, conditioning, and core stability. Twice a week, I train on the cycle ergometer [a high-tech stationary bike] for leg speed and strength. I'm on the velodrome track four times a week from 2 to 5 p.m. doing cycle training. And on the weekend, I'll do a two-hour road ride for recovery.
PILATES REHAB: I've been doing Pilates for more than a year, and for me, it's been a real breakthrough in managing back pain and building my postural muscles. I have lots of lumbar spine issues from spending my life hunched over a bike.
MORNING JUMP START: For breakfast, I'll usually have whole-grain toast with honey. I cut my fruit juice with equal parts water. (Too much acid in my diet affects my energy.)
SMART SNACKS: I carry packets of instant oatmeal that I can make with boiling water. It's nutritious and provides a slow energy release.
GUILTY PLEASURE: I cook from scratch at home, but my meal isn't complete without something sweet at the end—typically chocolate.
RECEIVING THE MEDAL: I always wear mascara—Max Factor Masterpiece with a coat of Clarins Double Fix (a waterproof seal) over it. I might also wear a bit of Laura Mercier Tinted Moisturizer and Vaseline pink-tinted lip balm.
OFF-DUTY ESSENTIALS: I'm a big fan of Shu Uemura's false eyelashes. I have some pretty crazy ones that I haven't actually had the confidence to wear yet. I've also been experimenting with MAC Russian Red lipstick, which takes confidence, too.
SKIN SAVIORS: Everything from Elemis feels really light and natural, and they don't irritate my sensitive skin. I use the Tri-Enzyme face wash and serum and the Pro-Collagen Marine Cream. My go-to sunscreen for my face is Elemis Liquid Layer SPF 30. For my body, I like to use a sunscreen from Soleil Organique.
HELMET-HAIR FIX: A bike helmet plays havoc with your hair, and my natural wave tends to get frizzy. Pantene 24 Hour Frizz Fighter Serum prevents it from looking like crazy-professor hair and keeps it smooth and shiny.
PERFUME PICK-ME-UP: I wear Elie Saab, which is a gorgeous, womanly fragrance. It's the first scent I've ever had that's not sporty!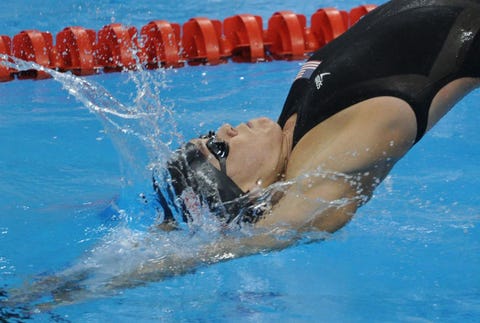 Natalie Coughlin, Swimmer (USA)
California girl Coughlin, 29, is an 11-time Olympic medalist and two gold medals shy of being the most decorated female U.S. Olympian in history.
TRAINING SCHEDULE: I train at least six days a week. I'm at the pool by 5 a.m. and do a Pilates mat routine to warm up before I get in the water. I swim from 6 to 8 a.m., lift weights from 8 to 9:30, then rest and have something to eat. In the afternoon, it's more swimming followed by power circuit training and Pilates again.
SECRET TO LEAN MUSCLES: It's important to do the entire range of motion when you're lifting weights, as opposed to short, little reps, which build bulky, tight muscles.
RUBDOWN REHAB: I see a physical therapist once a week and a Swedish massage therapist once a month. The masseuse inflicts bruises with deep pressure—and it's very painful—but I feel great afterward.
ACTIVE R&R: When I'm not training for competition, I love to run (up to 10 miles a day). And I hike on trails near my home outside of San Francisco with my high-energy dogs: SheRa, a Border terrier, and Dozer, an American bulldog.
MORNING JUMP START: I'll have Birchir muesli and coffee before training. It's part of my meditative ritual before I warm up for competition.
SMART SNACKS: I always have almonds, dried plums, and herbal teas in my bag.
GUILTY PLEASURE: A really good hot dog and Vosges' Barcelona Bar with sea salt and almonds.
RECEIVING THE MEDAL: After a race, I'll put my hair in a chignon, and I might put on eyebrow gel and some lip gloss, but that's it. You have less than half an hour after a race to warm down, do press interviews, and get to the medal ceremony.
SKIN SAVIORS: Since I worry about discoloration from being in the sun so much, I also use Pevonia Botanica Vitamin C serum. On my arms and legs, I apply something super-moisturizing, like cocoa butter. I've been in the sun my whole life, and fortunately, I've been obsessed with wearing sunscreen since I was a kid. For my face, my favorite is Vertra Stick SPF 50. It's ultra-waterproof and gives some coverage like makeup.
PERFUME PICK-ME-UP: Jo Malone Cologne with lemon verbena. I like to spray on this clean citrus scent, otherwise I end up smelling like chlorine.
HAIR RX: I rinse my hair with tap water before jumping in the pool, so my strands soak up less chlorine. To keep them hydrated, I use Pantene Split End Repair Creme. I also put a little Pantene Silky Moisture Whip in my hair whether I style it straight or wear it naturally wavy.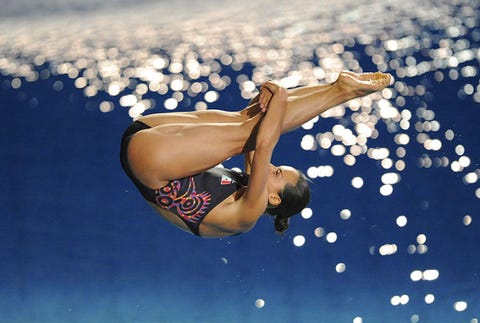 Paola Espinosa, Diver (Mexico)
The petite 5'1" Espinosa, 25, is a two-time Olympian, winning bronze in Beijing in 2008. She's been Mexican national champion in the 10-meter platform for nine years running.
TRAINING SCHEDULE: I train Monday through Saturday, seven to eight hours per day. On a normal day, I wake up at 8 a.m., eat a light breakfast of fruit or cereal, and then head to the gym from 9 a.m. to noon to do dry training (lots of work with weights, core exercises, practicing gymnastics). We go to the pool for a diving session from 12 to 2 p.m. Then there's lunch and a rest break until 4 p.m., when it's back to training until 7:30 or 8 p.m.
SMART SNACKS: Herbalife smoothies are a staple for me.
GUILTY PLEASURE: My favorite is potatoes with chili peppers.
GAME DAY ROUTINE: I don't wear any makeup when I'm competing. When I'm diving, I tie my hair back into a ponytail or a bun.
OFF-DUTY ESSENTIALS: I love to put on makeup, but I like it to look natural. My go-to makeup products are mostly from MAC—especially its face and body foundation and Lipglass. And I can't live without Bobbi Brown mascara.
SKIN SAVIORS: Vasenol body lotion is key because my skin is exposed all the time and gets so dry from hours of training in a chlorinated pool.
PERFUME PICK-ME-UP: CH by Carolina Herrera.
NECESSARY INDULGENCE: Baths with rose water. HAIR RX: When I go out, I wear my hair down and either straighten it or wear extensions. My hair tends to do what it wants, but I like it when it's frizz-free and shiny. Using the Pantene 3-Minute Miracle Treatment at night helps make it more manageable.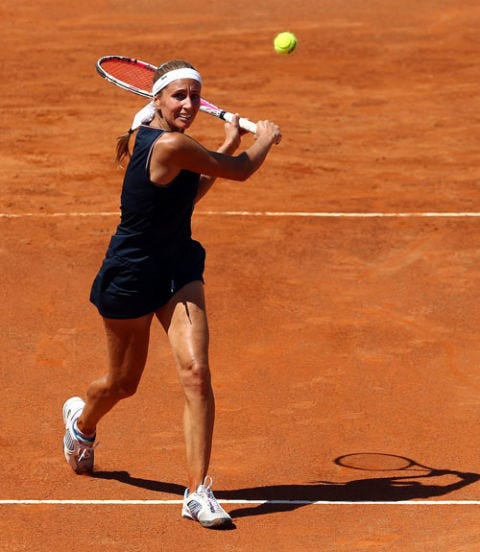 Gisela Dulko, Tennis (Argentina)
Dulko, 27, is a former women's doubles world No. 1. Still top-ranked, she's won 17 doubles titles, including the 2011 Australian Open.

Training Schedule: A normal training day is usually three to four hours of tennis practice on the court, plus two hours of cross training in the gym with weights, or running on a treadmill. And I get a sports massage once a day.

Pre-and Post-Match Meals: Before I compete, I eat something light like fruit, and I hydrate a lot. After a game, eating carbs is part of my routine. My husband (soccer player Fernando Gago) plays for Rome's team, and Italian foods like pizza and pasta are my favorites!

Smart Snack: Bread with Nutella—chocolate is healthy for your heart.

Guilty Pleasure: Ice cream is my weakness.

On-the-Court Beauty: I don't wear any makeup when I play matches, only sunscreen—Avène SPF 30 for face and body. And I usually tie my hair back in a braid to play tennis.

Perfume Pick-Me-Up: Hypnotic Poison by Christian Dior. I love the smell of vanilla in it.

A normal training day: Three to four hours on the court, plus two hours in the gym.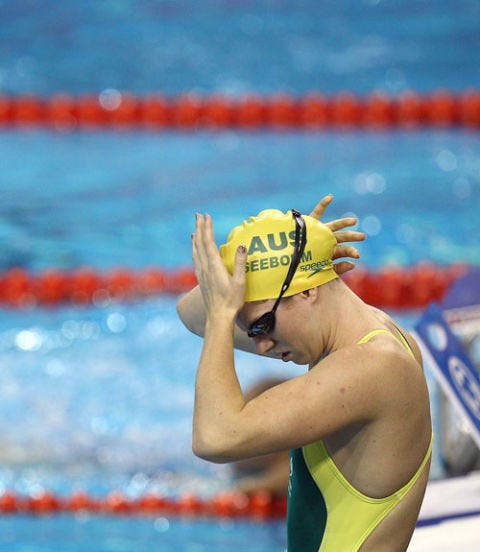 Emily Seebohm, Swimmer (Australia)
Twenty-year-old Seebohm won gold in Beijing and is a record-breaking champion in backstroke and the medley relay. She defeated Natalie Coughlin in the 100-meter backstroke to win gold at the 2010 Pan Pacific Swimming Championships, so game on!

Training Schedule: I get up at 4:30 a.m. and train at the pool from 5 to 7:30, then I have breakfast and usually go to a midday sports massage, physiotherapy, or waxing appointment. Three days a week I'll have a strength-training session at the gym, and then I'm back at the pool from 3:30 to 6:30 p.m.
Active R&R: When I'm home in Brisbane, I love to go to the beach. I take my dogs, Thunder and Storm, for walks, and I like to surf. I'm really not out of the water much.

Smart Snacks: I like to have strawberry milk on hand, and I love dried apricots.

Game Day Routine: Wearing a little bit of natural-looking makeup makes me feel comfortable and confident. I put on Napoleon Perdis Waterproof Mascara and a tinted moisturizer with sunscreen.

Off-Duty Essentials: I wear tinted moisturizer by Mecca (an Australian brand), Nars Blush in Orgasm, and a beautiful nude Napoleon Perdis lipstick. For my hair, I always have my curling iron and flatiron with me. I use hairspray to keep my long waves intact and frizz-free.

Skin Saviors: If I've been out or I've had a busy day, I just grab an Olay Makeup Remover wipe and swipe it over my face and go to bed. Because I'm in the pool so much, my skin gets really itchy and dry, so I moisturize as much as I can with Victoria's Secret Endless Love Body Lotion. And in Australia, we have Papaw ointment, which I use as a lip balm—you can also put it on cuts and scrapes or dry skin and cuticles.

Perfume Pick-Me-Up: I really like Dolce & Gabbana The One. Every time I smell it, I'm like, "Ahhh, so good!" It's fresh but sexy.

Smooth Moves: It doesn't do anything to help my athletic performance in the pool, but removing hair obviously looks better and feels smoother. I tried to do laser hair removal, but it hurt, so I went back to waxing under my arms. I shave my legs because that gets them the smoothest.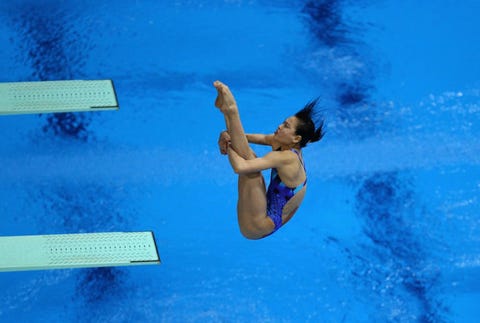 Wu Minxia, Diver (China)
Two-time Olympic gold medalist and six-time world champion, Minxia, 26, is focused on gold in London—and a rigorous, practically 24/7 training regimen.

Training schedule: I train and dive eight to 10 hours a day, every day. My day starts with team exercises at 6 a.m., then weight training and posture practices, gymnastics, and trampoline (for better leaping and free-fall twisting) until noon. Then it's more practice at the diving gym at 2 p.m., followed by formal training in the water. At 10 p.m., we call it a day. All team members keep a training diary with them that summarizes the day's training.

Daily massage: My muscles are tired after daily training and sometimes even chronic pain comes back, so daily massage relaxes my muscles and myself, which is necessary for my next training session.
Smart snack: I love cut-up watermelon because it's so juicy and sweet.

Game Day Essentials: I don't wear any makeup during competition, not even mascara, because it affects my performance (and the water ruins it).

Skin Saviors: My skin gets dry because I'm in the water all the time, so I always moisturize my face and body. Drinking lots of water and eating fresh fruits and vegetables help hydrate you internally, too.

Hair Rx: Spending extended time in the pool, plus the impact from diving into it, makes my hair dry and can cause split ends and sometimes even hair loss. After training, I always use Pantene Moisture Renewal Shampoo and Conditioner to replenish my hair and keep it strong.
This content is created and maintained by a third party, and imported onto this page to help users provide their email addresses. You may be able to find more information about this and similar content at piano.io