Editors handpick every product that we feature. We may earn commission from the links on this page.
#BigLipstickEnergy: The 3 Lip Products I'm Obsessed With Right Now
"What lip is that?" A professional lipstick critic reveals all.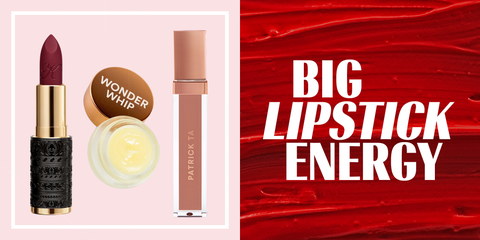 Design By Morgan McMullen
I'm a serial lipstick dater. So many lip products slide onto my desk. Some I double-tap and have all the heart eyes for. Others I ghost and leave on seen. This is #BigLipstickEnergy, an honest breakdown of how I feel about the latest lip launches. Read on for the three lipstick flings I'm keeping in rotation for now. Next week, I'll have a new roster.

A Divinely Scented Lipstick
Le Rouge Parfum Scented Matte Lipstick in Devil Rouge
Kilian
sephora.com
$55.00
THE DETAILS:
Does a glass of Pinot call your name on a Friday night? This color will too. The seductive shade is reminiscent of an aged wine with intense plum, deep red, and chocolate undertones. It's also literal perfume in lipstick form with a scent modeled off of Kilian's Love, Don't Be Shy scent ($295), which has notes of neroli and vanilla.
WHY I'M OBSESSED:
If owning too many fragrances is wrong, I don't want to be right. As a resident fragrance and lipstick hoarder, I've always loved Kilian's beautiful blend of my two vices into one: divinely scented lipsticks. These limited edition red shades are sophisticated and will get you in the holiday spirit. All shades have a soft and slick formula that feels cozy on my lips, but I was drawn to this deep berry hue because it's just so sexy.

A Shade-Inclusive Neutral
Monochrome Moment Silky Lip Crème in She's Independent
Patrick Ta
sephora.com
$24.00
THE DETAILS:
Offering a satin matte finish, this lip cream is not your typical liquid lipstick, gliding onto the lips like a silky cushion and staying put for hours on end. The emollients and elastomers are what makes it extra moisturizing.
WHY I'M OBSESSED:
Patrick Ta told me all of his glowy skin secrets, so now I trust everything his hands touch. His new lip launch exceeded my expectations: The unique creamy formula is a hydrating hybrid of lipstick and lip gloss. And, as simple as a nude lip seems, it's really easy to mess up. Ta nailed these neutrals—each shade suits my deep skin tone, and that's worth celebrating considering the makeup industry's history of falsely defining nude as one-shade-fits-all. If a '90s brown lip color like this isn't your mood, then you should change your mood.

This Charity-Supporting Balm
Wonder Whip
Kari Gran
karigran.com
$20.00
THE DETAILS:
Ask a group of makeup artists about lip balms, and I guarantee you Kari Gran will be a part of the conversation. This classic, cult-loved balm has one of those "if it ain't broke, don't fix it" formulas. The rich, buttery texture, which is full of hydrating oils, is a mainstay, but the brand's philanthropic efforts are new. Now, $10 from each balm sold will be donated to the nonprofit organization: REST (Real Escape from the Sex Trade).
WHY I'M OBSESSED:
Call me cheesy if you want, but beauty has the power to change the world. Sure, I love how damn good this balm feels on my lips. But what really matters is that the brand is making an effort to help those in need. There are billions of consumer dollars in beauty—let's all think twice about where our money is going and why we're spending it. You'll feel good about buying this balm in bulk.
•••
For more stories like this, including celebrity news, beauty and fashion advice, savvy political commentary, and fascinating features, sign up for the Marie Claire newsletter.
This content is created and maintained by a third party, and imported onto this page to help users provide their email addresses. You may be able to find more information about this and similar content at piano.io