Editors handpick every product that we feature. We may earn commission from the links on this page.
Kate Middleton's Favorite Beauty Products Are More Affordable Than You Think
Five bucks says you own her favorite nail polish.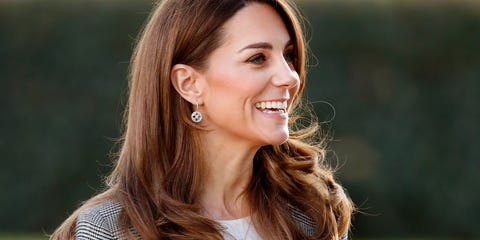 Max Mumby/Indigo
Getty Images
When you're as royal-obsessed as we are, you pick up on a couple of things about the royal family. Some things are out-of-this-world crazy, like Queen Elizabeth banning the board game Monopoly from Buckingham Palace (seriously!) to everyday things like how royals aren't allowed to sign autographs or take selfies. But perhaps the most fun part of knowing too much about one of the world's most famous families is their beauty and fashion secrets. When you're as famous as a member of the royal family, you have to look incredible at all times. I mean, have you seen Meghan Markle's hair evolution? I'm forever envious.
Lucky for us, most of Meghan's beauty and fashion hacks are well-known thanks to the plethora of interviews she did during her acting days. Unlucky for us, Queen Elizabeth and Kate Middleton's secrets are a little bit more hidden because, you know, royal protocol and all. But sometimes things slip through the cracks and we're gifted a little bit more insight on the inner-beauty workings of the royal family. So what products are actually worth the hype? Well, that's what I'm here for! Ahead, here are 10 products fit for a Duchess that are actually worth adding into your beauty routine.
1
PRIME DAY DEAL
Hair Brush for All Hair Types
Tangle Angel
amazon.com
$15.99
It'd be criminal to say Kate isn't the queen of blowouts. So it makes sense that her longtime hairdresser Richard Ward likes to use this brush on the Duchess. It's packed with memory-flex technology, so your bristles stay strong while also strengthening your hair. It's also safe to use up to 250°F.
2
Natural Lip Perfector Lip Gloss
CLARINS
nordstrom.com
$26.00
Last year at Wimbledon, spectators at the event photographed Kate holding this gem courtside. Its creamy texture packs some serious hydration; shea butter and mango extract are two of its main ingredients, leaving your lips glossed to perfection all day long.
3
Organic Beauty Sleep Elixir
Beuti Skincare
amazon.com
4
Certified Organic Rosehip Oil
A royal insider told Us Weekly that Kate uses this daily and "loves the effect it has on her skin." We love this essential, too; the nourishing fatty acids and vitamins A and C do wonders, like moisturizing your skin, repairing damage, and brightening your complexion.
For Kate's wedding day, her manicurist Marina Sandoval told The Daily Mail that she painted a combination of Essie Allure and Bourjois Rose Lounge on the soon-to-be royal. The chip-resistant formula is ideal for anyone looking for a manicure that lasts.
6
Elnett Satin Hairspray Extra Strong Hold
L'Oreal Paris
amazon.com
$11.99
Long ago, hairstylist Amanda Cook Tyler Instagrammed a quick shot of products she brought for a royal tour. While the post has long been deleted, it *finally* revealed how Kate's hair looks so good for so long. We love it for how delicate the formula is, unlike other hairsprays that leave your hair feeling crunchy.
7
Bain Oleo Relax Shampoo
KÉRASTASE
amazon.com
$24.99
This product is another favorite used by Kate and Meghan. This shampoo is ideal for those with fine hair that can't be tamed. This moisturizing shampoo's secret ingredient is none other than coconut oil, known to soften and condition hair, add shine, and stimulate hair growth.
8
Shimmer Brick Highlighter Mini
Bobbi Brown
sephora.com
$25.00
Fun fact: Kate did her own makeup for her wedding day. Alright, so maybe she got a little bit of help from Bobbi Brown pro Hannah Martin, but still! Martin shared that Kate used this highlighter for her cheeks to give her a nice downplayed glow. While it's meant for your cheekbones, I sometimes use this as an eyeshadow when I'm in a pinch for time.
9
Hypnôse Drama Instant Volumizing Mascara
Lancôme
sephora.com
$28.00
When you're photographed as much as the Duchess, you need a mascara that can make sure your lashes are seen from miles away. Multiple outlets have reported this tube is one of her favorites, and I agree that it's fantastic. Its non-clumping formula holds all day and turns my regular lashes into lookalike falsies in just two coats.
Long ago, while shopping at a Boots on King's Road, shoppers saw Kate checking out with this insanely moisturizing creme. The thick formula can be used all over and is enriched with Provitamin B5, known for its moisturizing powers.
This content is created and maintained by a third party, and imported onto this page to help users provide their email addresses. You may be able to find more information about this and similar content at piano.io