Editors handpick every product that we feature. We may earn commission from the links on this page.
Glossier's Black Friday 2020 Sale Is Its Biggest Yet
What to know, what to buy, and what to text your friends in all caps about.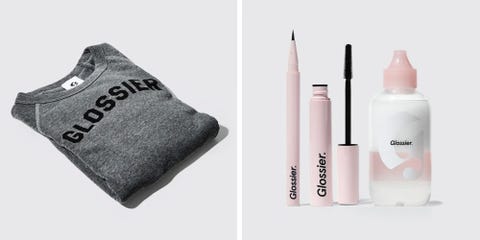 If you could use a pick-me-up right about now, I have very good news that involves glowy skin and millennial pink packaging. Glossier's Black Friday sale is here and the beloved brand is offering its most generous discounts to date. Everything, literally everything, on its site is 25 percent off (or 35 percent off if you shop sets!). In comparison, previous Black Friday sales were 20 percent off sitewide.
This is Glossier's only sale of the year, and it's here for a good time...not a long time. The sale officially begins Thursday, November 26 at 11:59 p.m. EST, and runs until Monday, November 30 at 11:59 p.m. EST. Glossier is also releasing five limited-edition sets that will be available this weekend only, and all five make for great failsafe gift ideas. Below, editor-approved products to shop during the sale, including can't-miss set deals to add to your cart before they sell out.
$22 $17 (25% off)
Glossier's Haloscope highlighter is a must-have for nailing that dewey glow the brand is known for. The highlighter gives skin an iridescent, long-lasting glimmer thanks to its hydrating balm core and super-fine shimmer pigments.
2
$36 VALUE
Balm Dotcom Trio
$30 $23 (25% off)
Au revoir, chapped lips. Formulated with heavy duty moisturizers—castor oil, beeswax, and lanolin—Glossier's balm dot com product goes to work in locking in moisture.
For new Glossier shoppers, the brand lets customers pick three flavors of their choosing with this set. My favorites? Original, which is neither scented nor tinted and can be schmeared on top of dry hands and knuckles. Mint, which has a long-lasting matte-like finish. And Birthday for its scent and ever-so-subtle sparkle.

3
$44 VALUE
Perfecting Skin Tint + Stretch Concealer Duo
$36 $27 (25% off)
This duo contains two of Glossier's most popular makeup products, beloved for creating a barely there, never cake-y makeup look. The super easy-to-blend Stretch Concealer works to reduce redness and blemishes, while the ultra light Perfecting Skin Tint helps balance complexion and create a brightened look. I've used both for the past three years and I swear by them.
$16 $12 (25% off)
Glossier's brow filler and shaper has a moisture-rich wax formula, which ensures oomph without stiffening brows. Fun fact: Miranda Kerr used this product on her wedding day.

5
Eye Trio (Eyeliner, Mascara + Makeup Remover)
$36 $27 (25% off)
This trio is a steal at this price. I've tried at least a dozen mascaras that have cost more than this set and haven't come close to Glossier's ability to go 12 hours without a single smudge. Glossier's eyeliner and milky oil makeup remover are worthy of praise too. You can read our full review of the milky oil here.
$40 $30 (25% off)
Glossier is by no means an apparel brand, but its merch remains notably covetable. If there's a Glossier super fan on your holiday shopping your list or your WFH style could use an upgrade, this cozy crewneck is a must-have.
7
The Nightstand Duo (Hand Cream + Balm Dotcom)
$22 $17 (25% off)
This dry skin-combatting duo will help keep hands and lips nourished all winter long. Also, can we talk about how aesthetically pleasing the laundry detergent-like packaging of the hand cream is? *Heart eyes.*
$18 $14 (25% off)
Glossier regulars will no need no introduction to the Milk Jelly Cleanser. For those who have seen the product in their peripheral but have yet to try it, there's a reason why there's so much hype (2.9k reviews and counting!). This creamy, pH-balanced gel dissolves makeup and hydrates skin like a night cream while feeling super luxe thanks to the jelly consistency.

$91 $63 (28% off)
There are beauty sets and then there's this Black Friday/Cyber Monday-exclusive set, which is in a league of its own. The set includes one Balm Dotcom (in the Birthday flavor!), one Boy Brow, one Milk Jelly Cleanser, and the hoodie every Glossier stan needs.
This content is created and maintained by a third party, and imported onto this page to help users provide their email addresses. You may be able to find more information about this and similar content at piano.io