Softer-Feeling Summer Skin
Marie Claire's beauty department tells you how to keep your skin soft and smooth during the summer months.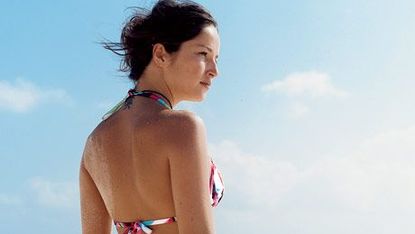 (Image credit: Chloe Webber)
Help, we're in swimsuit season! How can I make the skin below my neck look softer and smoother?
There are a few things you can do to get softer-feeling skin. First, get yourself a good body scrub to help you slough off dead skin cells in the shower. Follow up with a body moisturizer that contains alpha-hydroxy acids to enhance the exfoliation process. When it comes to particularly rough parts, like heels, we suggest using a pumice stone in the shower to massage a foot scrub onto this area daily. If you suffer from keratosis pilaris -- bumpy chicken skin that normally crops up on the backs of your upper arms -- try using a lotion with alpha- or beta-hydroxy acids to dissolve the bumps, but do not try to scrub them off with a loofah, as this could worsen your condition.
Celebrity news, beauty, fashion advice, and fascinating features, delivered straight to your inbox!