Before and After: The Immediate Magic of 7 Tiny Beauty Tricks
They are SO worth your time.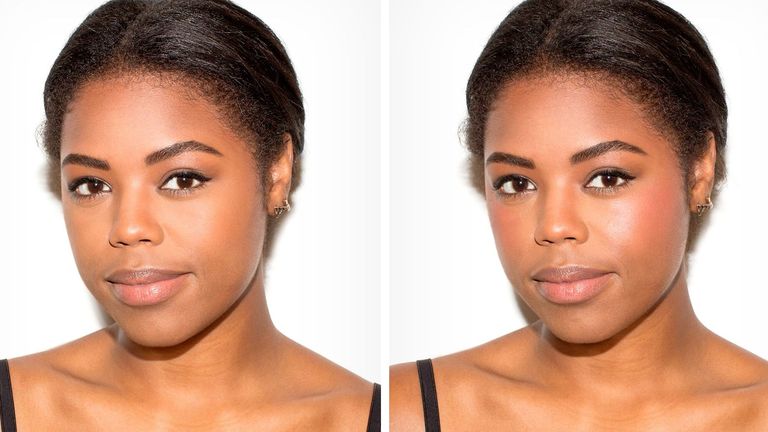 (Image credit: Kathryn Wirsing)
As lazy girls who want to look deliberately pretty and pulled-together (ah, contradictions), we're all for smearing on a two-second makeup application and stumbling out the door. (Evidence here, here, and here.)
But...this "effort" thing. We've all got a limited supply, so do you use it all sketching on symmetrical cat-eyes? Or do you try to jump on this mystical contouring bandwagon? Which of those supposed must-do makeup thingies even work?
Here, we recruited Laramie, makeup artist and founder of Book Your Look, to help us test out seven simple tricks that make a huge difference. See the proof below, but let us tell you now: A little precision goes a long way.
To get lashes as impactful as our model (slash intern!) Simedar's, brush on one coat of mascara—making sure to wipe the excess from the tip first—let dry, then curl. Apply a second coat to the top, starting at the root and making zig-zag motions.
Super-secret pro advice when it comes to lash curlers: This is one thing you don't want to bargain-shop for. Laramie says the spring action on cheap models can sometimes pinch and doesn't curl the lashes as effectively as those from Kevyn Aucoin, Bobbi Brown, or Shu Uemura.
Raise your hand if you think you're "not a blush girl." Mmmhm, that's what we thought. We see you out there, and we want you to know the easy prettiness you're missing out on by skipping this step!
Contrary to what you might have heard before, you don't have to stick to oneblush placement just because it "suits your face shape." In this shot, we putMaybelline Dream Bouncy Blush in Hot Tamale ($7.99) on a diagonal right next to the cheekbone for a fresher take.
BOOM. So polished. It's subtle enough that if you don't know what you're looking for you might miss it, but you can tell something's more pulled-together, no?
When it comes to application, you already know that those skinny little eyebrow pencils get the job done, but did you ever think about using *two* colors? Laramie recommends applying a darker shade toward the tail for more definition because the hairs grow sparser there. We used MAC Eyebrow Pencil in Spiked ($16).
There's a reason this is an established Makeup Thing. For brighter, bigger eyes, choose a nude that's not too light—otherwise it feels retro—and trace the inner rim with it before mascara so you don't end up with half-flesh-toned bottom lashes. (This is NARS Long-Wear Eyeliner in Larger than Life, $25.)
Laramie preaches two approaches to lip liner:
1) To get a more pigmented, longer-lasting version of your color, apply liner all over, then lipstick. When the lipstick wears off, you'll still have another layer underneath.
2) For more definition, do lipstick first, liner second. Simedar's wearing Maybelline ColorSensational Rebel Bloom Lipstick in Coral Burst ($7.50) and Make Up For Ever Aqua Lip Waterproof Lipliner Pencil in 18C ($19).
Like it did with drawn-on brows, the internet has claimed the lightened inner corner (#TakeBacktheInnerCornerHighlight). And, as you can see here, it works.
Important: If it's not fully blended or too light a shade, the ICH looks amateur. So start with a beige, cream, white, or peach non-shimmery powder like Charlotte Tilbury Filmstar Bronze and Glow ($68) and carefully brush onto the inner corner and the top of the lower lash line.
We'll give you a moment to process first. Pretty and totally wearable in real life, right? Now, let's break it down step-by-step, courtesy of Laramie:
1) The point is seamless-ness—not painting on some stripes and blending them in. Laramie starts in the center of the face with a lighter cream or stick foundation like Bobbi Brown Skin Foundation Stick in Golden ($44). Focus on the area underneath the eyes, between the brows, and around the nose.
2) Next, move on to the shadowing. Using a blendable powder like Ben Nye Face Powder in Ebony ($9) so it doesn't look heavy, brush your shadow shade along the temples, underneath the cheekbones (but not too far into the center!), lightly along the jawline, and on the sides of the nose beginning right under the heads of the eyebrows.
3) Sweep a light shimmer across the cheekbones. Now you look like yourself but more yourself, you know?
You should also check out:
The Quickest Beauty Products for Women Who Just Don't Have Time for That
Blush Placement Breakdown: Exactly Where to Apply (and Why)
The No-Bullsh*t Way to Find Foundation That Matches
I'm Chelsea Peng, the assistant editor at MarieClaire.com. On my tombstone, I would like a GIF of me that's better than the one that already exists on the Internet and a free fro-yo machine. Besides frozen dairy products, I'm into pirates, carbs, Balzac, and snacking so hard I have to go lie down.