From Bug Sprays to Fragrance, What Does the Zika Scare Mean for Our Beauty Routines?
It's time to change things up.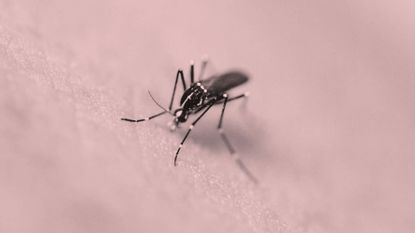 (Image credit: Getty Images)
Marie Claire Newsletter
Celebrity news, beauty, fashion advice, and fascinating features, delivered straight to your inbox!
Thank you for signing up to Marie Claire. You will receive a verification email shortly.
There was a problem. Please refresh the page and try again.
As someone who will be traveling to an Alert Level 2 zone next month, the fear of Zika is very real. I want to take every precaution—and that means seriously reassessing my beauty routine. Slathering on bug spray and saying goodbye to my precious fragrances?! Turns out it's not that simple. Here's what you need to know if you're somewhere that the virus poses a serious threat:
1. Bug spray is a must, but they're not all created equal.
"Using an insect repellent is one of the best ways you can protect yourself from Zika and other diseases transmitted by mosquitoes," explains Harry Savage, chief of ecology and entomology activity at the CDC's Division of Vector-Borne Diseases, via Consumer Reports who tested a variety of products to see what works best. Two of the most effective repellants were Sawyer Picaridin as it contains 20 percent picaridin, as well as Off! Deepwoods VIII, which contains 25 percent DEET. But bad news for organic enthusiasts, CR advises against natural plant oils as many failed the test immediately or only lasted for an hour.
Sawyer Picaridin Insect Repellent, $11.43; amazon.com.
OFF! Deep Woods Insect Repellant VIII Dry 4 Ounces, $6.17; walmart.com.
2. You need to reapply every couple of hours.
If you're in an area at risk for Zika, you should be diligent about reapplying. Even the best-of-the-best repellents (the ones with the higher percentages of the active ingredients) only kept mosquitos from biting for 8 hours, so don't become blasé after the first application. According to the CDC, regardless of what product you use or how long it's been, if mosquitoes are coming too close for comfort, you should reapply ASAP.
3. Never apply repellent under clothes or sunscreen.
The key is applying it to *exposed* areas. Applying more does not make it more protective. And when you do apply it in tandem with sunscreen, make sure that the bug spray is applied after the SPF. And whatever you do, don't use a hybrid of the two. This is not a solution because 1) Chances are the formula won't be as robust in either capacity and 2) Sun protection needs to be applied more often, says the CDC.
4. Don't retire your go-to fragrance just yet.
It might be protecting you! According to the Journal of Insect Science, the Victoria's Secret Bombshell perfume was actually found to repel insects for at least an hour. "Our results challenge the notion that floral, perfume-scented sprays, in general, attract mosquitoes," the study states. "Floral fragrances may provide a masking odor resulting in low mosquito attraction rates, but over a shorter duration of time."
This said, certain scents given off by fragrances or deodorants can attract mosquitos, so make sure you're diligent about applying/reapplying repellent and paying close attention. If a product seems to be a mosquito magnet, stop wearing it. It's not worth the risk.
5. You should be showering regularly.
Forever and always, but especially if you're in a Zika zone, as the more body odor you're emitting, the easier it as for mosquitos to find you. Similarly, perspiration is a magnet for them because they can sense moisture and heat. So do your best to stay cool.
Follow Marie Claire on Facebook for the latest celeb news, beauty tips, fascinating reads, livestream video, and more.
Celebrity news, beauty, fashion advice, and fascinating features, delivered straight to your inbox!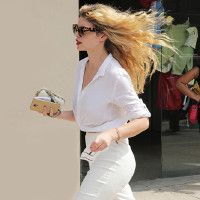 Lauren is the former beauty editor at Marie Claire. She love to while away the hours at coffee shops, hunt for vintage clothes, and bask in the rough-and-tumble beauty of NYC. She firmly believes that solitude can be a luxury if you've got the right soundtrack—that being the Rolling Stones, of course.