48 Stars Tempting Us to Dye Our Hair Pink
It's become the new Hollywood classic.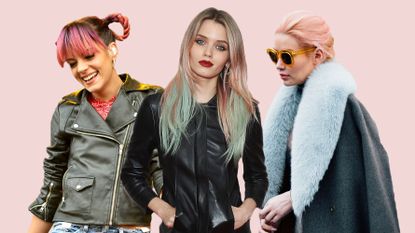 (Image credit: Design by Betsy Farrell)
Based on our crystal beauty ball (AKA the fact that we see rosy-hued hair on a new celebrity head everyday) and the changing seasons (hello, spring pastels!), we're pretty sure Manic Panic's about to be sold out everywhere. From Cara Delevingne's punk-pink festival hair to Gwen Stefani's '90s bubble-gum pop waves, there's no shortage of celebrity inspiration to help you take the color leap.
1/48
Katy Perry
The Firework singer wrapped up the Asia leg of her Witness World Tour with an ode to Tokyo and South Korea. On Instagram she confirmed that the countries' cherry blossoms inspired her to dye her platinum blonde pixie hot pink.
2/48
Kim Kardashian
Known for taking major hair risks, Kim confirmed on Twitter that her ice-pink hair is, in fact, real, thus giving new life to grown-out roots everywhere.
3/48
Salma Hayek
The actress is owning her new pale pink tresses–the look is so old Hollywood meets modern day goddess.
4/48
Iggy Azalea
This baby pink shade is *everything*, especially when it's accessorized with pastel orange and blue.
5/48
Grimes
Grimes', AKA Claire Boucher's, dip-dye is so fresh, so clean.
6/48
Nicole Richie
Rainbow hair queen Richie's neon pink pixie may be our favorite shade she's ever sported.
7/48
Lily Allen
Because Lily Allen looks like she's having more fun than all of us in this punk-y shade of deep pink (and milkmaid braids!) .
8/48
Jessie J.
How to amp your lob up several notches, as demonstrated by Jessie J.
9/48
Julianne Hough
Even if it's only a wig, Julianne Hough's giving us some serious Lost in Translation déjà vu.
10/48
Cyndi Lauper
True Colors singer Cyndi Lauper does it again with a head full of cotton-candy pink dreads.
11/48
Zanna Roberts Rassi
Marie Claire's own Zanna Roberts Rassi pairs sweet pink waves with an equally chic outfit.
12/48
Elle Fanning
Page one of The Guide to Turning Heads at the Airport by Elle Fanning.
13/48
Hilary Duff
A departure we didn't see coming, Duff ditched her blonde locks for faded shades of gray and pinky-violet hair.
14/48
Amber le Bon
The British model's experimented with many shades of pink in her recent past, but we especially love this shade of strawberry-blonde.
15/48
Zayn
Yes, even guys can rock baby-pink tips (and give us major dye envy, too).
16/48
Katy Perry
In which Katy Perry makes the case for pink haired ladies having the most fun. We love that she's wearing it in a retro style, too.
17/48
Nicki Minaj
Our recent cover girl kills it with a bright pink dye job that perfectly accents her bubblegum pink lipstick.
18/48
Lady Gaga
Never a red carpet wallflower, Lady Gaga makes a case for "going halfsies" with half a head of pink curls.
19/48
Abby Lee Kershaw
Kershaw shows us how to pull off a pastel treatment the only way a supermodel could: in two-tone mermaid lengths.
20/48
Diane Kruger
Is there any better to way to go punk than a jolt of pale pink at the tips of your ponytail? *takes notes*
21/48
Fernanda Ly
Model-of-the-moment Fernanda Ly is known for her long pale pink locks, which she's wearing crimped for a Marie Antoinette (well, uh, the Sofia Coppola version) look.
22/48
Lauren Conrad
A more intense version of Kruger's ponytail, our favorite California girl Lauren Conrad shows how to rock dip-dyed hair with a flair.
23/48
24/48
January Jones
Jones show us that a single pink statement streak is sometimes all you need.
25/48
Natalie Dormer
Touches of pink suit Dormer's wavy, undercut 'do.
26/48
Natasha Bedingfield
Bedingfield's pale pink dye job looks especially cool when paired with this deep red pout.
27/48
Kelis
Kelis' cotton candy hair is a perfectly textured blend of blonde and strawberry pink.
28/48
Julianne Hough
Hough's choppy lob got the bubblegum treatment with decidedly suh-weet results.
29/48
Rita Ora
Ora's classic Hollywood blonde get a modern update thanks to its pink lemonade tint.
30/48
Helen Mirren
We can only hope to be as cool as Helen Mirren at 67 years old. We'll leave it at that.
31/48
Rumer Willis
Willis' hot pink and peachy tones give us serious strawberry-banana vibes.
32/48
Jemima Kirke
Kirke's ridiculously long, mermaid locks became all the more striking thanks to these ethereal fuchsia swirls.
33/48
Kate Hudson
Hudson gave her signature golden blonde strands a soft, rosé tint we'll never stop coveting.
34/48
Kaley Cuoco
Her edgy, asymmetrical chop was all the more badass thanks to these strokes of purplish-pink.
35/48
Sienna Miller
Miller proves that dark roots and rose gold are a match made in cool-girl beauty heaven.
36/48
Chloë Grace Moretz
Moretz goes especially subtle, only sporting deep pink streaks on one side of her mane.
37/48
Alicia Keys
Adding dimension to Keys' raven black hair, these skinny pink streaks are everything.
38/48
Rihanna
RiRi's blush-toned pixie is not for the faint of heart (and that's why we love it).
39/48
Ellie Goulding
Always one for an eye-catching dye job, Goulding gave her white-blonde hair a carnation pink tint.
40/48
Hayley Williams
Williams show us that hot pink can, in fact, go halfsies with a blood-orange dye job.
41/48
Cyndi Lauper
The '80s icon will be forever young thanks to her free spirit and her textured pink champagne 'do.
42/48
Dakota Fanning
For those shy of colored dye (heh), take note from Fanning who only dons a few chic pink streaks at the ends of her strands.
43/48
Rachel McAdams
Achieving the hot pinks streaks we always wished we could pull off, McAdams made it look totally Hollywood Glam.
44/48
Demi Lovato
Because dark brunettes can (and should!) get in on the fun too, magenta tips are perfect for a wispy cropped 'do.
45/48
Katy Perry
Another take on a pink lemonade dye job, Perry's look is slightly faded and grungy. (In the best way.)
46/48
Sky Ferreira
Instead of a basic touch-up, make like Ferreira and get rainbow streaks on the roots.
47/48
Gwen Stefani
Fact: No one will ever top this OG feathery, bubble-gum pink dye job.
48/48
Save these to your Pinterest!
Celebrity news, beauty, fashion advice, and fascinating features, delivered straight to your inbox!