Fringe Benefits: Celebrities With and Without Bangs
Bangs? No bangs? Bangs? No bangs?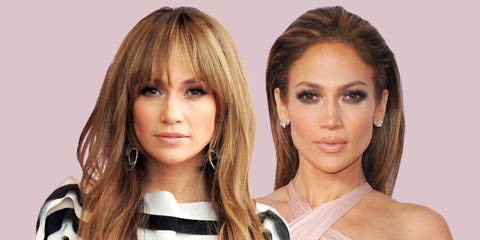 As anyone with bangs (or, you know, eyes) can tell you, adding some face-framing fringe can change an entire look. Just check out these celebrity transformations to see for yourself.
Kendall Jenner
Jenner's piece-y bangs were short-lived compared to her signature middle-part style, but we're really hoping she'll bring them back again for another round.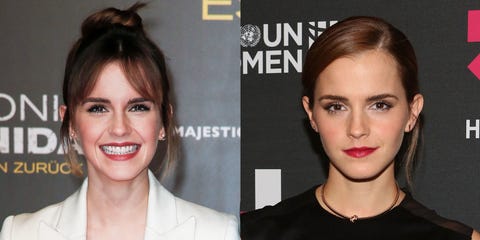 Emma Watson
It's no surprise that Emma Watson looks magical in all hair iterations: pixie cut, wispy bangs, pulled back, etc., etc.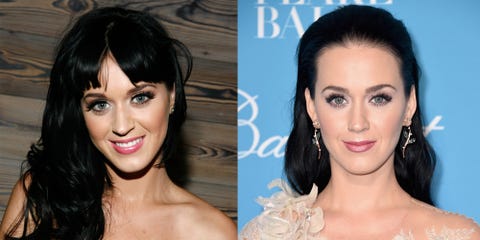 Katy Perry
The bangs add a touch of Katy Perry whimsy, while the swept back look is peak modern elegance: She stills look glowingly gorgeous with and without.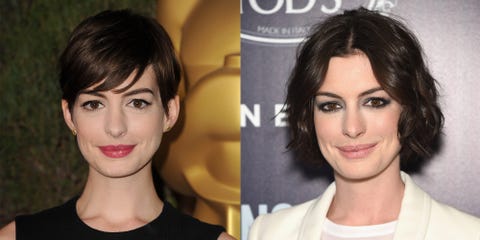 Anne Hathaway
Further proof that Anne Hathaway is the ultimate hair chameleon: No one pulls off a side-swept pixie, a wavy lob, or a Devil Wears Prada-esque long hairstyle with the same ease.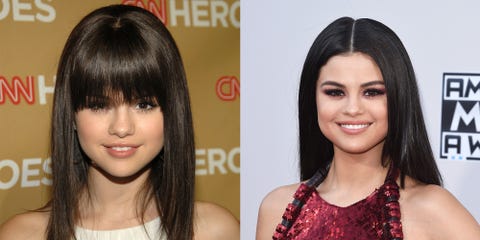 Selena Gomez
Gomez only really flirted with blunt, eye-skimming bangs back in the day, but we're always a fan of her sleek, simple, fringe-free signature look.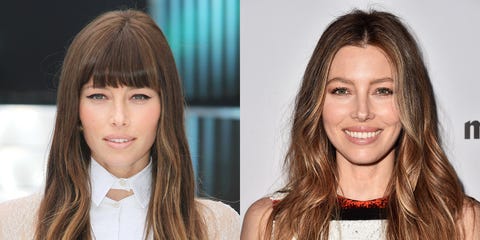 Jessica Biel
Jessica Biel's blunt bangs nail the sleek, editorial vibe she's got going, while her open layers reveal her cheekbones-for-days.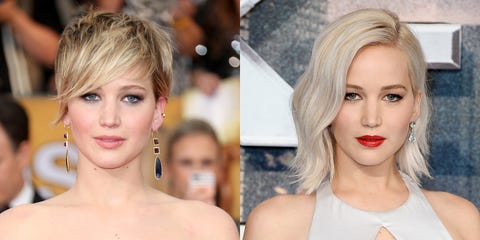 Jennifer Lawrence
J.Law pulled off bangs AND a pixie cut like a pro, but if we're talking edgier looks, the face framing on this silvery lob is the real champ.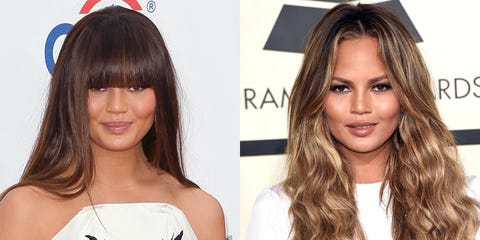 Chrissy Teigen
We're glad that Teigen took the straight fringe plunge, but we love the way her center-parted layers offset her face.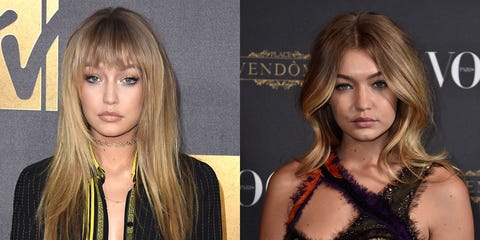 Gigi Hadid
Hadid's brief flirtation with bangs reminds us of her pal Taylor Swift's rocker-chic take on the look : teach us your ways 🙌.
Rachel McAdams
McAdams was blessed with the good genes to really rock a blunt fringe, but we love her in a summery lob, too.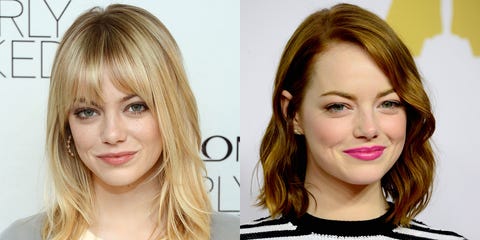 Emma Stone
Stone's a true hair chameleon that could probably wear any cut or color on the planet: case in point.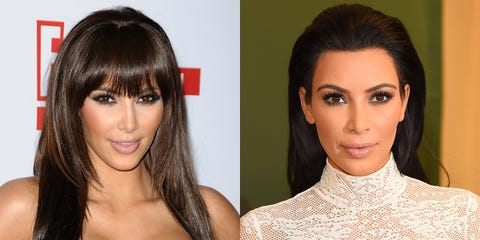 Kim Kardashian
Kim K with bangs was a great style chapter in her life, but we're here for her slicked back, fringe-less look, too.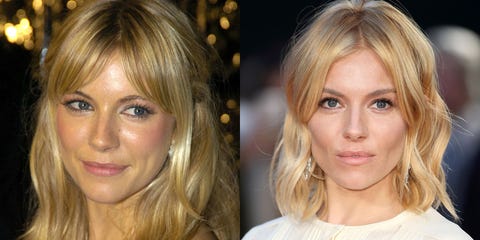 Sienna Miller
Doesn't take a historian to tell you that Sienna Miller looks like a Grecian goddess with or without wispy, French girl bangs.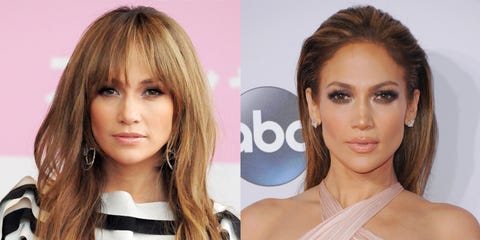 Jennifer Lopez
Is it possible to kill it with every hair look? Because J.Lo seems to be doing just that.
Jessica Alba
Alba's bangs suit her well, but we think her blunt bob opens up her face so much more.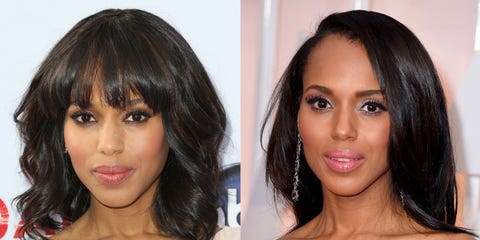 Kerry Washington
Side swept or full and bouncy with piece-y bangs? We give up on trying to decide which look we like best.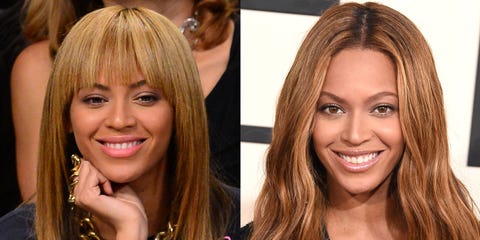 Beyoncé
Queen Bey can do/wear anything, but our favorite hair moments have been where she keeps it simple with face-framing layered waves.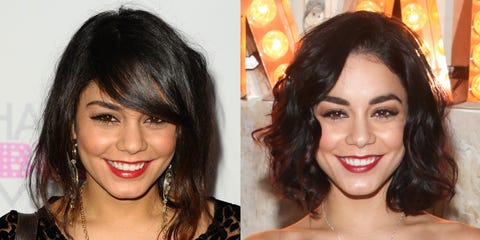 Vanessa Hudgens
Get you a girl who can do both (bangs or no bangs)? Right this way...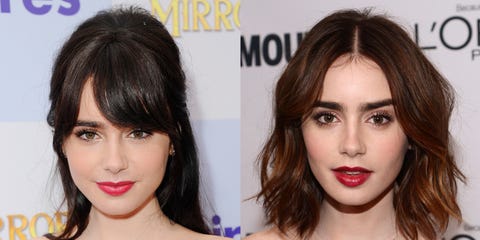 Lily Collins
Hide THOSE brows? Under THOSE bangs? You've got to be kidding.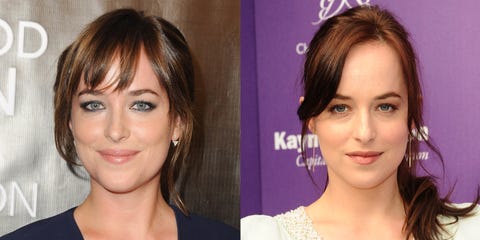 Dakota Johnson
Bangs seem to add even more glamour to Johnson's style, no?
Taylor Swift
Feathery and voluminous vs. straight and sleek. Win-win.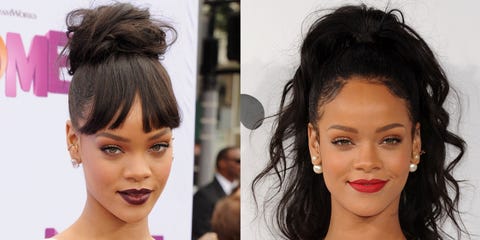 Rihanna
Long bangs, short babyhairs...whatever, she's perfect.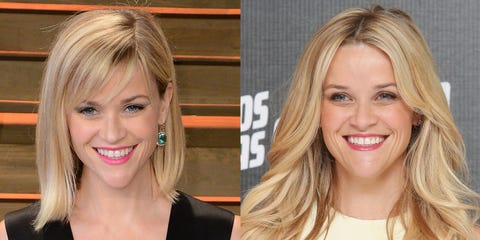 Reese Witherspoon
Real talk: Witherspoon pulls them both off.
Lea Michele
Michele somehow manages to make the growing-them-out phase look *so* not awkward. (Jealous.)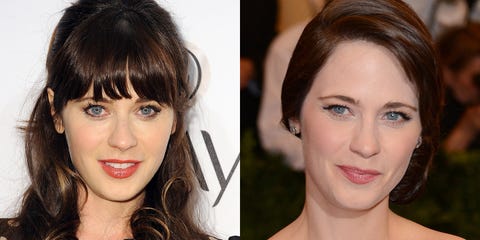 Zooey Deschanel
You'd be hard pressed to find photos of Deschanel without her trademark straight bangs, and when she finally swept them back, the internet lost its damn mind.
This content is created and maintained by a third party, and imported onto this page to help users provide their email addresses. You may be able to find more information about this and similar content at piano.io