Editors handpick every product that we feature. We may earn commission from the links on this page.
The 13 Must-See Beauty Looks from New York Fashion Week
From statement contouring to RiRi-worthy curls.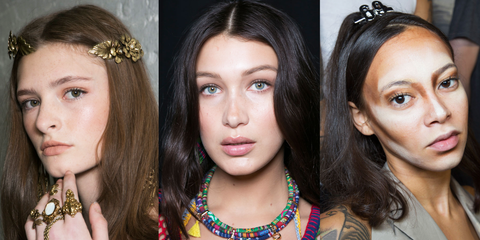 We're smack dab in the middle of NYFW and already feel like we've got a whole season's worth of beauty inspo. From statement contouring to RiRi-worthy curls, see all of our favorite Spring 2016 looks and stay tuned for more.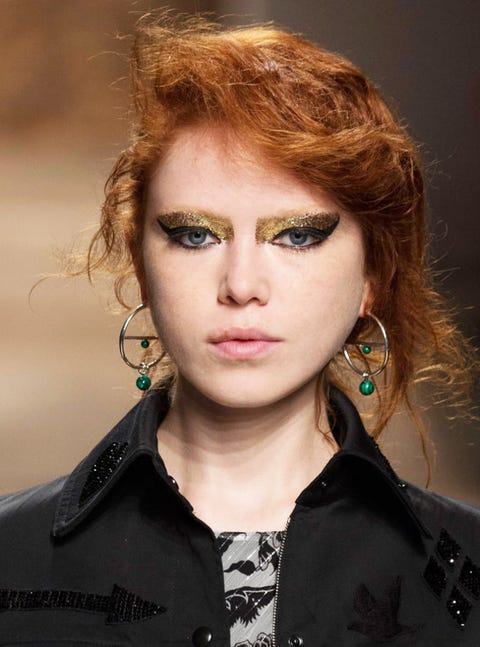 NARS' Aaron de Mey served up maaajor glam rock realness to match a modern, wet-finish take on '80s tidal wave hair. He not only went with a super-pronounced, Cleopatra-worthy cat eye, but topped it off by layering gold sparkles on thick. You could literally wear this look with anything—an LBD or a T-shirt and jeans—and it's instantly Halloween-worthy.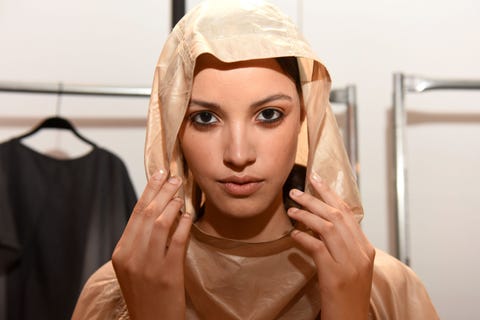 An ultra-smooth low bun with a center part just kind of begs for a statement eye—and Nicholas K gave us just that...and then some. Adding drama to bronzed cheeks and thick black liner on the waterlines, the eyes got the smoky treatment with a copper-brown pigment lightly brushed on the lids with a feline-flicked accent. In our minds, it's the perfect fall all day, everyday look.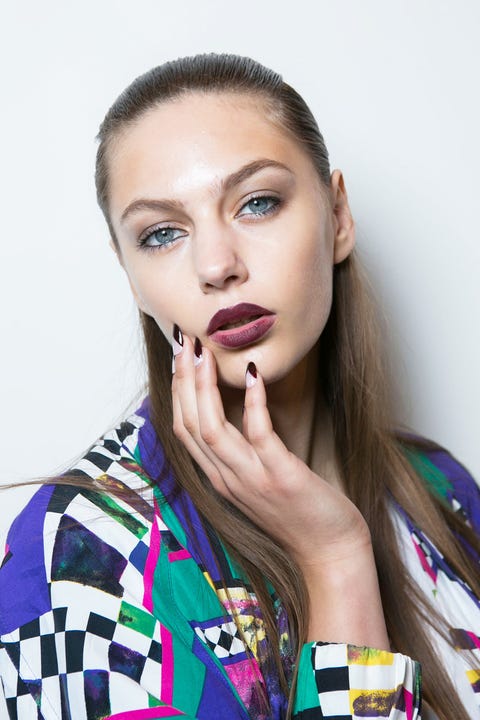 The lady is most certainly a vamp in the minds of Carly Cushnie and Michelle Ochs. The focal point of their runway look was without question the dark purple pout (Maybelline's Lip Studio Color Blur in Plum Please, FYI) accented with a smattering of mascara and waterline liner, as well as sultry, deep purple nail art designed by Alicia Torello using two Christian Louboutin hues: La Favorita and Sevillana. Making a statement, yet still giving the makeup its due diligence, hair was slicked back, half-up, half-down with an edgy double-pony situation.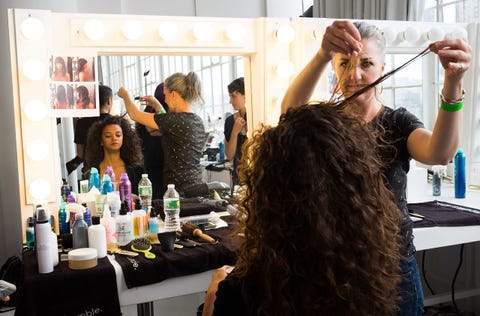 Over the summer, RiRi brought wild, humidity-embracing curls back into the spotlight and Brother Vellies took our favorite real-girl approach when it came to one ringlet-happy model. Bumble and bumble embraced her kinks not with uniform spirals, but by playing with different curl textures and allowing the in-your-face wisps (we know them all too well) to do their thing.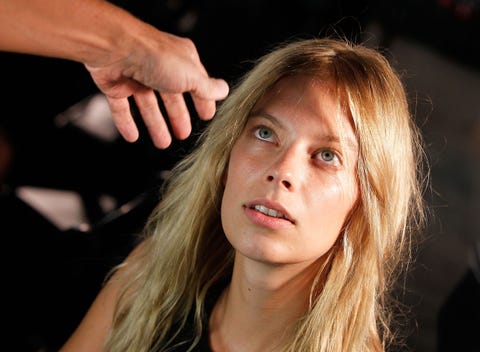 The beauty of Alexander Wang's 10th anniversary makeup look is that the key product is moisturizer and moisturizer alone. (Okay, except for some filling in of the brows here and there). The bare-faced look really let the hair—a variety of different takes on the Taylor Swift-beloved swag 'do—shine. The overall look may require some to book a chop, but once you have it you really can wake up like that.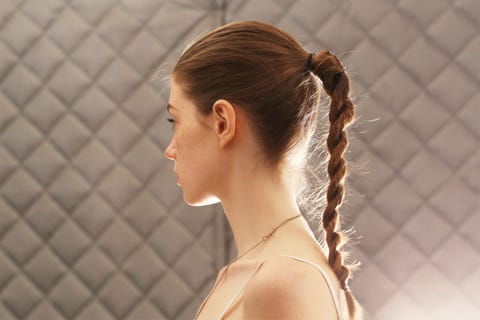 We love a tried-and-true ponytail as much as the next girl, but we're always looking for ways to mix it up. And thanks to Public School, we know have an ultra-chic answer to our conundrum. Instead of a classic braid, Aveda lead hairstylist Allen Ruiz tied up the hair into a high ponytail and opted to weave together two twists, as opposed to three sections, for a slightly less-expected feel. It's simple enough, but at first glance it looks anything but.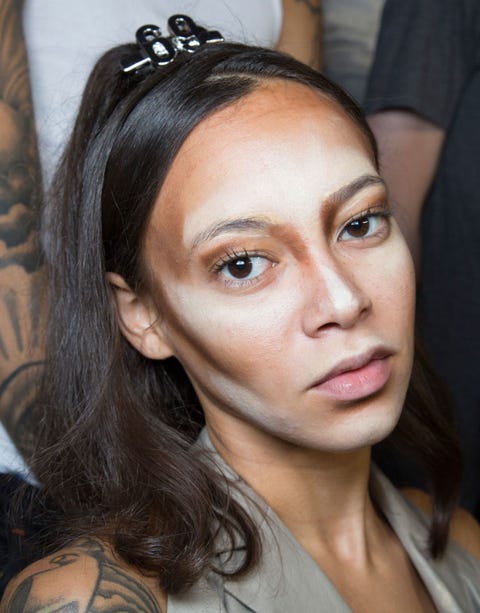 We're well aware that the contouring trend has gotten a little out of hand. And never one to shy away from making a statement, HBA sent their models down the runway with some unabashedly dramatic, pre-blended contour lines. Naturally, one might assume the Kardashians are to blame for the statement, but makeup artist Inge Grognard assured The Cut, "It's a theater technique." The end of the contour craze? We're not so sure, but think it's important to take a step back and think about what's at the root of our desire.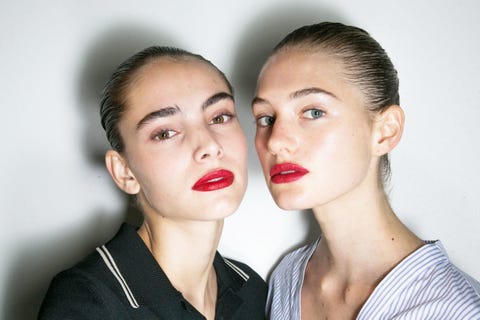 Effortless glamour, anyone? The key word here being effortless because this look has much lazy-girl appeal, one of our editors took it for a test drive and concealed her dirty, three-day-old hair. The trick? Slicking it back with a mixture of cream and oil, then tying it back in a mid bun with a single hair elastic as did Kerastase's Odile Gilbert. Maybelline's Yadim added a pop of color to the sleek look with a red lip on a relatively bared-face canvas i.e. just concealer where it's needed. Guys, trust us when we tell you: this look will save you.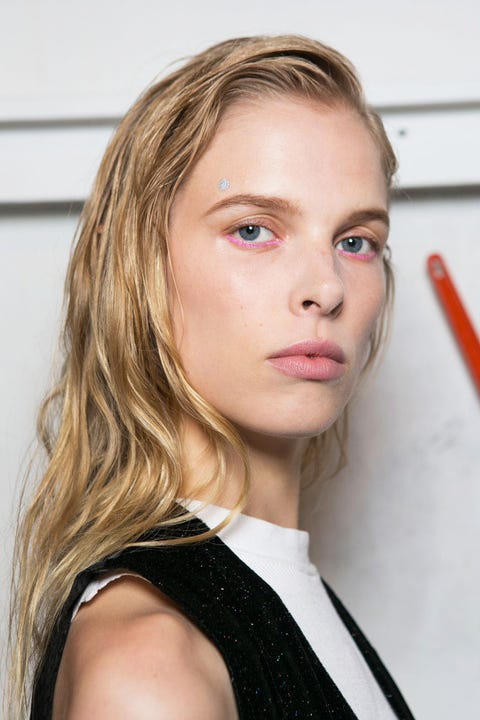 It's official: Bubblegum eyeliner can frame your eyes *without* looking as if you've got an unfortunate bout of pink eye. Case in point: Ohne Titel's thick slashes of matte pink liner beneath the waterline. Taking the cool-girl factor a step further, Bumble and bumble decided to go with shaggy, wet-finish waves (another dirty hair fallback). While we think these looks are well suited to each other on the runway, IRL we suggest taking the either/or route.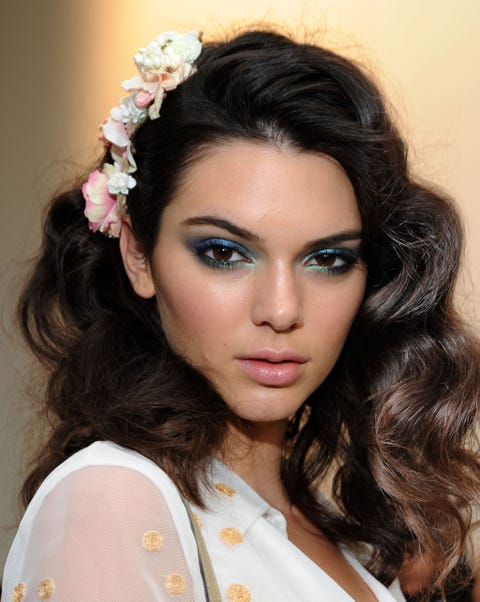 We've seen a slew of cooler-than-cool interpretations of blue eyeshadow on the runway, but Pat McGrath's aquamarine-inspired eyes at DVF are what's really swaying us towards the look for spring. And it doesn't hurt that there was statement hair to match, with Orlanda Pita taking cues from DVF herself in the '70s, letting her curls run wild at Studio 54. Using Tresemme Perfectly Undone Hairspray, he pumped up the volume and adorned the look with colorful flowers.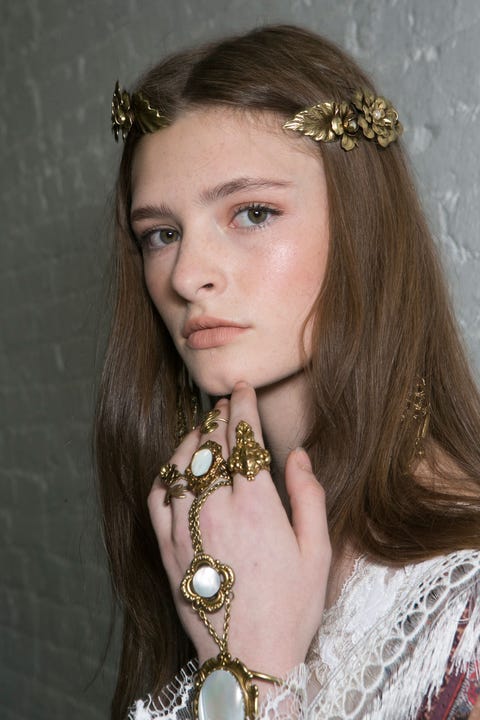 There's nothing that will inspire you to embrace your natural texture more than know you have an elegant hair accessory to fall back on. Kerastase's Odile Gilbert opted out of using brushes all together in favor of a few spritzes of texturizing Spray à Porter and then topped things off with intricate gold and silver barrettes design by the Mulleavy sisters themselves. Makeup-wise, James Kaliardos looked to bronzer and illuminator for a faux sun-kissed, yet natural-looking visage.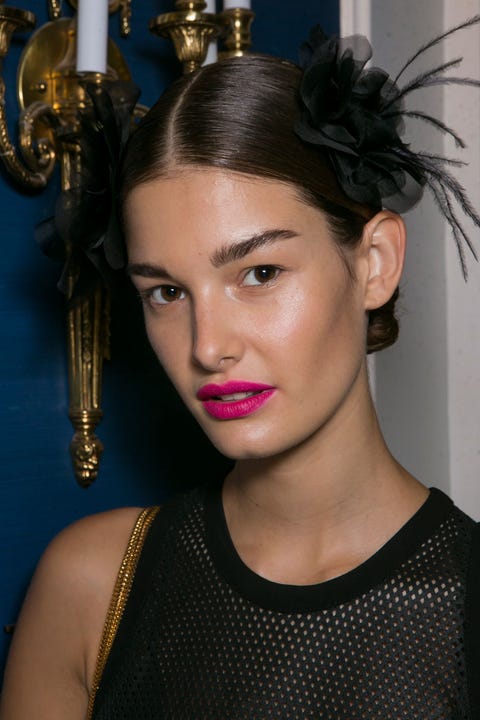 Yet another beauty look that conjures up all the feels we felt for Rihanna's statement lip color this summer, the neon pink lips at Marchesa reminded us that the rich pop of color can be as versatile as a classic red lip, but with extra oomph. Gucci Westman mixed several different MAC colors for the shade, but you can get a similar look with MAC's "All Fired Up". We love how hairstylist kept Antonio Corral Calero kept the hair neat and gloss with a center-parted, low knot.
You know how on vacation you kind of let your makeup bag chill and embrace a more relaxed, au naturale look? Well, that's the kind of vibe we were getting from Pat McGrath's more subtle approach to the face. With groomed brows, touches of bronzer, and a sweep of brown liner on the waterlines, it was all about letting natural beauty shine through. And to that end, the air-dryed approach to hair on the part of Eugene Souleiman was a cool complement.
This content is created and maintained by a third party, and imported onto this page to help users provide their email addresses. You may be able to find more information about this and similar content at piano.io