Kate Middleton Looks Glowing as She Bonds with Fellow Pregnant Moms
It's real.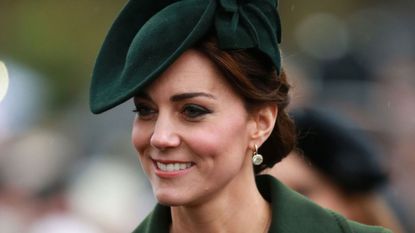 (Image credit: Getty Images)
Two months after she was forced to cancel a visit to support young moms due to severe morning sickness, Kate Middleton rescheduled her visit to Hornsey Road Children's Centre in north London to see the family and parental support services provided.
This afternoon, the pregnant duchess was spotted arriving at the family support center—which provides a place for expectant and new mothers to bond with each other, receive antenatal and postnatal services and find mental health support—dressed in a dusty pink coat, black knee-high boots, and tights.
Kensington Palace posted several pictures of the 36-year-old meeting with employees of the center, before chatting with families in the nursery who have found help and support from several of the center's charities.
The Duchess arrives at Hornsey Road Children's Centre to see the facilities which support local parents and young children. pic.twitter.com/mmCc7UMdLpNovember 14, 2017
See more
The Duchess chats to families in the nursery who have benefitted from Hornsey Road Children's Centre's support. pic.twitter.com/TybFBD0m5fNovember 14, 2017
See more
While at the Hornsey Road Children's Centre, Kate told a single dad that William didn't know what exactly to do when he first became a father after the lone parent explained his early struggles with bringing up his child.
Speaking after meeting Kate, the father said: "She was saying William was sort of similar and I just wanted to let her know how Family Action have been there for me and I think they need more support."
Is Pregnancy Glow Real? A Visual Investigation Featuring 15 Celebrities
Image 1 of 15
Blac Chyna
Emily Blunt
Blake Lively
Marion Cotillard
July 2016; September 2016
Ginnifer Goodwin
Anne Hathaway
Katherine Heigl
January 2015; August 2016
Milla Jovovich
Kim Kardashian
Léa Seydoux
Leigh Lezark
February 2016; September 2016
Keri Russell
February 2015; March 2016
Chrissy Teigen
Kerry Washington
February 2016; September 2016
Olivia Wilde
February 2016; September 2016
Katie O'Malley is the Deputy Digital Editor, at ELLE UK. On a daily basis you'll find her managing all digital workflow, editing site, video and social media content, liaising with commercial and sales teams on new partnerships and deals, implementing new digital strategies and compiling endless data traffic, SEO and ecomm reports. Since joining in 2016, Katie has written features on everything from sex addiction, and the use of tear gas during protests to virtual cuddling, 'friendship fade' and access to contraception post Brexit. Her list of interviewees over the years include those with Oprah Winfrey, Benedict Cumberbatch, Reese Witherspoon, Emma Stone, Zoe Kravitz etc.