George Clooney Is Returning to TV 20 Years After 'ER' with 'Catch-22'
He'll both star in and direct the new series.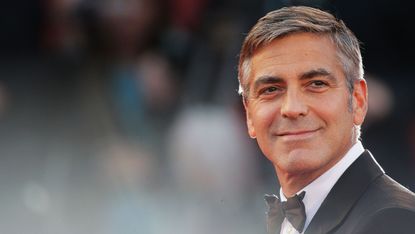 (Image credit: Getty Images)
George Clooney is the latest Hollywood A-lister coming to TV for a high-profile series.
Twenty years after his breakthrough role in ER, Clooney is adapting author Joseph Heller's 1961 satire of the U.S. army, Catch-22, for Paramount Television, Deadline reports.
Clooney is said to star in Catch-22 as the conniving army colonel Cathcart, who raises the ire of his troops at the height of World War II by increasing the number of dangerous missions for combat pilots.
Cathcart is behind a ridiculous Catch-22 rule, which disqualifies any pilots for service if they're willing to undertake knowingly deadly missions. But the same rule says that any pilot who actually recognizes the danger of such flights and asks to be dismissed is actually of sound mind, and thus fit for service. So everyone's basically trapped.
The 56-year-old two-time Academy Award winner will also direct all six episodes of this series, in collaboration with his long-time producing partner Grant Heslov.
Related Story
Catch-22 was previously adapted into a cult classic 1970 comedy by iconic filmmaker Mike Nichols, starring Alan Arkin, Richard Benjamin, and Art Garfunkel.
Meanwhile, Clooney's Ocean's Eleven co-star Julia Roberts recently got a two-season commission from Amazon Prime Video for the conspiracy thriller Homecoming, which is written by Mr. Robot creator Sam Esmail. Netflix has had plenty of success nabbing big stars as well, most recently attaching Oscar winner Emma Stone and Jonah Hill for True Detective director Cary Fukunaga's trippy Maniac.
Celebrity news, beauty, fashion advice, and fascinating features, delivered straight to your inbox!
Justin Harp is Digital Spy's US-based Night News Editor covering all things entertainment on West Coast time.