Matt Lauer Obsesses Over Sandra Bullock's Nude 'Proposal' Scene in an Uncomfortable 2009 Interview
This is extremely disturbing.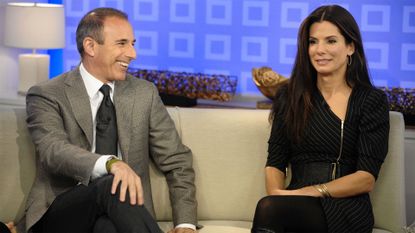 (Image credit: Getty Images)
Matt Lauer made light of Anne Hathaway's 2012 wardrobe malfunction, pinched Katie Couric's ass "a lot," and conducted sexist interviews with some of the world's most powerful women, including Madonna and General Motors CEO Mary Barra. Now—one week after his firing from Today over allegations of sexual misconduct—the internet continues to examine his past interactions with famous women through a brand-new lens.
RELATED STORY
Most recently, a 2009 clip of a Sandra Bullock interview, tied to her movie The Proposal has resurfaced, and it's…well, hard to watch.
Over the course of the four-minute interview, Lauer brings up Bullock's nude scene in the movie not once, but three times.
"The major thing that's changed since you were here last, I have now seen you naked," he tells Bullock.
"And I'm so sorry about that," the Oscar winner jokes. "Were you able to sleep afterward?"
"It's now my screensaver," he replies.
Rather than change the subject—even though it's clear Bullock would prefer he do so—Lauer plows right ahead. "You're naked for most of this movie," he tells her.
"I so am not," Bullock protests. "I'm not naked for most of this movie. Emotionally naked."
What follows is a notably awkward chat about romantic comedies and working with Ryan Reynolds. Yet right at the end—despite Bullock's obvious discomfort—Lauer can't help but bring it up again: "Did I mention you have a nude scene in this movie?"
"Pretty much from the time you opened this interview," she shoots back.