Caitlyn Jenner Actually *Isn't* Offended by That Halloween Costume of Her
Though there is one thing she's not okay with.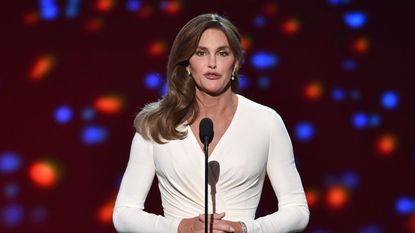 (Image credit: Archives)
Marie Claire newsletter
Celebrity news, beauty, fashion advice, and fascinating features, delivered straight to your inbox!
Thank you for signing up to . You will receive a verification email shortly.
There was a problem. Please refresh the page and try again.
In part-one of an extended interview with Matt Lauer on the Today show (opens in new tab) this morning, Caitlyn Jenner weighed in on Caitlyn Jenner Halloween costumes—which many people, including those in the trans community feel are transphobic—saying she won't be offended if you dress like her for the occasion.
Though she said that jokes by late-night comics really got to her before her official transition began, costumes don't bother her. "I'm in on the joke," she says. "Yeah, no, I don't think it's offensive at all. I know the community does, and [the companies that sell them have] gotten a lot of criticism for doing it. I think it's great, to be honest with you; I think it's great. But they could have came up with a better outfit for it!"
Many of the costumes are inspired by her iconic cover of Vanity Fair, in which she introduced herself to the world as Caitlyn. "I could have done my own costume! I mean, that was a serious bustier on the cover of Vanity Fair. I mean, at least get some good clothes," she said. "You've got to enjoy life. Life's too short. I can't get too upset about that type of stuff."
More than 16,000 people have signed a Change.org petition (opens in new tab) asking companies to stop selling the costume, which they say is transphobic because it reduces trans people to stereotypes (opens in new tab). But Spirit Halloween, one of the retailers selling the costume, stood by its decision. "At Spirit Halloween, we create a wide range of costumes that are often based upon celebrities, public figures, heroes and superheroes," a marketing exec said in a statement. "We feel that Caitlyn Jenner is all of the above and that she should be celebrated."
In the full interview, in which Caitlyn and Lauer went golfing, Caitlyn also talked about her recent legal issues (opens in new tab), stemming from car crash resulted in a person's death. She says she doesn't remember much about the accident, but insisted that she was driving under the speed limit at the time. She can't talk about details, she said, but added that the crash still haunts her. "A tragedy like this, you'll never get over it, you just learn to live with it the best you possibly can," she said. The worst case scenario for Caitlyn is a year behind bars ("the media wants that picture, don't they?"), and she pointed out that she might have to serve time in a men's county jail.
Overall, she said, she's grateful for the positive reaction she's been getting, and doesn't miss anything about living as a man. "There's nothing better in life than to wake up in the morning, look at yourself in the mirror, and feel comfortable with yourself and who you are," she said. Watch the full clip below.
Megan Friedman is the former managing editor of the Newsroom at Hearst. She's worked at NBC and Time, and is a graduate of Northwestern's Medill School of Journalism.