Angelina Jolie Speaks Out About the Shocking Extent of Sexual War Crimes
"It's a violent, brutal, terrorizing weapon."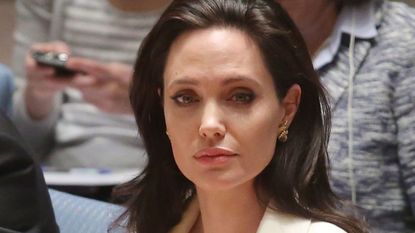 (Image credit: Getty Images)
Marie Claire newsletter
Celebrity news, beauty, fashion advice, and fascinating features, delivered straight to your inbox!
Thank you for signing up to . You will receive a verification email shortly.
There was a problem. Please refresh the page and try again.
Speaking at the UK House of Lords as part of a committee on sexual violence in war,Angelina Jolie described the shocking ways that ISIS is using sexual violence as a "dehumanizing weapon," specifically detailing the horrific atrocities against girls as young as 7.
"For over 10 years I've been visiting the field and meeting with families and survivors of sexual violence who felt for so long that their voices simply didn't matter," says Jolie. "They weren't heard and they carried a great shame."
In one particularly harrowing memory, Jolie recalls the devastating story of a young girl who had been raped numerous times by the Islamic State. "I remember distinctly meeting this little girl who was very young, perhaps 7 or 8, and she was rocking back and forward staring at the wall and tears streaming down her face because she had been brutally raped multiple times," she explains. "You couldn't talk to her, you couldn't touch her. I felt absolutely helpless and didn't know what to do for her.
"More recently I met a 13-year-old girl in Iraq who had been kept in a room with many other girls," she continues. "They were taken out in twos, brought to this very dirty room with this dirty couch and raped repeatedly. They told me what was even worse than this physical violence was they had to stand in rooms and watch their friends be sold. To hear men arguing over what they were worth. Were they worth $40, $50? What was the price, their value? And how humiliating that was."
Three years ago, Jolie and William Hague launched the UK's Preventing Sexual Violence Initiative (PSVI) and last year they chaired the Global Summit to End Sexual Violence in Conflict. The aim was to agree on practical steps that could be taken to tackle the use of rape as a weapon in war and to look at how war crime prosecutions are dealt with.
Updating the committee on progress since then: "The most important thing is to understand what it's not: it's not sexual, it's a violent, brutal, terrorizing weapon, and it is used unfortunately everywhere," says Jolie. "The most aggressive terrorist group in the world today knows what we know; knows that it is a very effective weapon and [is] using it as a center point of their terror and their way of destroying communities and families and attacking, destroying and dehumanizing."
"I know what would happen to my family if I were raped or my daughters were raped," she said. "All of you sitting in this room. What would that do to their lives, to your family structure? You would want to know it was wrong and that the world thought it was wrong and the person who did this to you didn't just walk away."
Follow Marie Claire on Instagram for the latest celeb news, pretty pics, funny stuff, and an insider POV.
Claire Hodgson is the Editor of Cosmopolitan.com/UK, overseeing all things digital