Brad and Angelina Discuss Their Marriage, Overcoming Health Issues, and New Movie 'By the Sea'
The newlyweds opened up together on 'Today'.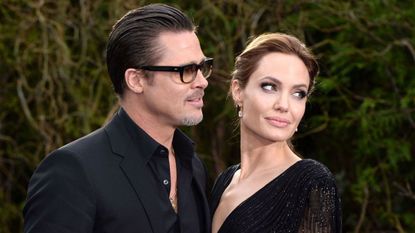 (Image credit: Archives)
Marie Claire newsletter
Celebrity news, beauty, fashion advice, and fascinating features, delivered straight to your inbox!
Thank you for signing up to . You will receive a verification email shortly.
There was a problem. Please refresh the page and try again.
Brad Pitt and Angelina Jolie sat down for a rare joint interview that aired on Today this morning. In it, the newlyweds and By the Sea co-stars discussed making the film—which Jolie-Pitt directed and produced—their first year of marriage, and overcoming Angelina's health issues.
The actress had undergone a double mastectomy in 2013 and had her ovaries removed this year when she discovered she was at high risk for breast cancer and ovarian cancer, respectively. Despite the crisis, the couple remained supportive of each other and their family. Read through for interview highlights and watch the heartfelt interview in full below.
On learning how to cook:
Angelina: "Every three months I'll say, 'Honey I think I should learn how to cook.' Don't I?"
Brad: "I just humor it. But really she has no business in the kitchen."
On whether the premise of By the Sea—a couple in a troubled marriage—is true with their real-life relationship:
Angelina: "I'm counting on the audience to know that if this was close to us at all, we could never make this film. It's because we're actually very, very stable and these aren't our issues."
On how visiting her mother in the hospital inspired the film:
Angelina: "We can't say what the whole film is about, but a lot of the film was when I went to visit my mom in the hospital, when she found out she had cancer the first time. She was gonna have her ovaries removed, and she was very upset, feeling like they're taking out her parts that were female, and there was a woman down the hall who was wailing. I later found out it was a young woman who had not had children yet, and that put everything into perspective."
On finding out Angelina was at risk for cancer:
Brad: "Seeing my wife have to be her strongest and knowing that it's the scariest of news is terribly moving, and not being there is a horrible feeling."
On supporting Angelina on her medical decisions:
Brad: "No question, it's a scary decision. There's many things that could go wrong, it could go many different directions, but it was really led by her dedication of, 'This is what I gotta do, and this is what I'm gonna do.'"
On how Brad saw beyond the physical changes:
Angelina: "He made it very, very clear to me that what he loved and what was a woman to him was somebody who was smart and capable and cared about her family, [...] that it's not about your physical body. So I knew through the surgeries that he was on my side and this wasn't going to be something where I was going to feel like less of a woman because my husband wouldn't let that happen."
On speaking out about her experience so others could learn from it:
Angelina: "To face these issues together and talk about them and talk about what it means to be human, I think, can be a beautiful thing."