This Is What the Pussycat Dolls Look Like Now
Don't Cha wanna know what they did next?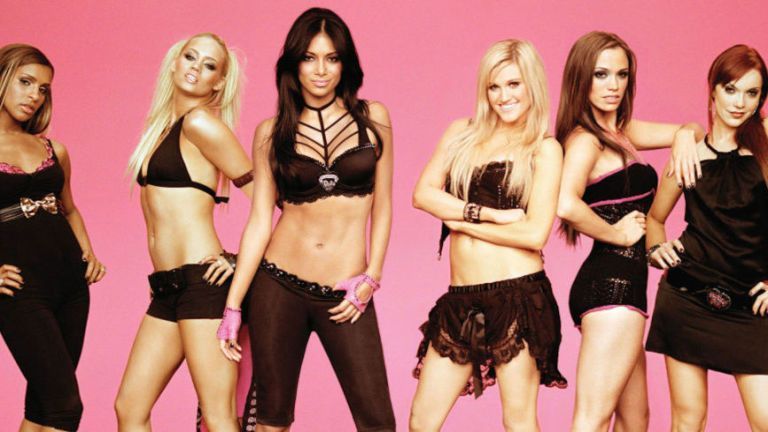 (Image credit: Getty Images)
It's been nearly six years since PCD went on "hiatus" (that old chestnut), and so here's what each of the six members did next.
NICOLE SCHERZINGER
It would actually be easier to mention the things Nicole Scherzinger hasn't done since leaving the Pussycat Dolls in 2010. The lead singer basically threw herself into all corners of the entertainment world. First there was a winning stint on Dancing With The Stars in the U.S., before her brief first appearance as a judge on The X Factor where she put together a certain boy band called One Direction.
Her debut solo album Killer Love was finally released in 2011, with 'Don't Hold Your Breath' becoming a No.1 single in the UK. Later that year she was appointed co-host on the first series of The X Factor USA with Steve Jones. However, after Cheryl Cole was dumped from the show, Scherzinger stepped in to become a full-time judge. After one series, though, she was replaced by Britney Spears.
Following her own headline tour of the UK in 2012 and a cameo in Hollywood flick Men In Black 3, Nicole Scherzinger took up a permanent role on The X Factor in the UK alongside Gary Barlow, Louis Walsh and Tulisa Contostavlos. She was the winning mentor that year, steering James Arthur to victory. Scherzinger then signed a reported $1.5 million deal to return to the show again the following year.
However, after signing a big bucks recording contract with Sony Music in 2014, Scherzinger left her position on The X Factor to concentrate on being a pop star. Big Fat Lie followed later that year, but was a commercial dud, only managing to peak at No.17 in the UK. That said, the Hawaiian star bagged herself an Olivier Award nomination for her portrayal of Grizabella in Lord Andrew Lloyd Webber's West End revival of Cats.
More recently, Scherzinger returned to British TV screens as a team leader on Sky1 panel show Bring The Noise. She also co-hosted Best Time Ever with Neil Patrick Harris in the US, which was essentially the American version of Ant and Dec's Saturday Night Takeaway. Unfortunately, it wasn't a hit with US TV audiences and has since been cancelled. It's not all bad news though. Scherzinger has been cast as Penny Johnson in the upcoming TV adaptation of Dirty Dancing, due to air on ABC later this year.
Also, how could we forget the numerous commercials Scherzinger has been in? Miller Light. Herbal Essences. Pro-Activ. She's the Queen of endorsement.
MELODY THORNTON
After PCD went on hiatus (i.e. called it a day without properly calling it a day), Melody became a judge on E! show Bank of Hollywood which basically saw people beg her for money in the name of entertainment. A year later she travelled to the UK to compete on ITV's Popstar To Operastar, with former X Factor winner Joe McElderry scooping the trophy that series.
There's always been talk of a debut album in production, but so far fans have only been given a mixtape called P.O.Y.B.L. That's an acronym for Piss On Your Black List, FYI. A few years later and Melody recorded some guest vocals for LL Cool J's 2013 album Authentic, as well as making a cameo in Fat Joe's music video for 'Ballin''.
More recently Melody has starred in a Dior commercial, and has worked as a model since 2011. That long-awaited debut album still has a TBA attached to it though.
KIMBERLY WYATT
Blonde-haired Kimberly Wyatt became a full-time judge on a British talent show way before Scherzinger came over, being a permanent panelist on Sky1's Got To Dance for five series. Wyatt achieved a Top 5 hit in the UK as part of Aggro Santos' 2010 single 'Candy', before signing up to judge the American version of Got To Dance—re-titled Live to Dance—alongside Paula Abdul and Travis Payne.
When it came to launching her solo career, Kimberly tried a different tactic, repositioning herself as front woman of Her Majesty & The Wolves. They released their debut album 111 back in 2011.
More recently, though, Kimberly took part in ITV's Give A Pet A Home, before going on to win Celebrity MasterChef in July 2015. The star has also become an honorary Brit, having moved all her family to the UK and having a daughter called Willow with English model Max Rogers.
JESSICA SUTTA
Jessica Sutta's post-Pussycat Dolls career has barely strayed outside of the music industry, as the singer-songwriter has been determined to make it as a solo star. It started with debut single 'I Wanna Be Bad', but slightly hit its stride when 2011 single 'Show Me' topped the US Dance chart.
There was lots of talk about Sutta working with Lady Gaga producer RedOne during her time at Hollywood Records, but none of the tracks got released before she left the Disney-owned label. Since then there have been a string of dance hits, including collaborations with big beatsmiths Dave Audé and Cedric Gervais. As for that much-awaited debut album? Feline Resurrection is expected to rise later this year...
ASHLEY ROBERTS
British audiences will be more than familiar with Ashley Roberts's career trajectory after her time in the Pussycat Dolls. In 2012 she came second on I'm A Celebrity Get Me Out Of Here, making her a household name across the nation. Shortly after she then became a judge on ITV's Saturday night primetime show Dancing On Ice for two series.
A solo debut album—titled Butterfly Effect—came after that in September 2014, but it did little in the way of denting the chart. However, Ashley bagged herself another high-profile gig in the form of Ant and Dec's Saturday Night Takeaway. The 34-year-old remains a host on the show for the Ant vs Dec segment.
Moreover, Ashley is also a spokesmodel for Garnier's self-tanning range, does a spot of guest presenting on This Morning, made a cameo as a 'stripper teacher' in 90210 and was a contestant on Channel 4's daredevil ski competition The Jump.
CARMIT BACHAR
Much like Jessica Sutta, since leaving the Pussycat Dolls Carmit Bachar has kept things largely focussed on the music. There's been a lot of songwriting, with various tracks appearing online. She then formed LadyStation in 2011 and released a single called 'Body In Motion'. There have also been numerous collaborations too, most notably in 2010 with Macy Gray on her album The Sellout.
Aside from the music, Carmit continues to work as an ambassador for cleft-palate charities, particularly in developing countries. Her passion for the charity work stems from her suffering from the condition herself as a child. Moreover, Carmit is now a mother to 4-year-old daughter Keala Rose.
Follow Marie Claire on Instagram for the latest celeb news, pretty pics, funny stuff, and an insider POV.