Kit Harington and Jimmy Fallon Got *Really* Into Charades with Rose Byrne and Blake Shelton
Things got heated.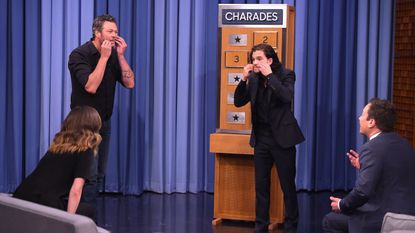 (Image credit: Getty Images)
Last night Kit Harington was the guest on The Tonight Show where he revealed that he was not very good at keeping the Jon Snow secret.
After chatting about how basically everyone in Harington's life (except us) knew about the twist, the Game of Thrones actor and Fallon decided to play a game of charades. Rose Byrne joined the pair to play on Harington's team, while country singer Blake Shelton joined Fallon's side.
Of course, shenanigans ensue. Things we learn from the game: Byrne is a MASTER charades player, Shelton doesn't really get how to play, but he's super competitive, and he and Jimmy have a hilarious relationship. The one bummer? Kit totally missed an opportunity to do Beyoncè's 'Single Ladies' dance.
Watch the full clip below: