Are Meghan Markle and Prince Harry Delaying Their Honeymoon to Visit Meghan's Father?
The Duke and Duchess of Sussex are reportedly eager to travel to Mexico to visit Thomas Markle so Harry can meet his father-in-law for the first time.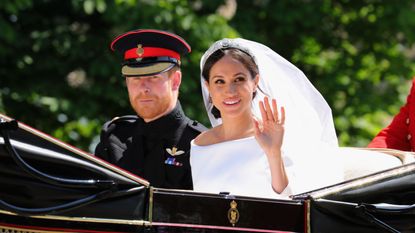 (Image credit: Getty Images)
Prince Harry and Meghan Markle (opens in new tab) have checked all the Royal Wedding boxes (opens in new tab) (they said their "I will (opens in new tab)"s! Did an outfit change (opens in new tab)! Released official portraits (opens in new tab)!) and have even made their first official appearance as the Duke and Duchess of Sussex (opens in new tab) at a garden party (opens in new tab) for the 70th Birthday Patronage Celebration of Harry's father, Prince Charles earlier this week. So... when are the newlyweds leaving for their honeymoon?
The two originally delayed their trip so they could attend Tuesday's garden party where Harry honored his father. And now, according to royal expert Katie Nicholl, Harry and Meghan might wait to leave for their honeymoon destination so they can travel to Mexico to visit Meghan's father, Thomas Markle.
"I hear one of the things they want to do sooner than later—and now that they're married—is to go and see Thomas Markle, who is recovering from a heart operation," Katie Nicholl tells Entertainment Tonight (opens in new tab). "We don't know when this trip might happen. ...I'm hearing from people close to Meghan and Harry that they're very keen to do it."
Of course, they may wait to make the trip until their return from their honeymoon, but Harry in particular wants to know his new father-in-law. "He feels it's very important that he gets to meet Thomas," Nicholl explains. "Of course, Meghan—who's been really concerned about her father's health—is keen to go see him as soon as possible."

Markle's father didn't attend the Royal Wedding (opens in new tab) last weekend after he reportedly underwent surgery after suffering a heart attack the week before. In a history-making moment, Meghan walked herself halfway down the aisle (opens in new tab) and then was met by Prince Charles (opens in new tab) who accompanied her the remaining distance to the altar.
Meghan and Harry have not announced where they've chosen to go for their honeymoon (and they're not likely to), but Africa is thought to be the most likely destination (opens in new tab). Namibia and Botswana are two of the predicted spots (opens in new tab)—Meghan and Harry reportedly traveled to Botswana for their third date, so the location holds a special place in both their hearts.
According to Nicholl the newlyweds will have chosen a spot where they can truly get some much-deserved privacy. "One of the places they're looking at is a lodge that is so remote that it requires an off-land Land Rover to get there [and] a satellite phone because there are no connections," Nicholl tells ET (opens in new tab). "You have to take a supply of food and water with you because you're right in the middle of nowhere and if you break down without supplies, you're in trouble. That gives you some indication of how remote this place is."
Nicholl also adds that Meghan and Harry will likely leave with very little fanfare. While Kate Middleton and Prince William were photographed leaving for their honeymoon the day after their wedding back in 2011, she predicts the Duke and Duchess of Sussex will make a quieter exit—and even suggests that the reason they appeared at the garden party Tuesday was to give royal fans another glimpse of them immediately so they can then disappear for a while: "We've had the wedding pictures, we've had the first engagement, so I'd imagine at some point in the next week to 10 days, things will go very quiet on the Sussexes and that will probably be because they've crept off very quietly to go [on] what Harry is determined to be a private honeymoon."