Controversy Surrounds Gisele Bündchen's Walk at the Olympics Opening Ceremony
Gisele Bündchen Olympics Cat-Walk Controversy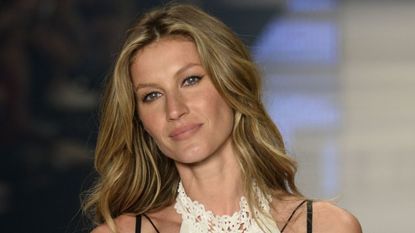 (Image credit: Getty Images)
Marie Claire newsletter
Celebrity news, beauty, fashion advice, and fascinating features, delivered straight to your inbox!
Thank you for signing up to . You will receive a verification email shortly.
There was a problem. Please refresh the page and try again.
Not everyone was crazy about supermodel Gisele Bündchen's crazy-long walk across the Olympic stadium (opens in new tab) last night during Rio's opening ceremony. In fact, some folks were downright annoyed.
Over at The New York Times (opens in new tab), psychologist and feminist commentator Letícia Bahia was openly curious about why Gisele was the Brazilian chosen to strut her stuff to "The Girl from Ipanema."
"What does it say about a mixed-race country, boasting about its pride over miscegenation, to choose a supermodel who is white, ultraskinny, blond and blue-eyed to represent the women of Brazil?" Bahia said.
Lots of people shared similar sentiments on Twitter, calling the walk "dumb," "embarrassing," and "too long." Others questioned if she was the right person to rep Brazil on the world's stage.
I promised myself I wouldn't say how much Gisele walking across a fucking stage was the dumbest thing. But I digressed. It was dumb.August 6, 2016
See more
Gisele is a stunning looking human but taking a LONG final catwalk strut b4 retiring from modelling in Rio opening ceremony was just weirdAugust 6, 2016
See more
Brazil has given so much more to global culture than "Gisele walking."August 6, 2016
See more
Of course, since this is the Internet, for every hater, there was a celebrator:
But it looks like Gisele had the last laugh — girl enjoyed a legit dance party after her walk and partied the night away in Brazil (opens in new tab).
I write on Fox's THE GREAT NORTH. Before that, I wrote and edited for Cosmopolitan (opens in new tab) magazine and the Jezebel (opens in new tab) blog. My writing has also appeared in the New York Times, The New Yorker, Esquire, VICE, Marie Claire, McSweeney's, California Sunday, BUST, Elle, Village Voice, Harper's Bazaar, LA Weekly, Eater, Fast Company, Mic, Atlas Obscura, and more. I co-host/co-produce a comedy/storytelling (opens in new tab) show on the first Friday of every month at Stories in LA. I have a degree in Film and TV from NYU's Tisch School of the Arts.