Why Some People Aren't So Happy About the New Royal Baby
Not everyone is excited about Will and Kate's expanding family.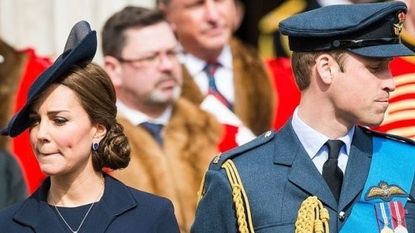 (Image credit: Getty)
Marie Claire newsletter
Celebrity news, beauty, fashion advice, and fascinating features, delivered straight to your inbox!
Thank you for signing up to . You will receive a verification email shortly.
There was a problem. Please refresh the page and try again.
Kensington Palace's announcement (opens in new tab) last week that Will and Kate are expecting a third child spurred a joyous media frenzy. News outlets (including our own) issued congratulations to the expecting couple and then immediately started predicting names for the future royal baby (opens in new tab) and chronicling Duchess Kate's best maternity looks (opens in new tab).
Related Story
But not everyone is so thrilled about the new heir to the throne.
Earlier this year, the British government passed a cap on child tax credits. Families would only be able to claim the incentive, which can be worth up to £2,780 per year for each child, for their first two kids. (A few exceptions are made for adoptions, multiple births, and the controversial "rape clause," which makes a special case for children born as a result of "non-consensual conception" and is furthered explained here by the BBC (opens in new tab).)
Needless to say, the less-than-ideal optics of the royals announcing a third child so soon after this legislation passed speak for themselves.
"When news broke this morning that the Duke and Duchess of Cambridge were set to birth a third child, another royal spawn, the story left a bitter taste in this pleb's mouth," wrote Michael Segalov for Huck Magazine (opens in new tab), a British publication "exploring the many facets of radical culture."
"Because while families up and down the United Kingdom are now struggling to feed and clothe their children, or are being forced to consider carefully whether they can even afford to bring new life into this world, one family living on the most generous benefits scheme this country has ever offered faces no such dilemma. Will and Kate aren't having to rethink their plans for a family and their futures, their security is coming at the taxpayer's expense."
To be clear, the majority of Will and Kate's "royal allowance" doesn't come from the taxpayers (though a portion of their funding does), but the point still stands, and was made many times over on Twitter.
If Kate Middleton was poor, she'd receive no tax credits for 3rd child. Yet we'll still chuck millions at the Royal Family regardless.September 4, 2017
See more
U.S. organization Having Kids (opens in new tab) started urging the royals to stop at two children even before the announcement revealing Kate's pregnancy. Following the Duchess's joke in Prague about wanting another baby (opens in new tab), the group wrote an open letter to the royals about the importance of small families for the world's resources.
"As you know and appreciate, the example the British Royal Family sets is extremely influential. Many studies also show that public figures serve as effective role models when it comes to family planning. Your discussion of having a larger family raises compelling issues of sustainability and equity," reads the letter.
"Large families are not sustainable," it continued, citing the impact that family planning has on climate change, and the well being of children overall. Read the group's letter in full here (opens in new tab).
Valid points are certainly made by the royal critics, but perhaps it's the political (and patriarchal) system that deserves the scrutiny, and not the newly pregnant Kate.
"One could argue it's just an unhappy coincidence that the announcement of a third royal baby comes in the same year the Government deems third babies a luxury not every family has earned. It's more than that, though. The contrast lays bare the fundamentals of reproductive injustice: the fact that class, wealth and race control which groups are considered worthy of the privilege of reproduction," writes Independent author Victoria Smith (opens in new tab).
"I hope any mother expecting a third baby experiences as much delight as I have. I don't begrudge the Duchess of Cambridge her happiness (once she's past the horrors of hyperemesis gravidarum (opens in new tab)). I do resent those who'd rather force petty, humiliating trials on struggling pregnant women than acknowledge the inherent value of all third babies. Every child deserves to be welcomed. Every family has a right to their joy."
Follow Marie Claire on F (opens in new tab)acebook (opens in new tab) for the latest celeb news, beauty tips, fascinating reads, livestream video, and more.
As the digital news director for Town & Country, Caroline Hallemann covers everything from the British royal family to the latest episodes of Outlander, Killing Eve, and The Crown.